by Texas Homesteader ~
*Affiliate Link
WHEW! It's summer in Texas, and as it typically does it's turned hot and DRY! I'm doing everything I can to keep my outside plants watered.
I have a few footed concrete planters that I have on my porch holding things such as chocolate mint, spearmint and my favorite herb Thyme!
I struggle to keep the potted plants healthy & watered. And I've lost plants and had to repurchase and replant them repeatedly in this cement planter over the years! Thankfully the Plant Nanny folks agreed to send me one of their terracotta plant stakes to try.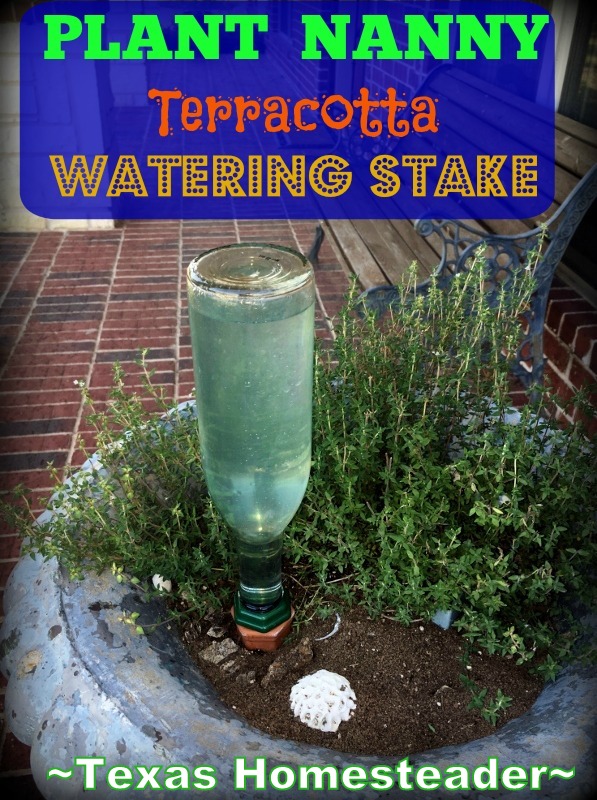 It's easy to find various sizes, styles and manufactures of *terra cotta watering stakes on Amazon, so you can easily pick the one that suits your needs.
My Thoughts, Open & Honest
Now while the fine folks at Plant Nanny did send a couple of their watering stakes to me to review for you at no cost to me, the opinions and review in this post are all me! I was intrigued with this plant watering stake for two BIG reasons:
It's not made of plastic (a substance I HATE) but of terracotta. Love it!
It uses a repurposed bottle, which means less to the recycling bin. (I repurposed a GLASS bottle instead!)
In reaching out to Maria in the Plant Nanny Marketing department, she tells me their 4-pack of Water-Bottle Stakes are ranked #6 in Amazon's garden products category.
They also have a larger Plant Nanny that uses repurposed wine bottles which is currently ranked #1 Best Selling product in Amazon's Gardening Pots & Planters category.
Their product is manufactured in China. I guess I was a little surprised that it wasn't made in the U.S.A. but it wouldn't have been a deal-breaker for me.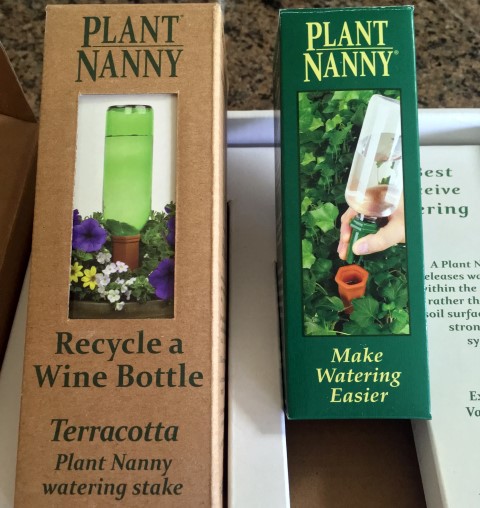 How The Plant Nanny Works
Now the instructions for this watering stake indicate it's to be used with a repurposed water bottle. But, you know… plastic. (see hatred-of-plastic statement above)
Luckily my sister, knowing my love of repurposing glass, brought me a bottle from their home that used to contain some sort of cooking oil. Hummm… It looks like it'll fit this screw-on top. YES! EUREKA!
Of course if you like you can take the recommended route and just use a water bottle, but this glass bottle worked beautifully for me!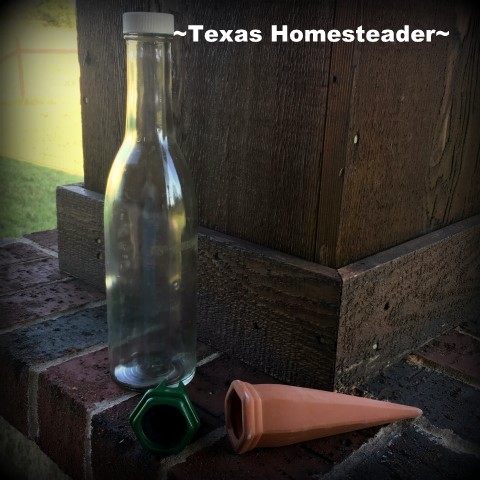 The watering stake comes with a screw-on top equipped with a rubber gasket. You screw the top onto the bottle and the elongated section drops down into the terracotta stake and allows the water to flow into the watering stake.
Since it's terracotta, the water seeps out slowly through the porous material of the stake and into the surrounding soil, thereby delivering water underground to the plant roots. Water is delivered directly where it's needed – the roots!
Setting Up My Watering Stake
So I figured I'd give 'er a try. I used my garden spade to gently loosen and remove a section of soil. I'd think if you just tried to shove this stake into your soil it could damage the stake. It took no time at all to get the stake into place.
Then I took my glass bottle and filled it with rainwater from my rain barrel. I screwed on the Plant Nanny top, turned the bottle upside down and placed it into the watering stake. Bubbles instantly appeared within the bottle letting me know the stake was taking the water. I love it!
The water sits within the stake waiting for the soil around it to begin to dry. As the soil dries, water is drawn through the porous material and delivered to the soil and the plant's roots.
But how did it work? Well I found that during the heat of summer the watering stake was having a hard time keeping the entire plant fully watered. So I had to drop a little water on it about every week or so to keep it happy.
Perhaps the pot is just too big for one of these stakes to keep up. I'm thinking of getting another stake for the other side of the pot.
Hints I've read:
I've read that darker glass helps protect against excess algae growth inside the bottle.
I've also read that if you add fertilizer to the water in the bottle, it can collect within the terracotta material over time & make it less effective.
The Plant Nanny folks also sell hand-crafted glass watering globes which can be used with their stakes for a more polished look. What a great idea, especially for inside plants!
Summary: I loved it – but I may need 2!
In summary, I loved the ease of dealing with the Plant Nanny folks. I love that these water stakes deliver water directly to the plant roots. And I especially love the plant watering stakes are made of terracotta. The water conservation aspect is hugely important to me.
Although my cement planter needed a little extra water help in our Texas summer heat, I'm thinking perhaps an additional stake in the planter may solve that problem.
If you want to check out different brands of plant-watering stakes you can find various sizes & brands on on Amazon *HERE.
~TxH~
My Favorite Garden Hacks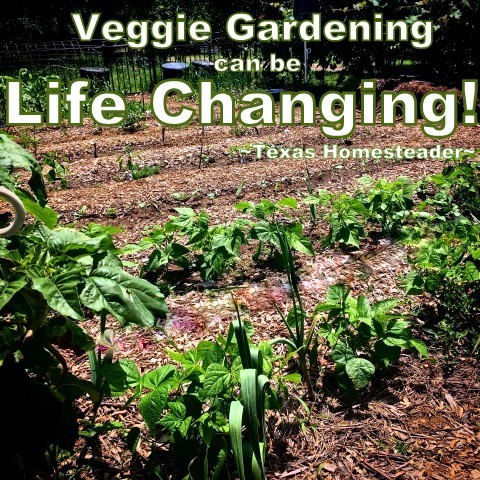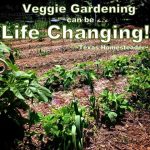 C'mon by & sit a spell! Come hang out at our Facebook Page. It's like sitting in a front porch rocker with a glass of cold iced tea – lots of good folks sharing! You can also follow along on

Pinterest

, Twitter or

Instagram

.
If you'd like to receive an email each time a new blog post goes live it's EASY to
Subscribe to our blog!
Save
Save
Save
Save
Save
Save
Save
Save
Save
Save