by Texas Homesteader ~
*contains affiliate link –
There are many ways I repurpose empty coffee cans to fill a need on the Homestead or replace something I would otherwise have to buy. Check out this Homestead Hack for using a repurposed coffee can in the laundry room.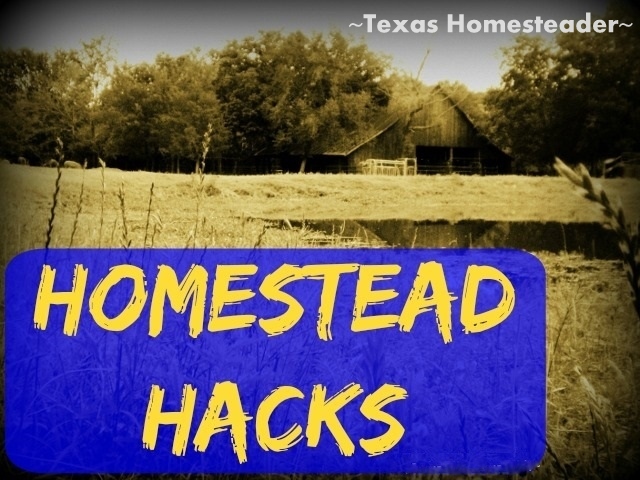 (Note: Some links in this post are for further information from earlier posts I've written. But links preceded with * are affiliate links. If you click them and buy something (almost anything, not just the item noted) I could receive a tiny commission. But the price you pay will NOT change. It's an easy way to support this blog without anything coming out of your pocket. So click often! Thank you!)
Accumulating Empty Coffee Cans
Y'all know that RancherMan & I drink coffee every day. Those lidded coffee containers are handy when they're empty, but they pile up. What to do with them all?
Of course I'm offering them to schools/churches/nurseries for them to use on their bookshelves to hold crayons, legos & such. And I've shared many different ideas where I repurpose them here on the Homestead too.
But recently I was catching up on laundry and needed to whip up more of our Homemade Laundry Soap. I remembered another helpful way I'm able to repurpose these handy empty lidded coffee cans.
Repurposing Ideas For Empty Coffee
Cans
Even though I'm repurposing as many as I can, those empty coffee cans sure can pile up. So I've used them to solve various issues on the Homestead.
Such things as using them for Deep-Soaking Garden Plants and Harvesting Grapes too.
I've used them for a homemade Chicken Feeder, and I even made one into a cute Country Breadbox, among many other repurposes.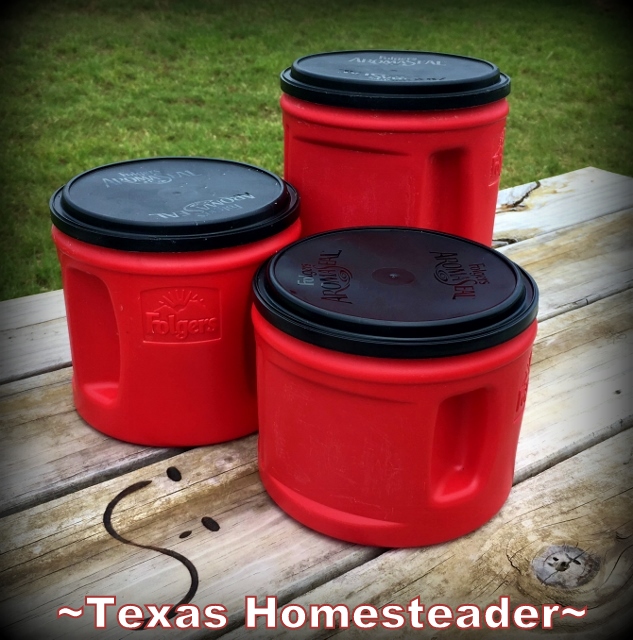 You can see all our Coffee Canister Repurpose Ideas Here.
Repurposing Coffee Cans In The Laundry Room
But on this day I was making another batch of Powdered Laundry Soap. It's all we've used for cleaning our clothes for over 10 years now. And since it only takes 1-2 Tablespoons for each load, a little goes a long way.
But to make my laundry soap today I was bringing out the usual small containers that hold my laundry detergent mix, the 3 ingredients needed and my old food processor that I use only for making detergent.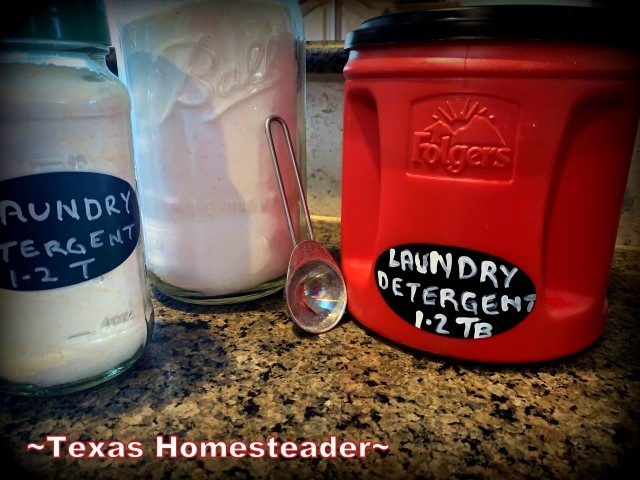 Then I wondered – maybe I should make a LOT so I don't have to gather my supplies each time.
I mean, I've got more than a box each of both washing soda and borax. And I've got several bars of *Fels Naptha.
(NOTE: Fels Naptha is the only soap bar I'll use for my homemade laundry soap mixture.)
So let's just make enough to see us through several months. (or a YEAR even!)
Making My Homemade Laundry Soap
So I chopped my Fels Naptha and powdered it in my food processor. And I measured & mixed the other ingredients for each batch.
Then I used a funnel to pour the powder into my typical small laundry detergent containers that I keep within easy reach from the washing machine.
Repurposed Coffee Can For Bulk Laundry Soap
But when they were filled I brought out an empty coffee canister to hold the larger batch of laundry soap. I mixed up additional batches until I filled the coffee canister as well.
So this one batched chore means I have plenty of laundry detergent for the foreseeable future. And the bulk of it is stored in an empty coffee canister.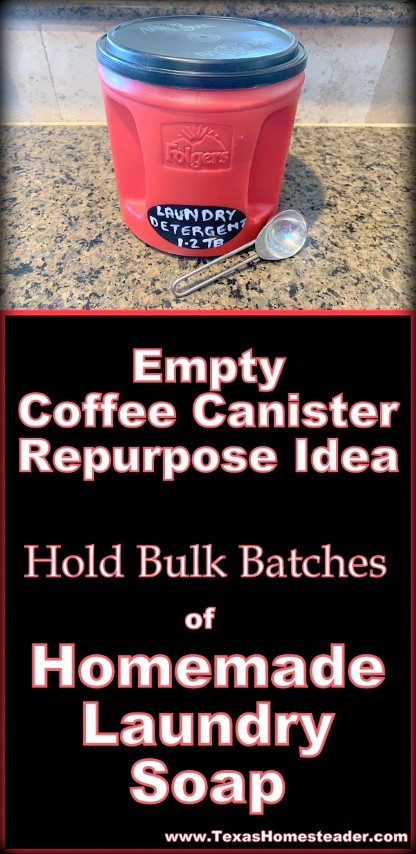 Plus the filled coffee canister has a smaller footprint on the utility room shelf than all of the ingredients sitting on the shelf separately, half boxes and such.
And unlike times when I'm shooting for a more decorative coffee can repurpose, I don't worry with extra elbow grease to remove the print or scrubbing down the outside. It's just holding my bulk-batch of laundry detergent.
So all it needs is a quick label and I'm good to go.
NOTE: always label your containers!
~TxH~
This post categorized in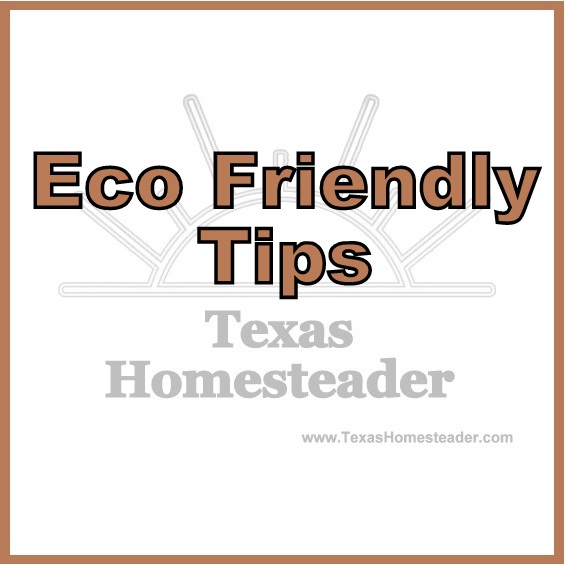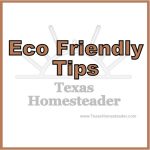 Other Coffee Canister Repurpose Ideas:


C'mon by & sit a spell! Come hang out at our Facebook Page. It's like sitting in a front porch rocker with a glass of cold iced tea – lots of good folks sharing! You can also follow along on Pinterest, Twitter or Instagram.
If you'd like to receive an email each time a new blog post goes live it's EASY to
Subscribe to our blog!