by Texas Homesteader ~
I'm sharing another way I'm able to repurpose coffee canisters, this time for keeping things tidy in the garden.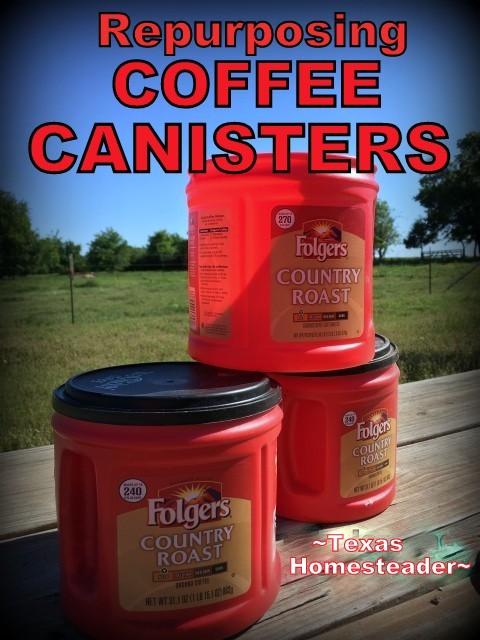 (Note: Some links in this post are for further information from earlier posts I've written. But links preceded with * are affiliate links. If you click them and buy something (almost anything, not just the item noted) I could receive a tiny commission. But the price you pay will NOT change. It's an easy way to support this blog without anything coming out of your pocket. So click often! Thank you!)
Accumulating Empty Coffee Cans
Y'all know RancherMan & I are avid coffee drinkers. But we don't want sweetsy, foamy, flavored, overly-sugared drinks. We want coffee.
Strong, black, delicious coffee.
As a result we have lots of empty coffee cans to repurpose. We're always looking for ways to put these handy canisters to good use.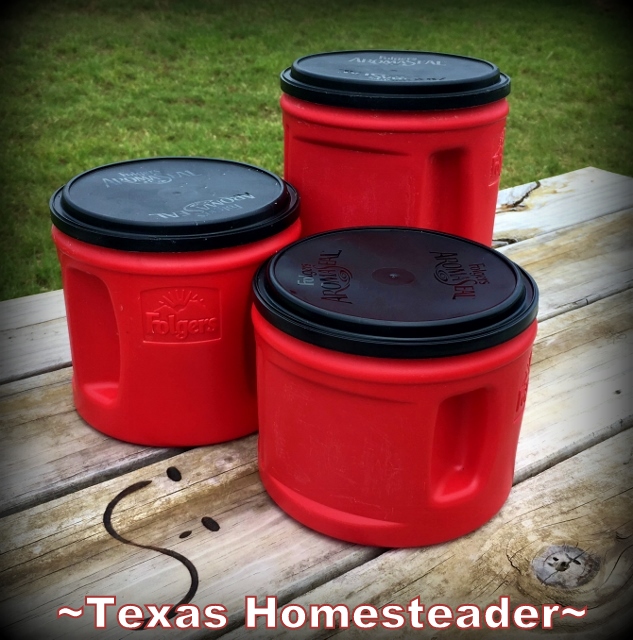 I've been on a quest to find how many ways I can repurpose empty coffee cans.
Our Coffee Canisters
The plastic canister our coffee's sold in has not only the snap-on lid, but also a handle molded right into the side of the can. So it comes in handy for many uses when it's empty.
More secure storage than bags for animal feed

Use in garage to hold nuts & bolts

Store leftovers in the refrigerator (write contents on black lid with chalk)

Use as handled popcorn bowls on movie night

Store small toys such as building blocks or crayons

Use in the garden (ideas below)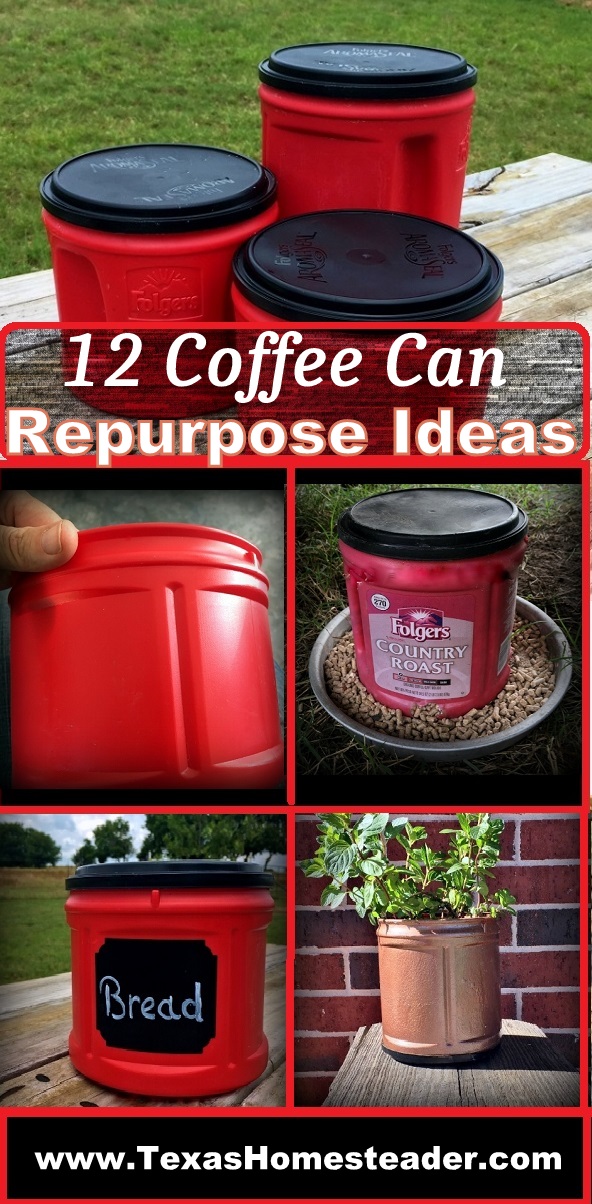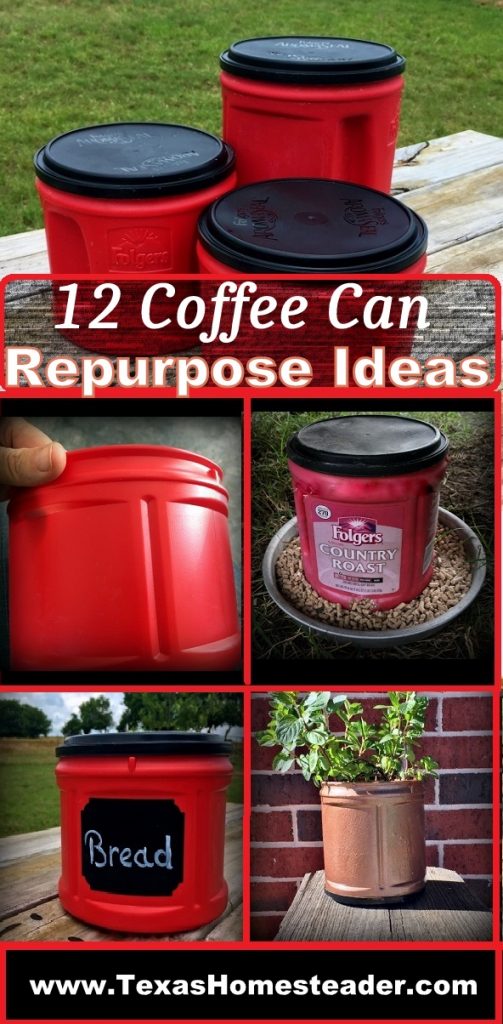 There are so many different ways to use them! But I still have some I need to put to use. Our coffee consumption goes on, ya know??
Repurposing Coffee Cans In The Garden
There are several ways I like to repurpose coffee cans in the garden:
Making a cute Plant Pot for sharing garden plants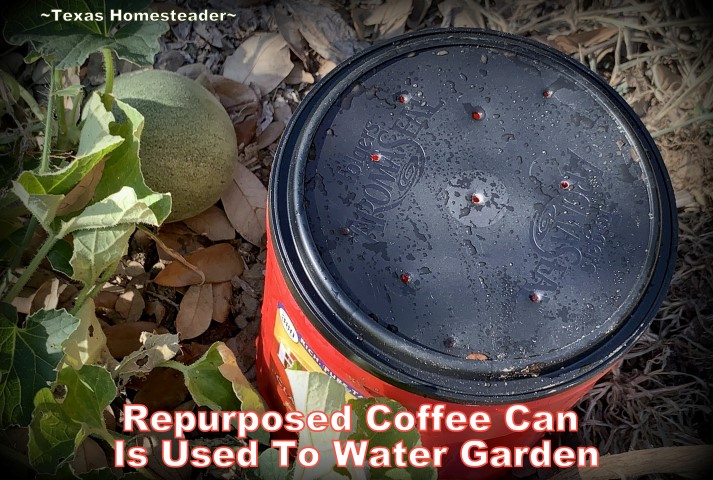 To dig further in to repurpose ideas, check out this complete Coffee Can Repurpose List for more ideas.
Plus a long list of fun coffee can repurpose ideas is included at the end of this post too – including making empty coffee cans into decorative kitchen canisters, bread boxes, etc.
But today I'm sharing another simple way those empty canisters get repurposed in our Homestead garden, and the surprising benefit too.
Weeding The Garden Early & Often
As most gardeners do, I go to the garden every day to look for anything needing to be harvested. I also check soil moisture and scout for weeds at the same time.
Now I don't like weeding any more than the next guy. But you know how it is – if you tackle that weed today when it's small it's no big deal.
If you wait until tomorrow to pull that weed it will have grown to twice the size and have fangs and green eyes, ready to destroy you!
No?? Just me?
I know weeds are easier to eradicate if you tackle them early. So I spend a couple of minutes every morning weeding the garden rows.
Because I weed so often, the weeds are always tiny with a small root system. The small to moderate sized weeds are easier to pull up root & all using my favorite *Forked Garden Trowel.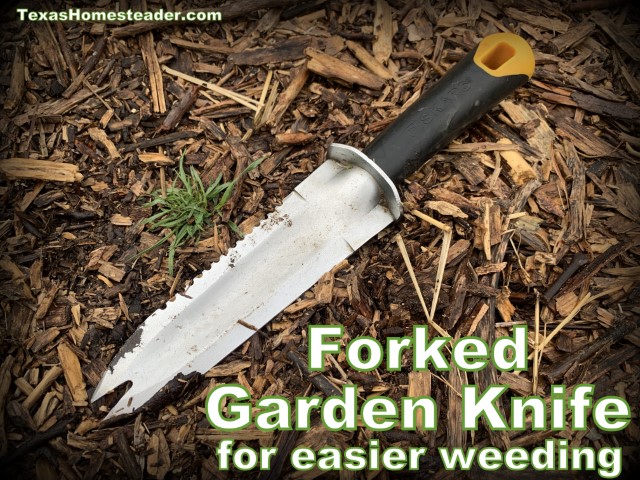 All other tiny weeds are just pulled by hand. Daily maintenance means my small weed problems don't turn into large weed problems.
A Repurposed Coffee Can For Garden Weeding
I use a repurposed coffee canister to help simplify my daily weeding. Just for this purpose I keep a spare plastic coffee canister in my garden.
When I go down the rows pulling those small weeds I bring the canister along with me. It's easy to drop the grassy weeds into the canister. And when I'm done I snap the lid back on and set it aside to continue its duty tomorrow.

Using Garden Weeds For Compost
Then when the can's full I toss the contents into my *tumbling composter. Since I'm pulling those weeds young there are no seeds growing on my weeds.
So my daily garden weeding actually benefits my compost by adding to my healthy 'greens' compost balance.
And every gardener knows how valuable compost is for your garden. Thankfully it's super easy to make compost yourself. For FREE!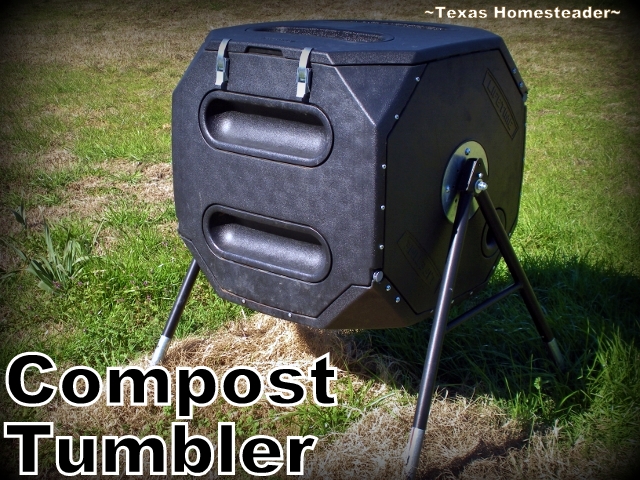 So there ya go, another easy way to repurpose coffee canisters. Making weeding the garden easier? Helping to make weed-free compost? Repurposing something to a new use?
** Yes please! **
Repurposing that empty coffee can has much work-saving benefit in my garden, as daily weeding has saved me much back-aching weed-pulling effort down the road. And you know I love that!
How's your favorite way to repurpose those great canisters?
~TxH~
Coffee Canister Repurpose Ideas:


C'mon by & sit a spell! Come hang out at our Facebook Page. It's like sitting in a front porch rocker with a glass of cold iced tea – lots of good folks sharing! You can also follow along on Pinterest, Twitter or Instagram.
If you'd like to receive an email each time a new blog post goes live it's EASY to
Subscribe to our blog!
Save