by Texas Homesteader ~
Coffee canisters are easy to repurpose for any number of things. And repurpose them we do!
Y'all know we love our coffee. We prefer Folgers to other brands of coffee. But at least their coffee canister is food-grade plastic. So in addition to other non-food repurposes, I'm able to do even more with it.
I can store large quantities of dried herbs in them.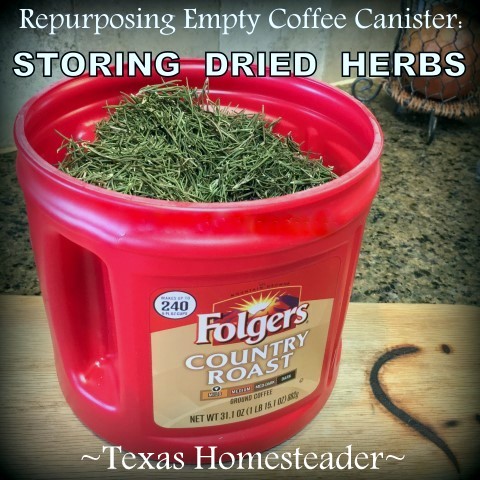 Repurposing Empty Coffee Cans
Although I hate that our coffee is sold in plastic, at least the plastic canisters are convenient to repurpose.
I've used them for simplifying Garden Weeding Chores. And we've stored chicken feed and dog food in them too.
I've Painted Canisters for cute planters for our back porch. (and also a prettier way to share plants with friends).
And I even FINALLY figured out how to Remove The Print from canisters so I can use them for cute decorative pieces in my kitchen. There's a list of repurposes for coffee cans at the bottom of this post. Be sure to check it out.
Large Herb Harvest
Y'all remember I had to severely hack back my beloved rosemary plant recently to make room for the porch addition. That huge plant was over 6-ft wide and I had to cut a huge chunk away to make room for the porch.
As much as it broke my heart I knew it needed to be done. So I took a deep breath and just started hacking.
But I'll not let this precious rosemary go to waste. I'll dry it and use it in cooking and in making RancherMan's favorite Cold Process Rosemary Soap.
I ended up with quite the pile of dried rosemary! Where in the world will I store it? Those empty coffee canisters once again came to the rescue for storing dry herbs.
I washed and dried an empty coffee canister and left it open to air dry overnight. That's because I needed to make sure it was absolutely dry. Moisture is the enemy of dried herbs.
Reusable Chalkboard Labels
After the canister was clean & dry I dumped that fragrant rosemary into the canister. I used one of my *Reusable Chalkboard Labels to identify the contents.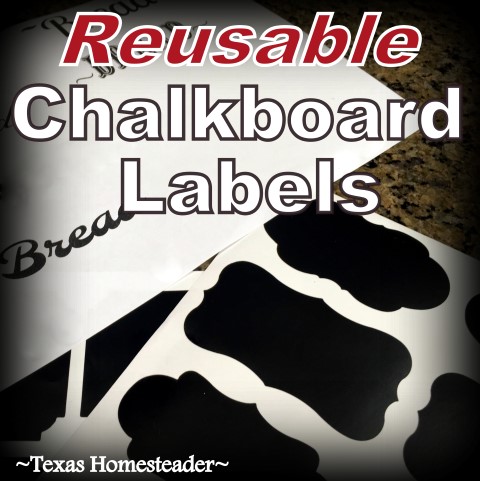 I bought these labels a while back and I love them. I use them all the time.
Originally I purchased them to use at parties. They're waterproof so you can put a label on your drink and know which drink was yours.
And the after the party you can just wipe off the label, peel it from your glass and then save the labels for your next party.
But I find I use them for so many other things. I like to label jars in my pantry. Why not? When that jar of dehydrated carrots are empty I simply wipe off the chalkboard print and re-label when the jar is filled again. I Love these labels!
So although hacking back that gorgeous rosemary plant was painful, at least it will be used. That's because RancherMan & I will be making rosemary soap soon. And now I already have some dried rosemary just ready & waiting!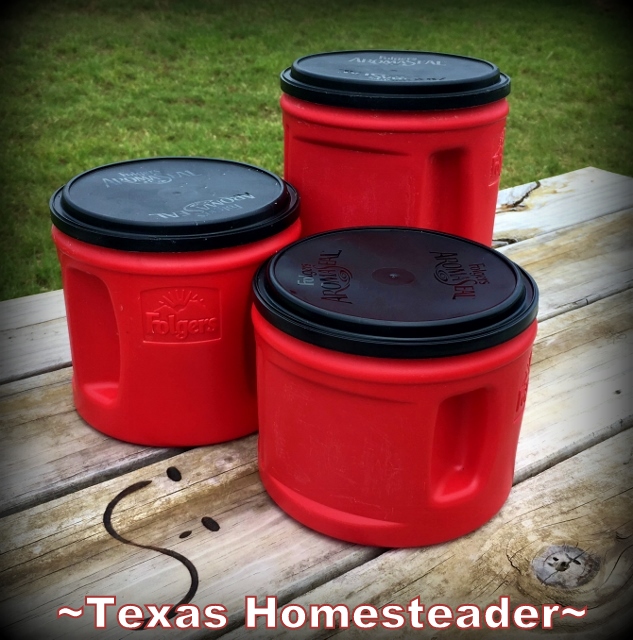 How do you repurpose those handy coffee canisters?
~TxH~
Coffee Canister Repurpose Ideas:


C'mon by & sit a spell! Come hang out at our Facebook Page. It's like sitting in a front porch rocker with a glass of cold iced tea – lots of good folks sharing! You can also follow along on Pinterest, Twitter or Instagram.
If you'd like to receive an email each time a new blog post goes live it's EASY to
Subscribe to our blog!
*Amazon Affiliate
Save