by Texas Homesteader ~
* contains affiliate link
RancherMan & I drink coffee that is sold in a handy lidded container. But I've been on a constant quest to find ways to use them once they're empty.
But as gardening season hits in full swing, I'm reminded of another great use. Check out this Homestead Hack.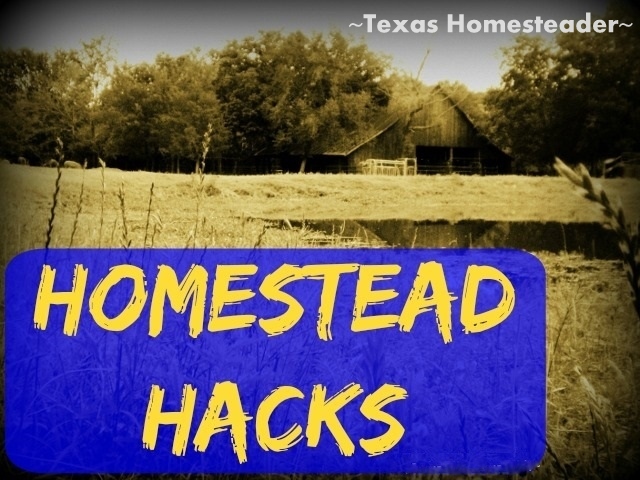 (Note: Some links in this post are for further information from earlier posts I've written. But links preceded with * are affiliate links. If you click them and buy something (almost anything, not just the item noted) I could receive a tiny commission. But the price you pay will NOT change. It's an easy way to support this blog without anything coming out of your pocket. So click often! Thank you!)
Various Coffee Can Reuses
We always have empty coffee cans available. I've made Chicken Feeders from them and painted and used them for Planters.
Since they're food safe I've used them to Store Bulk Flour in. And I even made a Cute Bread Box, among other things.
There's a handy list at the bottom of this post if you're looking for coffee can repurposing ideas too.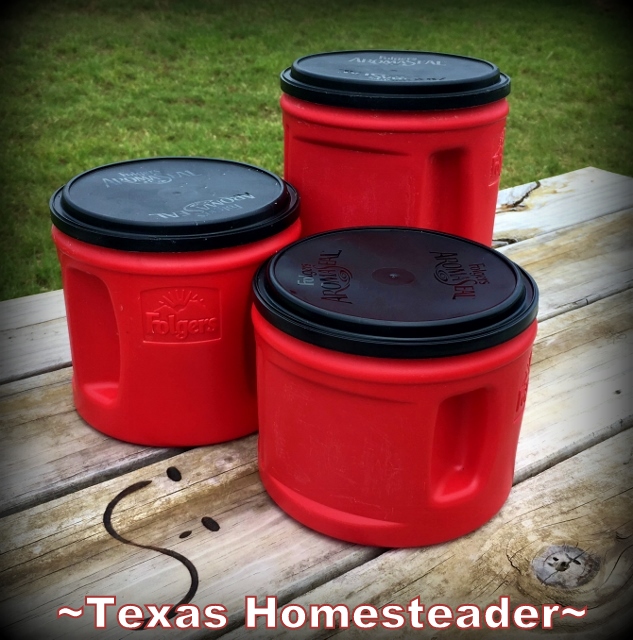 But when I can no longer think of a repurpose for them at our Homestead I offer them to others.
I'd think they'd be helpful in children's classrooms to hold crayons and art supplies. Their uniform shape and the built-in handle would make them convenient.
Or in a child's bedroom to hold toys. You know how those Barbie accessories seem to accumulate! This could be a handy way to corral them. A quick label and they can be stored neatly on a shelf.
They're also helpful in the shop for holding bolts or small parts. An easy label on the handle portion means once again, they're convenient & easily accessible on a shelf.
Empty Canister Use In The Garden
And I really like to use these handy containers in the garden. I already have one there right now to Hold Pulled Weeds.
Since I do light weeding every day, those pulled weeds will accumulate in that repurposed coffee can until it's full. Then I'll drop it all into my *tumbling composter.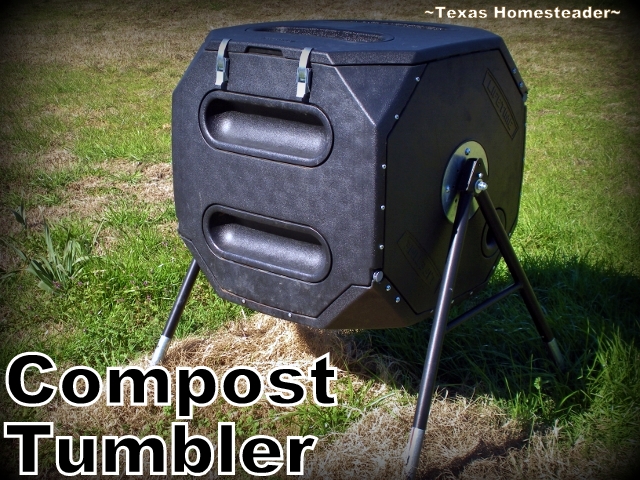 And I've used repurposed coffee cans in my raised beds too as EcoBricks. That's where you take an empty container and pack it tightly with non-recyclable trash before putting the lid back on.
In the garden I've used the resulting EcoBricks in the bottom of my large galvanized trough raised-bed planters.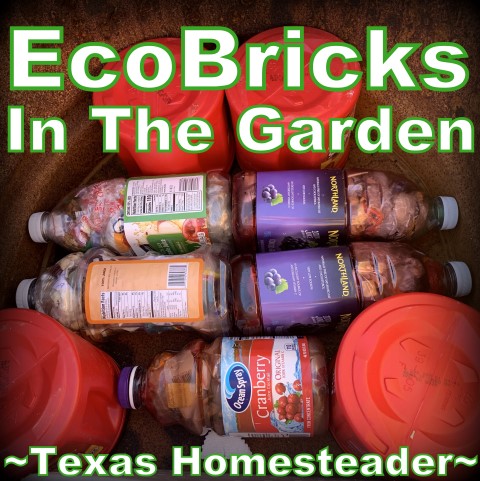 These EcoBricks will help provide drainage while offsetting some of the massive amounts of soil that would be required in filling such a large planter. Win/win.
Empty Canister For Harvesting
But recently I began to eyeball the grapes growing on the vine in our garden. Every year as I anxiously await the grapes ripening in their clusters, raccoons always come and eat them, eventually leaving me with nearly nothing to harvest.
You see, the grapes always ripen one-by-one in the cluster. So I'm stuck between waiting until most of the entire cluster is ripe, chancing that a raccoon gets them before I do, or harvesting the whole cluster and just throwing away the less ripe ones.
Neither option is preferable for me…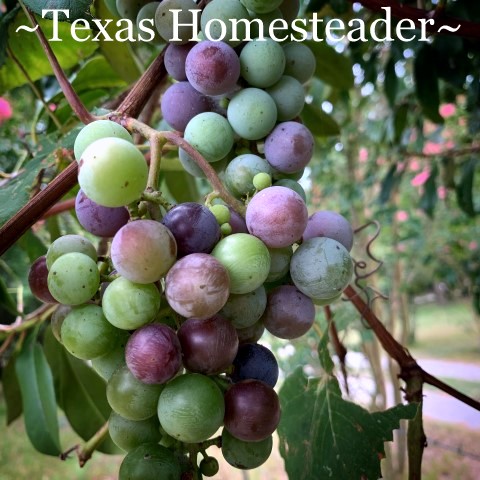 So this year I've resorted to picking my grapes like I do blueberries. I'm picking the ripe ones one at a time.
Oh sure it's more labor-intensive for sure. But grapes don't ripen or sweeten once they're picked. So this way I'm picking them all at the height of their natural sweetness.
Plus (and this is important) I'm finally able to beat the raccoons and harvest my own grapes.
Out To The Garden
So in the cooler morning hours, RancherMan & I will each take one of these handy empty coffee containers and head out to the grapevines. It's nice that the coffee cans have a built-in handle, which makes them easy to carry and hold.
One by one we pick ripe grapes until each of us has a canister full. It doesn't take long at all. You know, because many hands make light work and all.
Hallelujah! This is the most grapes I've gotten in a long time. And there's many more on the vines. I think from now on I'll just harvest them this way.
So I'll continue this harvest procedure for about a week or so until I feel most of the ripe grapes have been harvested.
I bring the grapes inside and wash them up in a colander. Then I'll spread them out and allow them to air dry for a bit.
Preserving My Harvest
But then the question remains: what to do with these fresh, sweet, ripe grapes? Well it's certainly too hot & humid here in NE Texas during these summer months to even think about long-term cooking or canning anything.
So my plan is to package them into freezer bags. Then into the freezer they'll go. They'll stay there until the weather cools off and my chore list finally slows down.
Then in the cooler winter months when I can stand to have that stove on, I'll decide what to do with them. I typically make them into grape juice and then can the juice so I can store the jars in the pantry.
RancherMan loves for me to make juice from them the most. He loves it, and I can control how much sugar goes into it too. Plus it's a zero-waste step as well since I use reusable glass canning jars and reusable *Tattler Canning Jar Lids. Nothing to the landfill!
But I may attempt to make some grape jelly too. I'm no stranger to jelly-making, y'all. I've made Wild Plum Jam and Honeysuckle Jelly among many others.
But I've never made grape jelly before. It seems like a good use for these powerfully-flavorful Concord Grapes. I'll be sure to share when that happens!
What about you? Let us know your favorite way to repurpose those handy food-safe coffee containers.
~TxH~
Coffee Canister Repurpose Ideas:
Our Delicious Jelly & Preserves Recipes:


C'mon by & sit a spell! Come hang out at our Facebook Page. It's like sitting in a front porch rocker with a glass of cold iced tea – lots of good folks sharing! You can also follow along on Pinterest, Twitter or Instagram.
If you'd like to receive an email each time a new blog post goes live it's EASY to
Subscribe to our blog!