by Texas Homesteader ~
Making Clover-Blossom Jelly is simple and results in a delicious easily-spreadable jelly your whole family can enjoy. We have many sweetly-fragrant clover blossoms in the pastures. Why not make Jelly with those blooms? It's easy & so delicious!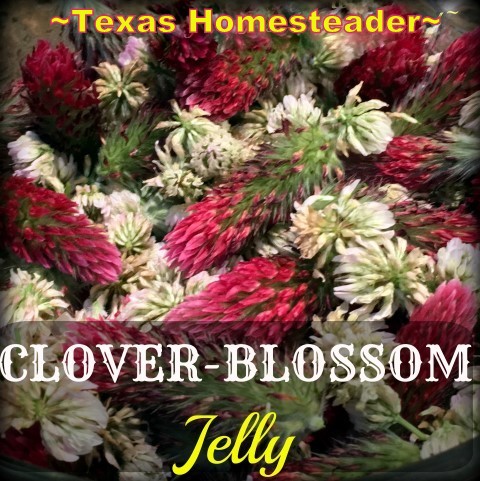 Planting Clover For Our Honeybees
We often plant clover heavily in a small paddock right next to our beehives. It's beautiful in full bloom!
We keep the cattle off of this piece of land to allow the bees to do their thing with all the clover blossoms. I suspect there's not a much sweeter delight than home-grown clover honey #amiright?
But as we were walking through that paddock recently I commented to RancherMan how fragrant those blossoms were. I need to make jelly from them!
Homemade Blossom Infusion Jelly
I use the same procedure that I use to make my Honeysuckle Jelly. Why not? It's still just a blossom infusion, right??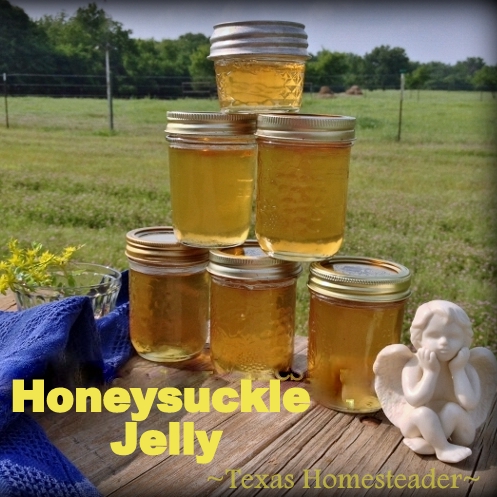 To make clover blossom jelly I first carefully picked about 4 cups of clover blossoms.
I mostly picked white clover blossoms but I also harvested some crimson clover blossoms as well. Maybe they will give an interesting tint of color to my jelly.
Clover Blossom Note: Remove any part of the green stem that might still be attached to the blooms. I've heard the greenery can cause your jelly to have an off or bitter taste.
Then I brought the blossoms inside and dumped them all into a colander. I rinsed them lightly and then started to make my blossom infusion.
Making Clover Blossom Infusion
Making the infusion was easy. I started by boiling 4 cups of water.
Then I turned off the heat and dumped the clover blossoms into the hot water. I gave it all a quick stir to immerse the blooms & then covered the pot with the lid.
I like to allow the infusion to steep for at least 45 minutes. But I allowed this infusion to cool completely. Then I stored the whole shebangie in the fridge overnight to infuse the flavor a little more.
The next morning I brought it out and strained out the blossoms. I even gave the blossoms a gentle squeeze to make sure all the infusion was being captured. My infusion was colored like strong tea.
Then into the compost bucket the spent blooms went. Nothing wasted!
Clover-Blossom Jelly Ingredients
Now I turn my attention to making my Clover-Blossom Jelly. Into a deep pan I measured out the ingredients:
4 cups of strained clover-blossom infusion
4 cups of sugar
1/4 cup of lemon juice
Then I turned the heat to medium high. I stirred as the infusion was heating up until all the sugar was dissolved.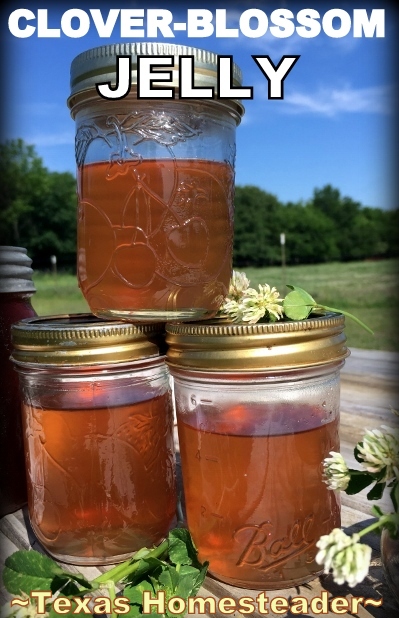 What is the Gel Point For Successful Jelly?
When making my jelly I attach my candy thermometer to the side of the pan and wait for the infusion to heat to 220 degrees, stirring constantly.
220 degrees is my jellying point here in NE Texas. But your gel point temperature could be different based on your altitude.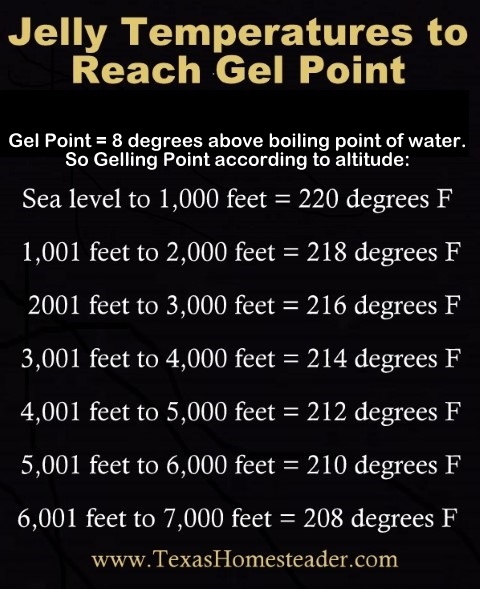 How Long To Simmer Jelly After Liquid Pectin Added?
When 220 degrees was attained I added the two 3-ounce packet of liquid pectin in the box and stirred until the mixture came to a boil again.
The jelly was allowed to boil for two more minutes. Now the jelly is done!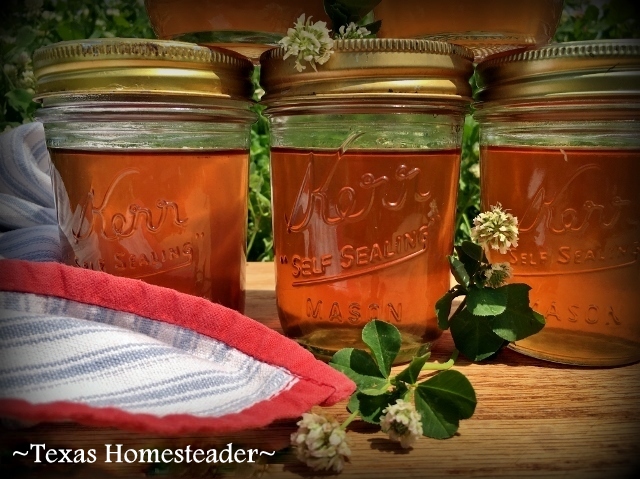 My jelly turned out a lovely amber color. (swoon…) Isn't it beautiful??
NOTE: If you will be canning the jelly you want to leave only 1/4 inch head space.
Tasting My Clover-Blossom Jelly
If I'm canning my jelly I always store a small amount in the fridge to be enjoyed immediately. That way I'm able to sample the jelly.
So after it cooled I gave 'er a little taste. It was delicious! Sweet, subtly flavored and not too thick.
The consistency would be perfect to spread onto toast or biscuits without tearing the bread, even after the jelly was chilled. Perfect!
Reasons Why Jelly Fails to Set
We've all been there. You thought you did everything right but… Your jelly just didn't set. Don't worry, it happens to most of us at one time or the other.
If you're looking for possible reasons, solutions or what to do with unset jelly I urge you to read Why Didn't My Jelly Set.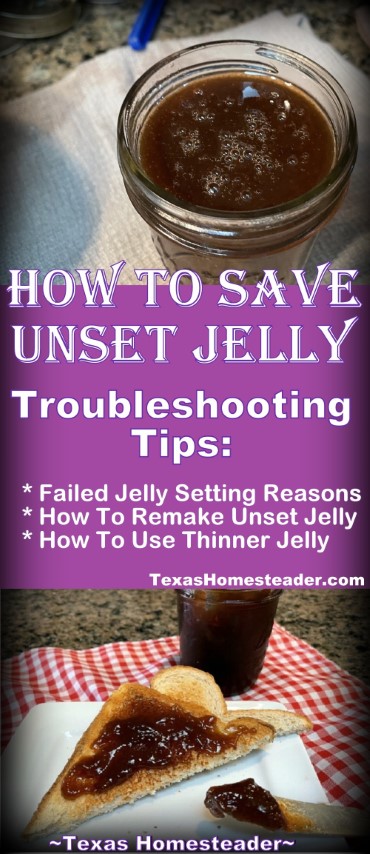 In that post I list solutions to try to remake the jelly and suggestions on how to use thin jelly too.
How To Prepare For Water-Bath Canning
If desired you can preserve your homemade jelly with a short stint in a water-bath canner. It's easy!
First prepare 1/2-pint canning jars by washing and placing them on a cookie sheet in an oven set to 225 degrees.
CANNER'S NOTE: I like to heat my jars to 225 degrees and hold them at that temperature while my jelly is cooking. This helps protect against thermal shock & cracked jars that happen when hot jelly is poured into cool jars. It also helps sanitize my jars for food preservation.
Place flat canning lids into super-hot (not boiling) water to soften the seals to prepare them for canning.
Finally fill the water-bath canner with water and place on a burner to begin heating the water to boiling.
NOTE: You'll need enough boiling water to cover the jars by about 1″.
Now you're ready to can your jelly!
Water-Bath Canning Clover Blossom Jelly
Using a canning funnel, add hot jelly to hot jars leaving only 1/4″ headspace.
Wipe off the jar's rims to remove any residue & attach canning lids & rings. Then place jars in a canning rack.
When all jars are filled, lower the rack into the boiling water of the canner.
NOTE: Jars should be covered by at least 1″ of boiling water
Once water returns to a boil, process jars for 5 minutes.
After 5 minutes carefully remove jars & place them on a kitchen towel away from drafts, allowing them to cool overnight.
The next morning check to see that all lids sealed by pressing the center with your finger. If it makes a plinky noise they did not seal. Place those jars in the refrigerator and begin enjoying them now.
For the sealed jars remove the rings to keep them from rusting & wipe down the jars with soapy rag to remove any residual stickiness.
Label the lids and store jelly in cool dark place. Jelly should maintain good quality for about a year.
Why Didn't My Jelly Set?
We've all been there. You thought you did everything right but… Your jelly just didn't set. Don't worry, it happens to most of us at one time or the other.
If you're looking for possible reasons, solutions or what to do with unset jelly I urge you to read Why Didn't My Jelly Set.
I list solutions to try to remake the jelly and suggestions on how to use thin jelly too.
Homemade Jelly Makes Great Gifts Too
Homemade jelly makes great, well-received & very personal gifts. So go on out & grab some of those fragrant clover blossoms while they're fresh & make some jelly!
Yes I'll share my recipe. You're welcome!
Did you make this Clover-Blossom Jelly? Please rate the recipe in your comment below!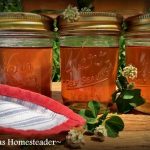 Clover-Blossom Jelly
Harvest some of those sweet clover blooms and make a delicious blossom-infused jelly. It makes a great homemade gift idea too. #TexasHomesteader
Blossom Infusion Rest Time
45
minutes
Servings
6
Half-Pint Jars
Ingredients
4

cups

Clover Blossoms

4

cups

Boiling Water

4

cups

Granulated Sugar

1/4

cup

Bottled Lemon Juice

1

Box

Liquid Pectin,

(typically contains 2 3-oz pouches)
Instructions
Make Blossom Infusion
To make an infusion, prepare 4 cups of clover blossoms by trimming away any green portions. If desired rinse blossoms in a colander & shake off any remaining water.

Bring 4 cups of water to a boil in a large saucepan, turn the heat off, then add the clover blossoms, covering the pan after blooms are placed in water. Allow them to steep for about 45 minutes, stirring occasionally.
Cook Clover-Blossom Jelly
Strain the flowers from the liquid. Measure four cups of the infusion and return it to the saucepan – the mixture will rise quite a bit when it's boiling so it's best to use an over-sized pan.

Add lemon juice and sugar and turn heat to medium high, stirring constantly. Bring the infusion to a hard boil that won't stir down. (220 degrees)

Add the pectin and boil for two minutes. Reduce heat if necessary to avoid boiling over.
Water-Bath Canning
Ladle jelly into hot, sanitized jars, leaving 1/4" headspace. Screw on 2-part canning lids. Place jars in boiling water of a water-bath canner for 5 minutes.

Remove jars and place on a towel, out of drafts and allow to cool for 24 hours. Test the lids to make sure the jars are properly sealed after that time.
Recipe Notes
I've refrigerated the cooled infusion with the blossoms overnight, and although the infusion was dark when I strained it, the jelly ended up amber-yellow and even more intensely flavored.
~TxH~
This post categorized in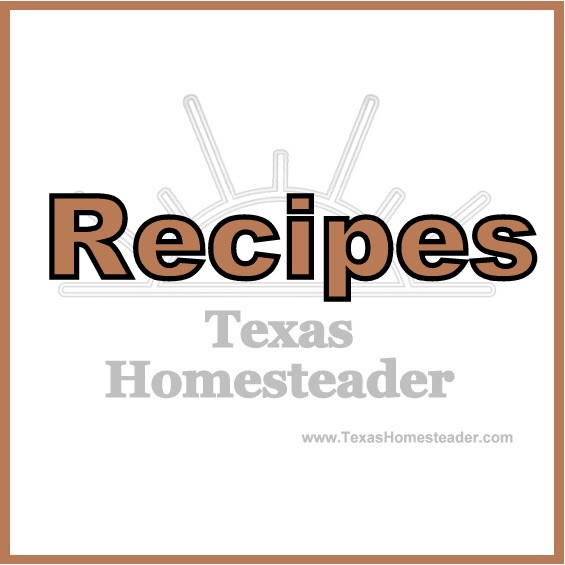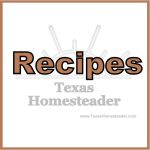 Our Delicious Jelly & Preserves Recipes:


C'mon by & sit a spell! Come hang out at our Facebook Page. It's like sitting in a front porch rocker with a glass of cold iced tea – lots of good folks sharing! You can also follow along on Pinterest, Twitter or Instagram.
If you'd like to receive an email each time a new blog post goes live it's EASY to
Subscribe to our blog!