by Texas Homesteader ~
*includes affiliate link
When my vegetable garden gives me lots of those ripe, delicious tomatoes, I want to make sure none go to waste.
I've found that after we've eaten as many fresh as we could, I like to pop some in the freezer for later. But if I roast them first they're more powerfully flavored and ready to use in my recipes.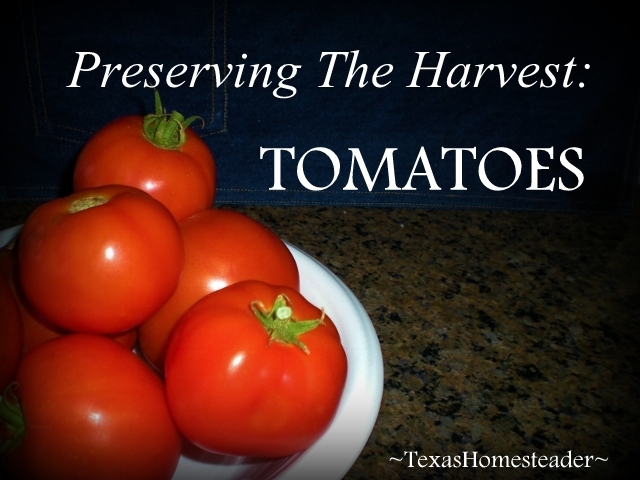 (Note: Some links in this post are for further information from earlier posts I've written. But links preceded with * are affiliate links. If you click them and buy something (almost anything, not just the item noted) I could receive a small purchase. But the price you pay will NOT change. It's an easy way to support this blog without anything coming out of your pocket. So click often! Thank you!)
Tomatoes From The Garden
My veggie garden was hit hard this year. Hordes of grasshoppers ate every leaf off of each plant, then ate any leaves that tried to re-emerge.
Unfortunately that killed most of my garden plants. Almost all of my garden was decimated before it was given a chance to provide nutritious goodness for us. It was awful.
But for some reason those dang grasshoppers didn't much care for the tomato plants. So we really got a bumper crop of them this year, I'm so thankful!
Using Fresh, Ripe Garden Tomatoes
There are lots of things I did with my fresh garden tomatoes to both enjoy them right away as well as to preserve them for later. But today I wanted to try something different.
Now mind you I've made sure all season long that none of those beautiful garden tomatoes go to waste. I've eaten them fresh of course but also frozen them too.
And I've made them into pasta sauce and tomato sauce, canned them, dehydrated them into diced tomatoes. I've made tomato powder and even dehydrated tomato leather to speed up & simplify homemade pizza night.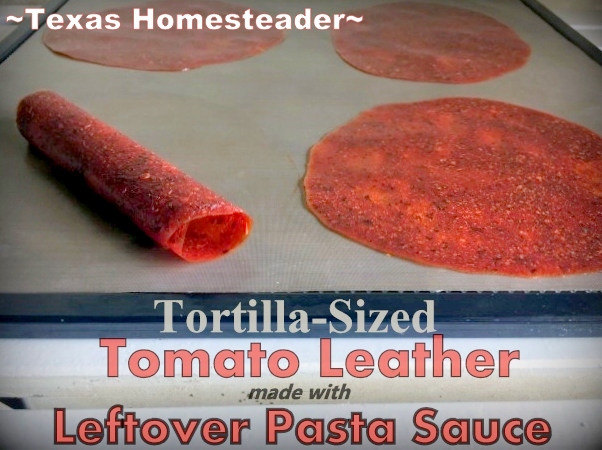 For some reason I'd never roasted tomatoes before. But while perusing Facebook one of my friends noted they were roasting some garden tomatoes that day. So I thought I'd give it a try as well.
OMGosh, how in the world have I NEVER DONE THIS??
Roasting those tomatoes brought out the most amazing taste. And it was oh-so-easy to do.
Preparing The Tomatoes To Roast
First I brought in those beautiful ripe tomatoes from my garden and washed them and allowed them to air dry.
Then I took each one and cut them in half longways and seeded them. I've read that often the seeds can give your tomatoes a bitter taste so I usually seed them before proceeding with anything else.
Luckily these heirloom romas are super easy to seed so this step took no time at all. I simple used a teaspoon to scrape along the seed section and dumped those seeds into my compost bucket. Each section took only about 3-5 seconds to seed.
Then I placed the halved and seeded tomatoes in a bowl, drizzled them with olive oil and tossed them to completely coat each tomato.
Many people add seasonings at this time but I didn't because I wanted experience the full taste of roasted tomato. Plus I don't want any seasonings I add now to compete with seasonings I might add when I'm using the roasted tomatoes in a recipe.
In the future I may try adding Italian seasonings or maybe just a sprinkle of salt. Or then again I may prepare them just as I've done today because I love that I can add these tomatoes to any dish I'm cooking without the seasonings competing with each other.
After the tomatoes were coated I placed them on a short-sided baking sheet lined with parchment paper.
Each tomato half was placed cut side up and I lined the tomatoes up side-by-side on that baking sheet until I filled all the available space.
Roasting The Tomatoes
Since I didn't want to fire up our big kitchen oven for such a small task I loaded the baking sheet into our small portable oven. I then placed the small oven on a table on our back porch. That way I could keep that cooking heat outside.
I flipped the oven temperature to 400 degrees and waited. The goal for roasting these tomatoes is to get the edges to a dark brown color without allowing the tomatoes to burn.
So I kept a close eye on them. In my case they were perfect in about 35 minutes.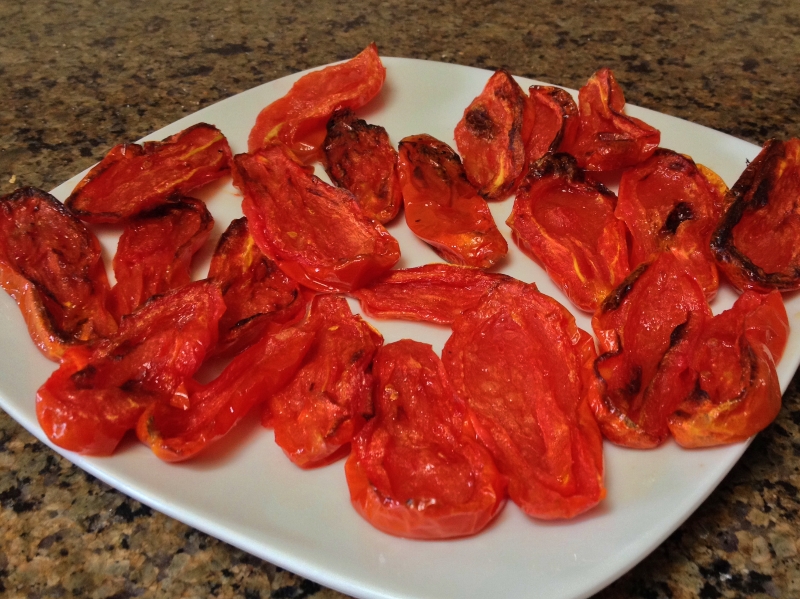 I brought the roasted tomatoes inside and let them cool slightly and gave them a quick sample taste.
OH MY!
I've decided I really love the taste of roasted tomatoes! I'm virtually certain I'll want to use them in my weekly endless soup.
I need a way to preserve them for later. I'll put them in the freezer since I have plenty of room right now and plenty of jars for freezing.
Preparing The Roasted Tomatoes
Before they go into the freezer I wanted to puree my roasted tomatoes so I'll be able to add them as a super-flavorful tomato paste of sorts.
So I bring out my new *Ninja blender – oh yeah I really love this thing.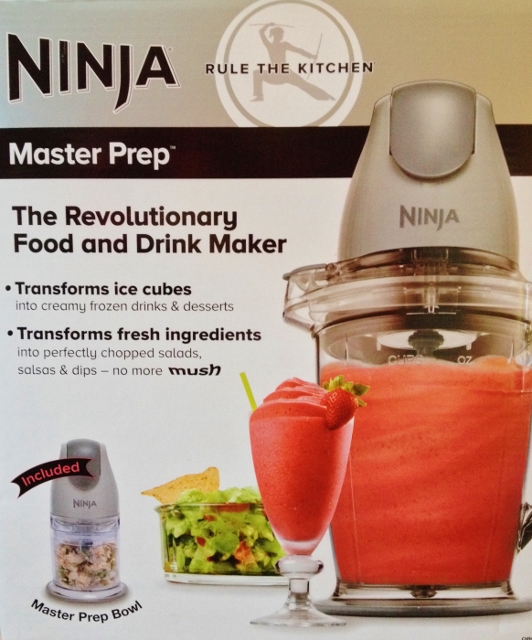 How I Decided On This Blender
Several weeks ago I became frustrated with my kitchen's options for making puree. My old blender just wouldn't get everything smooth enough for my liking.
And although my stick blender does a somewhat better job, many of the tasks I was asking it to perform were just way over its ability.
I polled my dear Facebook followers for their recommendations and the Ninja was recommended very highly. So I bought one and I've NOT been disappointed.
Blending The Roasted Tomatoes
I plopped my cooled roasted tomatoes, skins and all, into my Ninja blender and gave 'er a whirr. They blended perfectly into a most amazing and smooth sauce.
I'll store my roasted tomato puree in plastic peanut butter jars in the freezer.
When I'm ready to make my weekly soup I'll bring out a jar of this roasted tomato goodness and let it thaw in the freezer overnight. The next morning I'll pour the puree into my soup pot along with all my other ingredients.
I'll probably roast another batch of tomatoes and freeze the puree in ice cube trays. That will allow me to pop a smaller amount into whatever dish I'm cooking.
I'm pretty happy that I'll be able to enjoy this amazing fresh taste of summer throughout the blustery winter months.
And it makes me smile that my garden has once again provided something I would ordinarily have to purchase at the store.
~TxH~
Preserving The Harvest Posts
…And Much MORE!
Dehydrating Posts


C'mon by & sit a spell! Come hang out at our Facebook Page. It's like sitting in a front porch rocker with a glass of cold iced tea – lots of good folks sharing! You can also follow along on Pinterest, Twitter or Instagram.
If you'd like to receive an email each time a new blog post goes live it's EASY to
Subscribe to our blog!
* A word about our Affiliate Link – We are currently enrolled as an Amazon Affiliate. Occasionally I will insert an affiliate link into one of my posts if I think it may be of interest to you. I receive nothing from the manufacturer and I only link to products that I have used & love and feel you might love too. If you click on any of my affiliate links and buy something (almost anything, not just what was linked) I get a small referral percentage from Amazon. But here's the really important part – the price you pay for your items is UNCHANGED.
When you buy something through the affiliate link it's a great way to support this blog without anything coming out of your pocket so please click often!
Save
Save
Save