By Texas Homesteader ~
*contains affiliate link
Tomatoes are the darling of the vegetable garden around these parts. Some like to plant squash, some like peppers. But by golly almost everyone has a tomato bush (or two, or three…) in their garden!
None of my tomatoes will go to waste. Even when they're producing too fast for me to eat fresh. I like to dice & dehydrate those fresh tomatoes to use in my wintertime soups. It's easy!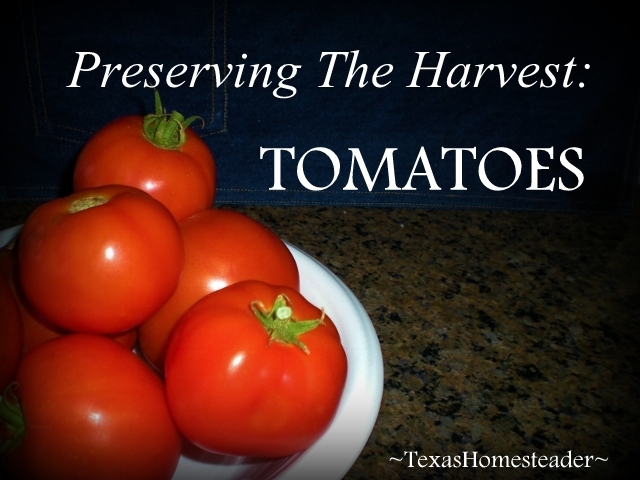 (Note: Some links in this post are for further information from earlier posts I've written. But links preceded with * are affiliate links. If you click them and buy something (almost anything, not just the item noted) I could receive a small commission. But the price you pay will NOT change. It's an easy way to support this blog without anything coming out of your pocket. So click often! Thank you!)
Garden Season Pests
This summer has been pretty weird, garden wise. After suffering 3 consecutive years of gripping drought we finally got a little rain this year. Oh don't get me wrong, we're STILL in the drought and suffering from below-normal rainfall but at least sporadic rains have fallen this year.
But here's the crazier weird thing: we had hordes of grasshoppers the likes I've never seen before. They swooped in like a plague, sweeping through in clouds of flying hoppers & stripping each & every leaf off of most of my garden. Then they devour any sprouting leaves that try to recover thus killing the plant entirely.
But for some reason the grasshoppers didn't eat the tomatoes. That blessing coupled with at least a little rainfall meant my tomatoes produced like gangbusters. I only planted two tomato bushes but they've produced even more heavily than they usually do.
I've frozen tomatoes, cooked them into tomato sauce and canned pasta sauce.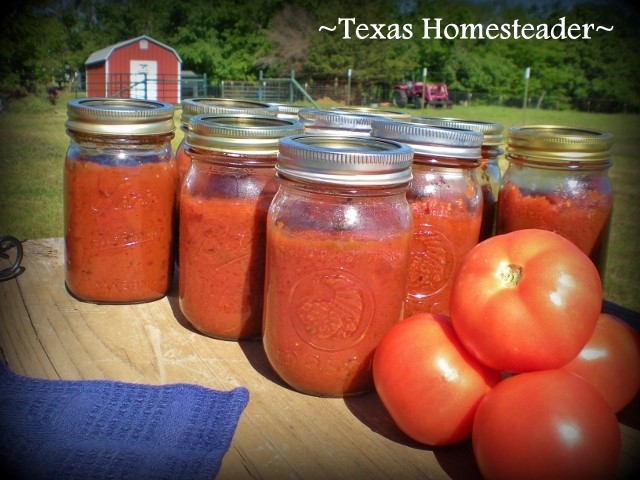 And I've dehydrated the skins for tomato powder and even made tomato leather for pizza.
But what about dehydrating them into diced tomatoes to use for my endless soup this winter? Hummm…
Harvest & Seeding
First I harvested the basketful of ripe tomatoes from the garden and brought those red beauties inside. Then I washed them and allowed them to air dry. When I was ready to begin processing I cut each tomato in half and seeded them.
It's wonderful for this lazy efficient gardener that these San Marzano tomatoes can be cut & seeded in just about 10 seconds each! So this step didn't take long at all.
I didn't bother removing the skins this time for two reasons:
First: let's admit it, I'm lazy in the kitchen.
Second: if I were cooking with fresh tomatoes and dropping them into my soups, etc. I wouldn't remove the skins anyway.
Dehydrating The Tomatoes
I've used my little household dehydrator for years. Although it worked fine I now have a 9-tray *Excalibur dehydrator
and I absolutely LOVE it!
Now I can now easily dehydrate large amounts of garden produce at one time. It's a dehydrating beast, y'all!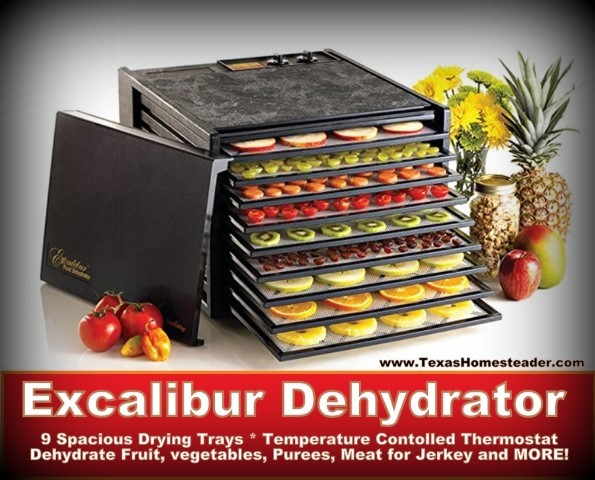 My manual instructs me to dehydrate these diced beauties at 155 degrees for 8-12 hours, until leathery or brittle.
Of course it also instructed me to first cut away 1/2″ from the top of the tomato, steam until tender, cool, peel & cut into 1/4″ slices or 1/8″ cubes. But you know being the kitchen rebel that I am that I didn't do all of that.
Although I didn't follow any of those preparation steps except the dicing, I think they'll be perfect for my use. I dehydrated mine just under 12 hours and they were about right for me.
Storing Dehydrated Tomatoes In Glass Jars
After the tomatoes were dehydrated I gathered them up and placed them in a couple of glass jars. I'll leave them on my counter top for about a week with the lid propped on top but not screwed on.
Each day I'll shake the contents of the jar in case there's just a little residual moisture in any of my dehydrated tomatoes.
If that moisture is allowed to stay it will start to mold and destroy the whole jar of dehydrated produce. By leaving the lid loose and shaking the contents daily I will distribute that tiny bit of moisture and allow it to evaporate.
Make Sure ALL Moisture Is Gone!
Yeah, I feel a little like SUPERWOMAN of the kitchen as my cape flaps gently in the breeze & I steel my jaw to declare "Must. Defeat. Mold." Oh yeah, you've discovered my super-secret secondary profession.
After about a week I'll seal the jars tight and store them in my pantry.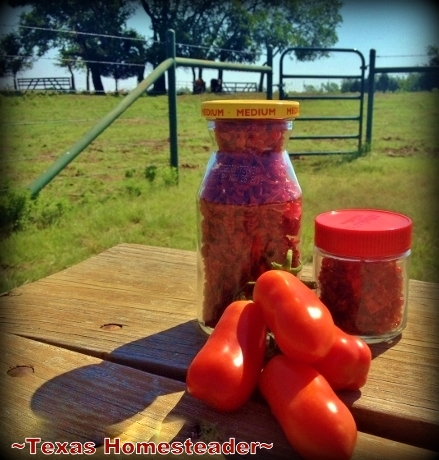 Dehydrated Food Takes Little Storage Space
Can you believe how little room those several pounds of tomatoes take to store now? I'll use them similarly to the canned diced tomatoes I used to buy.
Maybe I'll rehydrate them for recipes that call for a can of diced tomatoes. Or if I'm making endless soup I'll just drop them into the simmering broth along with the other dehydrated veggies I like to add.
I'm so happy that my garden has supplied me with healthy food that's replaced items I used to have to buy.
~TxH~
Other Dehydrating Posts


C'mon by & sit a spell! Come hang out at our Facebook Page. It's like sitting in a front porch rocker with a glass of cold iced tea – lots of good folks sharing! You can also follow along on Pinterest, Twitter or Instagram.
If you'd like to receive an email each time a new blog post goes live it's EASY to
Subscribe to our blog!
* A word about our Affiliate Link – We are currently enrolled as an Affiliate. Occasionally I will insert an affiliate link into one of my posts if I think it may be of interest to you. I receive nothing from the manufacturer and I only link to products that I have used & love and feel you might love too. If you click on any of my affiliate links and buy something I get a small referral percentage. But here's the really important part – the price you pay for your items is UNCHANGED.
When you buy something through the affiliate link it's a great way to support this blog without anything coming out of your pocket so please click often!
*Amazon affiliate
Save
Save
Save
Save