by Texas Homesteader ~
You can often find a huge bag of potatoes for cheap. It's hard not to just buy the bigger bag instead of a smaller bag for almost the same money, right?? But will you be able to eat them all before they go bad?
I decided to dehydrate excess potatoes. But there's a trick to keeping them from turning black as they're dehydrated.
(Note: Some links in this post will take you to other related articles for further information. But links preceded with * are affiliate links. If you click and buy something I could receive a tiny commission.)
What To Do With Too Many Potatoes?
Recently I acquired a large quantity of potatoes and went on a mission to figure out how to eat and/or preserve them all.
In the past I have preserved potatoes by cooking, mashing and freezing them.
When I'm ready for mashed potatoes I just bring them out to thaw, drain the excess water, add salt/pepper/butter and BOOM! Homemade mashed potatoes.
Dehydrated Potatoes Take Little Storage Room
But I also like to dehydrate them. Dehydrated food is stored in repurposed glass jars in my pantry.
So no additional energy is needed to store it this way. And I love the benefits of having dehydrated food in my pantry.
In the past I've dehydrated potatoes into Potato Cubes. Those cubes can be dropped still dehydrated right into our winter simmering soups to rehydrate as the soup cooks! Gotta love it!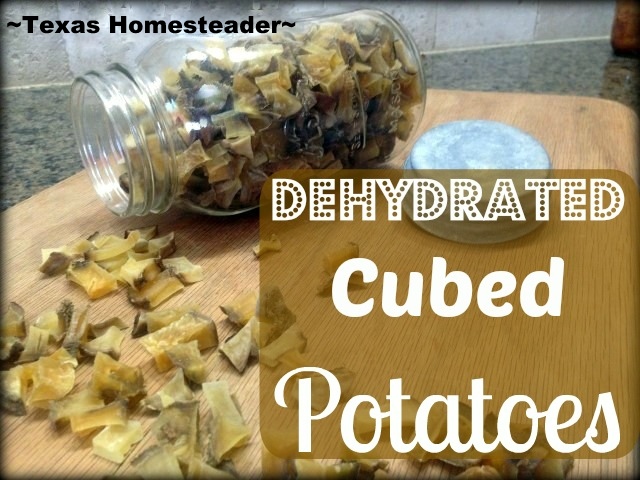 But now that I have those cubed potatoes in the pantry, this time I think I'll shred the potatoes before dehydrating.
That way I can use them for breakfast burritos or for making hash browns.
Variety, bebe!
Keeping Dehydrated Potatoes From Turning Black
But just cutting the potatoes and drying them will cause the potatoes to turn black. Ewwwwww… not very appetizing.
So before dehydrating potatoes I need to first cook them.
Inwashed the potatoes and then pricked the skin in several places on each potato. Then I stacked them tightly in my black enameled covered pan.
Cooking Potatoes With FREE Solar Energy
You can cook the potatoes in a conventional oven of course. But I wanted to use FREE solar energy to cook my potatoes.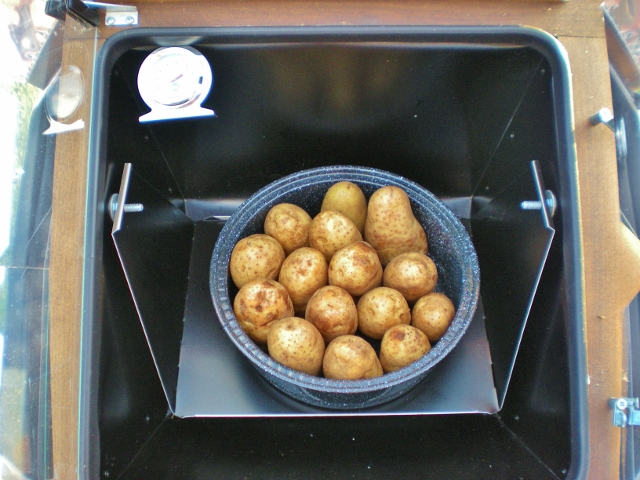 So I covered the pot with a lid and placed it into my *solar oven.
After closing & latching the oven door I pointed the reflectors at the sun, adjusting the oven about once an hour to help it track the sun and keep the interior temps consistent.
You want the potatoes to be cooked enough to not turn black but undercooked enough that they're firm enough to grate, maybe about 3/4 of the way.
I removed the covered pan of potatoes from the solar oven when I began to see steam collecting on the inside glass of the oven.
We had intermittent high-level cloudiness on this day, so the oven temps only held to around 250 degrees. It was about 3 hours until I saw the steam collecting on the glass.
Don't Grate Hot Potatoes
But I couldn't continue on with preparing my potatoes for dehydrating right away. You see, it's better to grate the potatoes when they're cold.
So I spread the hot cooked whole potatoes on my counter to cool. After they were cool I stacked them in a bowl and refrigerated them overnight.
The next morning I pulled the cold potatoes out of the fridge and began to grate them. Ah yes, this really is so much easier!
Do You Need To Peel Potatoes Before Grating?
I didn't peel the cold cooked potatoes before grating as some people do.
Not only does it save me time by skipping that step, but I don't mind a few small flecks of potato skin mixed in with my grated potatoes.
So I simply started grating the chilled whole potatoes. For the most part the skins naturally pulled away from the potato as I grated.
Much of the time that left me holding only the skin when the potato was fully grated.
So I could still compost almost all of the potato skin that way without having to peel them first.
#WorkSmarterNotHarder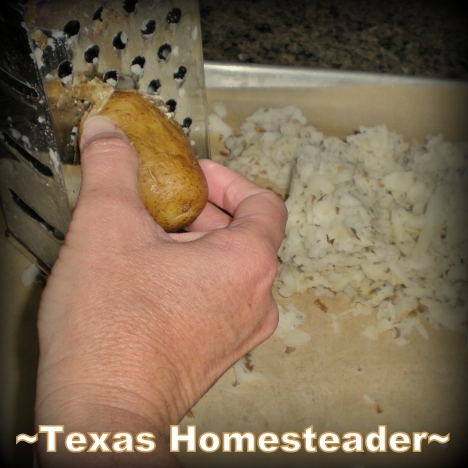 Dehydrating Potatoes Epic Fail – What NOT To Do!
Now I'm going to share with you what DIDN'T work in dehydrating my potatoes!
Since there was so much volume of grated potatoes I decided to dry them in my oven.
So I divided them onto two large baking trays lined with parchment paper. Then I tried to dehydrate them in my conventional oven, turned on low heat.
That would allow me to dehydrate both large trays at the same time. Sounds easy enough, right?
But the oven allowed the moisture to remain and the potatoes didn't dry fast enough. So they all soured.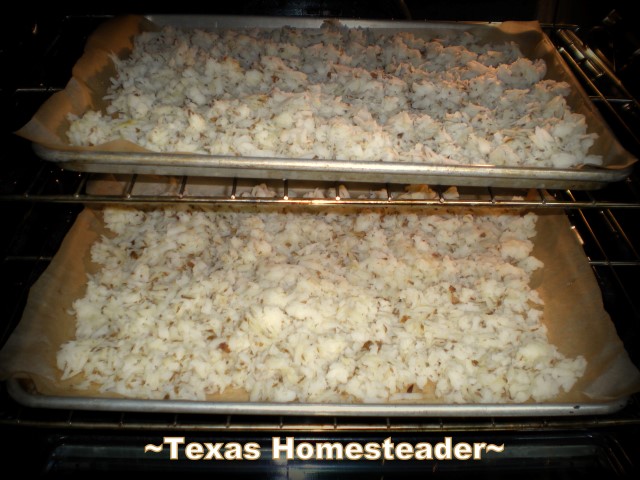 Ugh, epic fail! The whole mess had to go into the *tumbling composter. I had to start over from square one.
Maybe leaving the oven door ajar as it's turned on low would allow moisture to escape? But it was still hot & humid outside. I just couldn't stand to add that heat into our house.
Still, the lesson was learned. I needed to dry the potatoes more quickly and with more airflow.
Dehydrating Potatoes: Plan B
Hummmm… How else can I do this? Well there was quite a heat wave going on here in Texas so why not take advantage of mother nature's torture, I mean free heat?
So I repeated the whole process. But this time I covered the cooked, shredded potatoes with lightweight cheesecloth & placed the trays outside on the picnic table to dry.
That hot Texas sun removed the moisture quickly! I stirred the grated potatoes a couple of times and they dried beautifully.
Now that I have an *Excalibur Dehydrator I can complete this dehydrating process more easily in the future.
And if it's still hot here in Texas I can put the dehydrator on our covered porch and still keep the heat outside. YEA!
All in all I cooked, grated and successfully dehydrated about 15 pounds of potatoes. But look how they dehydrate down into a very small volume!
Plus I think they look pretty stored in glass jars in my pantry!
I'll use these dehydrated shredded potatoes as hash browns of course. Just rehydrate them for a few minutes, drain the water completely.
Then heat oil in the skillet, add a pile of rehydrated grated potatoes, press lightly to flatten & cook until crisp.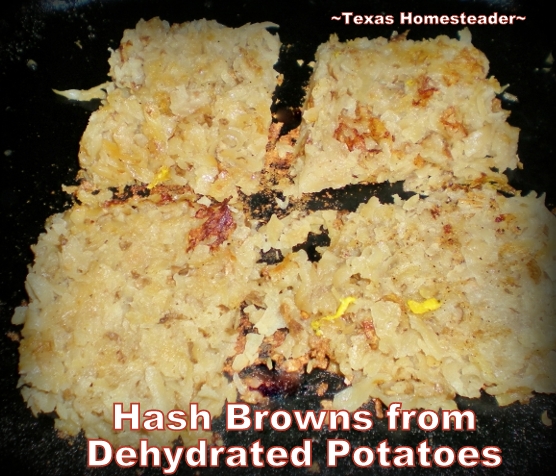 But we also like shredded potatoes in our breakfast burritos along with the eggs & sausage.
So I'll use the same rehydrating procedure as with the hash browns, only after rehydrating & draining the potatoes I'll add them directly to the eggs as I'm scrambling them.
Potatoes are fun to grow in your garden. Or oftentimes you can find super-large bags of potatoes dirt cheap.
Do you wonder what you'll do with them all before they go bad? Question answered! Try dehydrating potatoes for longer storage.
~TxH~
Other Dehydrating Posts


C'mon by & sit a spell! Come hang out at our Facebook Page. It's like sitting in a front porch rocker with a glass of cold iced tea – lots of good folks sharing! You can also follow along on Pinterest, Twitter or Instagram.
If you'd like to receive an email each time a new blog post goes live it's EASY to
Subscribe to our blog!
*Amazon affiliate
Save
Save
Save
Save
Save
Save