by Texas Homesteader ~
You'll remember a few weeks ago I was delighted to find a very beneficial tree at an old abandoned homestead sight on property we had recently obtained.
It was identified as a Jujube Tree. I picked much of the fruit from those trees and dehydrated Jujube fruit for use in my homemade Pumpkin Granola. They are absolutely delicious.
But recently RancherMan & I were checking on the cows in that remote pasture & I happened to look up and see what looked like the golden berries of a Soapberry Tree. I'd read about them before, but could it be??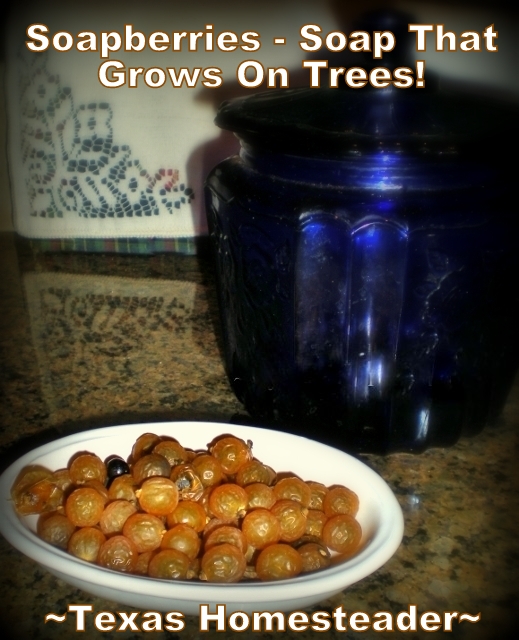 Now I had researched this tree several years ago when I was using soapnuts in my washing machine as a more environmentally-friendly laundry option.
I loved the soapnuts, they were effective at cleaning our clothes and they kept me from buying commercial laundry detergent. (Along with all the packaging that generally comes along with it.)
In researching about soapnuts I read that there is a tree indigenous to the southwest called a Western Soapberry Tree. (or Sapindus saponaria ssp. drummondii ) I thought it would be so cool to run across one of these trees here on our homestead.
But alas, no such trees could be found.
Do I Spy A Western Soapberry Tree??
But on this day as RancherMan & I were standing at the pond of our remote pasture property talking to customers about animals they were about to purchase, I looked up and saw those golden orbs.
They looked just like the berries I had seen in my research years ago.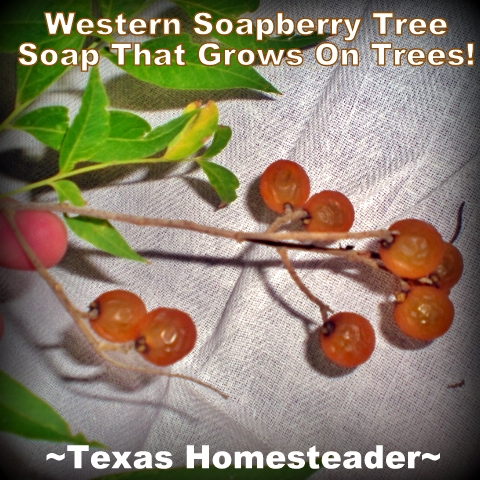 I'm sure our new customers must have thought I'd lost my mind! I excitedly secured some of those berries for further identification.
I took close-up pictures of the bark, the berries and even the seed inside the berries. Close-up photos were also taken of the alternate leaf pattern, both from the top & the underside.
I sent all the photos to my extension agent. She has been invaluable to me in identifying trees in the past.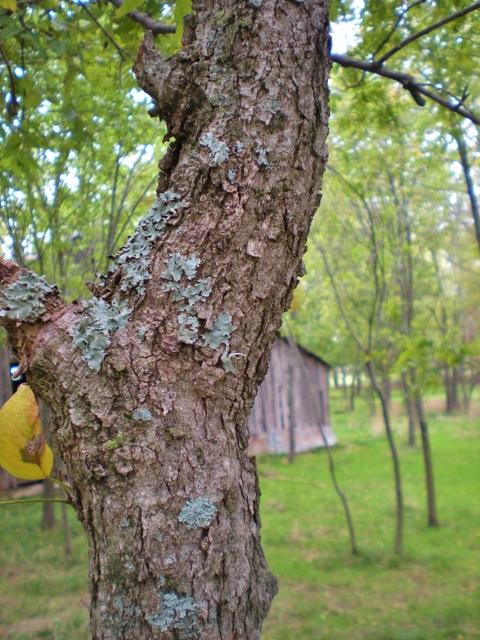 Bark of Western Soapberry Tree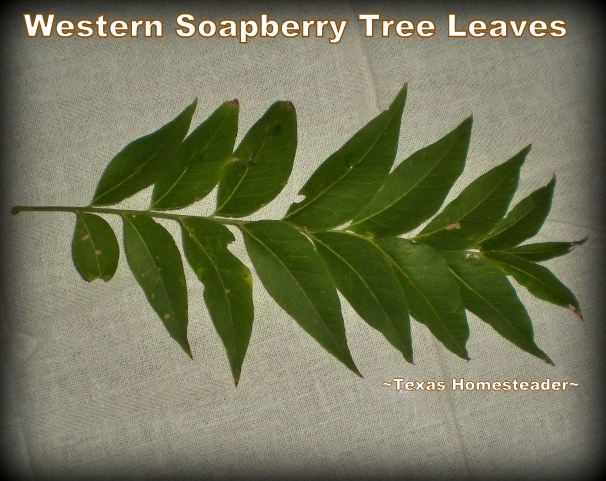 Alternate leaves from the top view – Western Soapberry Tree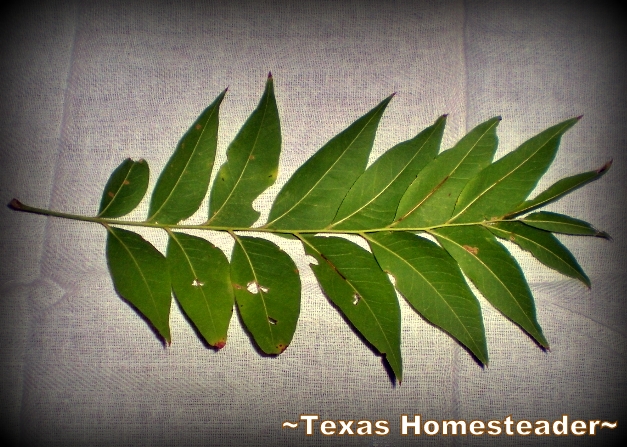 Alternate leaves from the underside view – Western Soapberry Tree
Photos To Extension Agent For Identification
I was excited when I received this response from my local extension agent:
"Several years ago we did some studies with one of the specialists on soapberry trees. So I have sent this to the Master Gardeners that were involved at that time. We all agree this is the soapberry tree."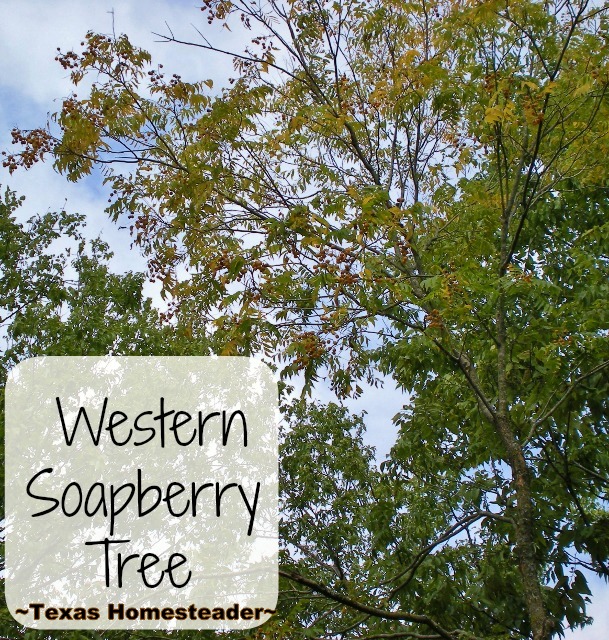 WOO HOO! It's said that soapberries contain about 37% saponin & were used by native Americans and early settlers for cleaners and soaps.
So I've picked some of the berries and dried them. I used them in the small muslin bag that came with the soapnuts that I purchased awhile back.
I've read that it can cause skin irritations to those 'susceptible to them' so I tested it slowly at first. But I have used it for my own Home-Grown Laundry Detergent.
How very cool that a tree on our property could be providing our laundry cleaning!
I also use soapberries as a natural shampoo too. I'll soak soapberries in water for 6 weeks, swirling the mixture from time to time.
Sometimes I infuse my soapy mixture with rosemary for an extra healthy-hair boost. Sometimes I infuse it with fresh mint.
When it's completely infused I'll strain the mixture, dilute it, add a small amount of baking soda and use it for a natural shampoo. A friend of mine does this and says it does a fantastic job cleaning her hair, and no conditioner is needed.
Gotta love this Western Soapberry Tree. It's been so useful in lowering my environmental footprint. And you know that makes my crunchy green heart happy.
~TxH~
Want To Read More About Soapberries?
Want To See Our Natural Cleaning Posts?
C'mon by & sit a spell! Come hang out at our Facebook Page. It's like sitting in a front porch rocker with a glass of cold iced tea – lots of good folks sharing! You can also follow along on Pinterest, Twitter or Instagram.
If you'd like to receive an email each time a new blog post goes live it's EASY to
Subscribe to our blog!
Save
Save