by Texas Homesteader
*this post contains an affiliate link
I've been using my solar oven pretty heavily this year and I've finally dehydrated all my excess garden tomatoes for the summer.
(again for those of you asking, I have a *Sun Oven
and I love it!)
I'll use the dehydrated tomatoes in numerous ways. To make tomato paste for homemade pizza and to thicken my homemade blender salsa, among other ways.
This late into summer is usually so very hot and dry that the garden stops producing and I just try to keep the garden watered enough to struggle it along in hopes of getting some kind of tiny fall garden production.
This time of year 99% of my garden is out of production. But we do have one last veggie going strong – FIERY-RED JALAPENOS!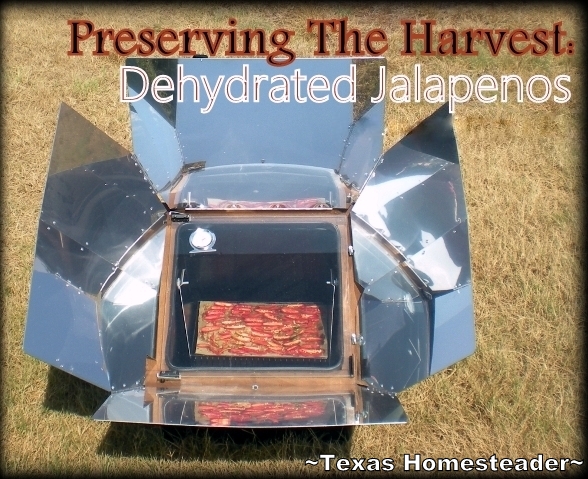 (Note: Some links in this post are for further information from earlier posts I've written. But links preceded with * are affiliate links. If you click them and buy something (almost anything, not just the item noted) I could receive a small purchase. But the price you pay will NOT change. It's an easy way to support this blog without anything coming out of your pocket. So click often! Thank you!)
How To Dehydrate Jalapenos
I harvested all the jalapenos remaining on the garden plants and brought them inside. After a quick wash & dry I set out to cut them thinly and uniformly.
I've learned from past mistakes that no matter how well or often you wash your hands, processing jalapenos will leave your skin burning for days.
Slicing Jalapenos Requires Care!
So I have incorporated this clever way of slicing the peppers: I use a sharp shrimp fork to pierce the pepper on the very edge of one side & start slicing the pepper longways in thin slices.
Now that my peppers are all sliced I use the knife blade to transfer the jalapeno slices to a rack topped with parchment paper, sliding the pepper slice from the blade with my shrimp fork.
Using this minimal-touch method keeps those jalapeno oils from soaking into my skin and burning for days.
Place Sliced Jalapenos on Parchment Paper
I've been dehydrating tomatoes lately. So after I pull those dehydrated tomatoes from the parchment paper I just add the jalapenos using that same paper.
Reduce – Reuse – Recycle. (does anyone know if parchment paper can go into the *tumbling composter after these peppers are dehydrated?)
Anyway since the rack is topped with parchment paper the jalapenos won't fall through the grills as they dry & shrink.
Now that they're all prepared I place my rack of peppers into the solar oven. The door is left unlatched to allow some of the heat to escape and I point the oven's reflectors toward the sun.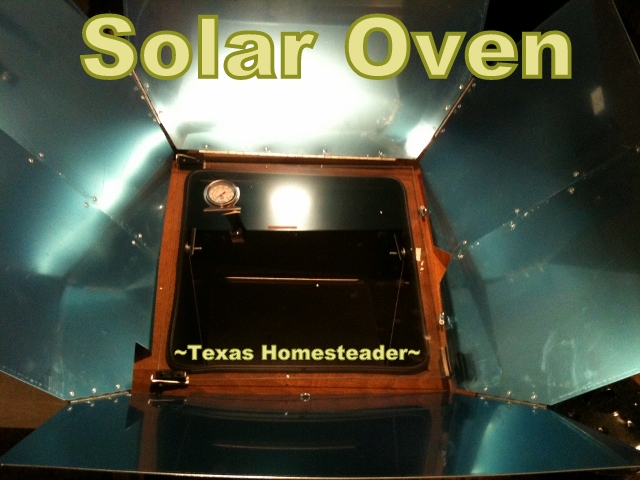 Using The Power Of The SUN To Dehydrate Jalapenos
At first the temps will soar pretty quickly even with the door unlatched. If it gets too high I'll move the oven so it's not as directly aligned with the sun, which will gradually reduce the inside temps.
Although I don't mind an initial internal temperature of about 300 I like to keep the inside temps to around 200 after the first hour or so.
Depending upon cloud cover and how well you monitor the temps inside the oven, these slices will slowly dehydrate in about 5-6 hours.
Now I just bring in the brittle dried jalapeno slices & grind them into a flavorful powder. And I'll use this powder to spice our food with a little home-grown sizzle!
When I dehydrate jalapenos from the garden none are wasted. And no plastic bottle of commercially-produced seasoning entering the house. Win/Win!
~TxH~
Links In This Post:
Other Dehydrating Posts


C'mon by & sit a spell! Come hang out at our Facebook Page. It's like sitting in a front porch rocker with a glass of cold iced tea – lots of good folks sharing! You can also follow along on

Pinterest

, Twitter or

Instagram

.
If you'd like to receive an email each time a new blog post goes live it's EASY to
Subscribe to our blog!
* A word about our Affiliate Link – We are currently enrolled as an Affiliate. Occasionally I will insert an affiliate link into one of my posts if I think it may be of interest to you. I receive nothing from the manufacturer, but I love this solar oven & thought you might too. But if you click on any of my affiliate links and buy something (almost anything, not just what was linked) I get a small referral percentage. And here's the really important part – the price you pay for your items is UNCHANGED.
When you buy something through the affiliate link it's a great way to support this blog without anything coming out of your pocket so please click often!
*Amazon affiliate
Save
Save
Save
Save