by Texas Homesteader ~
Freezing garden tomatoes offers several benefits. Easier tomato peeling, less water when cooking them down and ease of preserving. Come see how I do it.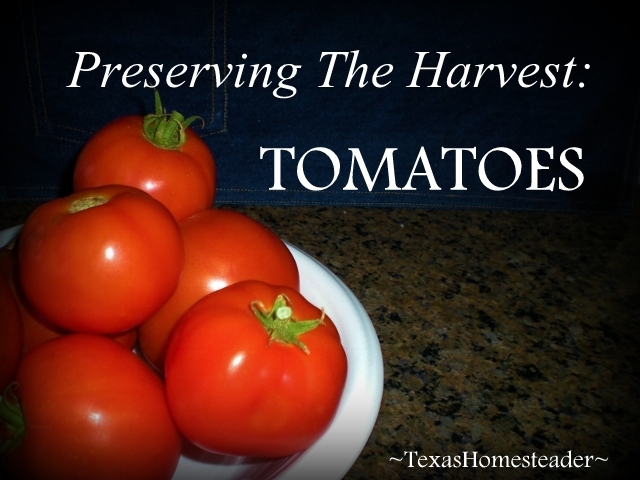 When the garden is offering up so many fresh garden tomatoes that you can't eat them all fresh, you make sure to preserve them. You don't want any of that garden goodness wasted!
Oftentimes I take the simplest way out, freezing the fresh tomatoes for later. Come see how I do it.
Garden Tomatoes Are Garden Favorites!
Tomatoes are the sweethearts of the vegetable garden, especially down here in the south. We eat tomatoes raw in salads, for garnishing main dishes, cooked into soups & stews and made into savory sauces.
My favorite way to put them into action is to make Fresh Garden Pico de Gallo. I can eat that stuff with a spoon, y'all!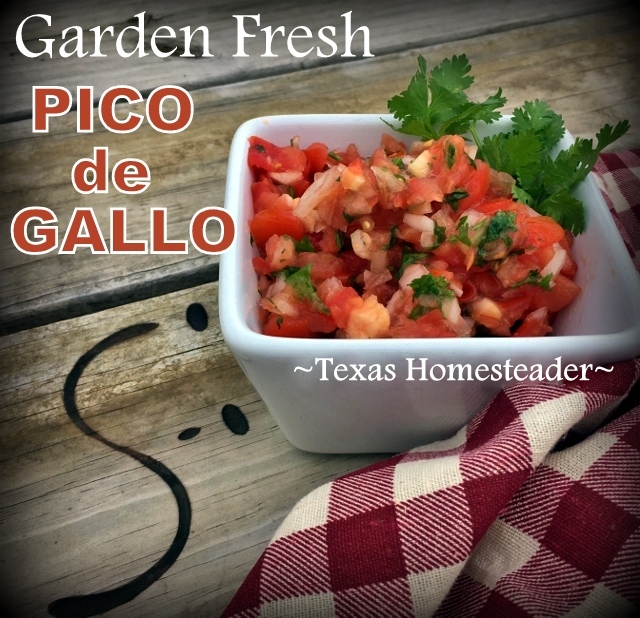 Heck down here in the south, many even enjoy a dish called tomato pie! (or as it's pronounced down here: tomatah pah)
But tomatoes often produce more than we can eat fresh. So I make sure to preserve them to enjoy later.
How To Preserve Fresh Tomatoes For Later
Now here at our Homestead I typically, very purposely over-plant tomatoes in the garden each year. That's so I'll have plenty to preserve for later.
Tomatoes are pretty prolific producers and oftentimes there's quite an influx of tomatoes to be consumed at one time.
Some home gardeners eat them fresh as quickly as they can. Others preserve their tomato excess by canning them in a pressure canner.
I really enjoy a freshly-picked ripe tomato fresh from the garden, still warm from the sun. But RancherMan will only eat them in moderation when they're served sliced raw. Yeah, #idontunderstandeither.
But I sure won't allow these precious fruits to go to waste. So I have several ways to preserve tomatoes:
But I personally don't enjoy the thought of firing up that canner during the heat and humidity that defines a typical Texas summer. So what's a country girl to do to easily preserve fresh tomatoes?
Ease Of The Freeze!
My favorite and by far easiest way to preserve fresh tomatoes is by freezing them. Heck, then I can use them later in our favorite way – blender salsa! It's a dry salsa mix that I have stored in the pantry. Mix it with garden tomatoes and BOOM! Salsa!
Easiest Heat-Free Way To Peel Tomatoes
And the beauty of freezing tomatoes is that when they are thawing the skin slips right off. That means there's no need to stand over a steaming pot of water dipping raw tomatoes in to skin them.
Less heat & humidity in the house during the summertime? That certainly works for me!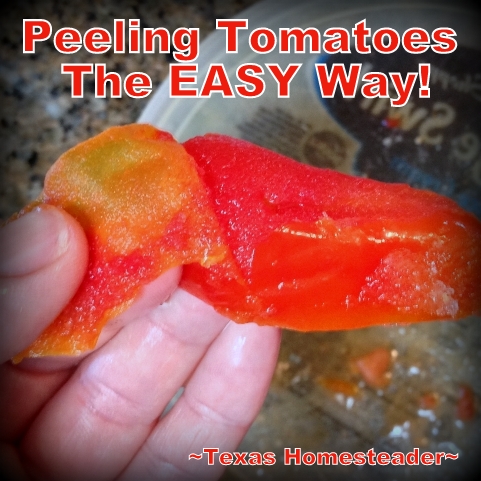 Previously Frozen Tomatoes Release More Water
Plus, if you decide to cook with those frozen tomatoes to make tomato sauce or pasta sauce, frozen tomatoes let go of much of the water in them as they thaw.
That means you're not stuck simmering on and on (and ON) to get the tomatoes simmered to the perfect thickness.
Now I don't know about you, but easier and QUICKER in the kitchen is aaaaaalways a winner for me!
How To Freeze Fresh Garden Tomatoes
Preserving tomatoes by freezing is super easy. Since they won't stay in the freezer long I don't worry much about freezer burn. So I don't use any specialty containers to freeze the tomatoes, just plain ole repurposed zipper bags.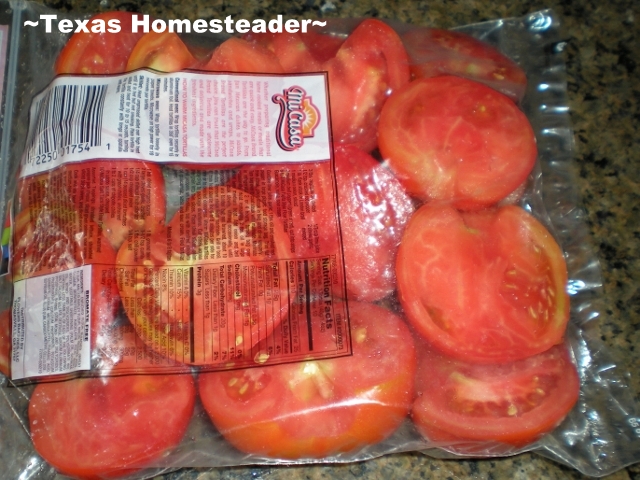 Preparing Fresh Tomatoes For Freezing
To freeze the tomatoes I bring those freshly-picked orbs of crimson deliciousness inside from the garden.
Quickly rinse tomato & blot dry

Core tomatoes and cut them in half

Place tomato halves into a bag, seal tightly & freeze
What Type Of Bags To Use When Freezing Tomatoes?
I usually just use repurposed bread or tortilla bags to store them in the freezer since their stay in my freezer will be so short.
But if you want to store them longer you'll probably need to be more mindful of their freezer diggs to keep them fresh tasting.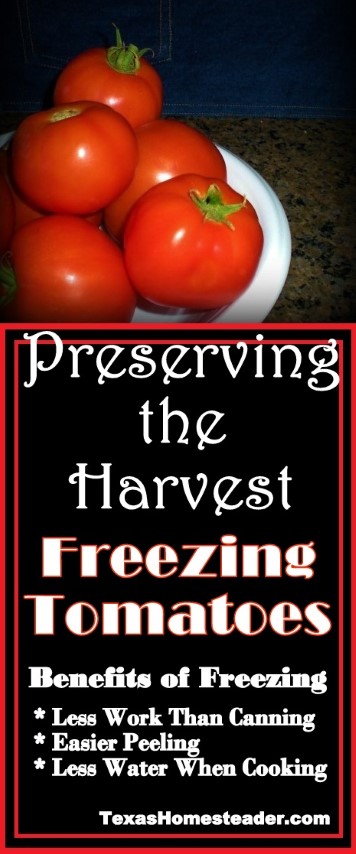 Does The Texture Of Tomatoes Change After Freezing?
As with many frozen foods, the texture of your tomatoes will be soft when thawed.
That means you won't have the same texture for thawed tomatoes as you did fresh. So plan to use them in your cooking. (or blender salsa!)
How do you prefer to preserve your garden bounty of tomatoes?
~TxH~
Preserving The Harvest Posts
Sauce
Canning
Pickling
Drying/Dehydrating
Techniques
…And Much MORE!
---
Other Food Preservation Posts
---
Dehydrating Posts

C'mon by & sit a spell! Come hang out at our Facebook Page. It's like sitting in a front porch rocker with a glass of cold iced tea – lots of good folks sharing! You can also follow along on Pinterest, Twitter or Instagram.
If you'd like to receive an email each time a new blog post goes live it's EASY to
Subscribe to our blog!
Save
Save
Save