by Texas Homesteader ~
Applesauce is a staple in my Homestead kitchen. But even though I use it often I don't buy it, oh no! It's super easy and nearly effortless to make your own applesauce.
And the lowly slow cooker makes it so easy too. Check it out!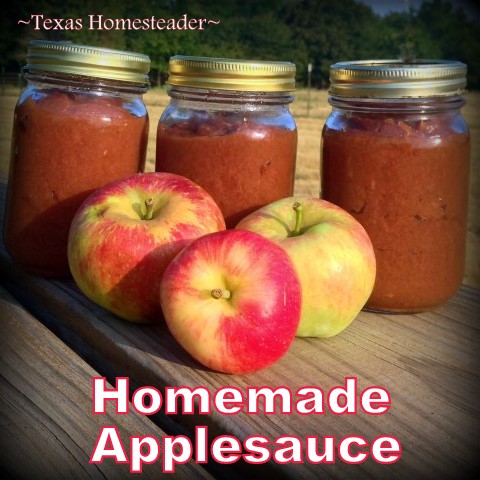 (Note: Some links in this post are for further information from earlier posts I've written. But links preceded with * are affiliate links. If you click them and buy something (almost anything, not just the item noted) I could receive a tiny commission. But the price you pay will NOT change. It's an easy way to support this blog without anything coming out of your pocket. So click often! Thank you!)
Damaged Apples Not Wasted
Sometimes there are apples that have a windfall bruise or a small bird peck that needs to be cut out. Those apples just don't have the appearance I want for most pie-type uses.
But I don't want to waste those less-than-perfect apples. So I make homemade applesauce with them!
Although I enjoy applesauce as a sweet natural snack or to freeze into a Healthy Frozen Popsicle Treat, I also like to use unsweetened applesauce as a Replacement For Oil in my baking. So making applesauce is a double-win for the food budget.
Harvesting Bushels Of Apples
My aunt has an amazing apple tree. It's so productive that the limbs will break if she doesn't keep an eye on the fruit and reduce the weight from time to time.
But she's always been so kind to share with me. A LOT!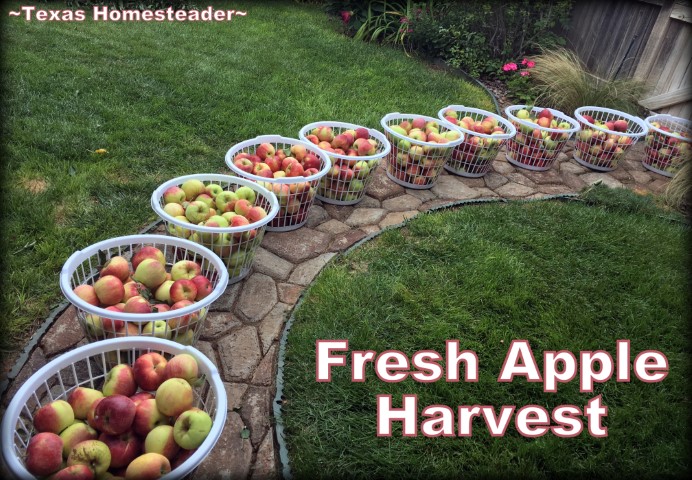 Y'all know I hate food waste. So when I'm gifted gorgeous, sweet, crunchy apples I get started right away using up or preserving them.
Things To Make With Fresh Apples
When I find myself with bushels of apples as I did recently I like to enjoy that sweet fall deliciousness.
There are many fun things to do with those fresh apples. There's Chunky Apple Cinnamon Bread that's a family favorite. I often top it with a simple Honey Glaze.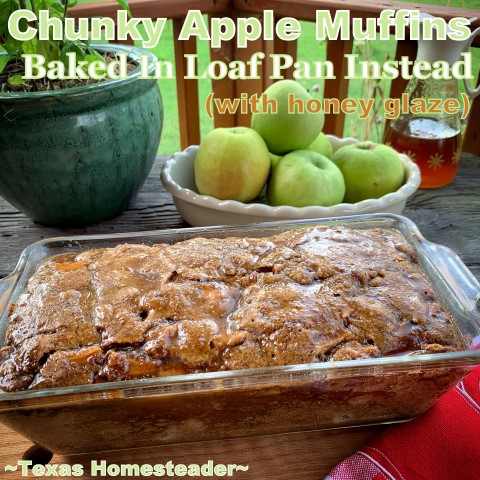 Actual homemade apple pies are a good option for using some of those apples too. Or it's easy to whip up an apple pie filling and roll into a tortilla and bake into Apple Pie Tortilla Rolls.
Sometimes I like to peel & core them and make a quick yet simple Spiced Rum Fried Apple dessert.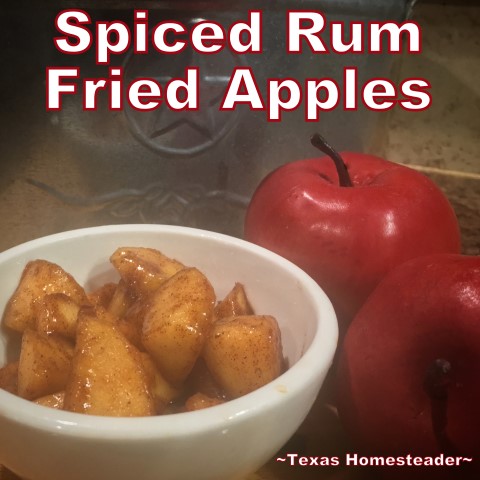 Preserving Apples
But we can't eat all those apples before they go bad, y'all! (well, we COULD, but…)
So how do I preserve those apples for later? Well there are many recipes I utilize. Some canned, some dehydrated.
I've made and canned the Apple Pie Filling for quick homemade pies in future months. It's so nice to be able to whip up a homemade apple pie in minutes.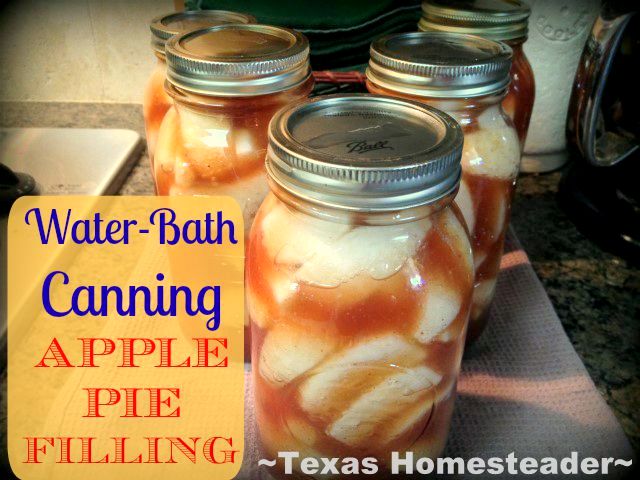 I've also made Crispy Cinnamon/Sugar Apple Chips for RancherMan's snacks. DANG he loves these!
Heck I've even made Dehydrated Apple Slices to use for the dried fruit in my homemade Pumpkin Granola.
Preparing Fresh Apples
In preparing to preserve those apples I get ready to peel & slice them.
I'm so glad I don't have to peel, core and slice those apples with a knife! At least not since I discovered this handy little *Apple Peeler that will peel, core and slice an apple in about 6-8 seconds. No really!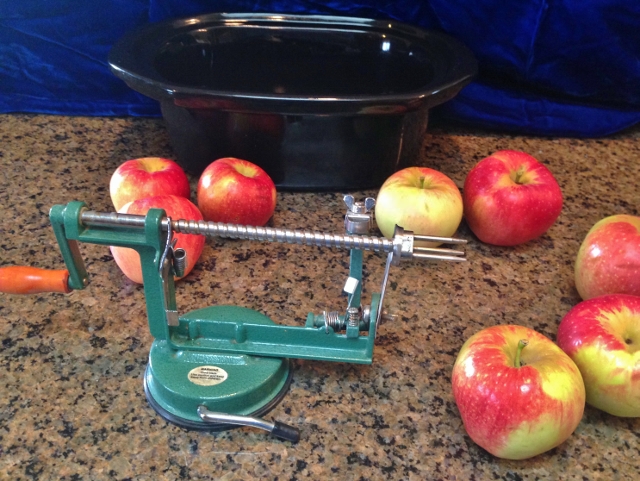 I used that handy contraption to peel many of those crisp apples in a flash! What to do with the peels? Well you can make your own Apple Cider Vinegar with them or simply add them to your compost to start making that Black Gold Compost for your garden next spring.
If you have chickens or hogs you can often feed them apple peels, ours loved 'em. Either way – no waste!
Peeled Apple Turned To Applesauce
Now that all my apples are peeled, cored & sliced I brought out both of my slow cookers. Those apples will shrink down as they cook. So I packed in as many as I could and added about 1/2 cup of water.
The apples will produce their own juice as they cook. But I wanted to make sure not to scorch the apples in the meantime.
Once the slow cookers were loaded up with sliced apples I replaced the lid, placed the temp on low and cooked them until they were very soft. I'm not sure you can overcook them, just don't let 'em burn and you'll be good.
Depending upon your slow cooker they can usually be ready in about 5 to 6 hours. But I took the lazy-cook's way out & just allowed my apples to cook on low overnight.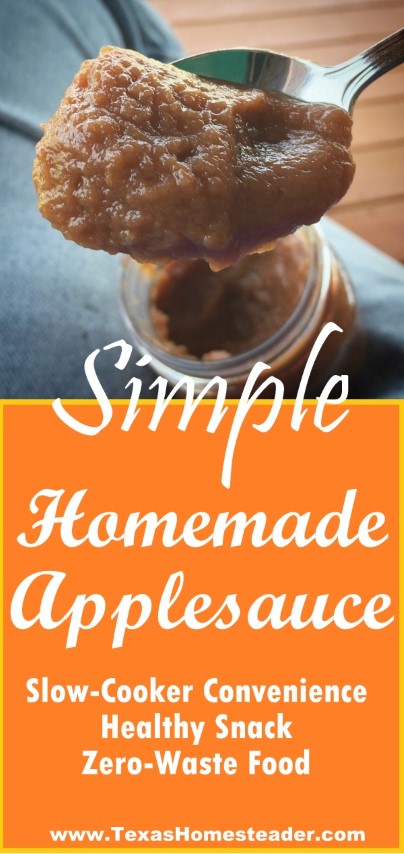 Juice Used For Apple Cider
When the apples were soft I found there was lots of juice that resulted. Some people blend the juice right back in with the applesauce, and of course that's fine. But I found it makes my applesauce thinner than I like.
So I drained off the juice using a fine mesh strainer to capture any solids. Don't worry – that flavorful juice won't be wasted!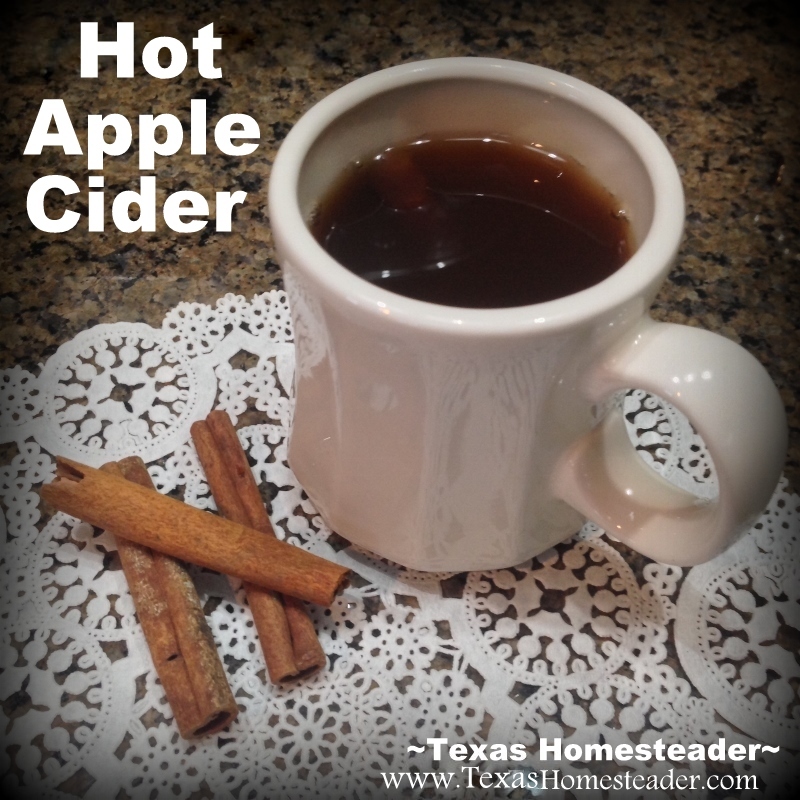 The juice can be enjoyed as fresh Apple Cider. And these apples were so sweet I didn't need to add any sugar. That's a pretty delicious yet healthy drink.
I typically can it in a water-bath canner and keep it in the pantry. Hot cider sure is a comfort to enjoy in a mug stirred with a cinnamon stick when the weather turns cold!
Blend Cooked Apples Into Applesauce
Now I turn my attention back to those cooked apples. Using a stick blender I blend it as smoothly as I like it. Some like their applesauce pretty smooth, others prefer it chunky.
I suppose it depends on what you're going to do with it. I personally prefer most of it to be blended smooth.
That's because I often freeze it in popsicle molds for a refreshing cold treat when RancherMan & I have been working in the pastures during a hot day.
I also like to use it as an oil substitute for some of (or even ALL of) the oil in a baked-goods recipe. It's a high fiber low fat healthy substitution.
I typically keep some of it chunky as well, to enjoy as a healthy snack. When eating it from a small bowl, I prefer a little appley texture. So just blend based on how you'll be using it. Whatever you like here.
Those apples are very soft, so the easiest way to turn those cooked apples into applesauce is to use a stick blender. Just lower it into the cooked apples and blend until it's as smooth (or not) as you want it.
Give your applesauce a little taste. Depending upon the variety of apples you use, you may need to sweeten it a bit. The apples I use are always sweet enough on their own.
And if you want a sweeter flavored applesauce, you can use some of it to make Cinnamon/Vanilla Applesauce. It's delicious and guaranteed to be a kid-pleaser too.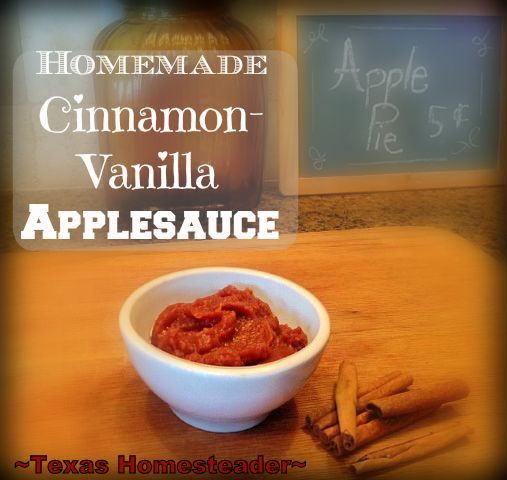 Heck if you can offer such a healthy treat to the kids and have them lap it up – SCORE! Oh, and you'll be the hero too.
Now that you have your homemade applesauce all made, pat yourself on the back. Well done! You've just made your own zero-waste applesauce for a fraction of what you'd have to pay in the store. And no preservatives either!
But unless you're going to eat it all at one sitting, you'll need to decide how you want to preserve some of it for later. Thankfully there are many easy options.
Freezing Applesauce
To freeze it, just place it in a freezer-safe container, plop on a label and freeze. You may need to leave a little headspace since the applesauce will expand slightly as it freezes.
When you're ready to enjoy some of your homemade applesauce, just bring it out of the freezer and pop it in the fridge to thaw. You may need to stir it before serving if any of the liquids have separated. But applesauce usually freezes (and thaws) beautifully.
Canning Applesauce
If you'd prefer, you can can the applesauce. Really, it couldn't be easier. You don't even need a pressure canner! A plain ole water-bath canner will suffice.
If you don't have a water-bath canner you can use a large stockpot and put a metal trivet on the bottom.
Just sanitize your jars, put hot applesauce into hot clean jars and get to canning!
I placed my applesauce in pint-sized canning jars and canned it in a water-bath canner for 15 minutes.
Since there are variables to canning such as altitude and equipment be sure to follow your canners recommendations for your area. Food safety is important!
I love that I've very inexpensively provided my family a sweet treat containing only healthy ingredients.
Plus the environmental side of me loves that these sweet treats don't involve tons of landfill-bound trash like their commercial counterparts. The glass canning jars can be washed and reused time & time again.
Using Reusable Canning Lids
And I even canned some of those jars using my reusable *Tattler Canning Lids! Now that's something that makes my crunchy-green heart smile!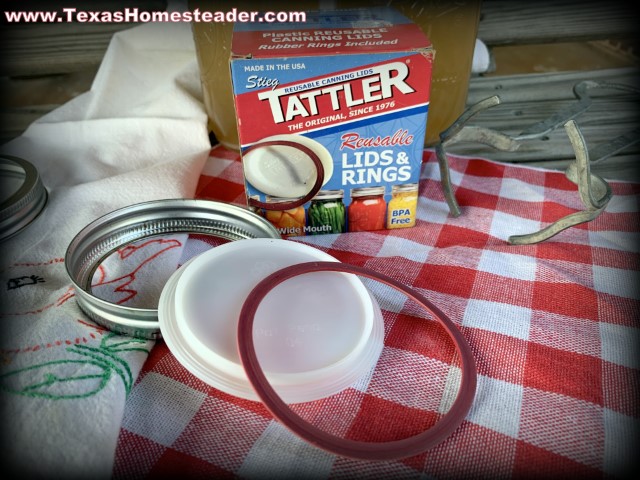 Tattlers fit regular canning jars and use standard rings too. The canning procedure is exactly the same as with traditional canning lids with the exception of how tight you put them on before processing and the fact that you go ahead & tighten them the rest of the way after processing.
According to the Tattler website:
TATTLER REUSABLE CANNING LID USAGE
Tattler Lids do require a bit of variation from conventional metal lids. Being a two piece combination with a rubber gasket ring, Tattler Lids must remain a bit loose during processing in order for the jar to vent the pressure that has built in the jar during processing. An online customer gave us a very good tip on how tight is 'Just Right'. To get the feel for the correct tightness prior to processing, place the jar on a counter top or other smooth surface, then place your index finger on the lid (do not apply too much pressure while tightening the metal band). Screw the metal band on until the jar begins to spin on the counter top (or other smooth surface). This is the perfect tightness for processing!
THE FOLLOWING FINAL STEP IS CRUCIAL TO ENSURE A GOOD SEAL:
Once the process is completed and the jars are removed from your canner, Let the bubbling die down (approximately 4-5 minutes), as this is pressure still releasing from the jars. Place a towel over the still hot jars (for safety) and finish tightening the metal bands. Now, let your jars cool naturally and when cool to room temperature, remove the metal band and lift the jar slightly by the lid. It should be well sealed. Your food is ready for storing (store without metal screw bands).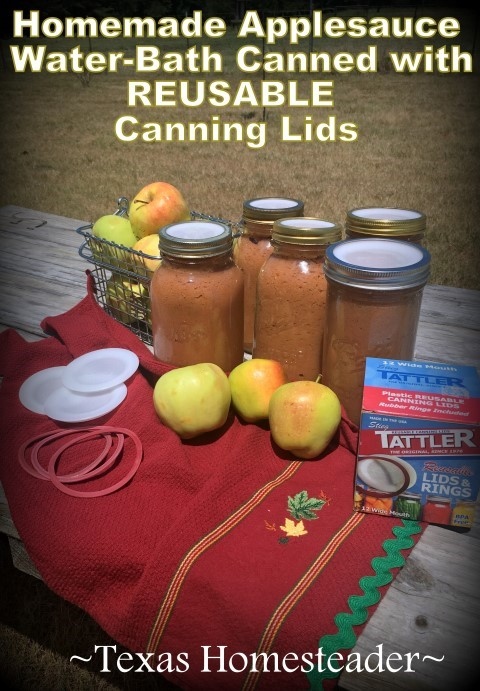 Whichever method you choose, enjoy your healthy homemade applesauce!
~TxH~
Other Delicious Apple Recipes


C'mon by & sit a spell! Come hang out at our Facebook Page. It's like sitting in a front porch rocker with a glass of cold iced tea. There are lots of good folks sharing!
And you can also follow along on Pinterest, Twitter, Instagram
If you'd like to receive an email when a new blog post goes live,
subscribe to our Blog!
Canning Time Reference:
National Center For Home Food Preservation
Save
Save