by Texas Homesteader ~
*contains affiliate link
After finding a great deal on apples I dehydrated them into soft chewy chunks. I'll add them to my homemade granola. Good for me, good for my wallet & good for the environment!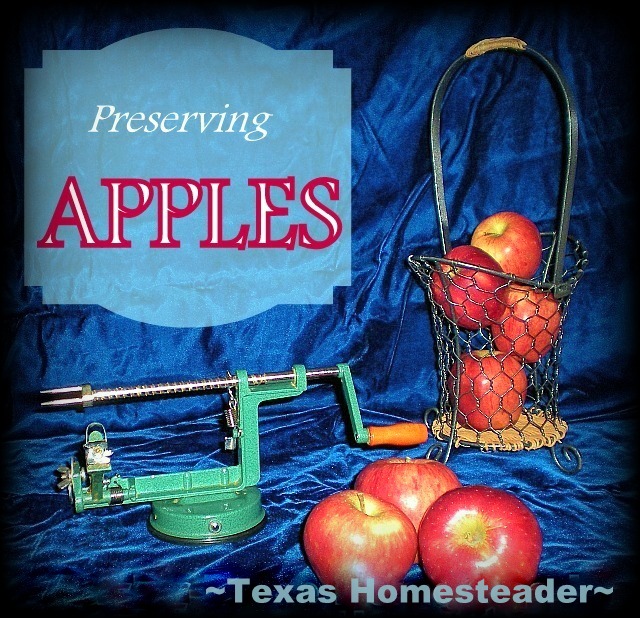 (Note: Some links in this post are for further information from earlier posts I've written. But links preceded with * are affiliate links. If you click them and buy something (almost anything, not just the item noted) I could receive a small commission. But the price you pay will NOT change. It's an easy way to support this blog without anything coming out of your pocket. So click often! Thank you!)
During apple season you can pick up a bag of apples for CHEAP. But when you have more than you can use, you have to figure out a way to preserve them.
One of the ways I like to preserve them so none go to waste is to dehydrate them and use them like apple 'raisins' in my homemade granola.
Using My Dehydrator
I've really been on a roll this year with my dehydrator. I've dehydrated carrots & potatoes, celery and squash, green beans & tomatoes along with many more veggies.
Recently I fell upon a great deal on apples and I picked up about 10 lbs of sweet red ones.
RancherMan doesn't eat many raw apples. And although I love to eat them that way, there's no way I can consume that many apples before they go bad. So I set out to preserve them.
But I've dehydrated Cinnamon Apple Chips before. Although they were delicious I really wanted to preserve these apples in a way that would take the place of something I ordinarily would buy.
Dehydrated Apples Option
I recently made my favorite pumpkin granola and I like to use raisins to add a natural sweetness. But I used the last of my raisins in that batch so now I'm faced with buying more. Hummm…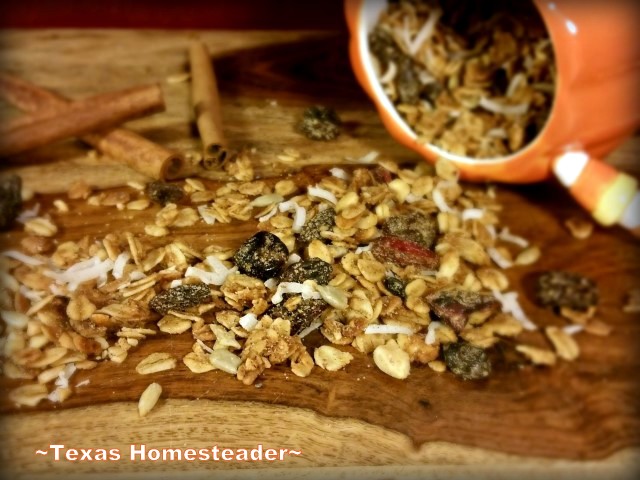 I wonder if I can dehydrate these apples into small raisin-sized chunks to replace the raisins that typically sweeten my granola? I decided to give it a try.
Peeling Fresh Apples Quickly
With this many apples waiting to be processed, thank goodness I had my *apple peeler
handy as I can peel, core & slice them literally in seconds. (This thing has to be the best invention EVER!)
If I don't want them turning darker I put the peeled slices in a solution of lemon & water. (to be honest, most times I don't bother with this step for my apple raisins.
Peels are offered to the animals, used in our wild hog trap or placed in the compost to add 'greens'. Either way, nothing's wasted!
Thinly sliced Dehydrated Apples Not Ideal For Apple Raisins
Using the automatic peel/core/cut on my apple peeler I cut the peeled apple slices into about 1/4″ pieces and arranged them on the dehydrator to dry for about 10 hours. Then I sampled one.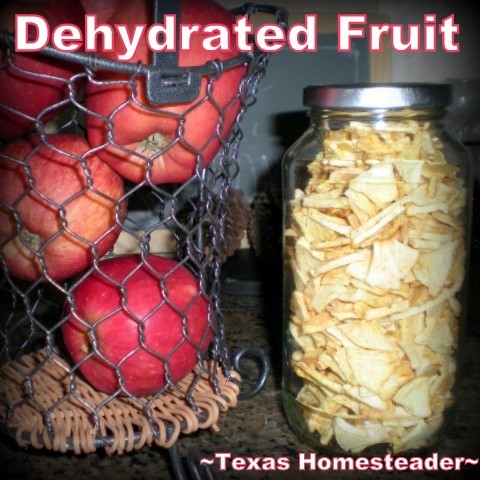 Although the taste was delicious I wasn't really happy with the thin texture when they were fully dry.
The apples were cut so thinly that they were almost like tasting apple-flavored air. Hummm…
Dehydrated Apples In Larger Chunks
So back to my apple peeler I went with a fresh supply of apples, this time deactivating the core/slice section on the device. I just used the apple peeler to actually peel the apples this time, not core nor slice.
Then I used this manual apple cutter to cut the apples into thicker slices & remove the core. I cut the thicker slices into about 1/4″ pieces and arranged them on my dehydrator.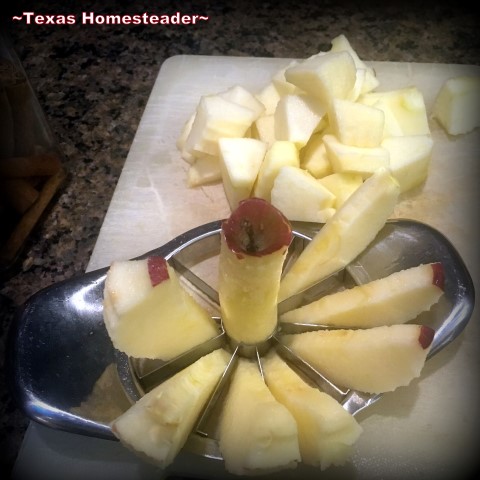 Thicker Apple Slices For The Win!
These thicker slices took a little longer to fully dehydrate, probably about 14-16 hours.
But they were chewy and sweet – the perfect sweet addition to my granola!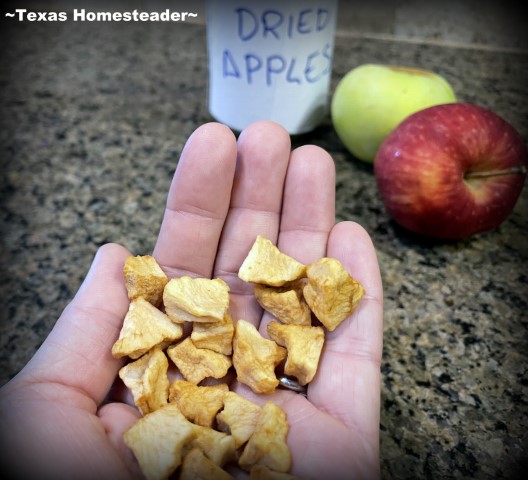 Self Sufficiency Pride
This quest to be more self sufficient has been so much fun for me. I delight in finding new ways to provide something for my family that otherwise would have been purchased.
It's a fun challenge to think outside the box when pondering our needs. And It's exciting to see what the next step will be.
By using this abundance of apples & preserving them into sweet dehydrated apples chunks I've used very little money to purchase healthy fresh apples and preserve it myself to sweeten my granola.
I feel pretty good about that!
~TxH~
Other Delicious Apple Recipes


C'mon by & sit a spell! Come hang out at our Facebook Page . It's like sitting in a front porch rocker with a glass of cold iced tea. There are lots of good folks sharing! And you can also follow along on Pinterest,Twitter or Instagram
If you'd like to receive an email when a new blog post goes live,
subscribe to our Blog!
* A word about our Affiliate Link – We are currently enrolled as an Amazon Affiliate. Occasionally I will insert an affiliate link into one of my posts if I think it may be of interest to you. I receive nothing from the manufacturer, but I love my apple peelers & thought you might too! If you click on any of my affiliate links and buy something (almost anything, not just what was linked) I get a small referral percentage from Amazon. But here's the really important part – the price you pay for your items is UNCHANGED.
When you buy something through the affiliate link it's a great way to support this blog without anything coming out of your pocket so please click often!