by Texas Homesteader ~
*contains affiliate link
RancherMan and I like to heat our home with resources found right here on our homestead instead of purchased fuel whenever possible. Thanks to last winter's brutal ice storm we have plenty of  tree carnage downed limbs to clean up. It would be a herculean task to completely clear that massive quantity of broken limbs.
So we trimmed the "fans" off of them for the burn pile in the pasture. Then we cut the trunks into firewood. We have enough firewood to last our entire lifetimes! And of course there's nothing like the comfort of a roaring fire to ward off winter's chill.
But the natural byproduct from burning a wood fire is creosote build up in your chimney pipes.  It's important to remove that flammable substance to keep from experiencing a dangerous chimney fire. Thankfully chimney maintenance is pretty easy.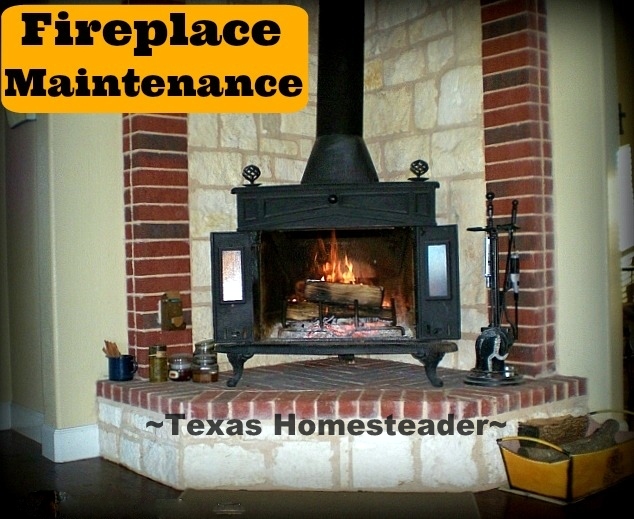 Fire Safety Is Important
I've read that it's recommended you have your chimney cleaned at least once per year. But you should certainly clean it more often if necessary. Creosote builds at different rates depending upon how you build and burn your fire and what kind of wood you're burning. Even how dry the wood is.
There are companies that will come to your home and clean your chimney for you. Of course we've utilized those companies in the past when we lived in the city. But the cost in our rural area for that service is more than we have in our budget to spend.

But fire safety is important! So we decided to give it a try ourselves. We borrowed a chimney-cleaning kit from a dear friend.
The kit comes with several flexible rod sections and a very stiff round wire brush.  (now that we know how easy it is to clean our own chimney we returned the borrowed supplies & bought our own *Chimney Cleaning Kit)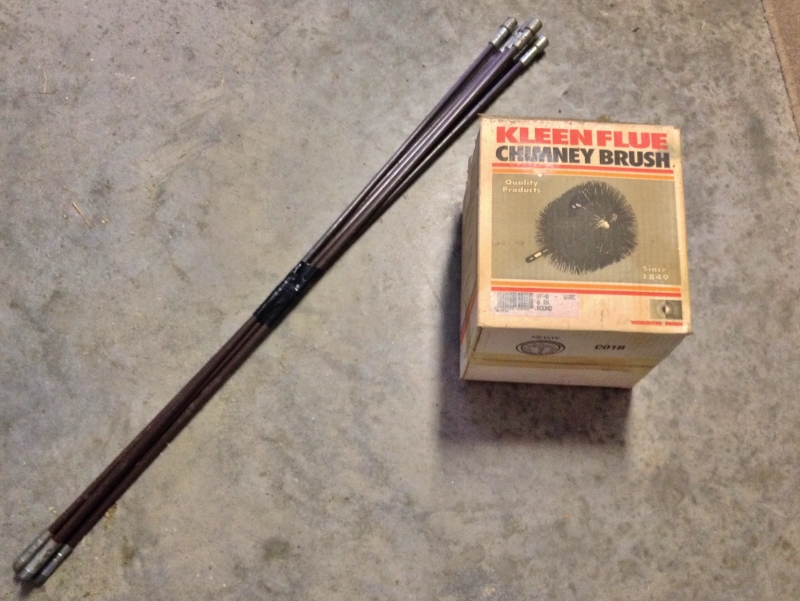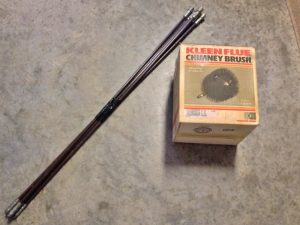 Ideally you just hop on top of your roof and feed this stiff brush down through your chimney pipe by adding these flexible rods one-by-one to the brush. The rigid wires of the brush will scrape the buildup from the walls of your chimney pipe. The resulting loose material will fall down into your fireplace to be cleaned out. (or even left there to be burned up with your next fire).
But RancherMan was concerned about removing our style of chimney cap. He was also concerned about the fact that the our pipe inside our house has an angled section which would have to be removed and cleaned anyway. So we attempted this chimney cleaning from inside the house.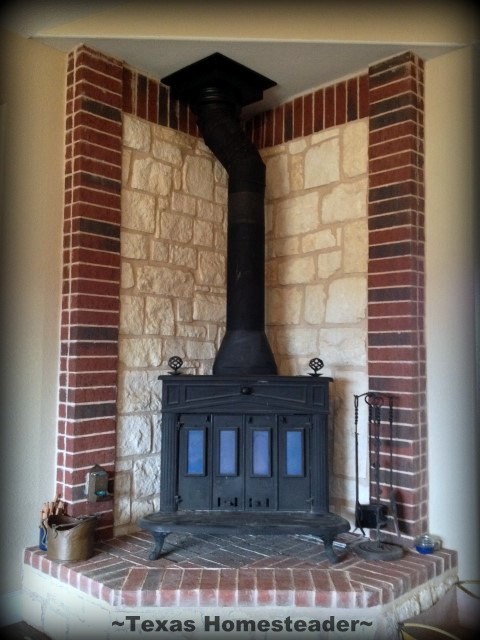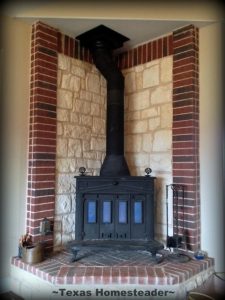 Preparing The Area
I first laid down newspapers on top of the stove and hearth to help in the cleanup afterward.  It's a good thing I did!
A couple of screws released the inside stovepipes and they were removed easily. But the loose material inside the pipes cascaded down and fell onto the newspaper.
We removed those sections of pipe inside the house and took them outside. We laid them on their side and ran the brush in and out of the pipes a couple of times and WHAMMO! Clean! We lifted up the pipe and tapped the sides to make sure all the loose creosote was knocked free.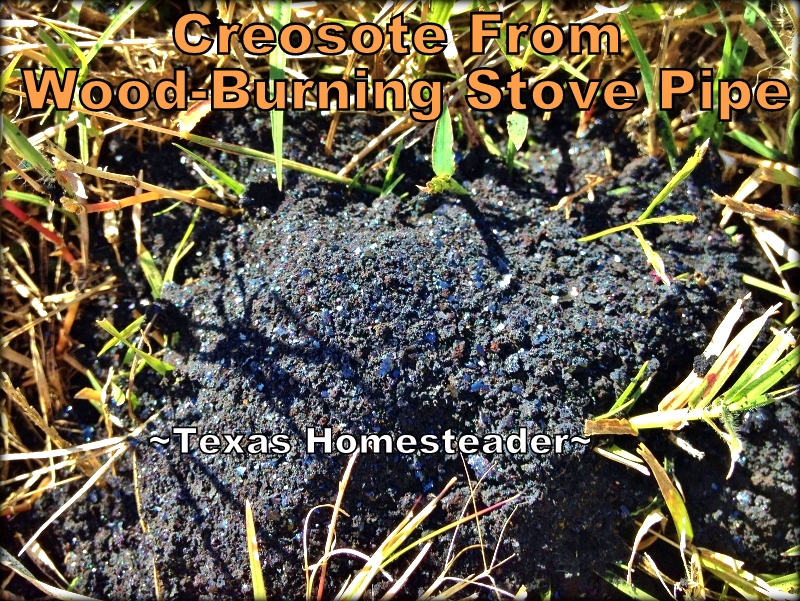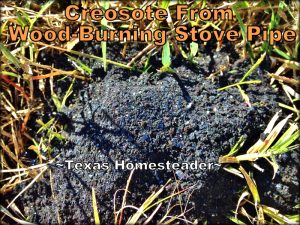 Then we turned our attention to the approximately 20 feet of pipe from the ceiling to the chimney cap on the roof. Now THIS is going to make a mess since the loose creosote will just fall on our heads!
We had an old worn-out pillow case that for many years has only been used to cover plants during the first frosts of the year. So we pulled that case out & cut a hole in the bottom just large enough for the chimney-cleaning pole to go through. We're hoping this pillow case will catch the falling creosote and contain it.
I stood on the ladder and held the pillowcase to the chimney opening in the ceiling. One by one RancherMan added lengths of the extension pole and we pushed the cleaning brush higher and higher into the chimney. At last we reached the end and we brought the brush back down through the chimney, creosote falling neatly into our pillowcase.
All Done – It Was EASY!
Although our creosote build-up wasn't that bad to start with, I feel much better having done this maintenance to assure a safer fire this winter. RancherMan shined a light up through the pipes so I could see the difference.  Success!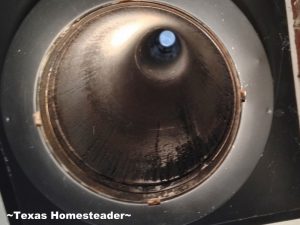 Now I know this goes without saying but here's my disclaimer…  This post is simply sharing our experience of cleaning our own chimney. We've never personally cleaned our chimney before and this was our very first time to do it on our own. It was easy, but we're certainly not experts!
Fire safety is important. Your circumstances / fireplace / chimney pipe may certainly be different than ours. So please do your own research & take the measures appropriate for your own situation whether you tackle the stovepipe cleaning on your own or have a chimney-cleaning company do it for you!
Want To See More Natural Cleaning Posts?
~TxH~


* A word about our Affiliate Link – We are currently enrolled as an Amazon Affiliate.  Occasionally I will insert an affiliate link into one of my posts if I think it may be of interest to you.  I  receive nothing from the manufacturer and I only link to products that I have used & love and feel you might love too. If you click on any of my affiliate links and buy something (almost anything, not just what was linked) I get a small referral percentage from Amazon.  But here's the really important part – the price you pay for your items is UNCHANGED.
When you buy something through the affiliate link it's a great way to support this blog without anything coming out of your pocket so please click often!
Save