by Texas Homesteader ~
RancherMan & I live & work right here in our very own NE Texas paradise. Now it's true that without a corporate-employment salary infusion, money's tight for us. So we're very careful with our expenses. But let me tell ya it's worth it – keeping our income requirements low allows us to live this life we love oh-so-much!
Every now & then I like to share 5 simple frugal things we did over the week that helps us to save money. Come see a few easy ways we've been able to shave a few bucks here & there. Saving money where you can comes together to make a great overall impact!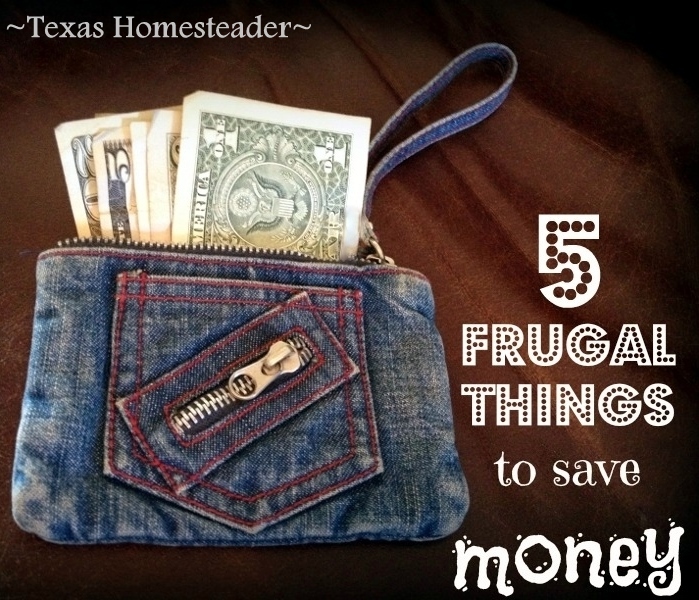 Credit Card Loyalty Points
RancherMan & I are trying to finish the landscaping around our new porch extension. But we needed a few more retainer-wall stones to complete it. So I used our credit card bonus points to print a free $50 e-certificate to Lowe's. Using that money means those landscaping stones will cost us nothing out of pocket.
Loyalty points are a great way to get free stuff – as long as you're careful! It's not really free if you're paying for it with overspending or interest charges.
We use this card for all our monthly expenses. But we've not paid a cent in credit card interest in over 10 years since we pay the card's balance in full every month.
These accumulated credit card loyalty points have paid for restaurant dinners out, home improvement projects, gift cards for birthday gifts & more!
No-Waste (and less expensive) Sandy Fill Dirt
Another thing we're needing for completion of our landscaping is fill dirt. I'm planning on planting lots of lavender and other plants that like good drainage. The little 40-lb bags of fill sand at Lowe's were priced at over $3 each! That would result in not only lots of plastic bags (ugh) but also be pretty pricey for the approximately 1.5 yards (about 3,500 lbs) we needed.
We called around and found out low & behold there was a sand/gravel guy close to us. So we loaded up the back of our pickup with large buckets (to make it easier to set aside for various stages of setting up our beds) and for only $25 he dumped a loader & a half full of that sandy fill dirt into our truck bed. Score!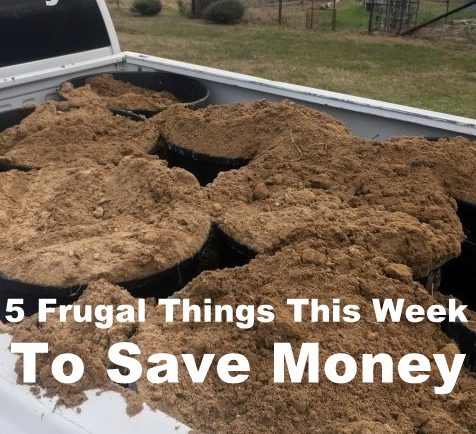 Annual Contracts
Our internet options out here in the sticks are few. So every year when our internet contract expires our rate typically skyrockets. You know, because they CAN. They really have no competition and we really have no other reasonable internet options. So RancherMan always gets on the horn with them to see if we can get a better rate.
We got a rate of about $20 per month cheaper than we could have done ourselves online. So it's always a good idea to call. Heck that's $240 per year savings for this one thing alone!
New Equipment Not Needed
Our new 12-month internet service comes with a brand-spankin'-new modem at no additional cost to us. But we really don't need a new modem since our old one is still working just fine. So we are planning to sell the modem new in the box. It'll be cheaper for someone else than buying a new modem at a retail establishment & give us a few bucks as well.
No Wasted Food From Dinner Party
We invited my folks over for supper one night this week. I served Slow-Cooker Chicken and roasted fresh veggies and a delightful Chocolate Crazy Cake for dessert.
When the meal was done we deboned the leftover chicken & tossed all the bones back into the slow cooker with a splash of vinegar and cooked it overnight. This makes the most delicious Homemade Broth you can imagine for almost free!
So for a quick dinner for RancherMan & myself a few nights later, I whipped up some Corn Tortillas & used the leftover chicken & roasted peppers/onions to make into street tacos for another meal.
It was a quick meal since the meat & veggies were already cooked. (tortillas can be mixed, pressed & made in less than 15 minutes) And it also saved money plus eliminated any chance of wasting food.
Share Your Own Victories!
What about you? What did you do this week to save money?
~TxH~
Want To Read More About Our Porch Extension?
Adding An Outdoor Living Space
No Waste (and Less Expensive) Fill Dirt For Gardens
Cheap (or FREE) Wood Mulch For Your Garden
Stopping BERMUDA GRASS From Your Plantings!
How To Keep Birds Off Your Porch Railings
C'mon by & sit a spell! Come hang out at our Facebook Page. It's like sitting in a front porch rocker with a glass of cold iced tea. There are lots of good folks sharing!
And you can also follow along on Pinterest, Twitter, Instagram
If you'd like to receive an email when a new blog post goes live,
subscribe to our Blog!