by Texas Homesteader ~
Come see how we turned this inexpensive porch extension into our own outdoor oasis. It's a whole new outdoor living room!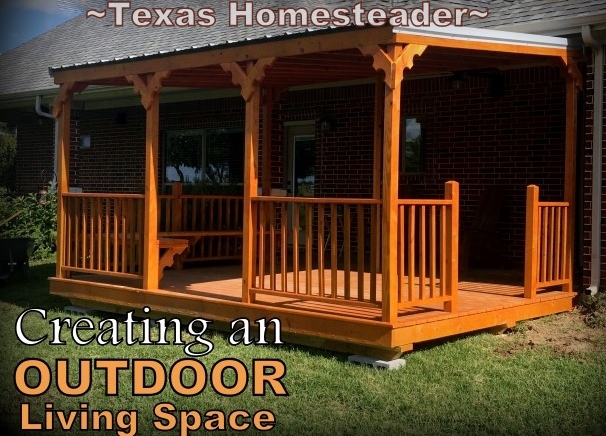 RancherMan & I spend a lot of time in on our back porch. A LOT!
With so much time spent in this outdoor living area it just makes sense to make the space as inviting as possible.
Giving Character To A Boring Porch Area
Our back porch was originally a long, boring ribbon of cement running along the length of our home. We stained the concrete to make it more than a cement slab, still it was… eh.
So we added the pretty wooden porch extension to completely change the look and feel. The addition also changed the flow of our back porch and we love it!
Porch Addition Positioned To Save Electricity Too
The wooden extension was strategically placed to extend out from the west end of the cement porch. That way it also helps to block the hottest afternoon summer sun from hitting the living room windows of our home.
Sometimes just considering extra benefits like that, you can save money in the long haul too.
This shading from the porch will for years cut down on the energy needed to keep our home cool just because of the location in which we decided to place it.
Creating A Restful Outdoor Space
Oftentimes RancherMan & I will sit on the porch in the mornings and enjoy our coffee together as we watch the sunrise. What a wonderfully peaceful way to start the day.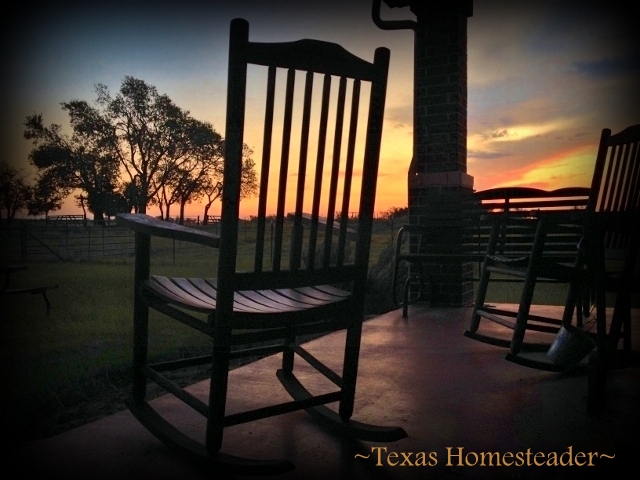 And when we've been bustin'-it in pastures in the hot summer sun we take a break & cool down with an icy-cold beverage before hitting our chores again.
The covered porch offers shade and relaxation as we cool off & catch our breath. We'll use this time to rehydrate with cold water.
Plus almost every night after supper we once again return to the porch to end our day.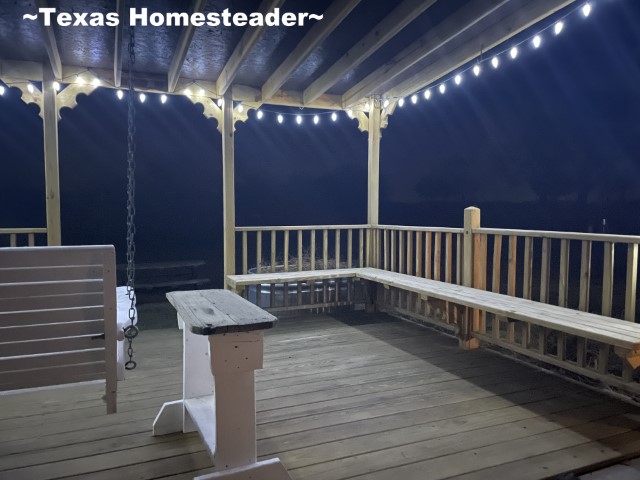 It's so enjoyable to watch the sunset, talking about our day and our dreams.
More Places To Gather Outside
But this new covered porch addition also expanded our entertaining seating options. Long benches were built along the sides of the porch extension. Even more seating!
It's been great for family gatherings when we typically gather outside anyway. More people can now lounge in the shade.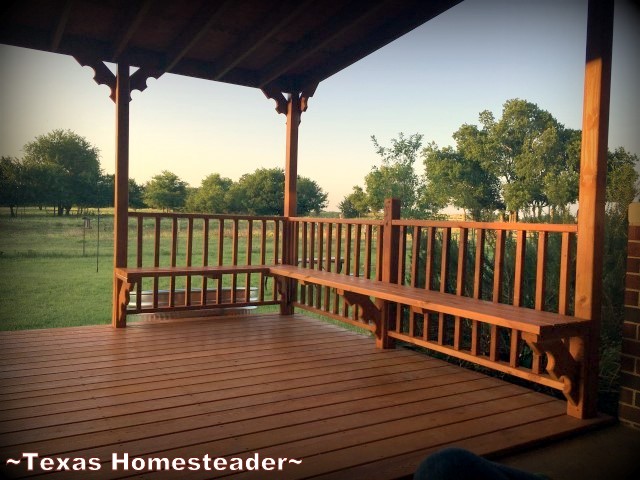 Adding A Small Table To Our Outdoor Room
RancherMan & I wanted to add a small table to go in the corner so we could enjoy eating supper outside from time to time.
We'd contemplated an iron bistro set but they were pricey. Plus they weren't really the rustic look we were going for.
Since we're planting huge galvanized troughs as part of the landscaping and also making a rainwater collection out of a galvanized trough, I wanted something to tie in with that look.
So we bought a large galvanized can and RancherMan built a top for it from our old barn wood. Yeah, I like it!
And we bought a couple of lightweight folding stools too. The table top is removable so we can store these small folding stools right inside when they're not in use.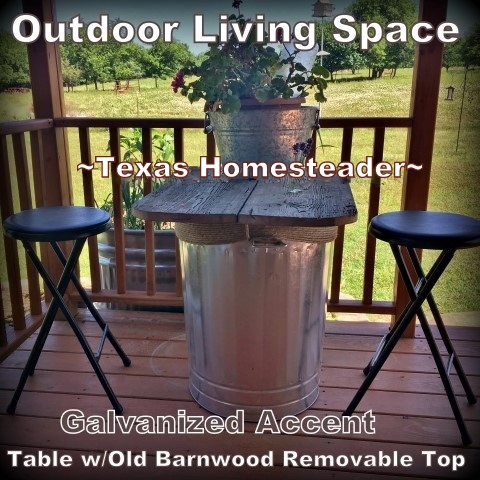 I'm experimenting with ways to disguise the fact that it's just a metal can. Maybe adding some sort of rustic embellishment to the side?
I haven't really decided yet. Y'all have any ideas??
A Porch Swing Completes An Outdoor Area
Years ago I bought RancherMan a very heavy porch swing for his birthday. We enjoyed it for several years before we moved here.
But with the narrow design of our cement porch at our home there was really no place for it. So for quite a while it's been tucked out in the storage shed.
But now?? Oh now it came out of the shed and was dusted off and hung where we could use and enjoy it every day.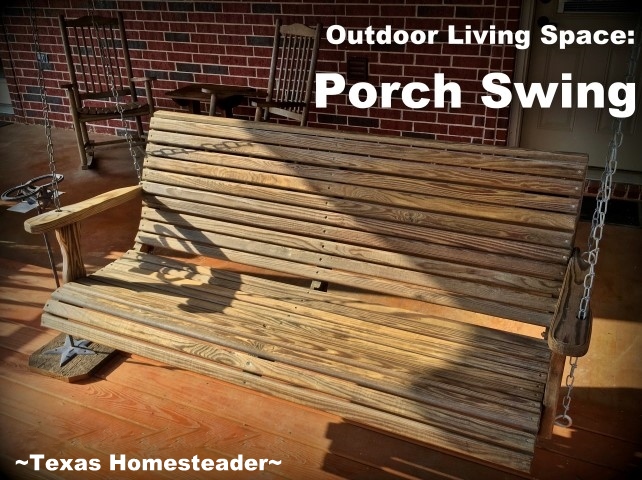 RancherMan & I like to end a long, hard day by grabbing a cool beverage and sitting on that porch swing to watch the sun fade into the horizon. (deep sigh)
We talk about our day, our plans for tomorrow, or sometimes for long periods of time – nothing at all. We just drink it all in… together.
Oh yeah, I love this new outdoor living space. We've always ended our day on the back porch, but with this new extension we're out here even more now!
Bee Friendly & Edible Landscaping
Now that our porch extension has been built of course I wanted to surround it with lovely landscaping. I was after a primarily edible landscape plan with lots of bee-friendly flowers too.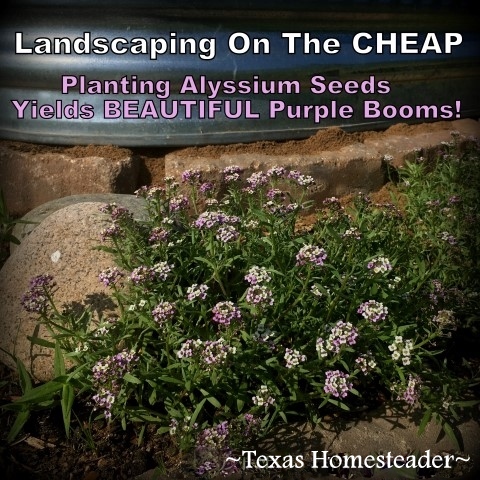 I opted for lots of herbs that the bees loved such as oregano and thyme. I also planted other edibles here, as well as a few bee-friendly flowers.
But all this new landscaping was almost free, y'all. Come see how we landscaped our new outdoor living area gorgeously on the cheap!
Rainwater Catchment In A Galvanized Metal Trough
Y'all know I don't irrigate using city water. It's only captured rainwater for my plants.
But can we add a rainwater feature to our outdoor living space and keep it in the peaceful theme we love?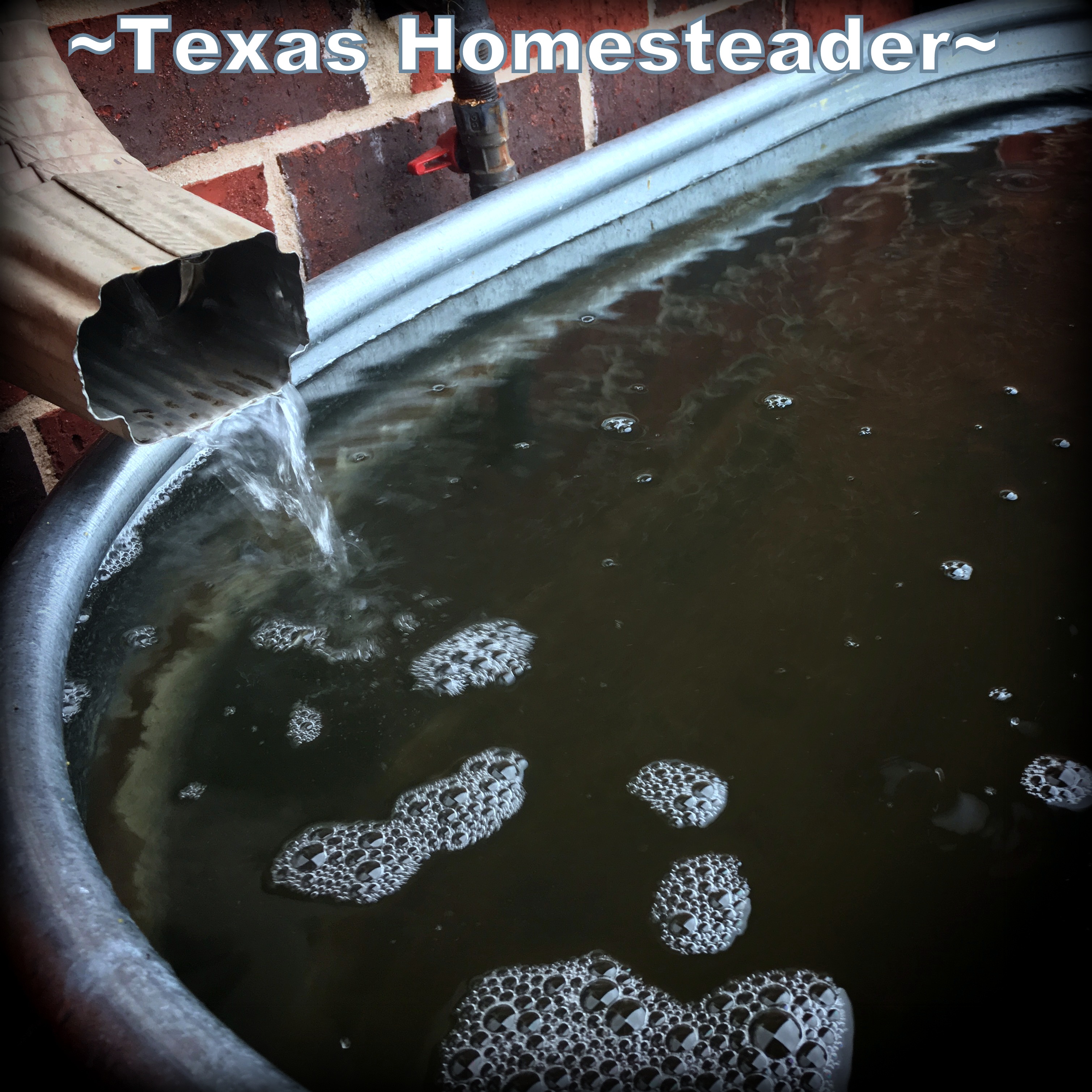 Yep. RancherMan even added a Rainwater Catchment System using a third galvanized trough. That tied in nicely with the other galvanized metal features of our new outdoor living space.
And we added fish to this trough to keep the mosquitoes at bay. Just another finishing touch to keep in line with my eco-friendly drive while maintaining the look we wanted.
All of this adds up to a nice, peaceful outdoor living space to spend more time enjoying the beauty of the outdoors.
~TxH~
Tagged in

Want To Read More About Our Porch Extension?


C'mon by & sit a spell! Come hang out at our Facebook Page . It's like sitting in a front porch rocker with a glass of cold iced tea. There are lots of good folks sharing! And you can also follow along on Pinterest, Twitter or Instagram
If you'd like to receive an email when a new blog post goes live,
subscribe to our Blog!