by Texas Homesteader ~
*contains affiliate link
RancherMan & I spend a lot of time on our back porch.  A LOT!  Oftentimes we sit on the porch in the mornings and enjoy our coffee together as we watch the sun rise.  And when we've been bustin' it in pastures in the hot summer sun we take a break & cool down with an icy-cold beverage in the shade of the back porch before hitting our chores again.  Plus almost every night after supper we once again return to the back porch to end our day.
But I'd always hated how our back porch was a long, thin 8-ft-deep cement swath.  It just lacked character to me.  So RancherMan arranged for a porch addition to be built to add an outdoor living extension. Come see!
We found a local small business who built sheds & gazebos that were reasonably priced.  Why couldn't they build an open-sided rectangular gazebo and when they delivered it, just attach it to our porch?  We contacted them & they listened carefully to our requirements.  They said they'd be happy to build it!
So a few days later they came to the homestead to measure the area where we wanted the porch addition.  They built our structure at their location and delivered it to our home, attaching it to a section of our existing porch.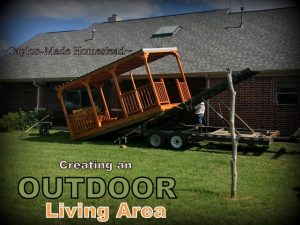 The porch addition changed the flow of our back porch and I love it!  Plus it was very strategically placed to extend from the west end of the porch.  That way it helps to block the hottest afternoon summer sun from hitting the house.
More Places To Gather
But this outdoor living area also expanded our entertaining seating options.  We'd requested these long benches be built along the sides of the porch.  Even more seating! It's been great for family gatherings when we typically gather outside anyway. More people can now lounge in the shade, either on theses benches or with their own folding chairs.
Small Table
RancherMan & I wanted a small table to go in the corner so we could enjoy eating supper outside from time to time.  We'd contemplated an iron bistro set but they were pricey.  Plus they weren't really the rustic look we were going for.
Since we're planning on planting huge galvanized tubs as part of the landscaping and also making a rainwater collection out of a galvanized tub, I wanted something to tie in with that look.  So we bought a large galvanized can and RancherMan built a top for it from old barnwood.  Yeah, I like it!
And we bought a couple of lightweight folding stools too. The table top is removable so we can store these small folding stools right inside when they're not in use.
I'm experimenting with ways to disguise the fact that it's just a trashcan.  Maybe wrapping jute around the top?  Maybe adding some sort of rustic embellishment to the side?  I haven't really decided yet.  Y'all have any ideas??
Of Course A Porch Swing
Years ago I bought RancherMan a very heavy porch swing.  We enjoyed it for several years before we moved here. But with the narrow design of our current porch there was really no place for it. So for quite a while it's been tucked out in the storage shed.
But now??  Oh now it came out of the shed and was dusted off and hung where we could use and enjoy it every day.  RancherMan & I like to end a long, hard day by grabbing a cool beverage and sitting on that porch swing to watch the sun fade into the horizon.  (deep sigh)  We talk about our day, our plans for tomorrow, or sometimes for long periods of time – nothing at all.  We just drink it all in… together.
Oh yeah, I love this new outdoor living space.  We've always ended our day on the back porch, but with this new extension we're out here even more now!
It's still a work in progress, RancherMan's still working on my rainwater barrel.  But right now it's a peaceful outdoor space and we love it.
Bee Friendly & Edible Landscaping
Now that our porch has been installed of course I wanted to surround the porch with lovely landscaping.   I was after a primarily edible landscape plan with lots of bee-friendly flowers too.  See how we landscaped our new outdoor living area gorgeously on the cheap!
~TxH~


Want To Read More About Our Porch Extension?
Adding An Outdoor Living Space
No Waste (and Less Expensive) Fill Dirt For Gardens
Cheap (or FREE) Wood Mulch For Your Garden
Stopping BERMUDA GRASS From Your Plantings!
How To Keep Birds Off Your Porch Railings