by Texas Homesteader ~
*contains affiliate link
We wanted to make our own custom Cornhole Game for our family reunion. Thankfully it was EASY and it turned out way cute!
We even decided to make it Ranch Themed. So I free-handed a cow image on our cornhole decks. Everyone loved the way they turned out. Check it out.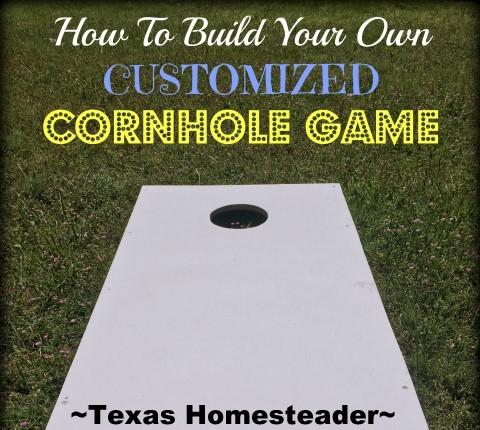 (Note: Some links in this post are for further information from earlier posts I've written. But links preceded with * are affiliate links. If you click them and buy something (almost anything, not just the item noted) I could receive a tiny commission. But the price you pay will NOT change. It's an easy way to support this blog without anything coming out of your pocket. So click often! Thank you!)
Cornhole Games Are Popular
Cornhole games – all of a sudden it seems they're EVERYWHERE! It's a fun game where each team stands 27 feet away from a tilted platform with a hole cut in it.
Each player tosses a corn-filled bag at the platform trying to make it go into the hole. The team that reaches 21 points first wins!
RancherMan & I attended a festival recently with my brother & SIL . While there we saw there was yet another Cornhole game available to play. So we all joined in on the fun and it was a super-fun evening.
After that experience our wheels started to turn. We host an annual family reunion at the homestead that we've named 'RanchFest' and it always involves competitive games. We always make our games ranch related. So we sat out to make our own customized cornhole game.
Supplies To Make Our Cornhole Game
Oh sure, we could have just *purchased a CornHole game, and that would be helpful if we were in a hurry. But we really wanted a customized game deck & bags. So instead, we went shopping for supplies.
We bought a single 4×8 piece of plywood that was 3/4″ thick & smooth on one side.
RancherMan said we could have gone with 1/2″ thick plywood for less money. But the 3/4″ thickness we bought will make a more sturdy game deck.
He also bought (3) 8-ft long 2×4 boards. We really needed part of another 2×4 to fashion the legs as well. But we knew we had some leftover 2×4 boards in the barn.
So instead of buying another board and using part of it, we used what we had available. If you don't have any leftover 2×4 boards you'll want to keep that in mind when buying supplies.
We also bought the 4″ carriage bolts, nuts & washers for the legs. Here's our cost breakdown:
Cornhole Game Supplies – 2 decks
4×8 plywood, 3/4″ thick – $30
(3) 2×4 boards, 8′ long – $2.60/ea (add'l 2×4 section salvaged from scraps)
(4) nuts, 4″ carriage bolts 3/8 thick and washers for legs – $1.20
Heavy outdoor-worthy paint (we like Rustoleum) – Leftover from painting corral
Acrylic craft paint – $2.50
One full sheet of plywood was large enough to have made two complete games (aka: 4 cornhole decks) but we only needed 2 decks for our RanchFest gathering.
So the other 1/2 sheet plywood will be set aside to be used for other purposes. Wouldn't it be great if they'd sell 1/2-sheets of plywood? Maybe they do in other places, but when you live out here in the sticks you get whatcha get…
First RancherMan measured and marked the plywood and cut two 2-ft x 4-ft decks out of the plywood sheet.
Then he measured and cut the 2×4's to lengths make the frame around each deck. He screwed the decks securely to their frames.
Painting The Decks
We took the assembled decks outside and propped them on top of some large empty buckets.
Then we gave them a thorough painting using bright white Rustoleum paint. Several coats were added to make sure it was completely covered and protected.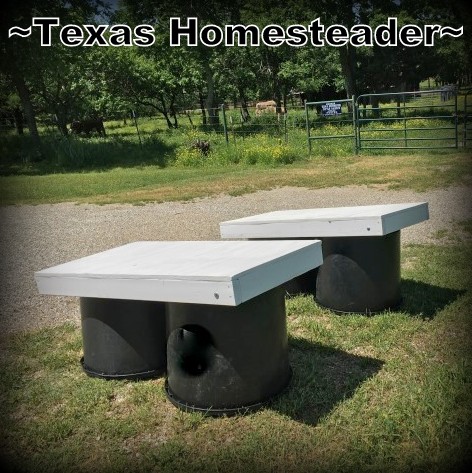 We didn't have a 6″ hole saw to cut the hole. So RancherMan measured to the center of the top edge and down 9 inches for the center of the hole and drew a 6″ circle. He used jigsaw to cut the hole and sanded it to make it smooth.
Convenient Folding Legs
Then he took the remnant 2×4 from our barn and cut two 12″ legs for each deck to be installed on the back end of the decks to tilt the boards up.
When these legs are extended, the back of the deck will be tilted & the actual deck surface will be elevated.
He rounded the tops of the legs that were attached to the deck so that we could swivel them in when we're storing the game. That will make for more compact storage.
He then cut the other end of the leg at an angle so it would be firmly sitting on the ground when the game was set up & tilted.

A Super-Fun (and FUNNY) Design
Now it's time to decorate our game deck. The cornhole games we've seen are decorated very simply with a chevron pattern or such. But remember, this is for RANCHFEST and it needs to be ranch themed.
We thought it would be funny to paint a cow on our game, facing away, and strategically place the hole… well, YOU know! Yeah I know, we're like giggling 7-year-olds that way… LOL

So I sketched out in pencil the bovine design I wanted and I used some acrylic craft paint to paint a Hereford cow. Now you don't get any more Ranch related than that!

Protecting The Decks With Polyurethane
After the design was painted on the decks, we coated both decks with heavy layers of polyurethane. We wanted it to be well sealed so after each coat dried we added another coat until we had several coats covering it.
Now our custom made Cornhole game is complete. OMGosh I love it!! And so did all our party attendees.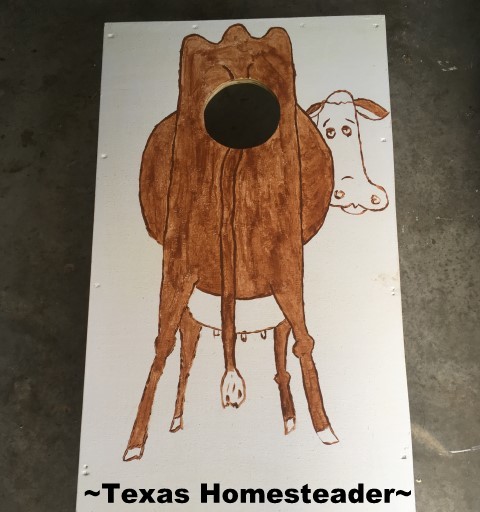 MYO Denim Cornhole Bags
But we still needed corn-filled bags to toss. RancherMan said he could just order bags online and we found the right size bags we needed at *Amazon here.
But I really wanted to make my own bags using repurposed heavy denim from a couple of pairs of RancherMan's ripped jeans.
I think the denim will fit the ranch theme perfectly. And you know what I always say: "Use Whatcha Got!" You can see how I made the bags from denim here.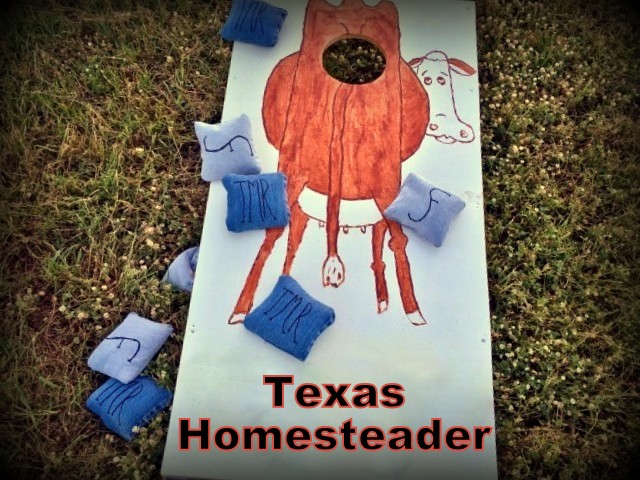 Now that our game is ready, let the fun begin!
~TxH~
Our Favorite Crafts & Projects
…and many MORE!


C'mon by & sit a spell! Come hang out at our Facebook Page. It's like sitting in a front porch rocker with a glass of cold iced tea – lots of good folks sharing! You can also follow along on Pinterest, Twitter or Instagram.
If you'd like to receive an email each time a new blog post goes live it's EASY to
Subscribe to our blog!
Save
Save