by Texas Homesteader
There nestled in the Red River Valley in Northern New Mexico is a quaint little town simply called Red River. It's close to Angel Fire & Taos ski resorts and is probably better known for its small skiing facilities in the winter.
But the truth is I much prefer to be there in the summer, it's absolutely beautiful! As a matter of fact Red River is where RancherMan & I spent our (summertime) honeymoon when we got married. He loves this beautiful place as much as I do.
So periodically we'll take a road trip and spend a couple of days there. Luckily an opportunity came up to do just that recently.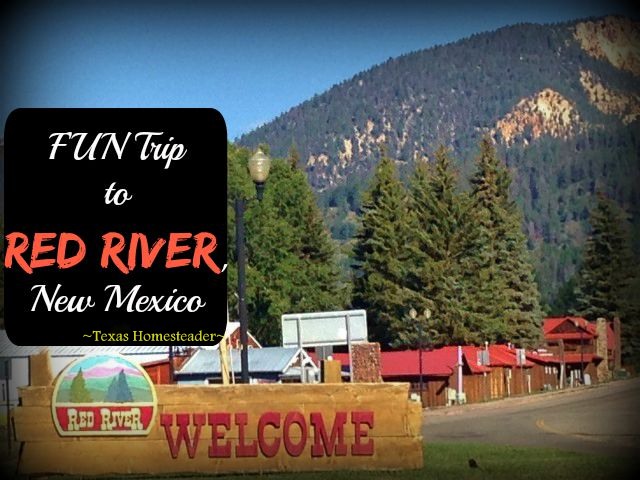 Preparing to Leave The Homestead
We made sure the animals were taken care of and then made plans to spend a few days away from the homestead. We were both pretty excited that our favorite aunt & uncle agreed to vacation with us. So we spent a few days with them in west Texas before heading to our New Mexico fun spot.
Oh man, this is gonna be a fun trip! We've endured so many days of above-average sweltering temperatures here in NE Texas. I was very pleased to see the weather that was in store for us in Red River – what a difference! Aaaaahhhhh…
And of course the trip from west Texas to Red River, NM was filled with some pretty amazing scenery. I'd never seen this many wild sunflowers in my life, even seeing pastures completely yellow with them. The fact that sunflowers are my faves meant I was constantly asking my aunt to pull over for a picture. Thankfully she was very gracious and never complained – even asking from time to time if this or that would be another great photo op!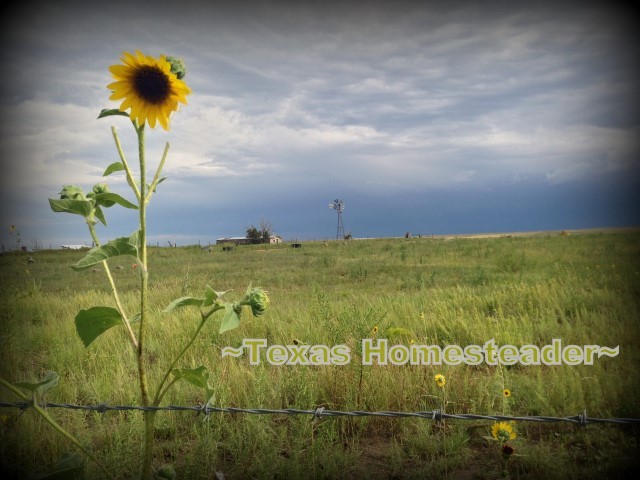 1st Stop: Red River, NM
We rolled into Red River in the early evening and went quickly into town so RancherMan & my uncle could purchase their 5-day fishing passes. Then we unpacked our things at the condo and hurried down to the river only about 200 yards away so they could do a little trout fishing.
While they were fishing my aunt and I were exploring the beautiful shores. What's that, I wondered. I reached out and plucked a sweet fresh wild raspberry. Oh man, they're everywhere! My aunt & I picked quite a few of the sweet berries before it got too dark to see and we decided to head back to the condo. (Oh, and yes – those sweet raspberries were AMAZING in my morning yogurt!)
Next Destination: Trek Towards Lost Lake
The following morning we sat out to find a great fishing spot for the guys. We headed up the mountain toward Lost Lake and found a sweet spot alongside the road that was absolutely beautiful. The guys got busy doing a little fishing and they each caught a couple of trout there. Success! My aunt and I went looking for more wild raspberries and although we found many raspberry bushes there weren't any ripe berries to be found there.
So we turned our attention to having a little metal detecting fun. We found such amazing treasures as an old fence staple, a bullet casing and a bag of tent stakes. Don't hate me because I'm talented… LOL!
Ski Lift Ride Up The Mountain
Then on to downtown Red River where we took the ski lift up to the top of the mountain. It's a favorite activity for RancherMan & me when we visit this beautiful town.
Now this is where the Northern New Mexico scenery really shines! It takes about 30 minutes to ride the lift to the top and the view was incredible! We stopped at the grill at the top for some cold beverages.
Then RancherMan decided he wanted to WALK down the mountain instead of riding back down. (gulp!)
So we started the trek, and decided to follow the path of the ski lift since on the way up RancherMan & I had looked down & spotted a cell phone below that someone had dropped from the lift. When we got to that location we quickly found the cell phone. But as it turns out… it was my aunt's phone! It had slipped out of her pocket without her knowing. Man, talk about a stroke of luck!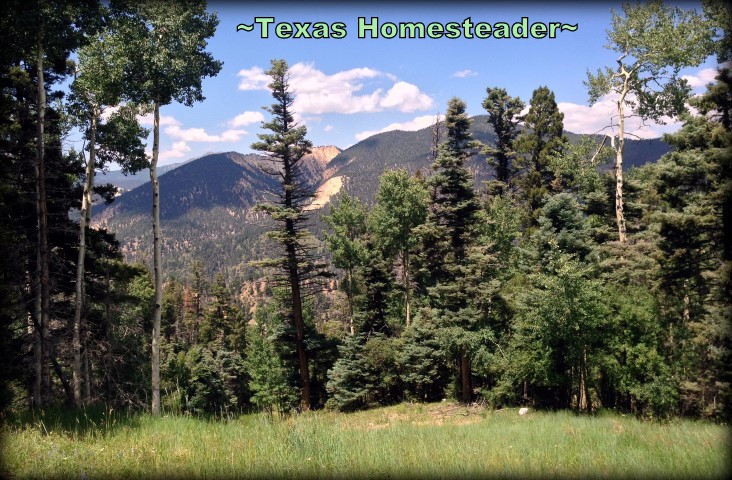 My Uncle decided to walk the black diamond trails to get to the bottom quicker. But oh no – not us. It was hard enough for me to not slide down the mountain on my backside without adding even more of an incline! So my uncle was taunting us, relaxing in the shade at the base of the mountain by the time the three of us came huffing and puffing to the finish line.
And yes, all of us suffered sore legs for several days afterward. LOL
Bobcat Pass and the Cowboy Evening
That night we went to the Cowboy Evening Cookout where mammoth steaks were cooked to our specifications on huge grills. The hand-made hot rolls and cinnamon rolls were legendary & the dark coffee was boiled at the campfire.
Live entertainment was offered by Syd Masters and the Swing Riders – they were very musically talented as well as tremendously funny. We all ate as much as we could possibly stand and enjoyed some pretty amazing music as well as very hilarious skits before we headed back to the condo.
Questa, NM and the Fish Hatchery
The next day we ventured out toward Questa to check out the fish hatchery. Although the actual hatchery is only a whisper of what it used to be, it was still interesting to see the fishery procedures and all the fish.
Then of course the two guys hit the river to do some more fishing – RancherMan tried his hand once again at fly fishing this time.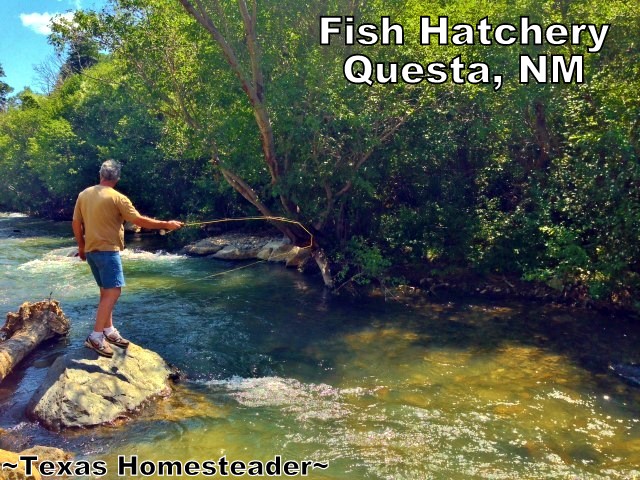 Taos, NM and the Rio Grande Gorge
Then on to the Rio Grande Gorge just outside Taos. I'm not gonna lie, it was pretty eerie walking out on that bridge so high above the rocks and water below
And every time a truck rumbled by the bridge shook beneath me. YIKES! I'm pretty proud of myself that I didn't drop to my hands & knees and crawl off that bridge back to level ground. 🙂
Afterward RancherMan decided to stop into this little local brewery and enjoy a flight of their beers. It's always fun for him to taste the local flair. And although I'm not a beer drinker I do appreciate a little sip of each one as I learn the differences between an IPA and a porter.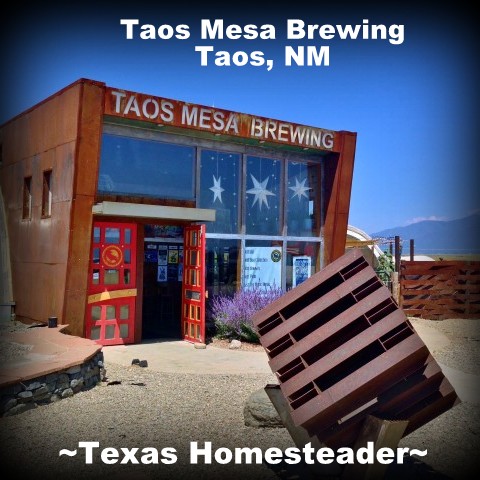 On the way back to Red River we drove the entire Enchanted Circle. The scenery was absolutely breathtaking. But by now we were all getting hungry. RancherMan always makes it a point to stop at his favorite Red River restaurant 'The Sundance' where they serve his absolute favorite tamales.
After we ate a hearty meal we were ready to relax a bit at the condo.
Time to Head Home
The following morning we had to pack up & head back to west Texas where we spent the night with my aunt before RancherMan & I headed back to our homestead in NE Texas the next day.
There were lots of miles logged on this trip but I gauge the success of a trip by the amount of gaiety and laughter. And there was a LOT of that going on for a solid week & a half! So I'd say it was a very successful trip.
~TxH~
Travel-Related Posts
Other Fun Trips


C'mon by & sit a spell! Come hang out at our Facebook Page. It's like sitting in a front porch rocker with a glass of cold iced tea – lots of good folks sharing! You can also follow along on Pinterest, Twitter or Instagram.
If you'd like to receive an email each time a new blog post goes live it's EASY to
Subscribe to our blog!