by Texas Homesteader ~
*affiliate links
I'm a full-time Homesteader. But I'm also a full-time blogger. (How does she do it, folks?? LOL)
Recently RancherMan & I were planning a road trip 7 hours away. I knew we would be away from the homestead for a week and a half.
I hated to leave my blog work at home getting further & further behind until I returned. But what's a girl to do?
RancherMan set me up with a travelling office. Wanna see?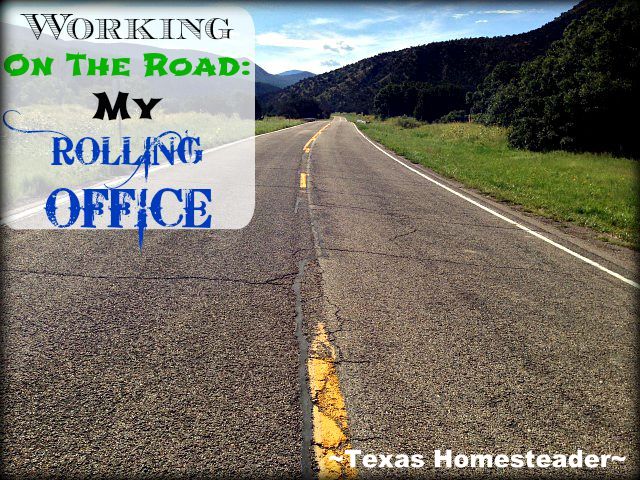 Luckily I'm married to my very own handsome I.T. guy. Plus, what a wonderful electronic age we live in. We might as well take advantage of the opportunity.
RancherMan has me covered with a pretty sweet setup that allows me to take my computer on the road.
I'm able to work in the car instead of staring blankly out the window for hours on end worried about the work piling up at home.
Work Space
First & foremost is this little *laptop desk. It weighs almost nothing and is easy to toss in the back seat when we're about to hit the road.
This keeps my laptop steady and also reduces the heat on my legs from the computer sitting on my lap.
It's got a smooth surface on top and came with a small LED flexible-neck light (which I've removed for my trip) and a cup holder which I use to hold small flash drives and the like.
The bottom is a fabric pillow filled with what seems to be little styrofoam-ball padding like the old bean-bag chairs of my past. But that fluff sure helps the lap desk securely on my lap.
Ditch the Mouse
Next is a *Wireless Trackball. I typically work with a trackball at home anyway. But it's doubly important in the car since there's even less room to navigate a mouse while working.
Although I've used many different models in the past I love the Logitech design best. It fits my hand comfortably and the roller ball makes quick work of any text navigation or photo editing.
Recharge Me
Then of course I'll need a *Dual USB Car Charger – they're pretty common and very inexpensive.
The tiny charger just plugs into the car's power port. Mine has both 1-amp & 2-amp USB ports so I can use it to charge either tablets, cell phones or even both at the same time.
We keep ours plugged in all the time in the car. And we keep a spare cell phone charging cable in our glove box for a quick charge if my cell phone needs a little juice while we're out & about.
I Need Some Power!
Our most recent addition is this *Power Inverter. In the past I've had troubles with my laptop battery running down while I was working on the road for any length of time.
Using a power inverter assures I always have a steady stream of energy when I need it.
It converts 12 volt dc to to 110 ac & has a standard 110 electric plug to run small electronic devices such my laptop, tablet, etc.
It's small & plugs onto the cigarette lighter power port. And it has a secondary USB charging port so I can use it to charge my phone at the same time if I wish.
I love this thing – it's made a big difference in my working travel. And it was much less expensive and flexible than buying another spare battery for my laptop.
Mobile Hot Spot
I'm able to access the internet on the road using a *Mobile Hotspot device. I simply turn it on and log in using my password and BOOM! Internet service.
We've used our hotspot on trips to the Texas coast, trips to Red River NM as well as many other locations.
Ours will allow up to 5 devices to log on at one time if needed.
During an extended family vacation one year, the vacation house we rented had no wifi. So we invited several family members to log onto it as well.
They simply bought a refill data card to reimburse us for their usage. It was much less expensive for them than spending the week for their whole family running off of their plan's limited data allowance.
Can I Borrow Some Extra Data Please?
RancherMan & I also have a monthly pay-as-you-go cell phone plan. As long as we continue to buy monthly service our unused data rolls over into the next month as well.
Sometimes when RancherMan has plenty of rollover minutes stored up on his cell phone plan we tether off of his phone instead of using the hotspot.
This keeps us from having to buy data for the hotspot while rollover minutes on his cell phone go unused.
Hey, every dollar saved is a dollar earned!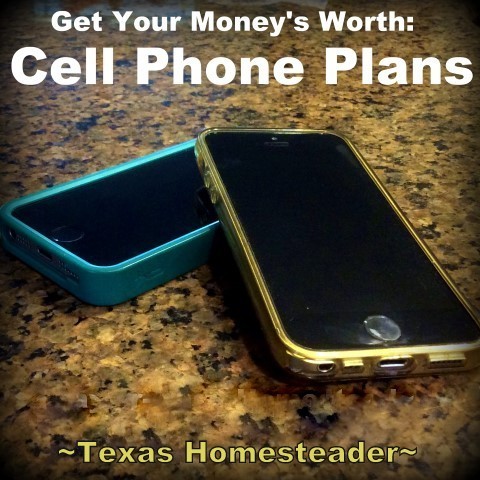 So there ya go – my on-the-road rolling workplace. And it comes with everything except the office water cooler.
By using this mobile office I'm able to enjoy our little get-away without the burdens of worry about work left undone at home. Gotta love it!
~TxH~
Travel-Related Posts
Other Fun Trips


C'mon by & sit a spell! Come hang out at our Facebook Page. It's like sitting in a front porch rocker with a glass of cold iced tea – lots of good folks sharing! You can also follow along on Pinterest, Twitter or Instagram.
If you'd like to receive an email each time a new blog post goes live it's EASY to
Subscribe to our blog!
Save
Save
Save