by Texas Homesteader~
RancherMan & I got the opportunity to spend a week with family renting a lovely beach house at Surfside Beach near Galveston, Texas.  The plan was to meet up with my baby sister & her family as well as my big brother & his wife and we'd all gather for the week in this one large rented home large enough for all of us.
BUT my brother & his wife couldn't make it after all.  So there were just the five of us rattling around that big lovely 2-story 4-bedroom 3-bath house.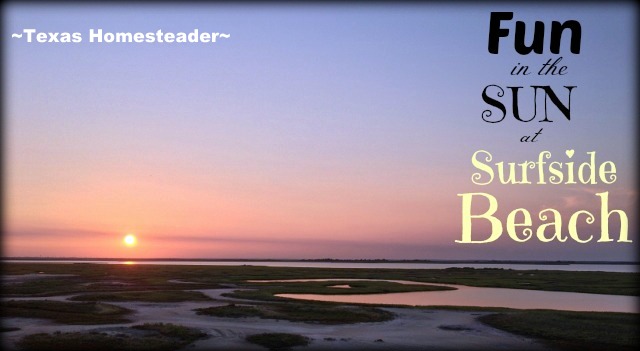 It's a beautiful home with three separate balconies, a beautiful modern kitchen and plenty of space for all of us.  We'd rented this home a couple of years ago and decided we wanted to go back there again this year for a family vacation. Plans were made and payments made almost a year ago.  I couldn't wait to finally make the long-awaited trip.
Beach House Surrounded By Construction
So now when RancherMan & I finally rolled up to the beach house after about 7 long hours of driving we were somewhat dismayed to see lots of construction going on right next door.  One of the main benefits to this particular house was that it's right across the road to the Gulf of Mexico beach on the front side, and right on the beach of Freeport bay to the back.  There had been no houses to the left or right and in previous years. We'd enjoyed the solitude of reading on the balcony decks and enjoying the sound of the surf and birds.
This trip was cluttered with concrete trucks pouring large parking lots and large-equipment hydraulic post drivers pounding massive posts into the ground for whatever they were building.  Oh well, we'll have to make the best of it.
Hitting The Beach
Of course we went to the beach right away.  I don't care much for actually swimming in the Gulf but I loved walking the beaches with Bailey. I'm not sure she'd ever been on a beach before and she had so much fun.  There was seaweed to sniff and seagulls to chase and Sandpiper poop to eat. (eeewwww) 
We kept her on the leash at first not knowing how she would react to such a different environment. But after a while we let her loose to run the beach around us.  There were no other cars around and no people or dogs for her to interact with.
She stayed close by and was immediately obedient when we called her.  There's lots to be said for the ongoing obedience training RancherMan & I are doing with her.  Such a good girl!
Metal Detecting On The Beach
RancherMan & I decided we wanted to go metal detecting. It was lots of fun with visions dancing in my head of riches that might lie just below the sand's surface. All in all we found many non-discernible metal items, a little deeply-buried boys Hot Wheels car, and some CASH.
Oh yeah folks that's right, we found cash treasure right there on the beach.  To the tune of
Eight.
Whole.
Cents!
Oh yessiree people, I'm gonna set that cold hard cash back & let it draw interest so we can retire some day.  LOL
Red Snapper Inn Restaurant
The first night we ate at a small restaurant right there on Surfside Beach called Red Snapper Inn. A little pricey for such a small place and they obviously mainly served seafood.  Not being a seafood lover I wasn't impressed of course. But RancherMan is an avid seafood eater and he wasn't impressed either.
We arrived about an hour before they closed. Maybe we got all the stale leftovers?  In any case, that dining experience wasn't pleasant for either of us.
UPDATE: On a subsequent trip to Surfside Beach we once again revisited Red Snapper Inn Restaurant. The food was delicious! Maybe under new management?
Salsa's Mexican Food Restaurant
For another meal we all gathered at a mexican restaurant in Galveston called Salsa's.  Now folks, I'm here to recommend this place – absolutely delicious!
They all treated us right and the food was amazing. So the next time we're in Galveston we'll be sure to stop back in.
Pier Fishing Opportunities
Right next to the house was a brand-spankin new pier being built for a new resort community they're apparently building.  Now that pier was snazzy I'm tellin' ya.
RancherMan and our brother-in-law spent many blissful fisherman-happy hours on that pier.  They caught red & black drum, catfish & gaftop, speckled trout, many crab and even a couple of sting rays!  Oh yeah, the guys were certainly in their element here on this beautiful new pier.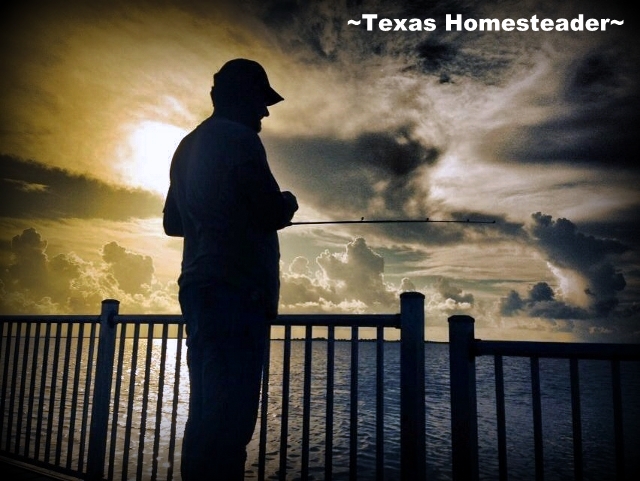 I also took Bailey often to that beautiful pier to watch my handsome RancherMan do some fishin' with our BIL.  She & I would sit on the pier with my sis. We enjoyed talking, being close to the guys and watching some beautiful clouds and listening to the many birds call to us.  It was so wonderful.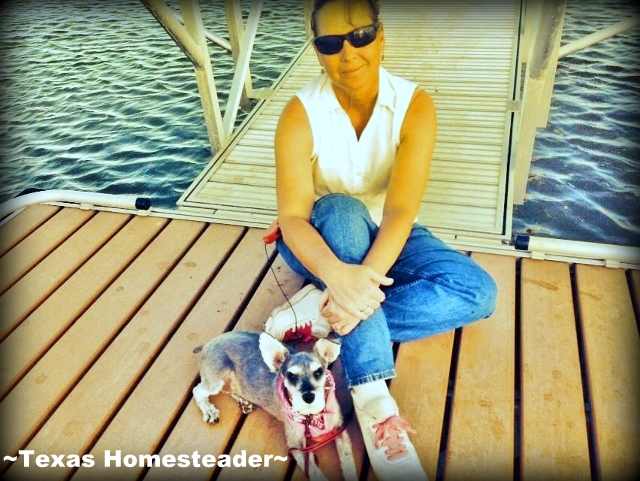 Fresh Crab Dinner
Now since my BIL is a very talented cook. He brought the crab they caught back to the house & cooked them up right then.  Now THAT'S some fresh seafood! Everyone raved about how delicious they were.
The next night he took all the leftover crab meat and made crab cakes. The exclamations coming from the crowd indicated they were also a HUGE hit.  It's wonderful to have such a good cook in the family.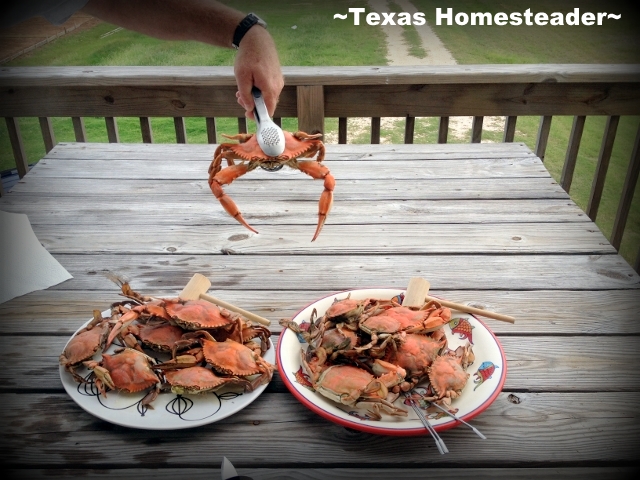 Day-Trip Into Galveston, Texas
RancherMan & I decided to take a day trip to Galveston.  We stopped at a small eatery called Jimmy's At The Pier and had some specialty burgers and beer right there over the water.  Such a great location. Since RancherMan is a connoisseur of fine craft beers he enjoyed a cold one from a local brewery called the Galveston Brewery. It was a light wheat beer that he really enjoyed.
Of course afterward we went shopping for a bit. Then I asked him to drive me through the historic parts of Galveston. I'm a sucker for that beautiful old architecture.  Just lovely.
Unwelcome Visitor At The Beach House
One evening just as the sun was starting to wane my sis & niece came back from walking Bailey on the beach. My niece casually mentioned that she took a picture of a snake she found – pulling the photo up on her phone.
Although her picture wasn't real sharp I was a little concerned about what parts I could see clearly.  I said "Wow, that looks like a snake you might need to be wary of. Where'd you see it?"
Her reply?  "Oh right by the garage door!"  OK I reasoned, I should go downstairs & take a look at this snake.  There aren't lots of poisonous snakes around but there are the occasional troublesome sand rattler and the like.  So I had her show me where she saw it.
We went downstairs and she pointed it out. It wasn't a big snake but it looked like one of the "bad ones".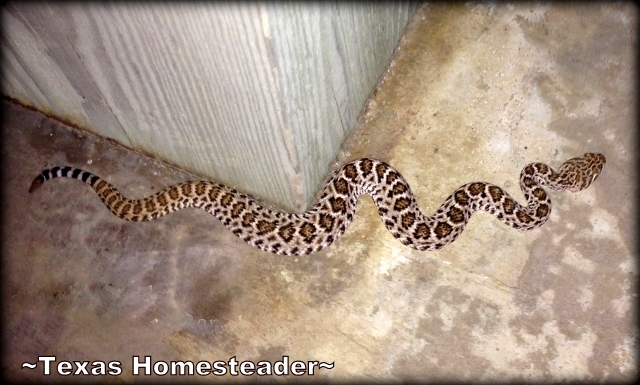 OK I must say here I'm not one of those "Oh no, a snake we MUST KILL IT" kinda girls.  We come across many snakes in our daily life on the ranch & I know snakes are an important part of the ecosystem.  I never kill a snake (or ANY critter for that matter) just because it is what it is, snakes or otherwise.
But I need to take a closer look at this one.  I took a couple of pictures of it with my cellphone so I could zoom in & see some of the features more closely without getting too up close & personal with the snake itself.  Hummmm….
I called RancherMan who was out fishing with our BIL and described it. In particular the somewhat triangular-shaped head which I know can indicate venomous snakes. And the curious tail with white stripes.  While I was describing colors, patterns, tail features and head shapes to RancherMan over the phone, my smart niece was pulling up images on her cellphone of South Texas venomous snakes.
Between RancherMan's off-site identification and my niece's pictorial proof we confirmed that yep, this little guy was a young western diamondback rattler, no doubt stirred out of its environment by all of the construction going on right next door.  As bad as I hated to do it, I had to kill it.  I couldn't take the chance that my niece would step on it on her way back from the beach or that Bailey would smell it, investigate it and perhaps get bitten.
Ferry Ride
Before time to go home there were other tourist excursions we enjoyed – We enjoyed a ferry ride across the bay and watched the dolphins come to the surface to play in the ferry's wake.  We also enjoyed cool beverages while rocking  on heavy Adirondack-style rockers at Murdoch's Souvenir Shop, watching as the pelicans flew in low formation and seagulls paraded by us.
Bad snake experience and constant construction noise aside, all in all we had an absolutely fantastic family time together laughing and bonding.
But as much fun as this week away has been, I'm vividly reminded of Dorothy in the Wizard of Oz as she has an important realization: "There's NO PLACE LIKE HOME"!
~TxH~
Other Fun Trips
C'mon by & sit a spell!  Come hang out at our Facebook Page. It's like sitting in a front porch rocker with a glass of cold iced tea – lots of good folks sharing!  You can also follow along on Pinterest, Twitter or Instagram.

Save
Save