by Texas Homesteader
It's been a difficult year for our family with various severe illnesses and familial issues. We're a very close family and we've all gathered around & supported each other through the hardships. But now that things are finally beginning to settle down we all felt we needed a break.
Its not unusual for us siblings to get together for vacations and this weekend we decided to rent a house in south Texas – a small town called New Braunfels. The claim to fame for New Braunfels is the Guadalupe & Comal Rivers that cut through the city.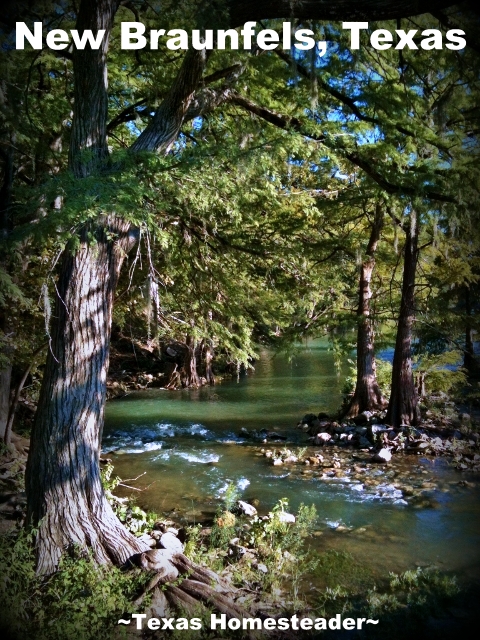 During the warmer months you can rent a large rubber tube filled with air and float lazily down the river, they call it 'toobing'. But it's beautiful country in all seasons and this time of year the weather is perfect.
Lovely Location
RancherMan found a great house to rent very reasonably that was large enough to comfortably fit all of us and it was right at the Guadalupe river! We all arrived at about the same time and were pleased to see the house was so nice inside with four beautifully updated bedrooms, 2.5 bathrooms, and a nicely stocked modern kitchen.
After we all quickly unpacked, we retreated to the huge back deck to soak up the view. We estimated that some of the huge oaks around the house were well over 100 years old, you couldn't even reach halfway around those massive trunks. The house was nicely tucked between them, the deck was even built around one of the huge trees so it came right through part of the deck. BEAUTIFUL!
We were surprised to see so many deer and they seemed to be everywhere, even grazing right out back.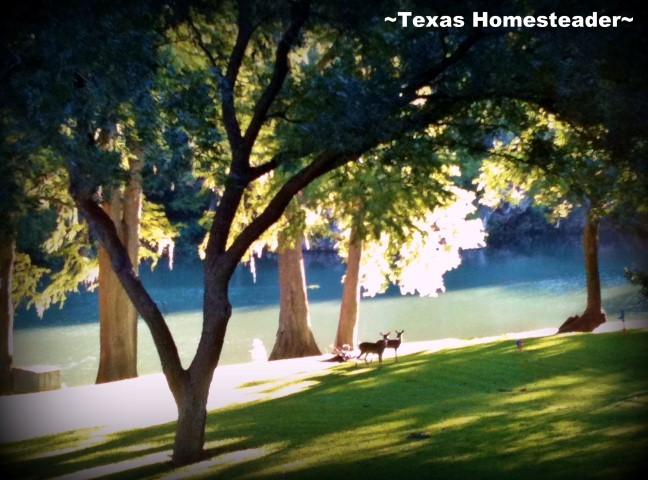 As we were all out on the deck enjoying the evening we saw a young couple from the next house walk into their back yard and the young man dropped to one knee and proposed. Awwwww… They asked my niece to take a picture of them and their friends that had secretly gathered to surprise the new bride-to-be on this special day. Fun!
Trade Days, New Braunfels, Texas
Saturday there was a large Trade Days event going on in downtown New Braunfels and we all enjoyed visiting the many vendor's booths.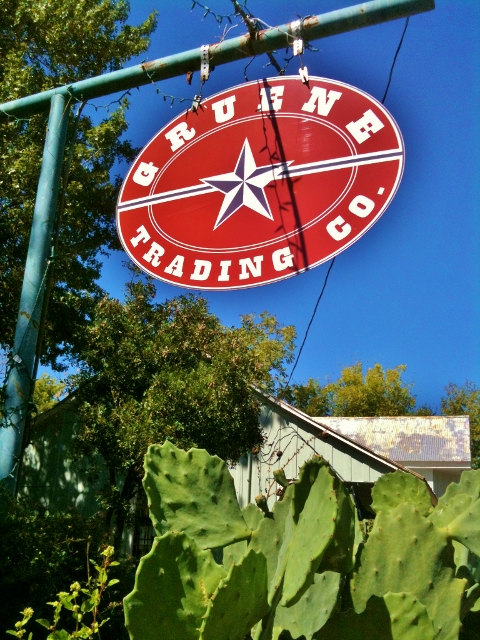 I was pleased to see so many repurposed goods offered including rings made from vintage cufflinks and earrings, candle covers made from cut & etched wine bottles and bottle stoppers embellished with old brass door knobs. We enjoyed several eateries and attended some wine tastings – I even got to taste green-chili flavored wine. It was an odd enough sounding wine for me to be skeptical but it was actually delicious.
I loved the old buildings that are part of this area of New Braunfels.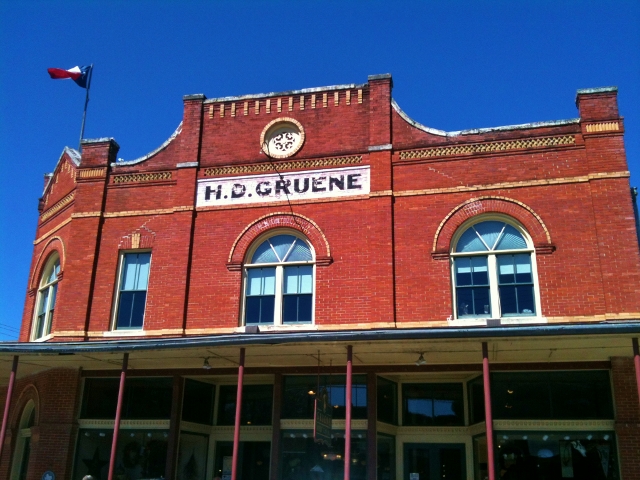 And I loved the interesting way they presented this area. The lamp posts looked to be made of a sturdy Bois D'Arc or maybe cedar tree log. Love it!
Gruene Hall
We also got to enjoy Historic Gruene Hall. (pronounced GREEN HALL) Built in 1878 it's the oldest continuously-run dance hall in the state of Texas.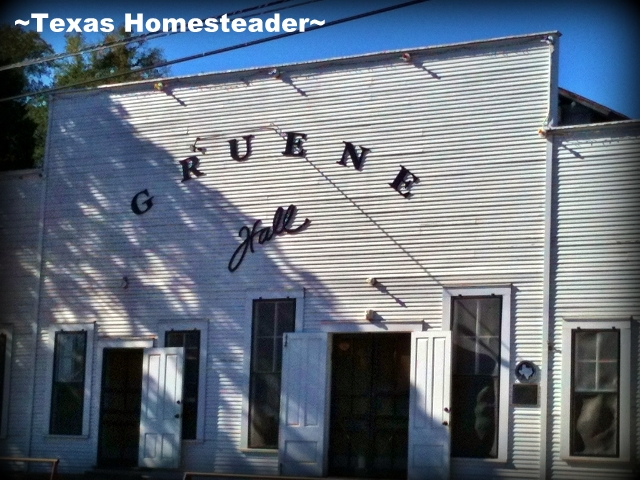 This day there was a live band playing and couples were on the dance floor holding each other tight, twirling and gliding the Texas 2-step! It was fun to people-watch. There were of course tourists like us but there were also locals and curiosity seekers. The music was hopping and the beer was cold – it was so much fun.
After spending the entire day enjoying the sights & sounds of Trade Days, RancherMan & I decided to walk back to the house instead of riding back with my siblings. I'm so glad we did, the weather was perfect & there were so many absolutely beautiful things to see along the way!
We really enjoyed the weekend and we all enjoyed some much-needed relaxation, laughter and bonding time. When it was finally time to part ways on Sunday morning we hugged each other and promised to get together more often from now on. It's wonderful to be part of a family this tight.
I hope you enjoyed your stroll with us through New Braunfels – it's a great town to visit and we had an absolute blast!
~TxH~
Other Fun Trips

C'mon by & sit a spell! Come hang out at our Facebook Page. It's like sitting in a front porch rocker with a glass of cold iced tea – lots of good folks sharing! You can also follow along on

Pinterest

, Twitter or

Instagram

.
If you'd like to receive an email each time a new blog post goes live it's EASY to
Subscribe to our blog!