by Texas Homesteader
September 11th, 2001, a day most Americans were changed forever.
Little did I know this day would change my life and the lives of all my fellow Americans forever!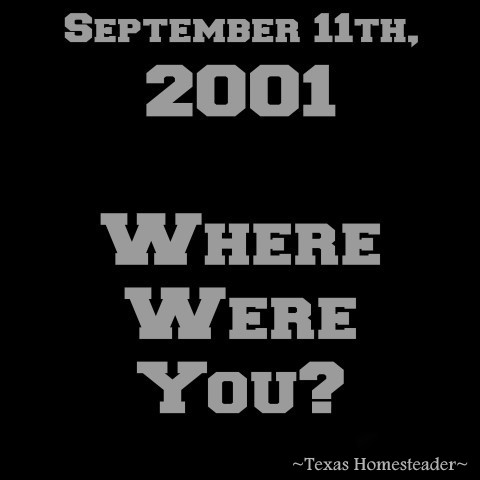 I worked at an international trade association and they held a huge convention each year in September.
As the Director of Administrative Services, it was part of my job to attend this convention each year along with other executives of our association. It's a huge amount of work and it takes many hands to assure a smooth successful convention.
This year the convention was in Florida. So I packed the night before to make sure I can get to the airport the next day to make my early-morning flight.
A Business Trip To Take
I wake up before the dawn on this bright crisp September morning making sure I have everything I need for my trip. Of course I tell the kids how much I'm going to miss them, hugging each one of them tightly. Soon my taxi arrives to take me to DFW airport.
I kiss RancherMan goodbye, he assures me he will get the kids to school today and take care of everything.
His plan is to arrange for the care of our kids & then fly out to be with me in a couple of days. He always uses his vacation time to come help me during the extreme busyness of our annual convention.
So he carries my bags and opens my taxi door for me, leaning in to kiss me one more time. As the taxi pulls away from the curb I give my destination to the taxi driver and we speed off toward the airport.
Unexpected traffic delays and construction gridlock makes me nervous. I hope we get there in time.
Bright Crisp September Morn
The taxi pulls up to the airport gate and I pay quickly & hurry toward the building, only now finding out that my gate has changed to the other side of the airport!
I'm panicked that I won't make my flight in time. I speed-walk as fast as I can carrying my bags & weaving around the crowds along the long corridors.
I'm relieved to finally see my co-workers at the American Airlines gate. They look up & smile when they see me rushing toward them – whew! We only have a couple of minutes to chat before the plane begins boarding.
We make our way onto the plane and find seats close to each other where we can go over the fast-paced workload we have waiting for us in Florida for the next week.
The plane takes off and soon we are at cruising altitude. My mind is rushing with all that will be required once we land. There will be orientation with the staff at the huge hotel and they'll show us the convention hall and all our meeting rooms.
We'll need to look over the massive amount of materials we've already shipped to the location to make sure it all arrived. And we'll need to make sure our computers are set up and ready to log in all our attendees.
The Unthinkable Happens
Just then a voice comes over the loudspeaker announcing that a commercial airplane has flown into the World Trade Center.
I remember my boss looking back at me and asking "Did he say FLOWN INTO the World Trade Center??"
Soon the voice came back on the speaker saying another plane had now crashed into the second tower of the World Trade Center. Now an eerie silence fell throughout the plane. We all wondered – What's going on??
The pilot indicated that all planes were ordered to land immediately. They were now awaiting orders on whether we would continue on to Florida or turn around and return to DFW airport.
Little did I know that RancherMan had heard this news as well and had already contacted American Airlines for the status of my flight. He was determined to reach my side wherever that was.
Later he told me that he just needed to know which highway to take – toward DFW or immediately start driving east to Florida. One way or the other, he would be by my side.
American Airlines took his phone number and promised to call him back when the determination was made for our landing location.
Frightening News Aboard Our Flight
Meanwhile back on the plane, a flight steward picked up the microphone and announced in a near-panic that it was ordered that we would return to DFW.
He stammered that that no one was to allowed leave their seats. And he blurted out that it was suspected that terrorists were targeting American Airlines planes and that there could be a bomb on board our plane.
OMGosh you have no idea how frightening it is to be airborne, hear that news and know there's nothing you can do. You can't run & hide, you just had to sit there hoping he was wrong.
S-s-s-shiver…
Back At DFW Airport
At last we landed back at DFW airport. Cell phone towers were gridlocked of course and repeated attempts at dialing out were unsuccessful. My low-end cell phone's signal was poor anyway, so I didn't stand a chance of getting signal.
But as soon as my boss finally reached his wife and told her he was OK and asked her to contact our office, he handed me his phone so I could attempt to contact RancherMan & let him know I was OK.
Several attempts were unsuccessful but at last I was able to dial out. I was so relieved to hear his voice! Although he was making all attempts to sound calm and collected for my sake, the relief in his voice was evident as well.
He told me he had been getting updates on my flight and he would be waiting for me inside the terminal as soon as he could get there.
Reunited With RancherMan
We were finally able to disembark from the plane and numbness enveloped all travelers. The typical hustle and bustle of this huge busy international airport was notably hushed with people walking along almost zombie-like.
We reached the baggage area and waited for our luggage, my eyes constantly searching the corridors and doorways for my rock, my strength, my Love.
At last I saw him rushing toward me and I ran to him, embracing him tightly. Neither of us said a word for quite some time, and neither released our embrace of each other.
At last I was comforted enough to relax into him, his arms still tightly around me.
I looked up at him and asked him what happened. In the plane we had no access to the news that was streaming constant updates to the outside world about this terrible terrorist act.
He had sadness and concern in his eyes as he quickly told me what little he knew.
Convention To Be Canceled
Our boss told us to take a little time to go somewhere and eat lunch, take a short break to gather ourselves. Then we were to meet back to the office, as now there was much that needed to be done.
Although I wasn't hungry at all, RancherMan & I went to a restaurant and slid into a booth. The TV was on and showing the most horrifying footage I could have possibly imagined.
Lives Changed Forever
After lunch I kissed my handsome RancherMan goodbye and reluctantly headed back to the office. Since all planes were grounded nationwide, we were obviously canceling our convention this year.
But the TV in the office was blaring the latest news and I was transfixed to the screen, as were my coworkers.
It was absolutely horrifying – how could this happen? WHY would it happen? Who could have THAT much hate in their hearts?
My heart ached at so many innocent lives lost that morning. I thought about how fragile life can be. So many people kissed their loved ones goodbye that morning and headed to work like any other day, never to be seen again. Just another day… gone horribly wrong.
Yes, our lives have been changed forever. Today my heart still breaks for those innocent lives lost, and I honor those selfless first responders that paid the ultimate price while trying to help civilians to safety.
We Will Never Forget!
~TxH~
Other Humanity Posts
Inspiring Posts
…and MANY MORE!

C'mon by & sit a spell! Come hang out at our Facebook Page . It's like sitting in a front porch rocker with a glass of cold iced tea. There are lots of good folks sharing! And you can also follow along on Pinterest, Twitter or Instagram
If you'd like to receive an email when a new blog post goes live,
subscribe to our Blog!