by Texas Homesteader ~

When RancherMan & I left the corporate workplace years ago to live & work here on the Homestead we were thrilled that we were no longer bound to the traditional 9-5 schedule.
Of course as anyone who has gone into business for themselves knows, many MANY more hours than the standard 40 goes into our workweek now that we are our own boss. But at least it's our own schedule.
We've joked for years about how at our young age we were able to 'retire' from corporate America.
But that flexibility is often viewed as wide-open availability since others know we don't have to report to an office by 8 am each morning.
One by one other obligations slowly crept into our lives. And suddenly there just weren't enough hours in the day…


Worthwhile Community Obligations
RancherMan & I are both active in our church and serve or chair several committees as well. We also attend a couple of study groups and we're both very involved in our local Food Pantry.
But more & more requests for volunteer help were coming in.
I'm aware that there's so much need for volunteers – especially in a small town. And they are such worthy causes – causes that are near & dear to my heart.
But how do you know when it's time to just start saying NO?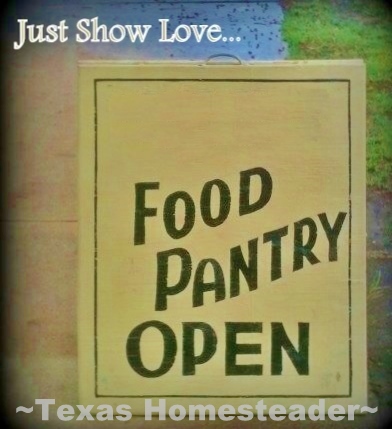 Falling Behind
I'd been noticing lately that Homestead tasks not deemed hot-item chores were slipping. Then a few more, then even more!
I'm one of those people that likes to kick things quickly from my to-do list. But instead I was now struggling just to keep up.
Although I had deemed it a very important task I found myself behind in redesigning my veggie garden. And now planting season is coming up!
Oh well I reasoned, I guess I can squeak by with the old raised beds even though they're crumbling. Maybe I'll just endure the inefficient design this year. Perhaps I can tackle a new design next year.
But I also need to be starting my seedlings using my Indoor Greenhouse procedure. When will I be able to do that?
And the cistern enclosure is starting to weather and needs to be repaired. When will we have time to get to that?
Oh, and our remote pasture needs to be disked before the spring grasses emerge. Mercy me, when will we have enough time to get to that?
There are calves to register, records to update and much financial information to gather for our CPA.
We've needed to contact a bulldozer operator for months to correct one of our ponds here at home & also dig new ponds in our remote pasture. All of this is falling further & further behind.
Not Enough Time
Then recently a friend approached me and said she had volunteered for a very important cause. But she was overwhelmed & just couldn't do it alone, she needed additional volunteers. Knowing how I valued that organization she asked if I could help.
Concerned that this friend was shouldering so much of the burden herself and also caring so much for the cause she was volunteering for I desperately wanted to say yes. But my current obligations have me tied down.
Although the actual hours in my days are somewhat flexible, RancherMan & I have other community obligations and a homestead to look after as well.
There were just not enough hours in our days anymore.

Learning To Say "No"
Although I believe strongly in the positions I currently volunteer for, I'm thinking it's time for me to learn to say no to any additional obligations.
I think there's a fine balance in providing for your family and also giving of yourself for the good of your community.
I'm still working to hit that balance and I think I'm dealing with a tremendous amount of guilt for saying no.
How do you balance home & volunteerism?
~TxH~
Other Humanity Posts
Other Inspiring Posts
…and MANY MORE!

C'mon by & sit a spell! Come hang out at our Facebook Page . It's like sitting in a front porch rocker with a glass of cold iced tea. There are lots of good folks sharing! And you can also follow along on Pinterest, Twitter or Instagram
If you'd like to receive an email when a new blog post goes live,
subscribe to our Blog!
Save
Save
Save