by Texas Homesteader~
Recently I decided I wanted to plant a pear tree since back in 'the day' all homesteads in this area had pear trees. They were very easy to grow & could produce lots of fruit for the household. I decided not to plant it in my yard – both for my poor backyard soil issue as well as fallen fruit messes.
Instead I planted it a short distance from our yard. But this area is accessible to the cows. You know how cattle are – they love to rub on trees. This little sapling didn't stand a chance if left unprotected.
I needed a way to keep the cows away from it long enough to give it a fighting chance. But I like to repurpose what we've already got to serve a need whenever possible.
So I put on my thinking cap & started looking around the homestead for supplies.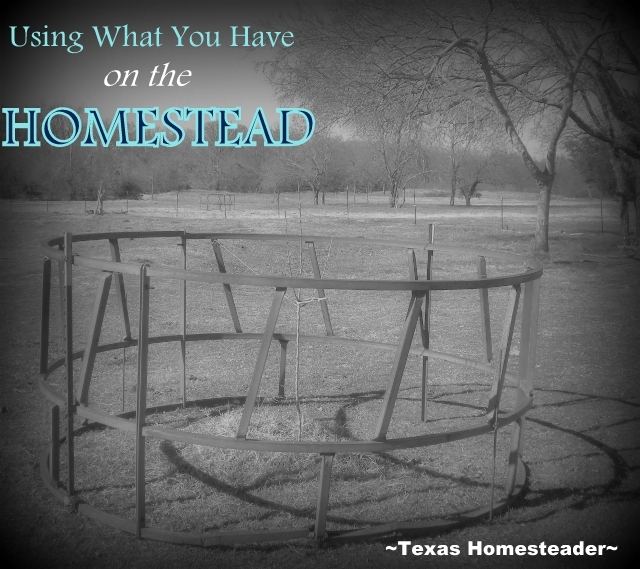 One Item Good For A Different Use
We had an old hay ring that wasn't very helpful these days for feeding the cattle. Years of use had caused it to be missing some of the top retainer rings.
So we turned it upside down and placed it around the tree. This would allow the cows to poke their heads in & eat the grass close to the tree but not be able to reach the tree itself.
Feeling clever at our inventiveness we dusted off our hands and called it a day.
Unfortunately we discovered the cows would still rub on the ring. They pushed that hay ring right over our poor little sapling!
I guess when you have a 1,500 lb animal rubbing on something it really needs to be stabilized.
But against all odds, tiny buds began to sprout on the tree again. Oh happy day! I'd thought for sure it was a goner. But surprisingly it sprouted back. This little tree was a fighter. It must really be true what they say about the spunkiness of pear trees at old homesteads.
Not to be deterred we decided to further reinforce this hay ring around our little pear tree. RancherMan installed two full-sized t-posts on either end of the ring, pounding them deep into the ground.
He then double-wired each of them in several places along their length to the ring. He added rebar to opposing sides of the ring and wired them in as well, thereby anchoring the ring from all four sides.
This should certainly keep this protective ring from moving!
Then I used some nylon baling twine that was left after feeding hay to the cows to help stabilize the tiny tree. Hopefully that will further protect it so the strong spring winds that are so prevalent here won't rock the tree too hard and damage those fragile roots.
This setup should allow this little tree to dig its roots deep into the soil and finally have a chance to grow strong.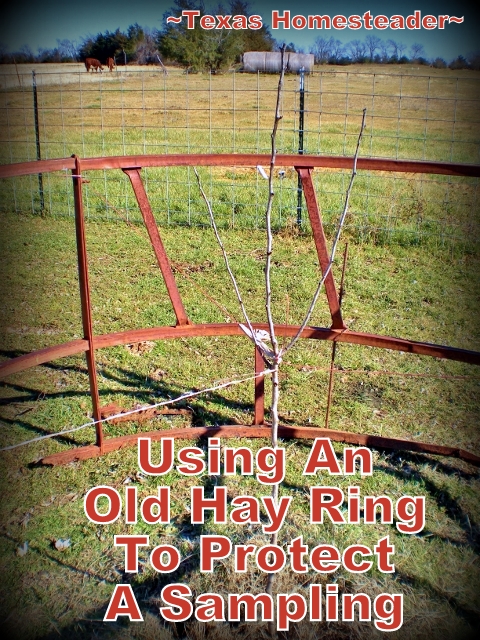 This little pear tree has been such a trooper and I'm anxious to see how it takes off this spring. And I'm glad that I'm able to give it a fighting chance by using items we already had on the Homestead to protect it.
Repurposing items to another use is not only good for the environment but good for the budget (and the TREE) as well.
~TxH~
Other 'Use Whatcha Got' Ideas


C'mon by & sit a spell! Come hang out at our Facebook Page . It's like sitting in a front porch rocker with a glass of cold iced tea. There are lots of good folks sharing! And you can also follow along on Pinterest, Twitter or Instagram
If you'd like to receive an email when a new blog post goes live,
subscribe to our Blog!