by Texas Homesteader ~
I love to use blinds for privacy and valances to 'dress' the window up. But they're so expensive! I decided to use my grandmother's hand-tatted lace dresser scarf for one of our windows. And a different hand-made dresser scarf for another window. Sentimental window treatments!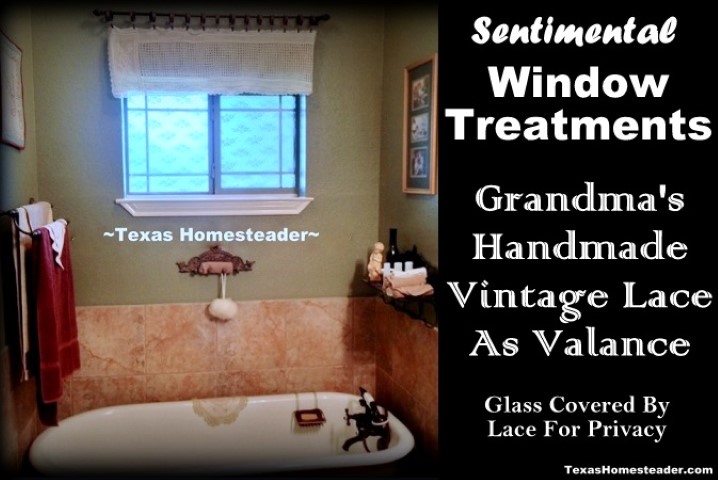 Window Dressings Are Surprisingly Expensive!
When we first moved into our new home here at the homestead, I knew that I wanted my window coverings to pair nicely with our passive solar design and open floorplan.
I needed to easily be able to open & close the window coverings daily to allow in light or close out cold. So I knew I wanted those coverings to primarily be cheery white wood blinds.
But I wanted to soften the look of the window with a valance or maybe side curtains. I was shocked when I started shopping for them and found out how expensive this little strip of fabric was!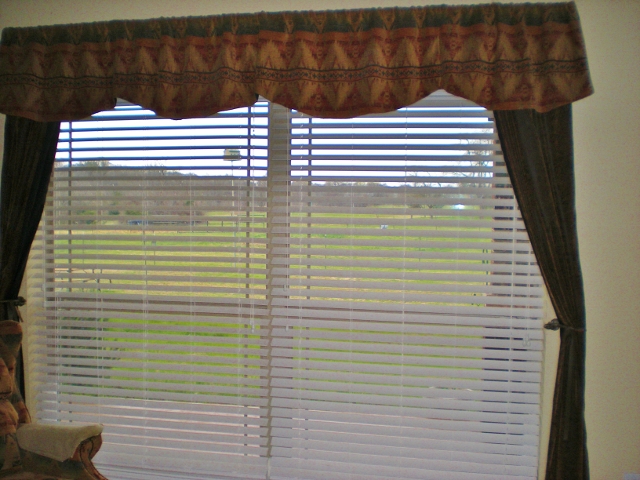 Still, one by one we dressed up each window to suit our tastes using various window scarves, valances or stamped leather and tapestry-type fabrics.
Window Treatments For Small Windows
But when it came to the small bathroom windows I wanted something different. My thoughts were spinning with ideas for the look I was after.
Our home is decorated very 'Texas Country' and our bathrooms each include an old authentic claw-foot tub along with old-style fixtures.
The window was covered with those same white wood blinds we had throughout the house. But I still needed a valance for that small window.
Then inspiration struck! My grandmother and my great grandmother were very accomplished in needlework. (not sure how I got left out of THAT in our gene pool!)
Grandma loved to hand-stitch homemade quilts and do embroidery. My great grandmother loved to do hand tatting of lace.
And both of them loved to embellish things with rescued lace to make the ordinary something beautiful.
Grandma had given me a box years ago with many handmade dresser scarves adorned with hand-tatted lace ends. Some accented with carefully-sewn lace remnants, and a few velvety-soft embroidered pillow cases.
The pillow cases went into immediate use for guests since I don't believe in keeping precious things tucked back in a dark closet because they're 'too good' to use.
But dresser scarves didn't fit with the style I wanted. I didn't use fabric atop my dressers & such.
Window Dressings Using Vintage Dresser Scarf
But now my thoughts turned to those fabric pieces, lovingly embellished by my beloved grandmothers.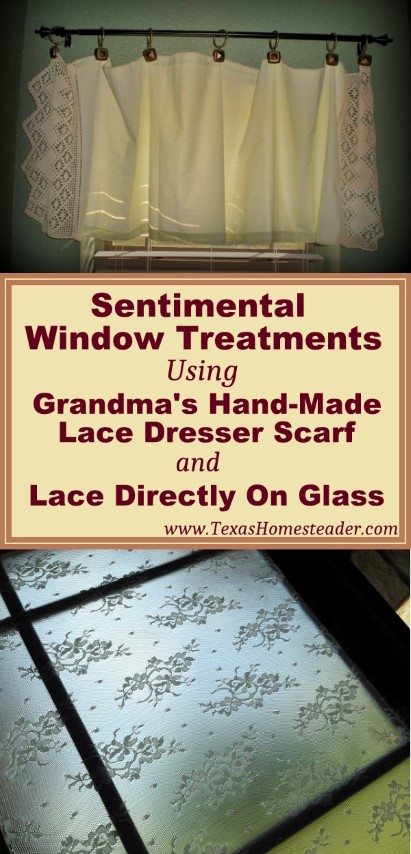 There were several dresser scarves, (or maybe table runners.) They were originally used along the tops of my grandmothers' dressers. I suppose you could also use them as a decorative table runner.
Some hand-made pieces were smaller. I assume grandma used them on her upholstered armchairs.
Although I wouldn't use those items as dresser scarves or lacy armchair covers, I could still display them and love them every day.
I found two different styles in this box that were the right size and they would work perfectly in my bathrooms. I'll use them as a decorative (and sentimental!) valance for these small windows.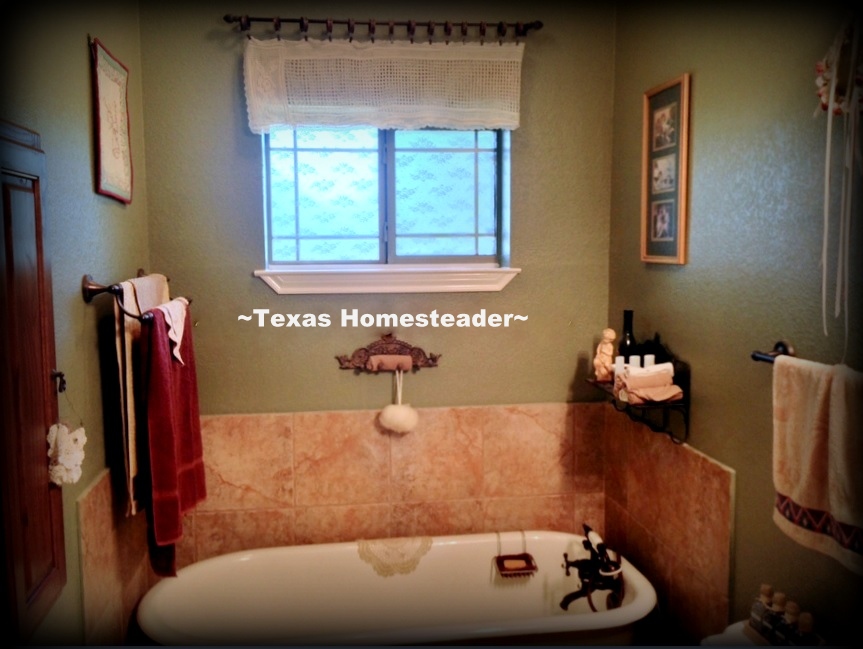 I purchased oil-rubbed bronze curtain rods and cafe-curtain clips pretty inexpensively. Then I simply hand-washed the fabric pieces, let them air dry and gave them a very light ironing.
Hanging them was a breeze since I only had to clip the dresser scarf fabric onto the clips & hang them on the curtain rod. I love the soft look the lightweight lacy fabric offers our guest bathroom.
For the master bathroom covering I made a valance with one of their vintage dresser scarves made with heavier fabric & heavier lace.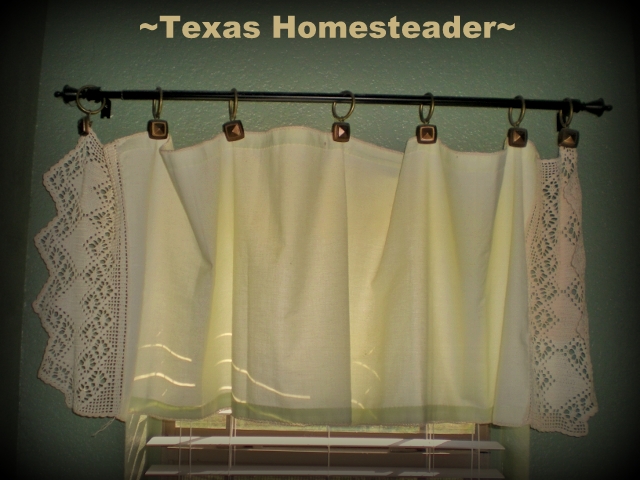 Although the picture above doesn't show it as well, the fabric is a very light creamy yellow with white embellishment on the ends. The lace has little hearts along the length.
This color combination looks great with the 'Green Tea' paint color in our master bathroom.
I purchased these particular café curtain clips on an amazing sale because the finish on them was not an attractive color.
Such an easy fix – I simply spray painted them hammered copper with the spray paint I already had to match the feet on my claw-foot tub. The result is beautiful.
Handmade Dresser Scarves Are Sentimental Window Coverings
I think my bathroom window coverings are perfect. And I didn't have buy a newly-manufactured set of curtains encased in a plastic bag to give me a look that I love. (yes, I hate plastic, why do you ask? LOL)
I love that I was able to repurpose these beautiful linens. And I smile thinking of the loving hands that provided this beauty every time I see them!
Oh, and I ended up taking those bathroom-window blinds down too. But since it's a bathroom window it needs privacy – what will I do instead??
Oh you're not gonna believe how beautiful this window ended up being. I made the glass itself opaque by adding real lace directly on the glass. Check it out!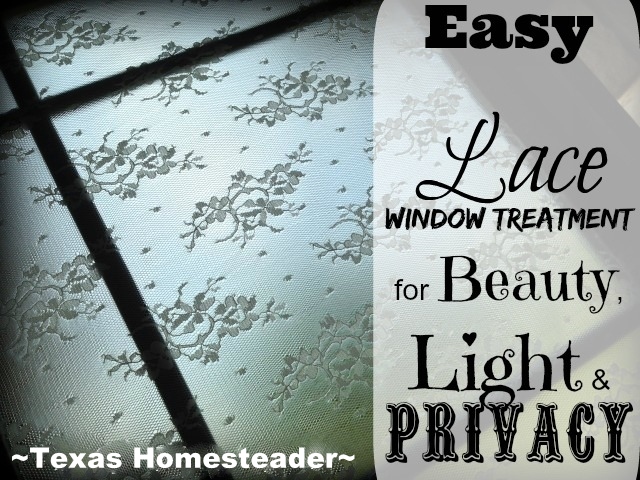 So by thinking outside the box I was able to add beauty and privacy to those bathroom windows. And I smile knowing two of my grandmothers had a hand in those beautiful valances.
No longer are they tucked away in a box, 'too good' to use. They're displayed beautifully where I can see and love them every day.
~TxH~
This post categorized in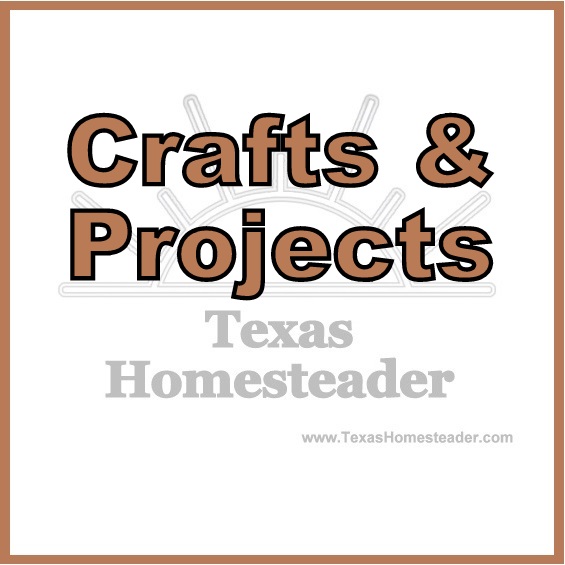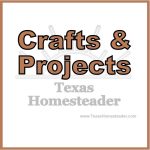 Read More About How Grandma Would Do Things


C'mon by & sit a spell! Come hang out at our Facebook Page. It's like sitting in a front porch rocker with a glass of cold iced tea. There are lots of good folks sharing!
And you can also follow along on Pinterest, Twitter, Instagram or Instagram.
If you'd like to receive an email when a new blog post goes live,
subscribe to our Blog!