by Texas Homesteader~
While RancherMan & I were volunteering for our local Food Pantry recently, I overheard a small group of people talking about a client that sometimes picks up food there for his family. Something to the effect of "So-&-so picks up food for his household and I KNOW they must have money…"
This bothered me so much that although I certainly didn't want to offend anyone, I felt the need to speak up. I hope in my voice some seed of understanding was planted.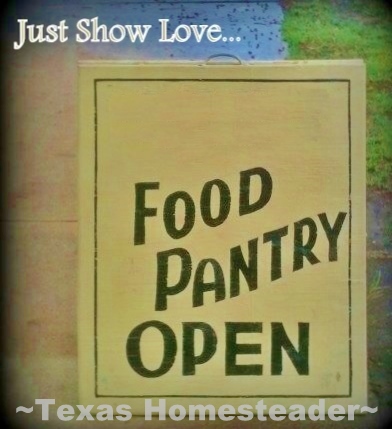 What Does 'Poor' Look Like?
I know several people that are struggling – some temporarily and very recently. Some due to circumstances beyond their control have been struggling for longer.
On the surface you can't tell that they are struggling. Many of the things they own were purchased and paid for when times were better for them. And of course nicer clothes can be purchased at a thrift store for very little money. So can jewelry, household goods and many other things that people like to have.
But For The Grace Of God Go I
But here's the thing – all of us are just one unfortunate circumstance from being in that very same boat!
It's easy to look over others when your life is going so well – your career is holding steady, children are healthy and happy, marriage is strong and you have no sudden unexpected medical conditions to plunge you into that place where no one wants to be.
But what if that weren't the case?? What if your spouse left you or died? What if your child developed a terrible medical condition? What if you were laid off from your posh career?
In that case many of the nice things in your life that had always brought you comfort could very well come tumbling down like a house of cards.
And of course if that happened to you how would you react? Would you suddenly start dressing in rags and start looking the part of a downtrodden citizen? Of course not!
You'd hold your head as high as you could – you'd not advertise to the world that your world was crumbling whether temporarily or for the long haul.
Just. Show. Love!
Here's my wish: The two most special seasons are upon us – the season of Thanksgiving when we're reminded to be thankful for those blessings we have whether large or small, and also Christmas when all of us feel that tug to be mindful of others' circumstances.
So this year let's all do our part to help & vow not to judge a book by its cover.
We don't know what life is like behind closed doors for that person we're looking at but she's worthy of our help and our love.
In this season of caring and sharing, let's all vow to show the love.
~TxH~
Other Christmas Posts You Might Like:
Gift Ideas
Eco-Friendly Gift Ideas: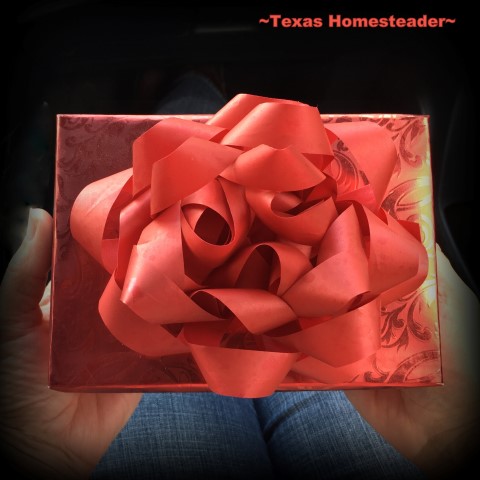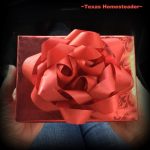 Low-Waste Gift Wrapping & Presentation


C'mon by & sit a spell! Come hang out at our Facebook Page . It's like sitting in a front porch rocker with a glass of cold iced tea. There are lots of good folks sharing! And you can also follow along on Pinterest, Instagram & Twitter
If you'd like to receive an email when a new blog post goes live,
subscribe to our Blog!
Save