by Texas Homesteader~

Our guest bathroom has only one tiny up-high window. Although I love the light green-tea color we painted this bathroom, it does darken this small room a bit. Especially since there's such a small window in this room offering the only natural light.
I've used my grandmother's dresser scarf – embellished by her hand – as a sentimental valance window covering. It helps the window look finished while still allowing in as much light as possible. But since it is a bathroom after-all, there needs to be more privacy than just a valance.
So to provide the privacy needed we've added mini blinds to the window as well. I've always thought that the mini blinds made the window look a little "wah-wah-wah-waaaaaaaah!"
I wonder if there's a way to keep the old-time charm & still offer both privacy & natural light. hummm….
Since our guest bathroom is adorned with a pedestal sink & large vintage claw-foot tub, I love how this sentimental old vintage scarf maintains the old-time look I'm after. I don't want anything added that will detract from that simple look.
Lace Window Treatment is Completely Reversible
Then I read an idea on Annabel Vita about using lace & a simple paste made of cornstarch and water to decoratively cover the glass itself and make it opaque.
The beauty of this method is that it's completely reversible. So it would work very well for people living in temporary accommodations such as apartments or rent houses.
I'm reading that if you ever want a clear window back, a sponge with hot water will dissolve the corn starch. Then you simply pull the lace off and clean the remaining residue off the window. It's like the covering was never there in the first place!
Ever since I read about this window treatment I've been pretty anxious to try it. And woo-hoo today's the day! I love the difference in the look of my window & light entering. No more ugly mini blinds but pretty lace instead!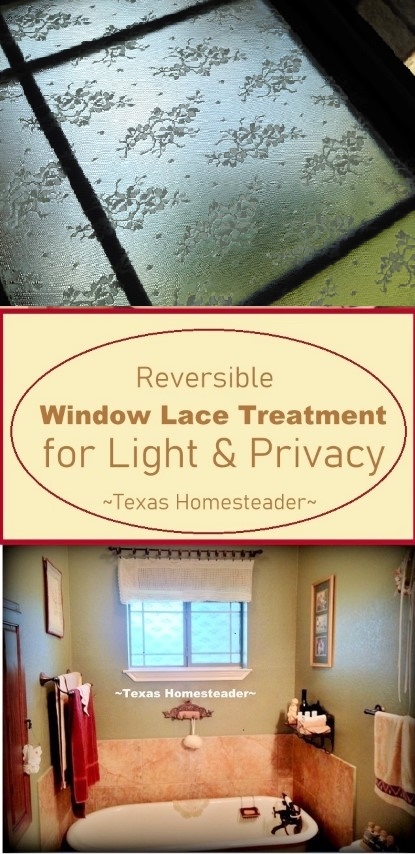 Finding The Right Lace
Several weeks ago in preparation for today's mission my aunt helped me search for the perfect lace. I wanted something very lightweight and with a subtle pattern.
I would have really liked to have found said lace as a window panel or veil at a garage sale so I could have bought it used. Reusing existing lace instead of buying new would make my crunchy-green heart very happy.
But everything I saw was either too heavy or had way too much pattern. So to JoAnn's Fabrics we went. And I found this bundle of loveliness. I knew it would be perfect for my project.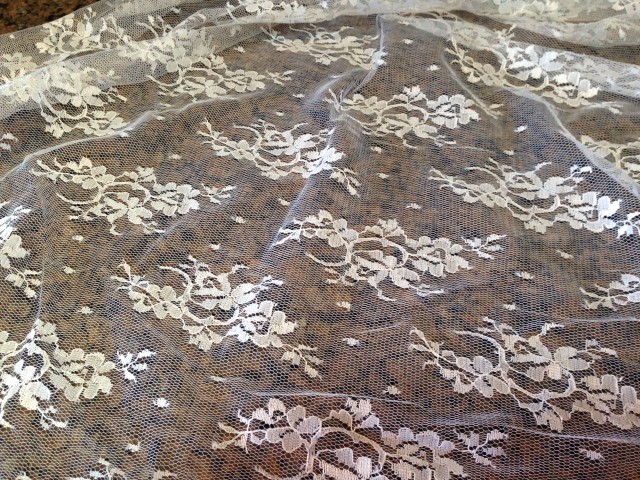 The reader's digest version of this project:
Wash the window, cut a template, cut the lace, mix up the paste, slather it on window, attach lace, slather paste on outside of lace. DONE.
(Editor's note: No matter how handsome the cowboy who's trying to convince you that you don't need a template, that you can just cut the lace an inch larger than you need & trim down when it's on the window – don't listen. Really, just walk away. It doesn't work. Eh-hem…)
Trimming The Lace
So I began. I pulled out the lace and measured my window to make sure I had plenty of lace. I brought out a large paper feed sack to use for my window templates.
But my handsome RancherMan told me that was doing it the hard way. He suggested I just trim any excess when the lace dries.
"But, it's not a solid material – it's LACE." I protested. "And I don't think it will trim the same as you're suggesting." I continued.
(Que 15 minutes of back-n-forth dialogue of me offering up concerns
and him offering up counter-arguments.)
Well, I thought, RancherMan is usually right. Maybe I am doing it the hard way. Maybe I really can just trim the excess afterward. So I decided to give his way a go.
(please see above paragraph. Just. Say. No.) Trust me, your project will be much simplified if you first make a template out of paper, pin the lace to the template, cut the lace and go from there. 'Nuff said – skip to the next step…
Making Lace Glue Using Cornstarch
Now that the lace is cut I make my cornstarch paste by adding 1 Tablespoon cornstarch to 1 Tablespoon cold water and stirring to blend it all in.
Then I placed 1 and a half cups of water in a microwave-safe bowl and heated it to boiling. Now I add my cornstarch mixture into the boiled water, stirring to thoroughly blend it. I'll allow it to cool somewhat before attempting to work with it. The texture became much like a thin off-white colored glue.
Applying The Glue To The Glass
Now it's show time! I take my lace pieces, my bowl of cornstarch paste and a soft-bristled paintbrush into the bathroom.
Using a paintbrush I slather my paste onto my clean windows in a random pattern. I think a random pattern keeps any lines or streaks from being prevalent in your finished look.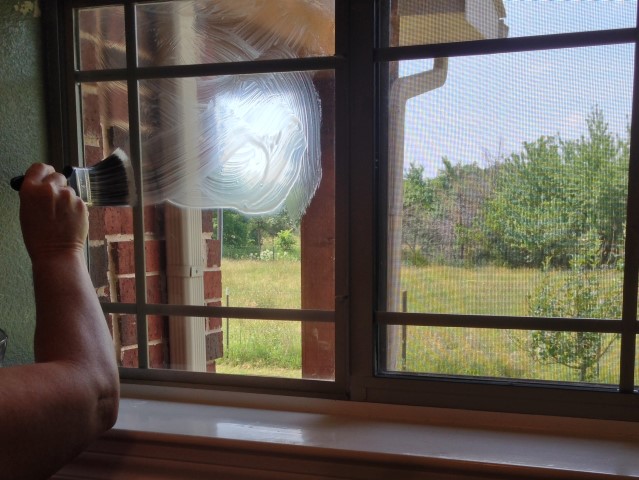 Applying The Lace
Then I position the lace on the window and press to attach it. Finally I take my paintbrush and dip it in the cornstarch paste again.
Finally I slather my cornstarch glue on the outside of the lace to seal it all in, again in a random pattern. PERFECT!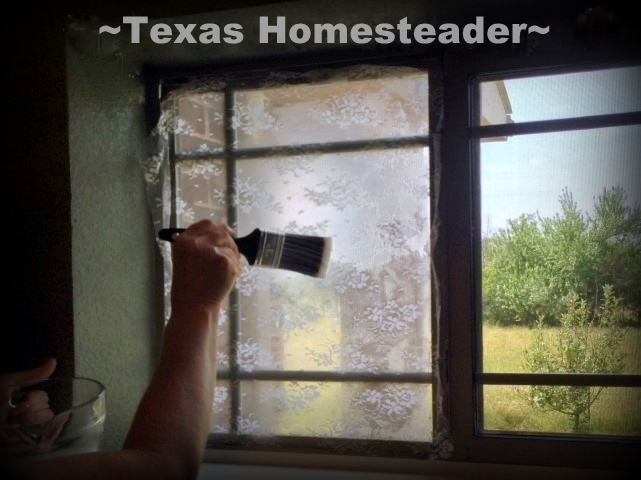 When the cornstarch dried I went in with another layer on top to more evenly cover the lace. It turned out perfectly. Now all that's left to complete is to trim the excess lace (eh hemm…) and I'm all done.
I absolutely love the way it looks. It solves all my bathroom-window problems. It's pretty, the lace lets in light, the window treatment offers privacy. And it still maintains the old-time look I love.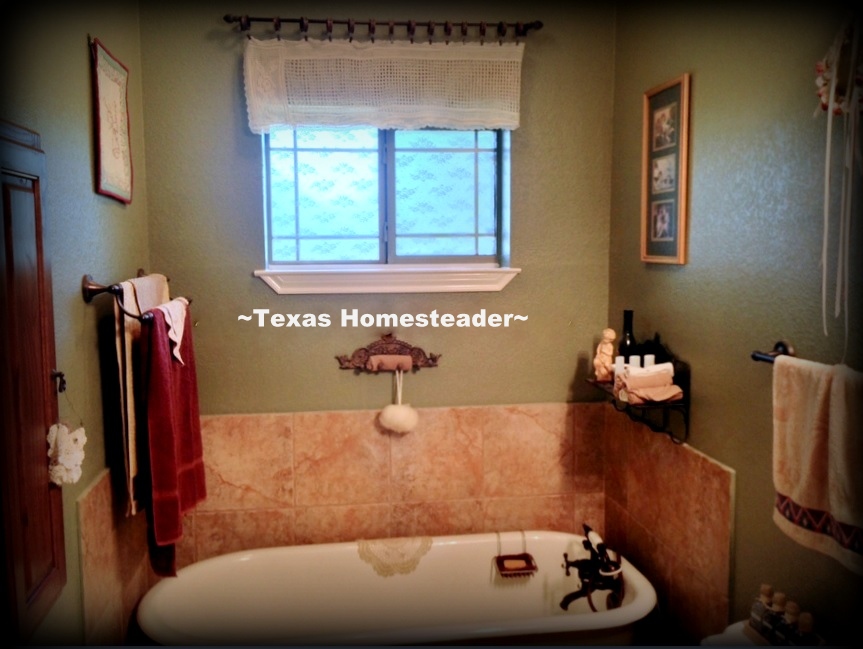 Things To Consider
I'm reading there are a few situations that aren't ideal for this type of lace window treatment. Situations such as a location where the lace can get splattered and need to be cleaned often such as over a sink.
And I'd think frequent heavy steam right next to the window might be a detriment to it as well. So keep those conditions in mind when considering this lace window treatment.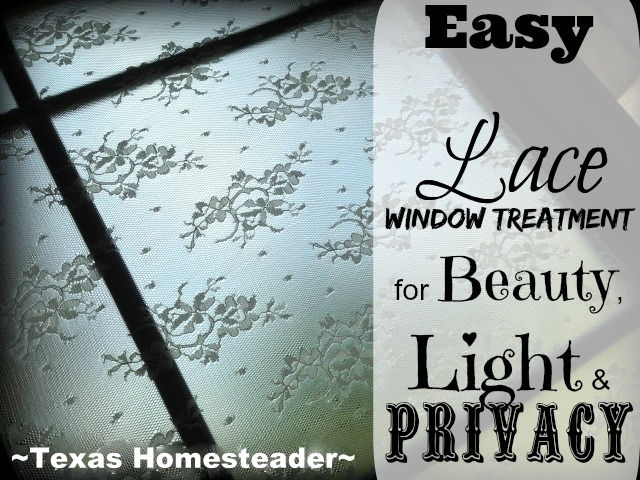 Our guest bath clawfoot tub isn't used very often, so we've never had an issue with steam. This lace window covering has been in place for several years and still holding strong.
But of course the way I look at it is if you don't like it, it's easy-peasy to remove. All it takes is just a sponge and some hot water. So you really can't lose! Give it a try and let me know how you like it.
~TxH~
Our Favorite Crafts & Projects
…and many MORE!


C'mon by & sit a spell! Come hang out at our Facebook Page. It's like sitting in a front porch rocker with a glass of cold iced tea – lots of good folks sharing! You can also follow along on Pinterest, Twitter or Instagram.
If you'd like to receive an email each time a new blog post goes live it's EASY to
Subscribe to our blog!
Save
Save
Save