by Texas Homesteader ~
Canning jars used to be sold in 4-sided cases with cardboard dividers. But they're now sold in half boxes with no dividers to protect the glass. I don't want to store my empty jars that way knowing that canning jars clinking together weakens the glass over time.
I came up with a solution that protects the jars as well as simplify storage. See what we did!
(Note: Some links in this post are for further information from earlier posts I've written. But links preceded with * are affiliate links. If you click them and buy something (almost anything, not just the item noted) I could receive a small commission. But the price you pay will NOT change. It's an easy way to support this blog without anything coming out of your pocket. So click often! Thank you!)
Contacting The Canning Jar Manufacturer About Boxes
New canning jars are now sold in what I consider an incomplete and unacceptable half box shrink-wrapped with plastic. There are no dividers to keep them from clinking together and damaging the glass!
Of course you know I also abhor the fact that there's yet more unnecessary plastic being forced on me. And I'm wondering how you are supposed to properly and safely store your canning jars in those boxes without dividers?
Although all brands of canning jars seem to be sold this way these days, I reached out to Ball company and asked them about these dang half boxes.
And I also asked what they would suggest to properly store their canning jars. Maybe they could suggest a special box that didn't cost an arm & a leg?
They replied that Ball sold the canning jar portion of their business to a company named Jardin several years ago.
Humm…. wonder if that's when they cheapened up the packaging in an effort to make more money for themselves?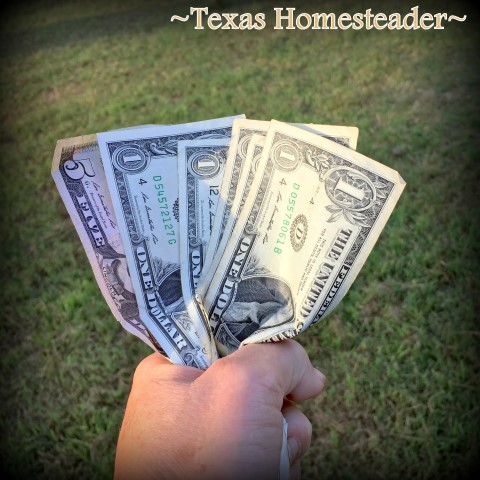 More money for the manufacturer yet less efficient for us, the consumer!
So I posed the same question to Jardin and they never even responded to me. Looks like I'm on my own to find a solution.
Finding Boxes For Empty Canning Jar Storage
I did find an *Cardboard Boxes With Dividers online. But you had to buy a certain quantity of each size that you wanted, and they were kinda pricey. And you know pricey doesn't fly at our Homestead. Let's put on our thinking caps…


I'm going to need something to store these canning jars I'd bought in the cheap 1/2 boxes with no dividers.
Plus I'd like to keep at least a canner-load quantity of jars a little more accessible so that I don't have to ask RancherMan to shlep up into the attic each time I want to can something.
Perhaps I can come up with a storage method that would allow a canner load of each size of jar to be stored neatly in our guest bedroom closet. Then if I need more than that I can have RancherMan fetch them from the attic.
Let's see now, what can we use?
Using Heavy Milk Crates For Canning Jar Storage
We have a few of the super-heavy milk crates (you know, before they started mass producing them in the more flimsy plastic waffle material).
So we thought perhaps they would be perfect to use for this project. They're easy to grab and carry, yet heavy enough to securely hold those empty jars.
So we brought the milk crates out of the storage shed and measured them. They are the perfect size for quarts, somewhat larger than a perfect fit for pints but we're gonna make this work!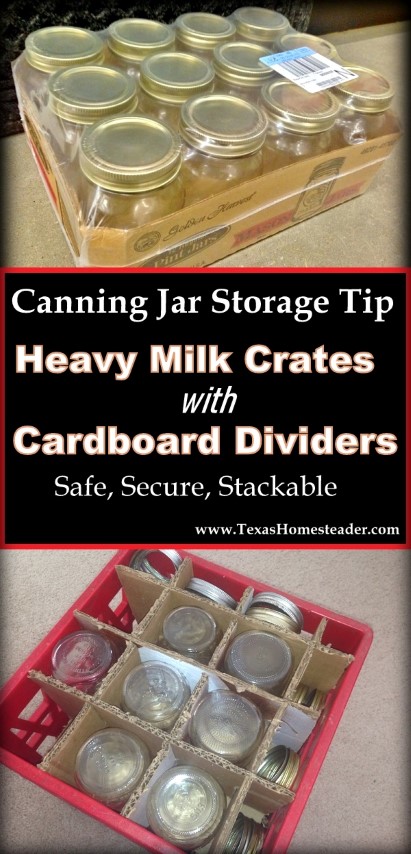 (Note: DON'T try this with the flimsy lightweight waffle block crates sold in many places these days! If you're looking for the heavy-duty crates, you can still buy the heavier ones that hold 50 lbs or more *here) I wouldn't trust those cheap lightweight ones you can buy at discount stores…
So RancherMan brought out some corrugated cardboard pieces he had saved for various uses and marked them to the measurements of the milk crates. He then went into his shop and cut them to size with a utility knife.
Then he came back inside and measured the canning jar spacing & cut notches about halfway down each piece of cardboard. These cardboard pieces will become the dividers.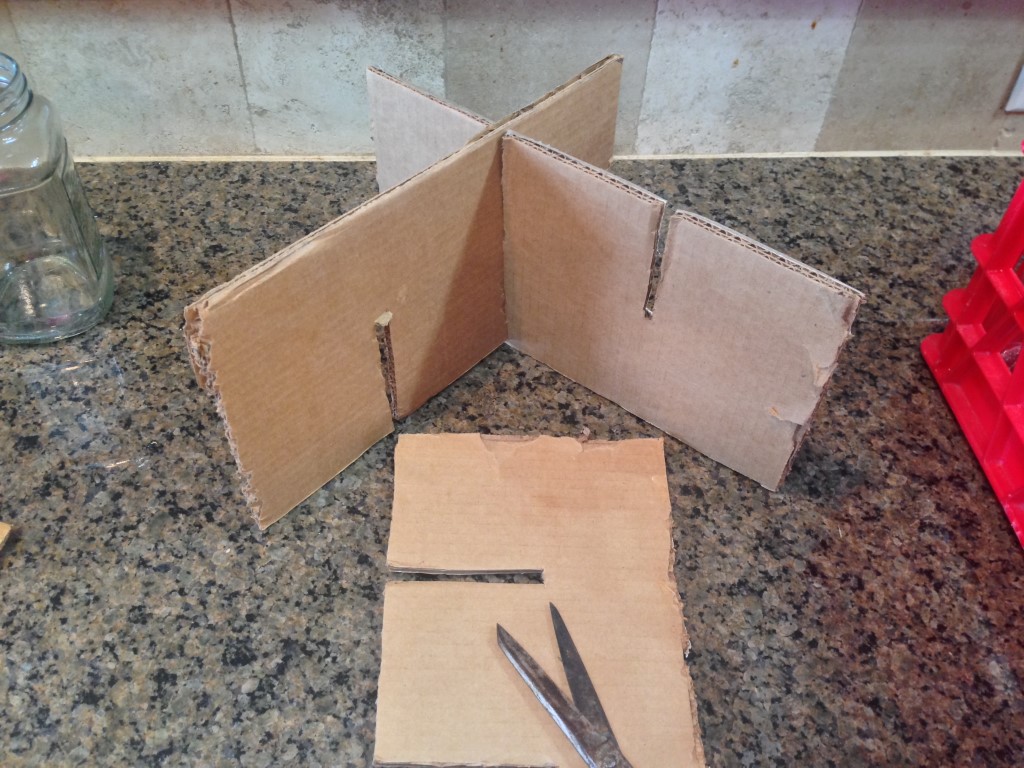 We assembled the dividers and placed the quart jars into the milk crate. I decided to place the regular mouth jars with the jar opening facing down, but the wide-mouth jars would face up.
In the past I've often had to pick up and turn over each jar when looking for either wide or regular mouth jars so storing. This way makes for some quick grab-n-go convenience for canning jar storage. PERFECT!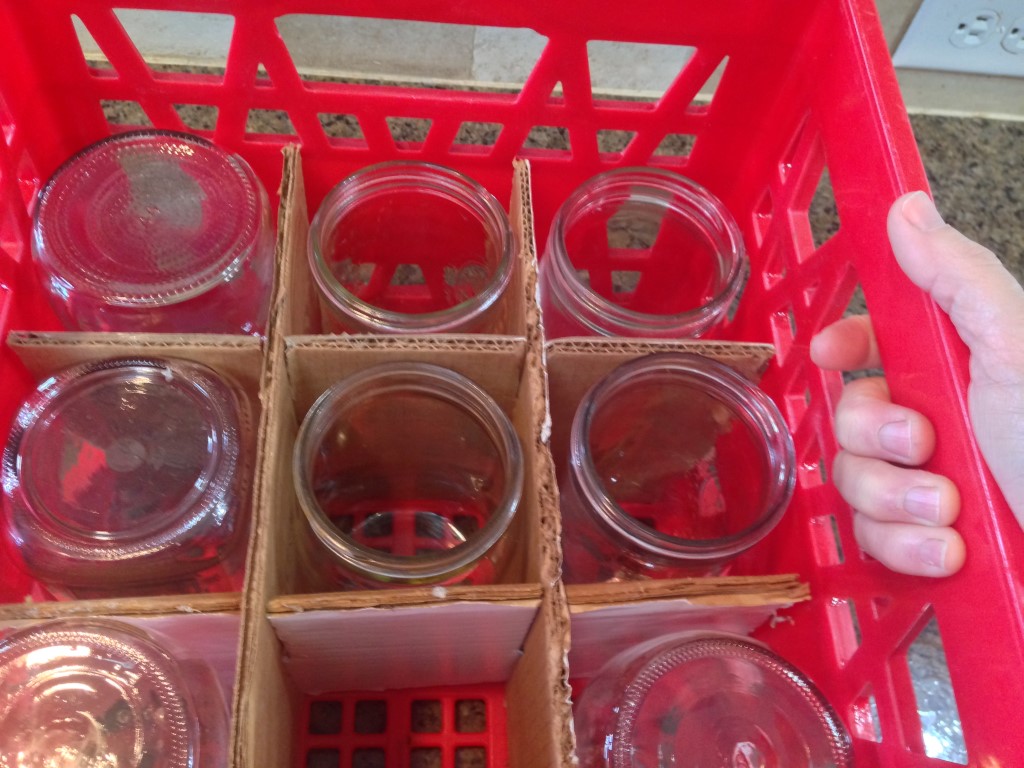 Customize Cardboard Dividers For Canning Jar Sizes
With the pint jars we had to work it a little differently, adding an outside piece of cardboard to keep all the jars tightly packed. I'll use that extra space on the exterior of the dividers to store the rings. LOVE IT!
And the pints are the right size to double-stack in the cube. So RancherMan cut a dividing piece of cardboard and TWO sets of jar dividers for those.
OMGosh I'm gonna love this.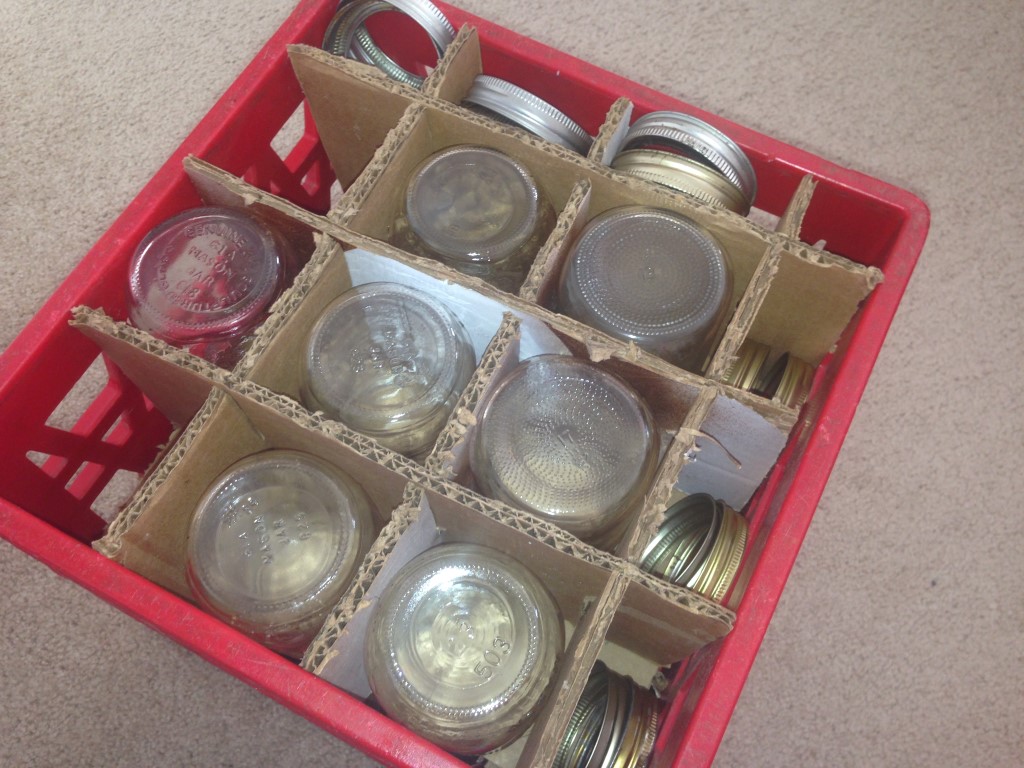 Although we have yet another heavy milk crate that we could use for the half pint jars if desired, I usually have a pretty steady stream of clean 1/2 pint jars in my kitchen cabinets since I use them as single-serving jars for my homemade yogurt.
I printed out a label for each crate indicating the contents – whether quart, pint or half-pint jars.
So if I send RancherMan to retrieve jars while I'm preparing the kitchen for canning it will be super easy for him to see the crate that I need. He can just bring the crate to the kitchen for me to wash & prepare the jars.
Easy, Convenient Milk Crate Canning Jar Storage
These heavy milk crates stack neatly & securely in the closet. Quarts on the bottom, pints stacked on top.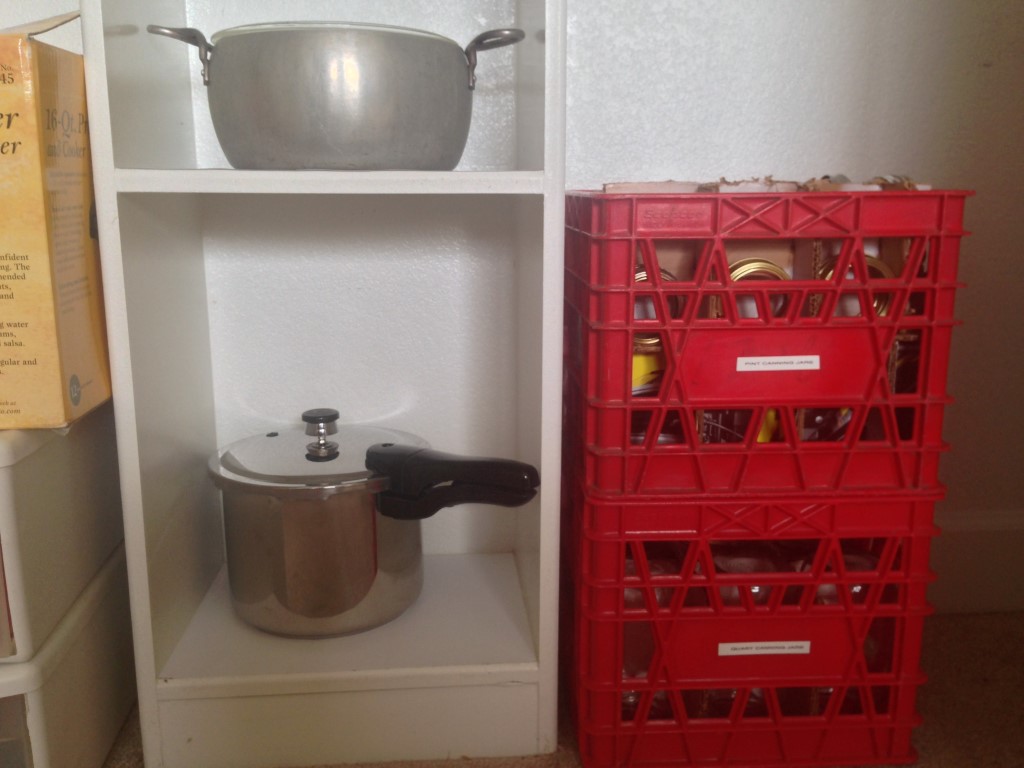 Plus as I mentioned before, they're easy to lift and carry a full canner load of jars into my kitchen.
And since the storage crates are located right here in the guest bedroom I can return the clean empty jars to the closet storage one by one as they're emptied.
No more asking RancherMan to once again climb back into the attic searching for the correct-sized jar box to return empty jars to the box. Our attic stairs (and RancherMan) are going to LOVE THIS!
How do you store your empty canning jars?
~TxH~
Other 'Use Whatcha Got' Ideas


C'mon by & sit a spell! Come hang out at our Facebook Page . It's like sitting in a front porch rocker with a glass of cold iced tea. There are lots of good folks sharing! And you can also follow along on Pinterest, Twitter or Instagram
If you'd like to receive an email when a new blog post goes live,
subscribe to our Blog!
Save
Save