by Texas Homesteader ~
We all had to start the road to simplicity at the very beginning. So even if you're a veteran eco-warrior, don't belittle someone else's humble beginnings. Let's support each other in our path to living simply! Remember we're all in different places in our lives.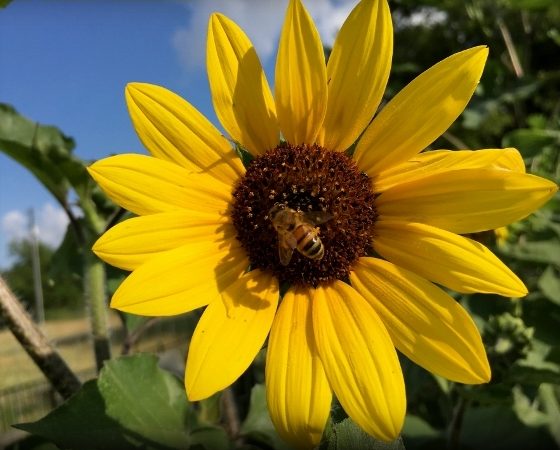 Experienced Eco Warriors Not Supportive
Recently I shared a post I'd written about eco-friendly living. I was trying to encourage readers, pointing out a few simple everyday steps that might easily be made for those wishing to lower their footprint.
Most of the comments from others were helpful and positive. But there were a few snarky comments too about how some of these tips were nothing new.
But it got me to thinking – unless you're talking about new technology, almost NONE of our environmentally-friendly living steps these days are new!
Not everyone can afford to install high-tech equipment on their home to lower their footprint. But almost anyone can take easy daily steps in their own home to move along that simple path – and it costs little or nothing!
Heck our grandmothers or great grandmothers did it for years. They didn't call it environmentally-friendly living, it was just called 'LIVING' back then!
Disposable plates back in the 40's? No. Paper towels? Probably not. Heck even grocery stores didn't commonly dot neighborhoods until the 1950's or so.
Most families had huge gardens & preserved the excess to feed their families!
Back in the day, grandma cooked every meal from scratch. And she was usually using what was growing in the garden at the time as a basis for that meal.
Eating locally and seasonally was just the way it was done back then.
Is Providing For Ourselves Too Hard?
But fast forward to the current time period where lives are rushed and the current-day advertising moguls – in an effort to make more money for themselves – have convinced us that doing for ourselves is just too hard or complicated. That we DESERVE the convenience.
And let's be honest, some folks really DO need convenience items. We're all in different places in our lives and that new mom may be overwhelmed with washing dishes or fabric diapers.
And the point is Your Journey May Be Different than theirs, and THAT'S OK!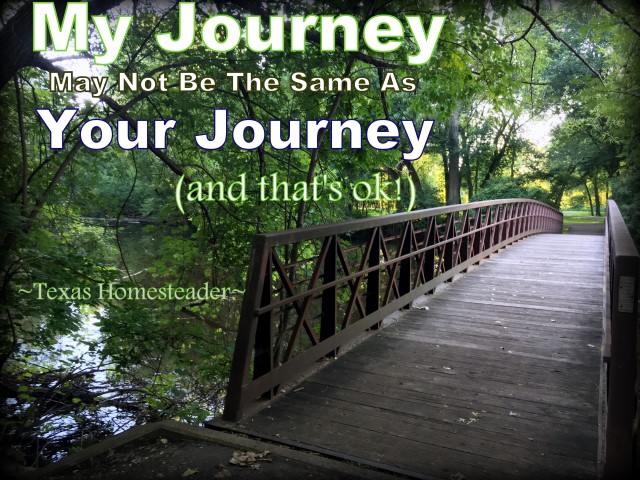 Not everyone has the ability or even wants to spin their own wool or milk their own cow. Whatever steps they make toward living a simpler life is what works best for them and their family.
It's not really a matter of us against them. We're all responsible for doing what's best for our own families, right??
Let's Support Each Other!
I think oftentimes people feel self righteous when they've been on their simple living journey for a while, forgetting they too had to start at the beginning.
Although the piece I wrote was meant to inspire those wanting to live a more Zero-Waste Life by starting with a few easy baby steps, I worry that they might instead feel defeated before they even begin by reading some of the snarky comments of others whom may have been on their simple-life journey for longer.
And the internet apparently makes folks feel comfortable saying things to people they'd certainly never say in person. Aaaaahhhh the empowerment they must feel in their anonymity…
Wouldn't the world be a beautiful place if we'd celebrate accomplishments of others instead of thumbing our noses & saying "I do more than you!" (smh)
But here's the important part of the message that I hope is clear: Please, when you're reading someone's thoughts – especially those who are just beginning to make changes – please remember that we're all in different places in our journey.
Don't belittle their effort to start down the path to living simply.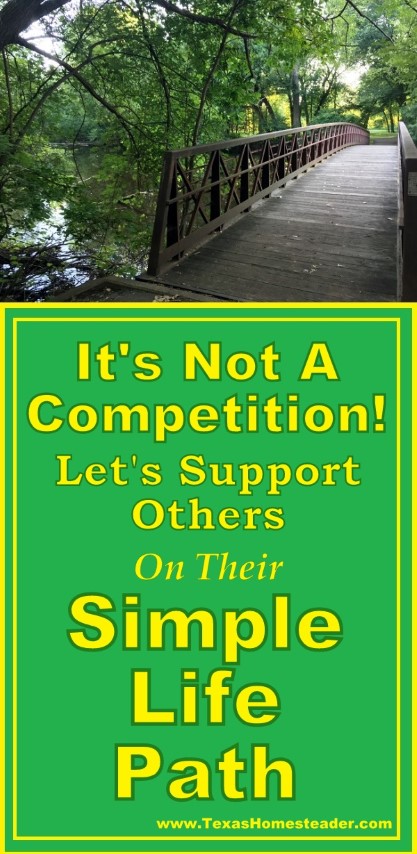 Sure, as a veteran environmental soldier, what's brand new information & encouragement to someone else may be old hat to you.
But remember you had to start from ground zero at one time as well. So let's encourage others wherever they might be in their own simple-life journey!
(turns off light & drags soapbox from center stage…)
~TxH~
Other Simple-Life Articles


C'mon by & sit a spell! Come hang out at our Facebook Page. It's like sitting in a front porch rocker with a glass of cold iced tea. There are lots of good folks sharing!
And you can also follow along on Pinterest, Twitter, Instagram
To receive an email when a new blog post goes live it's EASY to
Subscribe to our blog!