by Texas Homesteader 
Oh my I was in the mood for French toast.  What a frugal choice for a quick breakfast – a little bread, a couple of eggs, a splash of milk, dash of spice and BOOM!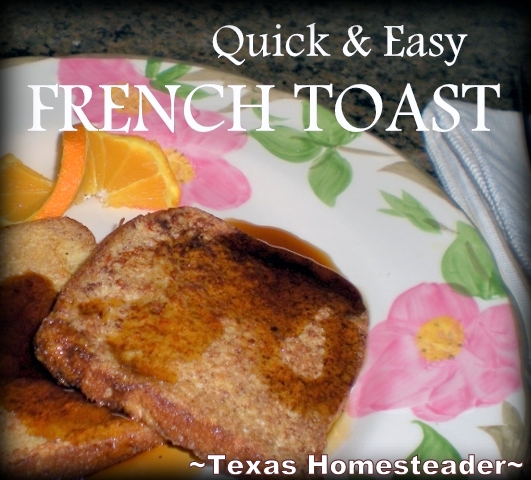 The beauty of this meal is that I'm using many pieces of bread that are drying out fast and on the verge of being wasted.  How wonderful that you can take food that's less appetizing and turn it into something truly delicious for breakfast in a flash!
Making the french toast was super easy, I cracked a couple of eggs into a bowl and stirred in about 1/4 cup milk, about 2 tablespoons powdered sugar for the sweetness we love and a few shakes of cinnamon.  I dipped the bread into the egg mixture to fully coat it on both sides, then rubbed a hot griddle with a little butter & placed the egg-soaked bread on it.   After only about a minute or so I flipped it to the other side ad cooked that side for about a minute, and placed the prepared french toast hot onto a waiting plate.  After being drizzled with homemade maple syrup breakfast is served!
Fully using the groceries you have purchased helps save money on your food budget.  How do you save your past-prime food by changing it into something delicious?