by Texas Homesteader ~
Don't Waste Food! Produce doesn't have to be beautiful to be delicious. See how I play fairy godmother to some ugly carrots to make them beautiful again.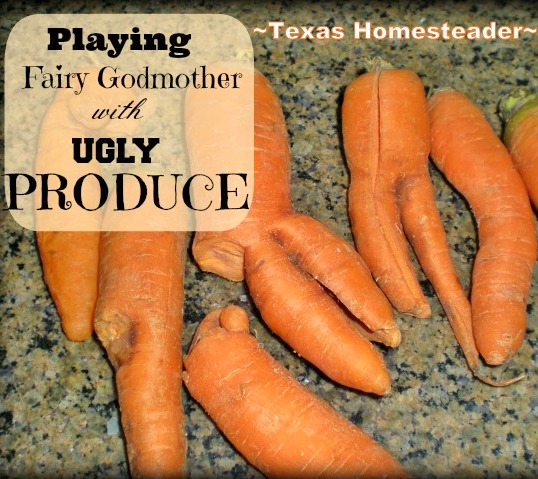 Grocery Store Produce Perfection
Have you ever noticed when you go into the store that there are rows & rows of identical produce, all perfectly shaped & sized.
But if you grow a garden or stroll through an actual farmer's market you'll realize that perfect produce is just a fairy tale. Real produce has much variation in sizes, shapes and colors.
Some produce isn't as pretty, so the stores (and even some farmer's market vendors) don't like to sell it due to consumer-perceived imperfections. Such a sad waste!
But I'm here to tell you that the fairy tale has a happy ending when I play fairy godmother.
I take those ugly misshapen carrots and make them beautiful. And it's not hard at all to do.
I like to dehydrate much of my fresh produce excess. So today I'll be dehydrating some of these soon-to-be-beautiful carrots.
Bibbidy-bobbidy-boo!
Ugly Produce Beautified
First I pull out those ugly carrots – some are way too large, some have several points grown into one carrot, some are twisted and shaped strangely.
I'll peel them all then rinse them clean. Then I dice them up.
Although I've read that it's ideal to cut them into roughly 1-centimeter chunks, I'm just haphazardly cutting them into small similarly-sized chunks and not paying too much attention to perfection. Hey, that's just the way I roll!
I could use a mandolin for this slicing chore. But since RancherMan had a painful mandolin mishap several years ago it was banished from our Homestead kingdom.
No worries, a sharp knife completes this task quickly.

First Blanch Carrots To Be Dehydrated
After the carrots are all diced I blanch them for about 3 minutes. This will prepare them for dehydrating & make them quicker to cook when rehydrated.
A quick way to blanch my carrots is to use my vegetable steamer. This is my very lazy, I mean efficient way to steam veggies for dehydration.
UPDATE: I know that raw carrots that are simply chopped & dehydrated lose their bright color and flavor in storage. But I've found that to be also true with this steaming process. I'm now properly blanching my raw carrots in a pot of boiling water and they store much better. Read my findings in an updated carrot-preservation post.
Dehydrating Your Blanched Produce
Now I'll layer the cut and blanched carrots on my dehydrator trays. It's best to spread them all out where they don't touch – but again, perfection is not the way I roll…
I know as the veggies dehydrate they will shrink & won't be touching anyway. So I just load up the dehydrator and spread them quickly, then turn the dehydrator on & walk away for awhile.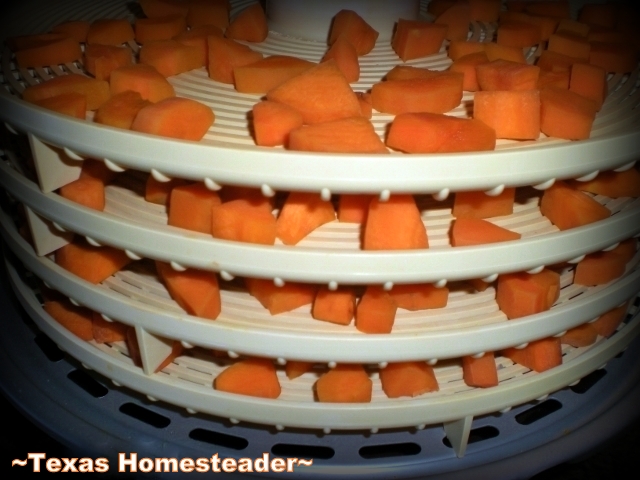 I usually rotate the trays about once every 2-3 hours. But again, no schedule. (see above proclamation regarding my lack of perfection)
Depending upon how evenly the carrots were sliced they will usually dehydrate in about 10-12 hours.
When my carrots are fully dehydrated I let them air dry for another day just to make sure there's no moisture remaining.
Then I toss them into a glass jar, label the top & place them in my pantry for future use.
I like to use these bread yeast jars since they're dark and I read that carrots lose some of their nutrition in light. It's a perfect way to repurpose these perfect-sized jars!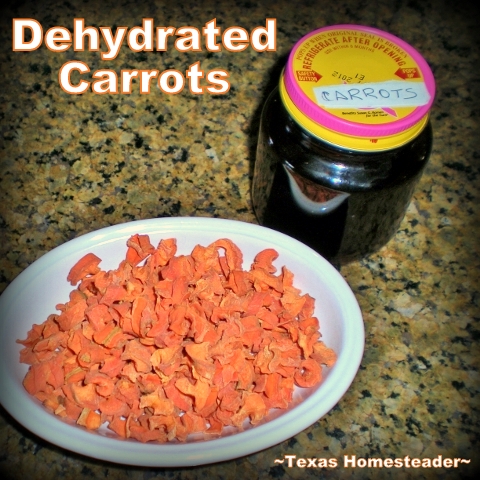 Dehydrated carrots will obviously last substantially longer than fresh carrots. And keeping them in my pantry takes no additional storage energy like storing fresh carrots in the refrigerator or prepared carrots in the freezer would.
Rehydrating these carrots is as easy as pouring boiling water over them and allowing them to sit for about 15 minutes.
Using Dehydrated Carrots
If I'm adding them to homemade soup I toss the dehydrated carrots into the soup pot as it simmers. They'll rehydrate right there in the soup!
Or some of these dehydrated carrots are ground in my coffee grinder to make veggie granules. I can sprinkle them directly into my pot whether I'm cooking rice or pasta sauce to add a little more nutrition and a deeper flavor to those dishes.
Whew, this fairy godmother has performed well today so it's time to take a coffee break.
There are oh so many uses for these now-beautiful carrots!
~TxH~
Other Dehydrating Posts


C'mon by & sit a spell! Come hang out at our Facebook Page. It's like sitting in a front porch rocker with a glass of cold iced tea – lots of good folks sharing! You can also follow along on Pinterest, Twitter or Instagram.
If you'd like to receive an email each time a new blog post goes live it's EASY to
Subscribe to our blog!
Save