by Texas Homesteader ~
Do you wonder what a day on a Northeast Texas Homestead looks like? I'm sharing our day right here.
It's true that there are many things we gave up when we left corporate employment. Guaranteed salary, a cushy climate-controlled workplace and paid days off for example. But all those perks just weren't worth it to us.
This is!
Come along with me to see what a day on the Homestead is like.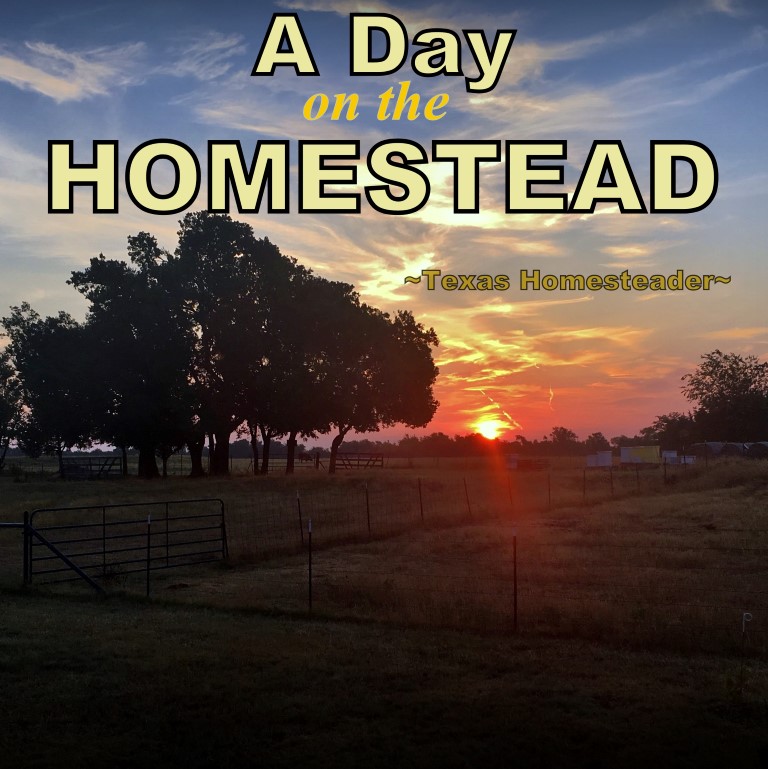 (Note: Some links in this post are for further information from earlier posts I've written. But links preceded with * are affiliate links. If you click them and buy something (almost anything, not just the item noted) I could receive a tiny commission. But the price you pay will NOT change. It's an easy way to support this blog without anything coming out of your pocket. So click often! Thank you!)
This time of year is hot & sticky in our area of Texas. The heat can be dangerous with the high humidity factored in. But there are lots of outside chores to be completed.
We'll be careful, stay hydrated and take breaks often. And the earlier in the day we get started the better.
Taking Care Of Chickens
Chickens always get my first attention each day. We have a large chicken run that's fenced with 8-foot T-posts and 7-ft tall welded-wire fencing. Within this chicken yard we have a small wooden chicken coop that has nesting boxes.
Each night I lock the chickens securely inside the coop and close the tube of their PVC Chicken Feeder (You know, because I don't want rats & mice thinking this is an all-you-can-eat-for-free diner!)
So the first thing I do each morning is to release the chickens from their small coop and into the large chicken yard. I also open their feeder.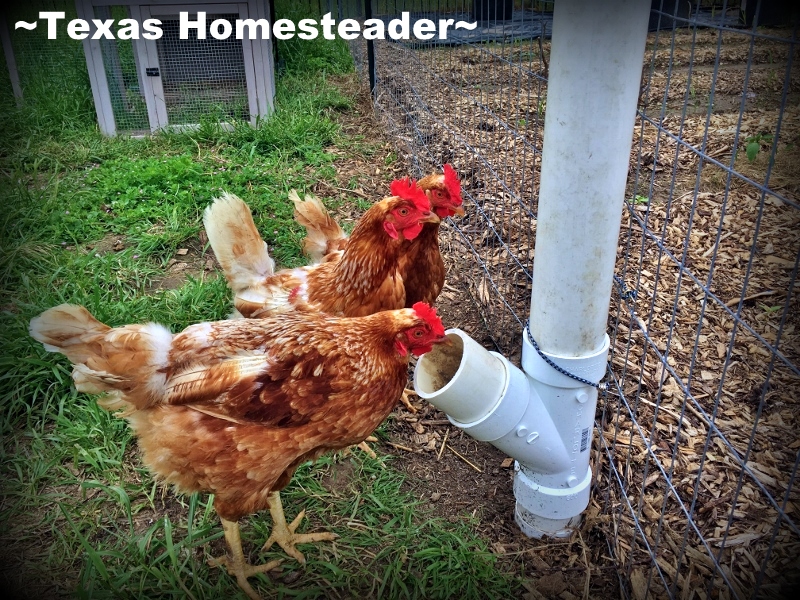 Then I clean all the chicken poop out of various areas within the coop. I swear chickens poop more than any creature on earth!
The straw bedding and poop that I've clean out is placed into a *Tumbling Composter that I keep in the chicken yard.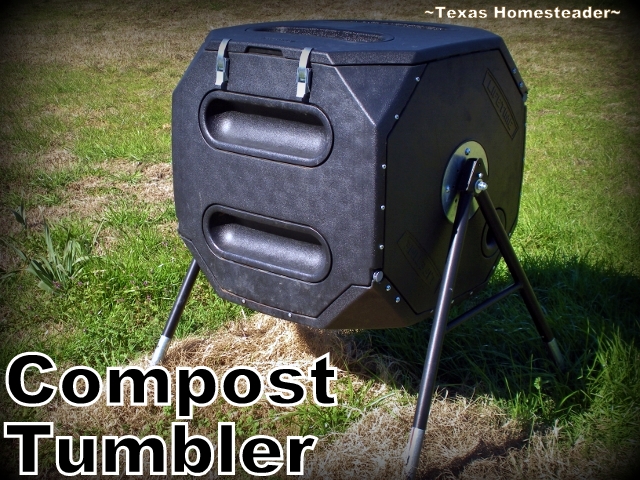 It will be aged just about right for using the compost in my garden next year.
Chicken Coop Disaster
We bought this chicken coop years ago. And it has certainly served us well for all that time.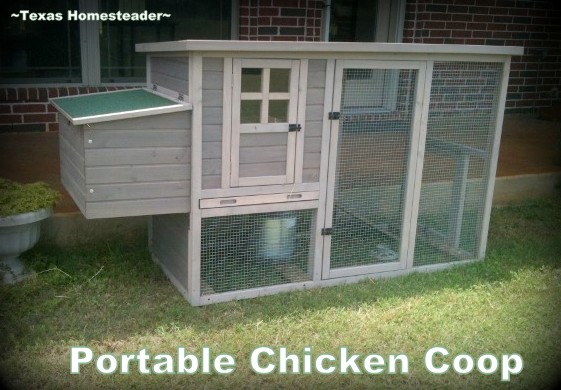 Yesterday RancherMan & I attempted to move it to fresh grass within the chicken yard. But we'd had it for over 8 years now, and this time the move was just too much for it.
The bottom frame of the entire coop just gave up and almost collapsed the coop. So now it no longer offers protection to our hens should raccoons crawl over the chicken yard fence in the middle of the night. We needed to buy a new one.
There are many nice options for small *Chicken Coops online. RancherMan's researching them now & is leaning towards one that is built with a metal frame. We're thinking it may hold up longer than the wooden-framed one we'd purchased before.
Garden Maintenance
On my way back into the house I usually stop by the garden to look things over. This year's garden has been a challenge with all the rain and flooding we've suffered this year. Mother Nature sure has been cranky!
But at least my green beans are taking off. So I take this time to harvest green beans, see if any weeds or grass needs to be pulled, etc.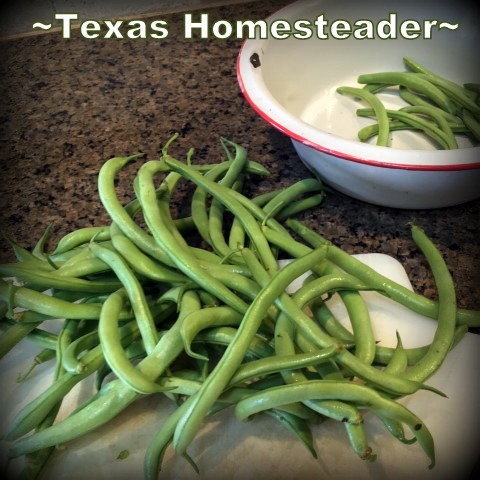 I also gauge the garden's watering needs now that the rain has stopped and the heat of summer is on. (I use Captured Rainwater only when irrigating my garden.)
Then I quickly get back inside to enjoy some coffee and tend to the business side of our Homestead.
I'm typically gathering thoughts for new posts and doing some writing. Maybe some pictures are taken and edited in preparation for a new post going out. Sometimes RancherMan & I are researching potential Homestead purchases such as the chicken coop soon to be bought.
Or often RancherMan & I are just chatting about what needs to be accomplished today. Whatever we decide is on the chore list, it needs to get started early before it gets too oppressively hot outside!
Beekeeping – Checking The Hives
A few weeks ago we Requeened our Beehive. We checked the hives a couple of weeks later to make sure all went well and have seen that the new queen is busy as a bee. (grooooan – you KNOW I had to say it!)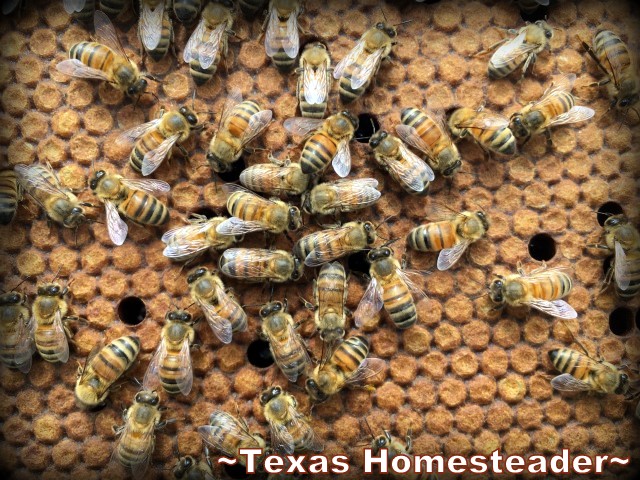 But with all the rain we've had over the last several weeks, the bees are having a hard time gathering from the flowers to provide for the hive.
You see, veteran beekeepers have taught us that when it rains, pollen & nectar is washed away from the flowers. We're told it takes about 3 days for the flower to replenish this vital honeybee nutrition.
So when it rains every day for weeks on end, well the bees are having to live on their reserve honey inside the hive. We need to check to make sure they've still got enough to eat.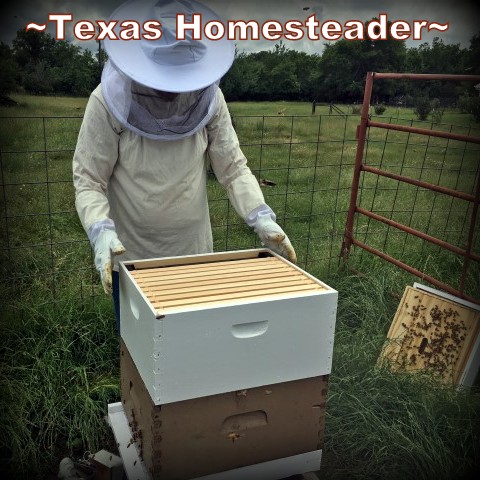 At this inspection we see that the honey production has at least been good enough to keep the hive fed, but certainly not enough for us to Add a Honey Super in preparation for Harvesting Honey in a few weeks.
Ugh. The second year in a row for us to harvest very little (if any) honey. But at least the hives are thriving, the queen is laying and everyone is healthy.
Weaning Calves
We're also currently in the throws of weaning calves. We like to wean them at 7 months of age, and we like to keep them as healthy & stress free as possible while weaning.
It's said that immunizations aren't as effective if administered during times of stress. So a few weeks ago we brought the herd to the barn and gave the calves their first round of immunizations. Then we released them back into the pasture with their mamas.
After a couple of weeks we moved the herd to the pasture closest to the weaning area. Then a few days ago we pulled the calves into the weaning area, leaving their dams just on the other side of the fence.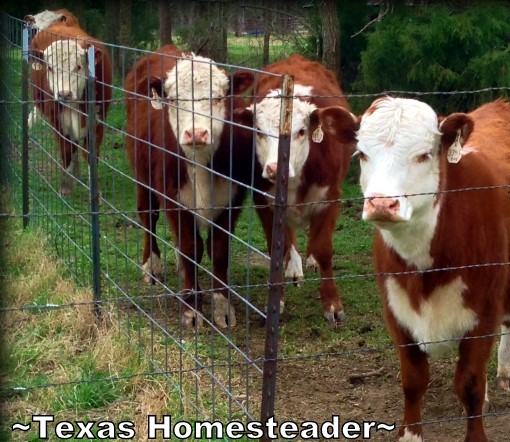 This Fence Line Weaning helps relieve stress for both calf and dam, as they can see each other and even touch noses through the fence.
They'll still call to each other for a few days as their instinct demands. But within a few days everyone has settled into a new routine.
RancherMan & I offer the calves some fresh pasture grass grazing, some free-choice hay and supplemental high-protein feed too. The calves all came through with flying colors.
Now that all has settled, we move the mamas to a farther-away pasture to feed on fresh grass. So we're also moving the weaned calves to another paddock with fresh grass as well.
RancherMan is using a system of electric fence placement to give them more & more access to fresh grass.
Mix-n-Pour Tortillas
During the heat of the day I'm usually inside, puttering in the kitchen.
RancherMan loves tortillas. But no matter which oh-so-easy flour tortilla I tried to make, they always were way too much trouble for what I considered to be a substandard tortilla.
Then I started making Mix-n-Pour Tortillas. It's a batter you simply pour onto a hot griddle and spread into a thin circle. Then you cook them up, flipping them once and cool them on a baker's rack.
The tortilla is a mixture of corn/flour and is (to me) reminiscent of a street taco tortilla. They roll beautifully and are delicious. Plus I can whip up a batch quickly, unlike the flour tortilla drudgery in my past. HA!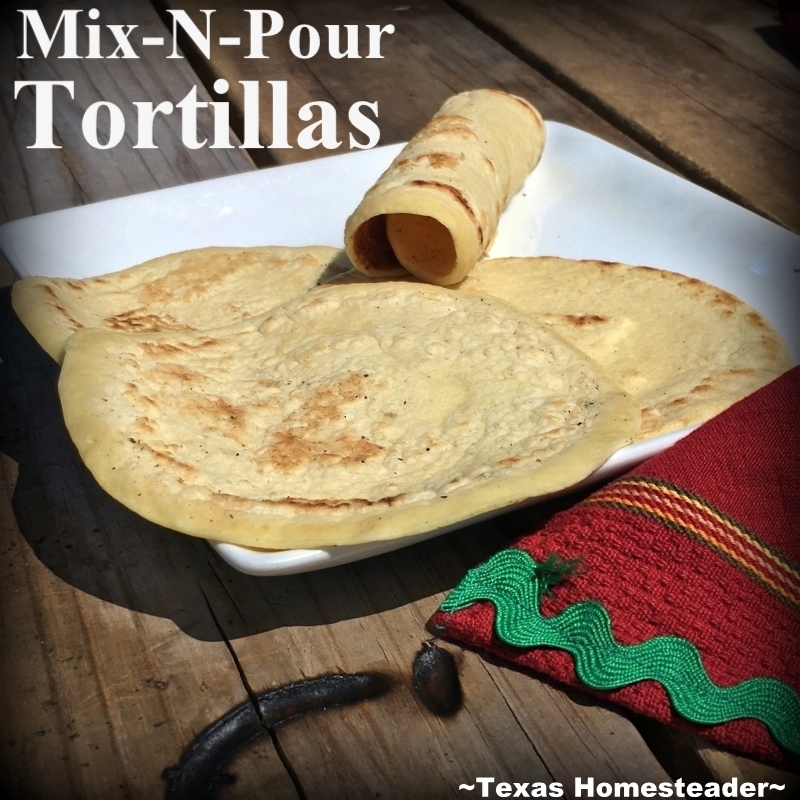 So on this day I make a double-batch of mix-n-pour tortillas. RancherMan likes to have them available to spread some of my Homemade Hummus for a quick healthy grab-n-go snack.
I can also mash some of my Instant Pot Pinto Beans, sprinkle on a little cheese & chopped onion and serve a quick bean & cheese burrito lunch. We love these tortillas and I always have them available for RancherMan.
Supper Plans
When evening comes it's time to ponder feeding us. I have many shortcuts for making Homemade Meals Daily The EASY Way. The main shortcut I utilize is Cook-Once, Eat-Twice method of cooking.
As a result there's no shortage of homemade main entrees in my freezer. I'd looked over the offerings yesterday & decided that we'd have some of RancherMan's charcoal-grilled chicken. So a portion of that chicken was removed from the freezer & placed in the refrigerator to thaw overnight.
Today I'll simply heat the chicken and simmer a couple of servings of those fresh green beans I harvested from the garden this morning. A nice cold salad with homemade Creamy Salad Dressing rounds the meal out and we're eating a healthy homemade meal in minutes.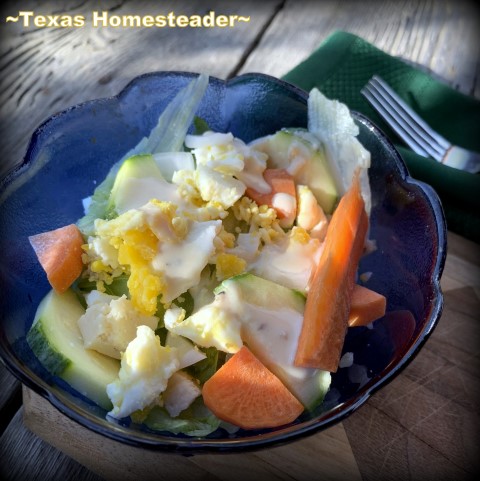 Whew! It's been a long, hot, hard-working day today. But there's no place on earth I'd rather be than beside my handsome RancherMan working side-by-side for our dream.
~TxH~
Other Homesteading Posts


C'mon by & sit a spell! Come hang out at our Facebook Page. It's like sitting in a front porch rocker with a glass of cold iced tea – lots of good folks sharing! You can also follow along on Pinterest, Twitter or Instagram.
If you'd like to receive an email each time a new blog post goes live it's EASY to
Subscribe to our blog!