By Texas Homesteader ~
How easy is it to make homemade crackers? I love to make things for myself for both financial as well as environmental reasons. So now my mind got to rolling. Hummmm… I saw something online the other day about how easy it was to make your own crackers …
(Note: Some links in this post are for further information from earlier posts I've written. But links preceded with * are affiliate links. If you click them and buy something (almost anything, not just the item noted) I could receive a tiny commission. But the price you pay will NOT change. It's an easy way to support this blog without anything coming out of your pocket. So click often! Thank you!)
Recently RancherMan & I hosted a family gathering and I made our daughter's favorite Homemade Hummus to scoop up with tortilla chips & enjoy as a snack. But there was So. Much. FOOD!
So after the gathering was over I bundled up all the leftover food and I stashed it in the fridge.
A day or so later I noticed there was still hummus left. Y'all know how I absolutely hate food waste! (and how much I LOVE hummus!) But all the chips had been consumed by now, how would we enjoy this hummus now?
Homemade Crackers
Yep, just the other day I saw one of my favorite bloggers Melissa Norris over at Return to Simple publish a post about making her own homemade crackers. This would be the perfect time to give them a whirl!
Although they were delicious, I wanted a little stronger flavor so I made a few amendments to the crackers to suite our tastes. My recipe is below!
The recipe calls for 1 1/4 cups of flour. So I measured up the full cup with all-purpose flour and the remaining 1/4 cup I used oat flour that I made by putting whole oats in my *electric coffee grinder (Yeah, I *love* this thing. I use it all the time, just hardly ever to grind coffee… LOL!)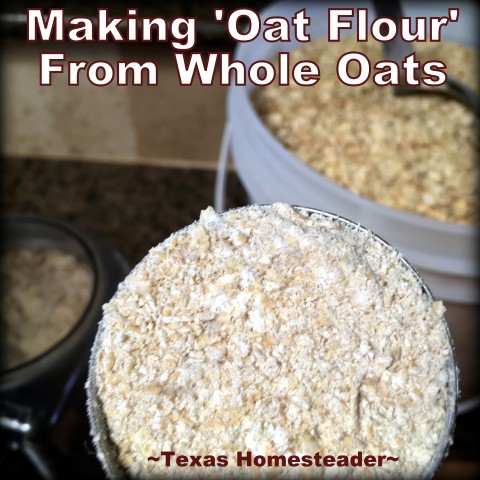 The addition of oat flour gives the texture to the tongue similar to wheat flour – I like it!
Adding Cracker Seasonings
I used many of the same seasonings Melissa did. But in the future I'll experiment with using others such as my own homemade dehydrated celery & celery salt if I'm making these crackers to go with chicken soup.
Maybe a salt-free seasoning if I'm going to be entertaining guests with sodium restrictions. So many options!
This time I used 1/2 teaspoon each of paprika, chili powder, garlic powder and my own dehydrated onion powder. I also added 1/4 teaspoon of salt. Then I mixed everything until it was well blended.
Now I added 4 Tablespoons of bacon grease and mixed it all together until only pea-sized portions of the grease remained in my mixture. Finally I mixed in 1/4 cup water (next time I'll use some of my homemade broth) and a tablespoon of honey. Then I mixed it all just until blended.
Rolling Out Homemade Cracker Dough
I used some of my oat flour to lightly dust my baking pan and rolled the dough as thinly as I could. When I tried to get it too thin it tended to tear on me. So I got it to around 1/8″ and called it good.
Then I sprinkled my Salt/Pepper mixture lightly on top and added a light sprinkling of cracked pepper.
I used my *crinkle cutter to cut my dough into approximately 1.5″ x 1.5″ sized crackers.

Baking The Crackers
I placed my baking pan into the oven that had been preheated to 400 degrees and baked for the 10 minutes indicated on the original recipe. But the crackers weren't crispy enough for RancherMan.
It took just over 15 minutes for them to be done to his liking, although they do crisp ever so slightly on the baking rack as they cool.
These crackers aren't the light crispy texture of a saltine. I think they were more like the texture of a graham cracker. But they worked perfectly for my homemade hummus.
As a matter of fact I made two batches of crackers since RancherMan lit into them like crazy!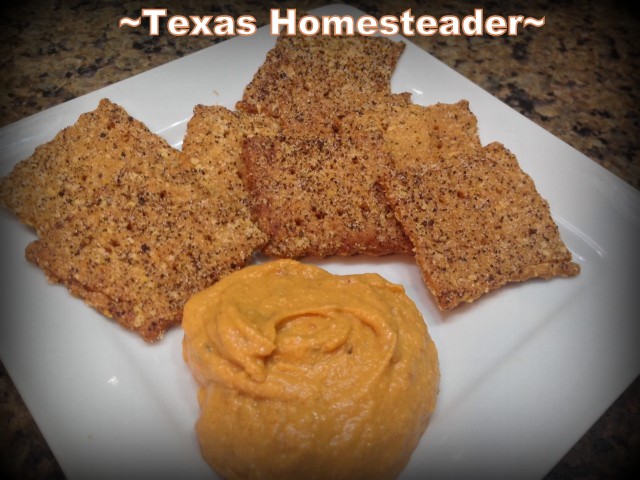 Here's the recipe as I amended it for us, although the flavor variations could be endless. Give it a try, I think you'll like 'em!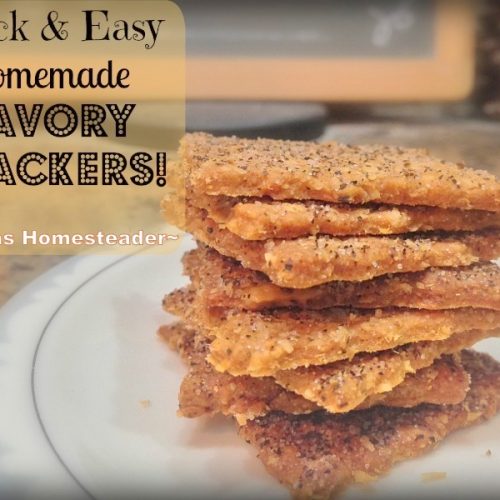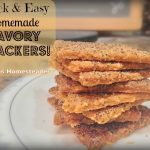 Homemade Savory Crackers
Ingredients
Ingredients
1¼

cups

flour

(I used a mixture of all purpose & oat flour)

1/2

teaspoon

onion powder

1/2

teaspoon

garlic powder

1/2

teaspoon

chili powder

1/2

teaspoon

paprika

1/4

teaspoon

salt

4

Tablespoons

bacon grease

(can use butter)

¼

cup

any variety broth

(can use water)

1

Tablespoon

honey

Salt & cracked pepper to sprinkle on top
Instructions
Directions
Preheat oven to 400 degrees Fahrenheit

In large mixing bowl measure out & combine flour & seasonings. Cut in fat until only pea-sized clumps remain. Add broth & honey, stir just until combined.

Sprinkle flour lightly on baking sheet and roll out dough to approximately 1/8". Cut into desired shapes and sprinkle desired seasoning on top.

Bake for 15 minutes. Be sure to be watching, bake time can be slightly shorter or longer based on how thinly you've rolled the dough!

Remove from baking sheet and cool completely on wire rack.

Enjoy!
~TxH~
Snacks We Love
Our Favorite Breads


C'mon by & sit a spell! Come hang out at our Facebook Page . It's like sitting in a front porch rocker with a glass of cold iced tea. There are lots of good folks sharing! And you can also follow along on Pinterest, Instagram & Twitter
If you'd like to receive an email when a new blog post goes live,
subscribe to our Blog!
Save