by Texas Homesteader ~
I made training treats for our ranch dog using wholesome ingredients I already had in the house. She LOVES them! Check out my simple yet healthy recipe.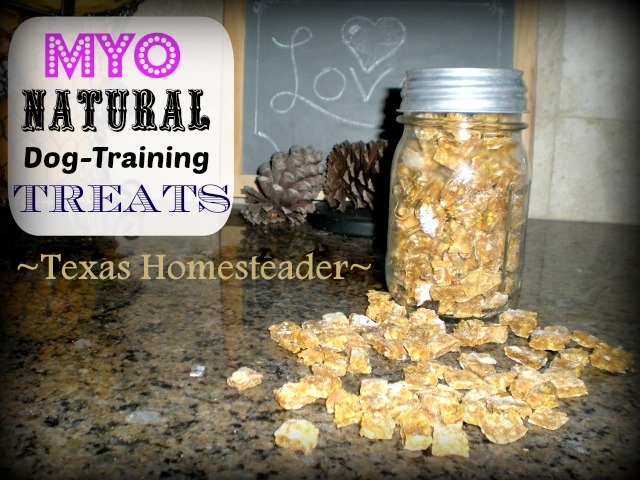 Well as you all know, we adopted a furry bundle of joy that we've named Bailey. She's a miniature Schnauzer and we adopted her from a local no-kill shelter.
There were lots of adorable faces & wagging tails there. So if you're looking to add a four-legged member to your family I encourage you to check out your local shelter.
In our case, love was just around the corner right here in our own town. I've included a list of articles I've written about our life with Bailey at the end of this post.
Things such as a homemade carpet cleaner for pet stains and homemade dog shampoo recipes. I encourage you to check them out.
Acclimating A New Dog To The Ranch
We're working to acclimate her to her new surroundings and routines. It doesn't appear she's ever been around cattle before & I doubt she's ever lived in the country.
She was still bound to a leash any time she's outside with RancherMan & me. But we wanted to train her so she'd be able to romp free with us while we're out checking the cattle, the goats or the chickens.
So I looked up a recipe for dog treats and we used them to train her.
Delicious Pet Training Treats
The verdict? She absolutely LOVED them! Since Bailey's a Miniature Schnauzer and prone to bladder stones I'm monitoring her oxalate intake.
But her vet says it's perfectly fine to offer her this homemade treat in moderation since carrots are only a moderately oxalate veggie.
Plus I love that I know all the healthy ingredients that's included in these pet training treats.
I initially found some pet training recipes online but I didn't like some of the ingredients in some of those recipes. Some contained onions & garlic, I know they can be toxic for dogs in the right quantities. So I didn't see the need to add them at all.
And I don't want to buy a specialty ingredient like wheat germ (a high oxalate ingredient) so I eliminated that as well.
Know what – she loves them and her training went well.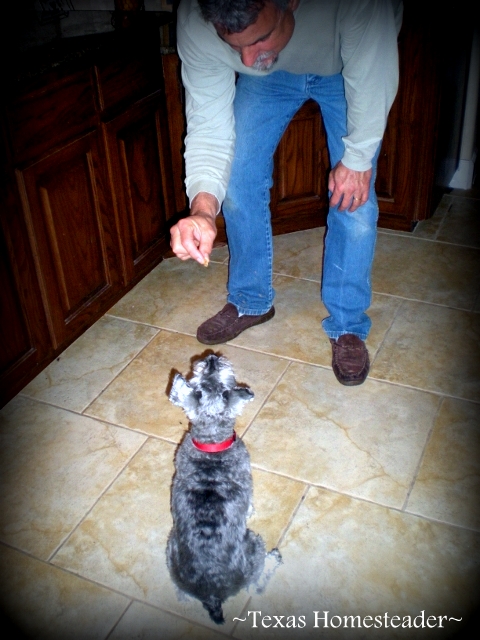 Here's how I made them: First I pulled out the wholesome ingredients – carrots, eggs, flour and oats.
No artificial or hard-to-pronounce ingredients here!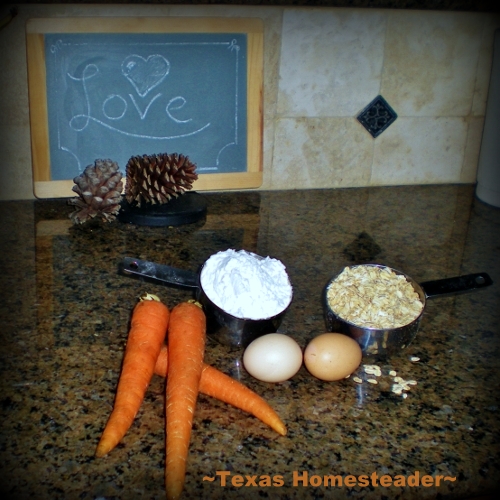 Mixing Up The Treats
First I cooked what I estimated would be about 2 cups of pureed carrots. We had extra carrots in the fridge needing to be used anyway so that worked out very well.
Then I put them in my mixer and gave them a whirr along with a couple of eggs.
I was afraid the carrots would be too much for the stick-blender's motor so I didn't get the carrots fully pureed on the first batch. The second batch went a little better since I pureed them more completely.
Anyway after the carrots & eggs were mixed I added a cup of quick-cooking oats and 2 1/4 cups of all-purpose flour. The dough was pretty sticky.
Baking The Treats
After it was all incorporated I floured my 12×16 baking sheet and plopped the dough on it. I sifted some flour on top of the dough and used a roller to smooth it evenly over the surface of the pan.
It rolled out to about 1/8″ to 1/4″ thick.
I used a crinkle cutter to make the treats about Cheez-It sized and placed them in an oven that was preheated to 300.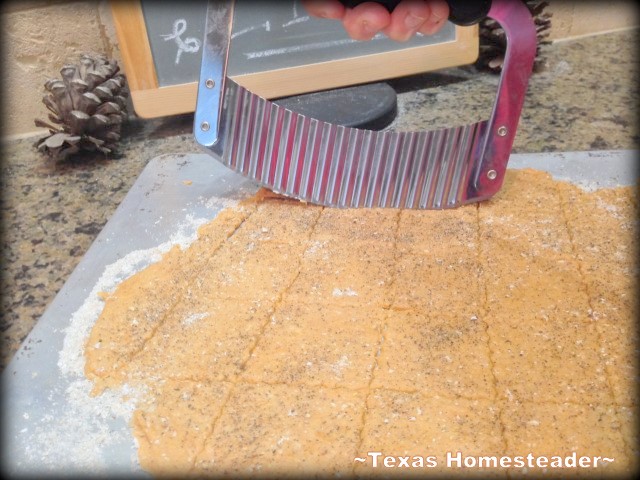 I baked them for about 45 minutes. Then I turned the oven off and allowed the residual heat to further harden the treats.
(They harden on their own as they cool but I was concerned that they were not fully dried and didn't want them to mold in storage)
I love that I was able to make training treats that she loves with wholesome ingredients I already had in my home. I know exactly what's in these treats and I know they're safe for her.
And as an added bonus they cost only pennies to make and added no landfill trash.
We Love, Love, LOVE these pet training treats! Hey, give 'em a try with your pooch.
With all the fears over contaminated pet food these days, there's no reason not to try this easy recipe with your furbaby.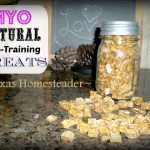 Homemade Dog Treat Recipe
These homemade dog treats were simple to make. And include wholesome ingredients such as pureed carrots, oats & eggs. Our mini-schnauzer loved them. #TexasHomtesteader
Ingredients
2

cups

boiled and pureed carrots

2

eggs

2 1/4

cups

flour

1

cup

quick-cooking oats
Instructions
Combine pureed carrots & eggs, mixing until smooth. Add dry ingredients and mix thoroughly - dough will be sticky.

Place dough on floured 12x16 cookie sheet. Sprinkle dough lightly with flour & roll out, adding a sprinkling of flour if it gets too sticky. (dough will be about 1/8" to 1/4" thick)

Cut into desired treat sizes.

Bake at 300 degrees for 45 minutes or to desired crunchiness. (They continue to harden as they cool)
Recipe Notes
As with any shelf-stable dehydrating, make sure these treats are completely dry before storing or they will mold.
~TxH~
Other Pet-Related Posts
Other Ranching Articles


C'mon by & sit a spell! Come hang out at our Facebook Page . It's like sitting in a front porch rocker with a glass of cold iced tea. There are lots of good folks sharing! And you can also follow along on Pinterest, Twitter or Instagram
If you'd like to receive an email when a new blog post goes live,
subscribe to our Blog!