by Texas Homesteader ~
Do you remember old fashioned cornbread dressing? Some people call it dressing others call it stuffing. But whatever you call it – it's moist, dense yet fluffy and flavorful. Oh yeah, THAT dressing!
This recipe is beyond simple to make. It starts with a day-old pan of cubed & air-dried cornbread. Then magic happens.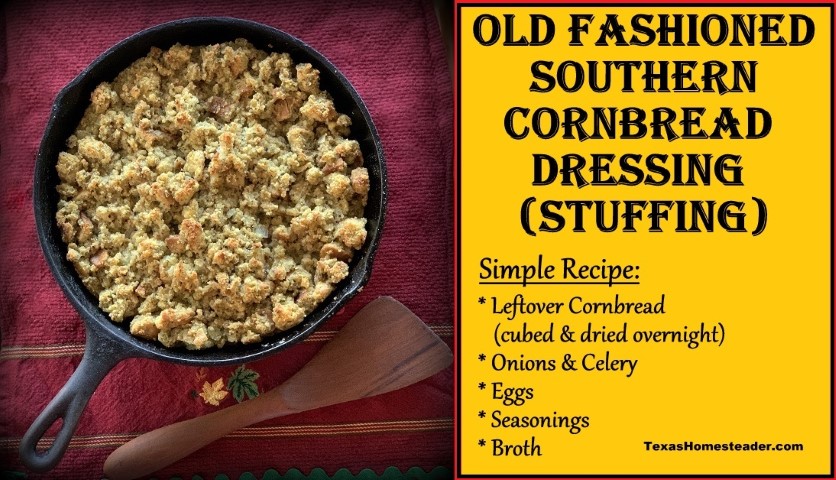 (Note: Some links in this post will take you to other related articles for further information. But links preceded with * are affiliate links. If you click and buy something I could receive a tiny commission.)
Do You Call It Dressing. Or Stuffing? Or…
Down here in the south, most refer to this dish as dressing. But many in other parts of the country refer to it as stuffing. I suppose it depends on what you grew up calling it.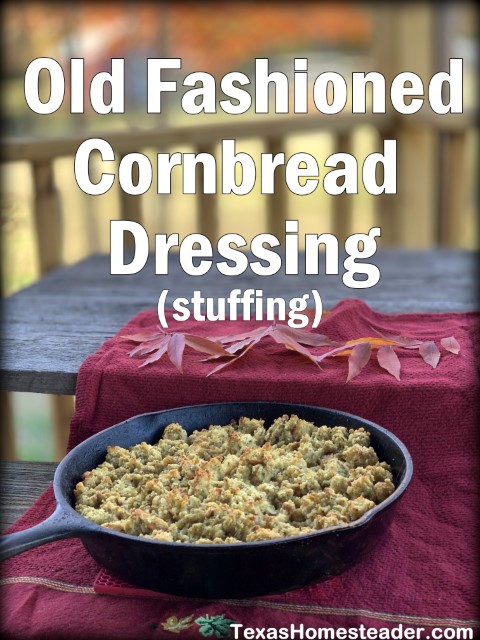 Whatever you call it – it's a delicious side dish typically made with bread of some kind, onions, celery, some savory herbs and broth. Some people add any number of things such as apples, cranberries, mushrooms, pecans or sausage. Whatever you like!
But is it called dressing, or is it called stuffing?
Well technically stuffing is cooked inside the bird. But dressing (although often made with near identical ingredients) is cooked separately in a baking dish.
Is It Safe To Cook Stuffing Inside Turkey?
There can be concerns about food borne illness with stuffing that's cooked inside a turkey. But the USDA Stuffing Guide notes that as long as everything is cooked to 165 degrees (including the stuffing itself) you should be good.
However I worry that cooking long enough for the stuffing inside the bird to reach a safe temperature would result in the actual turkey meat being overcooked and dry. So I always opt to cook my dressing in a separate pan.
Old Fashioned Cornbread Dressing Recipe
I use no white or whole wheat bread in my homemade dressing. I prefer that simple old-time cornbread dressing recipe of the past. You know back in 'the day' they often made cornbread dressing using only cheap, easy-to-make cornbread.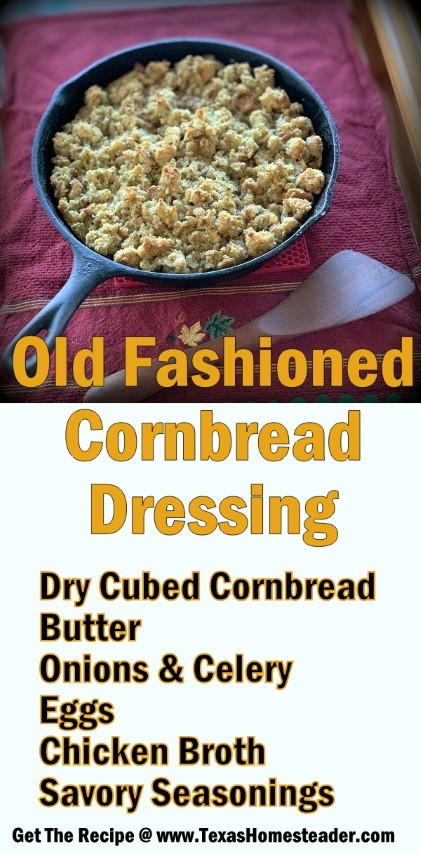 Make Cornbread For Dressing (or Stuffing) In Advance
I started off by making a whole batch of my Homemade Cornbread a day before I was to make my dressing.
I obviously left the jalapenos & sugar out of my typical cornbread recipe. But I stirred half of the dried sage required in my dressing recipe right into the cornbread. The other half will be added when I make the actual dressing. (Just a personal preference here)
When the cornbread was baked I cut it into small squares and turned it all out onto a baking sheet. I'll want this cornbread to dry out before I use it in my dressing so it'll soak up all those delicious flavors.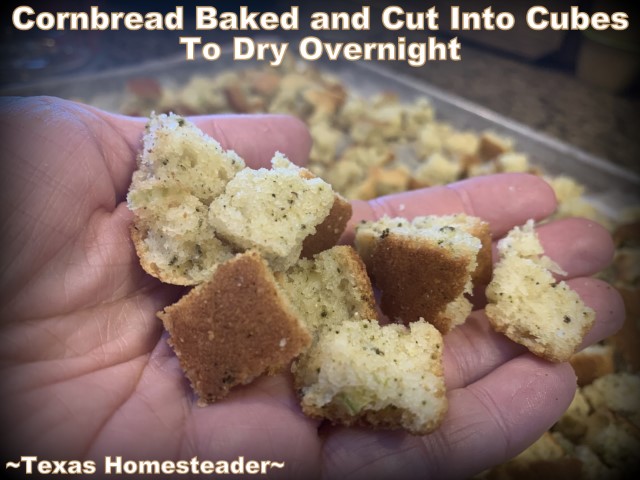 So I sat the baking tray of cornbread cubes on the counter and let it air dry until the next day.
Making The Cornbread Dressing
The next morning I was ready to make my cornbread dressing. I sautéed 2 cups of diced onions and several ribs of chopped celery in a stick of butter until it was soft.
NOTE: Don't skimp on using a whole stick of butter y'all. That flavorful butter is gonna be necessary for moist cornbread dressing.
Then I dumped the sautéed veggies – butter & all – into a large metal bowl containing my dried cubes of cornbread.
A wooden spatula was used to gently toss & coat all the bread cubes with the melted butter.
In a separate bowl I beat 2 eggs and added the rest of the dried sage along with powdered thyme and a little salt & pepper. I added it to the bowl of cubed cornbread and gave it a gentle fold to incorporate everything.
Finally I poured in enough of my Homemade Broth to moisten everything, folding gently with my wooden spatula to even everything out. Don't be shy here – you'll need lots of broth so those bread cubes can soak up the flavor!
Baking The Dressing In A Cast Iron Skillet
When all was ready I piled it all in my dad's big, honkin' 10″ Cast Iron Skillet he gifted to me years ago.
You can use a 9×13 casserole dish instead if you like. But I love the light crustiness my cast iron gives the edges of my dressing.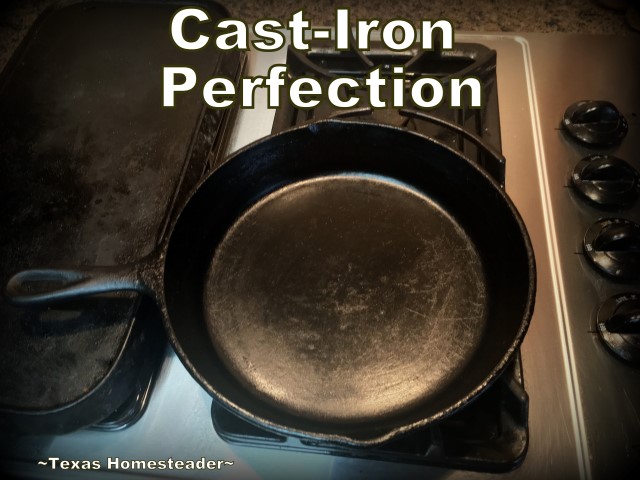 The dressing was placed into an oven set to 350ºF.and I baked it for 35-40 minutes. After that time the top of my dressing was a beautiful golden brown. Perfect!
Cornbread Dressing: Delicious!
I've decided from now on there will be homemade dressing on our table during each of those special holiday meals. or heck, if I bake a chicken for supper one night. It's simple and it's DELICOUS!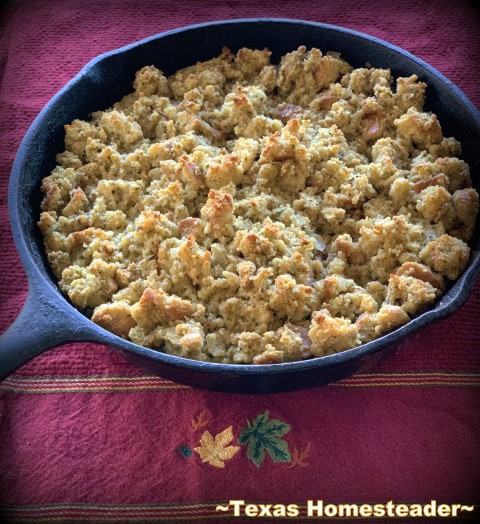 The dressing (stuffing) recipe follows. And y'all – it makes a big, honkin' 10-inch skillet's worth!
I typically serve it alongside turkey or chicken, with a little gravy ladled on top.
Below is the recipe as I made it. I've included my traditional recipe of cornbread that I made the day before to use in the dressing (leaving out my typical jalapeños and the small amount of sugar).
What To Do With Leftover Turkey & Dressing
My favorite thing to do with leftover turkey & dressing is to make Turkey & Dressing Patties.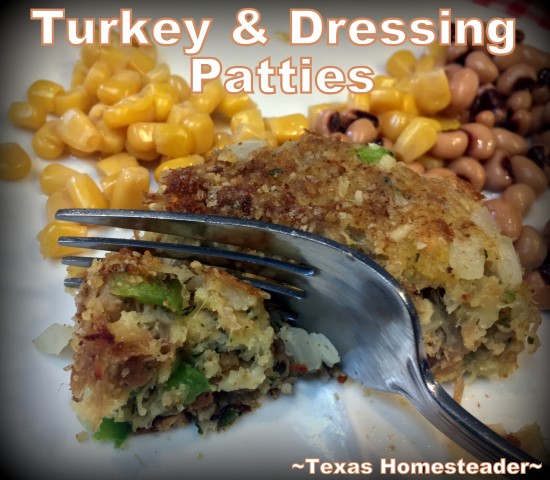 You'll take leftover turkey & dressing mixed together, form into a patty and lightly fry on each side to make 'em crunchy – similar to Potato Cakes. Leftovers never tasted so good. Enjoy!
~TxH~
Did you make this Dressing (Stuffing)? Please rate the recipe in your comment below!
Cornbread Recipe For Dressing: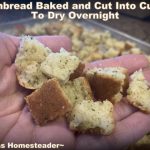 Cornbread
A simple savory homemade cornbread to use when making old fashioned southern cornbread dressing! #TexasHomesteader
Ingredients
Ingredients:
1

Cup

Enriched yellow corn meal

1

Cup

All-purpose flour

4

teaspoons

Baking powder

1/2

teaspoon

Salt

1

Cup

Milk

1

Egg

1/4

Cup

Vegetable oil
Instructions
Instructions:
Preheat oven to 425 degrees F. Place 9" cast iron skillet in oven as it is preheating.

Mix dry ingredients in a bowl and set aside.

In a separate bowl mix milk, egg and oil until blended.

Combine wet ingredients with dry ingredients and stir until moistened and fairly smooth (about 1 minute.)

Carefully remove hot skillet from preheating oven and grease with butter. Pour batter into skillet and bake 20 to 23 minutes or until toothpick inserted in the center comes out clean.

When cornbread is baked, remove from oven and set aside to cool.

Cut into 1/2" squares and turn onto large baking sheet and allow to air-dry overnight.
Recipe Notes
Recipe Notes
You can use an 8 inch cake pan that has been greased or sprayed instead of a cast iron skillet if desired.
Old Fashioned Southern Cornbread Dressing Recipe: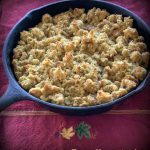 Cornbread Dressing (Stuffing)
You can make your cornbread the night before and allow it to dry overnight. Then the next day making old fashioned southern cornbread dressing (stuffing) is fast & easy! #TexasHomesteader
Ingredients
Ingredients:
6

cups

Cubed Dry Cornbread,

cut into 1/2" cubes & dried overnight

½

Cup

Butter

1 stick

2

Large

Onions,

chopped (about 2 cups)

4

Stalks

Celery,

chopped

2

Large

Eggs

beaten

3

Cups

Chicken broth

depending upon your volume of cornbread you can add extra broth in tablespoon increments until your dressing is as saturated as you want

1.5

Tablespoons

Dried Sage

1

teaspoon

Dry Thyme

Salt & Pepper to taste

(I used 1tsp salt, 1/2 tsp black pepper for my unsalted broth)
Instructions
Instructions:
Preheat oven to 350 degrees F.

Sauté 2 large chopped onions and 4 chopped stalks of celery in 1 stick butter until onion and celery is soft & translucent.  (about 3 minutes)

Turn off heat and allow butter to cool slightly.

In separate dish beat 2 eggs until blended. Add 1 1/2 Tablespoons dried sage & 1 tsp thyme, and salt & pepper to taste. Blend thoroughly.

Add butter mixture and egg mixture to dried cornbread cubes and toss to coat.

Add broth while gently folding with wooden spatula until mixture is moist and as saturated as you want. NOTE: Fold gently so your dressing still has some cubed-bread texture when it's baked.

Spoon dressing in a 9x13 pan (I used large 10" cast iron skillet) without compressing the dressing down too much. Place in a preheated 350 degree F. oven for 35 - 40 minutes or until top is golden brown.
Recipe Notes
Add-Ins: I prefer my dressing pure & simple. But some people like to stir in one or more of the following before baking: Shredded turkey, cooked sausage, mushrooms, finely chopped apples, cranberries, pecans, etc.
NOTE:
You want your dry cornbread cubes to be pretty saturated with broth. Don't be afraid to add broth, wait a minute as the bread soaks it up and the turn so the saturated cubes are on top, then add more broth as needed.
Depending on the actual volume of your dressing, your cooking vessel and how much broth you add, your dressing could be browned as early as 30 minutes. So be sure to keep watch so it doesn't burn.
~TxH~
This post categorized in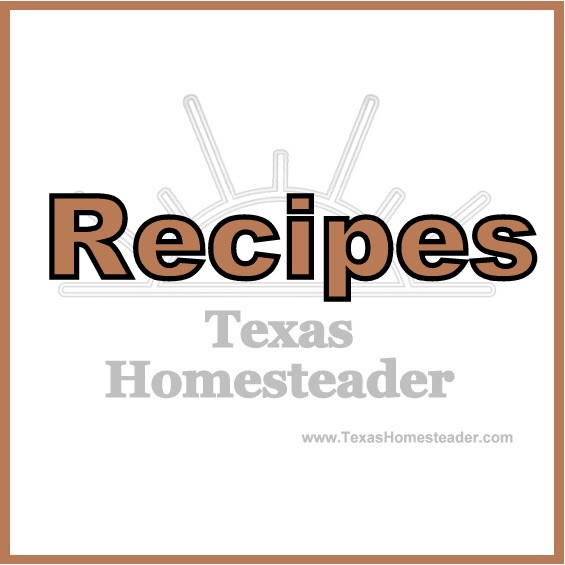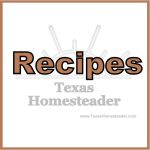 Want More Holiday Cooking Tips & Recipes?
Kitchen Hacks
MEAT
SIDE DISHES
DESSERTS
BREAD
INGREDIENTS
FOOD SAFETY


C'mon by & sit a spell! Come hang out at our Facebook Page. It's like sitting in a front porch rocker with a glass of cold iced tea. There are lots of good folks sharing! And you can also follow along on Pinterest, on Instagram and on Twitter
If you'd like to receive an email when a new blog post goes live, subscribe to our Blog!
References: