by Texas Homesteader
*contains affiliate link
Living in the hot and humid environment of Texas, keeping our home cool in the summertime is an expensive endeavor. The AC really really has to work overtime!
In the heat of summer we often opt for cooler summertime menu options. But cooking still needs to be done.
To keep the house more comfortable and to keep our utility bills low I've learned a few tricks to cooking without adding unnecessary strain to our AC system or our budget during the summer heat.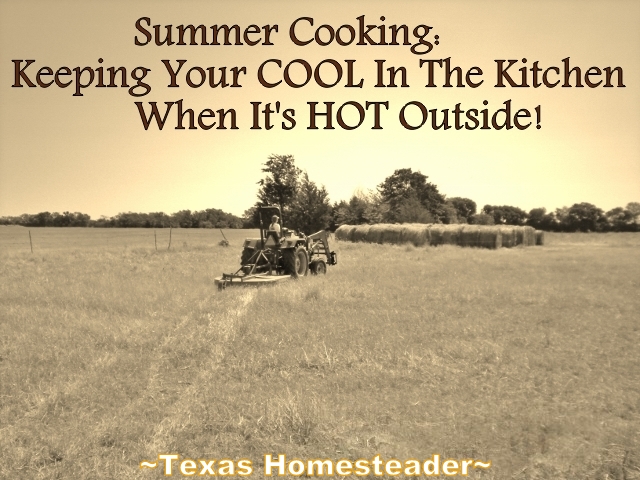 Fill The Oven ALL The Way
First is my go-to method of cooking – cook-once-eat-twice. This simply means that if you're going to fire up that oven for, say, meatloaf – go ahead and cook an oven full of them!
You'll enjoy your meatloaf for dinner that night. Then when the remaining meatloaves are cool simply section them off in meal-sized servings, label and freeze.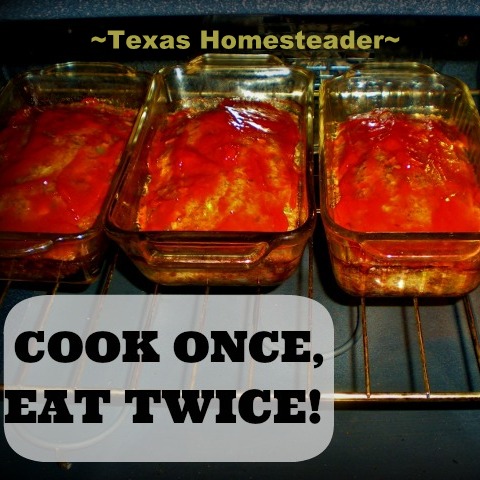 That way when you're in the mood for meatloaf again you don't have to cook it. Just pull one of your meal-sized servings out of the freezer and place it in the refrigerator overnight to thaw.
When it's time for supper a quick heat in the microwave & a couple of added side dishes are all you need.
Not only has a home-cooked supper arrived at the table in record time, but precious little additional heat has been added to your home. That's a budget saver in two different ways!
Slow-Cooker Heat Outside
Another idea is to actually cook outside. I really love using my slow cooker to slowly cook my main dishes like Slow Cooker Spicy Sticky Chicken to savory perfection.
Even though a slow cooker doesn't put out as much heat as an oven, I still don't want to add unnecessary heat inside when it's so hot.

Easy fix: I fill my slow cooker with all the ingredients needed for my recipe and take it out to my back porch. Then I set it on my outside table and plug it in.
Voila – no extra heat in the house!
I also use this outside table when using my toaster oven for smaller dishes like individual chicken pot pies and when using my * Rotisserie Oven
for grilled veggies, fish or of course rotisserie chicken.
Free Solar Energy
How about using free solar energy to cook? It's easy to make sun tea with a teabag in a large jar with a lid. You don't need to buy a special container for your sun tea.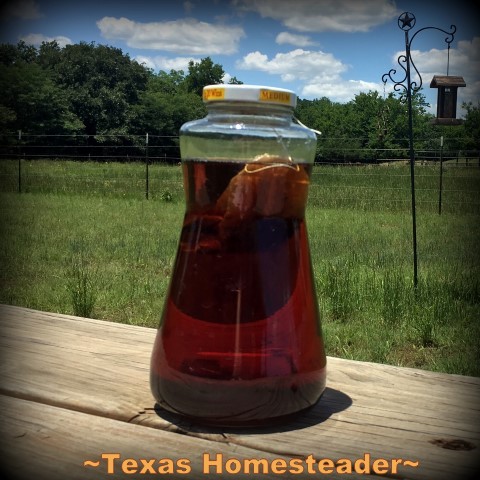 I use this large picante bottle. The hourglass shape makes it easier to securely carry. And it's large enough to hold several cups of water.
When the tea is brewed I bring it in and pour it into my tea pitcher. Then I top off the pitcher with water and I'm done.
There was no purchased energy necessary. And no extra heat in the house either!
Potential Sun Tea Concerns
There are some who have commented that brewing sun tea does not allow it to get hot enough to kill the bacteria in water. It's said that it must be boiled 3-5 minutes in order to be safe, then refrigerated immediately until consumed.
Hummmm… I'm just not sure. I mean, if there's bacteria in my water that needs a 3-5 minute boil time to be safe, what about the tap water I'm drinking all day every day to keep me hydrated during these hot summer months? That consumed water has certainly never been boiled.
For us, sun tea is still king. I continue to make sun tea several times each week, the same as I've done for years.
But of course you'll want to use your own judgement about making sun tea. If you have concerns, your doctor will be your best source of advice.
Solar Energy Food Dehydration
You can also use the sun to dehydrate foods. RancherMan built a solar dehydrator for me a couple of years ago. He just used inexpensive materials we already had around the house.
These apple slices were dehydrated without any energy being paid for. Thank you RancherMan – You're Genius!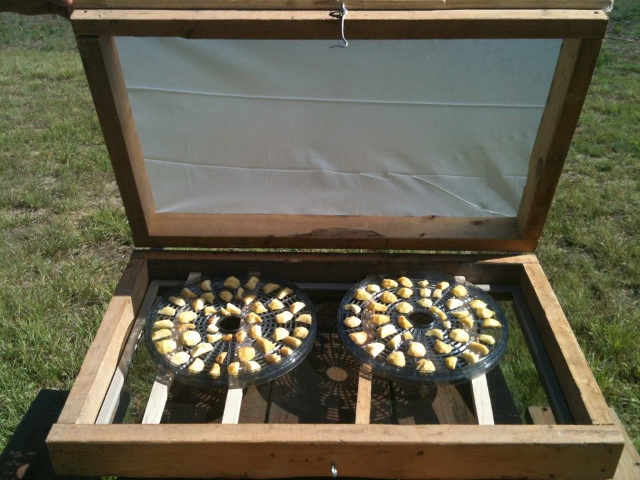 Then last year I finally made the leap and purchased a * solar oven
. So I'll be able to not only dehydrate things but also actually cook outside using just the energy from the sun.
OMGosh y'all, I LOVE my solar oven! So far I've cooked Boneless Pork chops, Baked Potatoes, Homemade Marinara Sauce using fresh garden tomatoes, BBQ Pork for sandwiches & even baked our own Fresh Bread!
You can see all my Solar Cooking Recipes Here.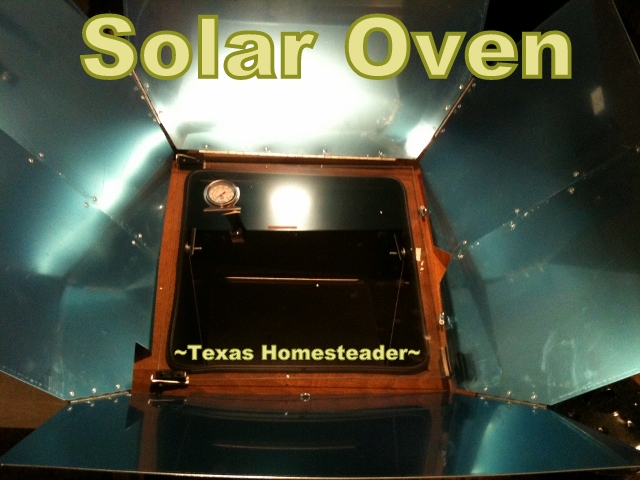 Use Your Outside Grill
And of course grilling outside is always a good option for keeping cooking heat out of the house. Go ahead and combine the grilling with the cook-once-eat-twice cooking. Fill that grill surface up with different kinds of foods.
After supper just section off meal-sized servings, label and freeze. I often have RancherMan grill up boneless pork chops for the freezer along with the chicken and veggies for tonight's supper.
Hopefully I've gotten your mental gears turning. These are all easy ideas to incorporate in almost any household.
Let's learn from each other. What are some of your favorite ways to keep cooking heat out of the house in the heat of summer?
~TxH~
Links Included In This Post:
Other Frugal Tips
…and many MORE!


C'mon by & sit a spell! Come hang out at our Facebook Page. It's like sitting in a front porch rocker with a glass of cold iced tea. Lots of good folks sharing! You can also follow along on Pinterest, Twitter or Instagram.
If you'd like to receive an email each time a new blog post goes live it's EASY to
subscribe to our blog
Save
When you buy something through the affiliate link it's a great way to support this blog without anything coming out of your pocket. So click often!
*Amazon affiliate
Save
Save
Save
Save