by Texas Homesteader ~
Unfortunately our area of NE Texas has slipped into yet another drought this year. Oh there's been plenty of rain in surrounding areas but it's mostly managed to miss our homestead! What we have gotten is lots of the cloudiness associated with that precious rain. But so many cloudy days means my garden is really behind where it should be this time of year. My tomatoes are nowhere near producing yet and my peppers are all still tiny. But I've had some successes too. C'mon into my garden, y'all. I'll give you the tour!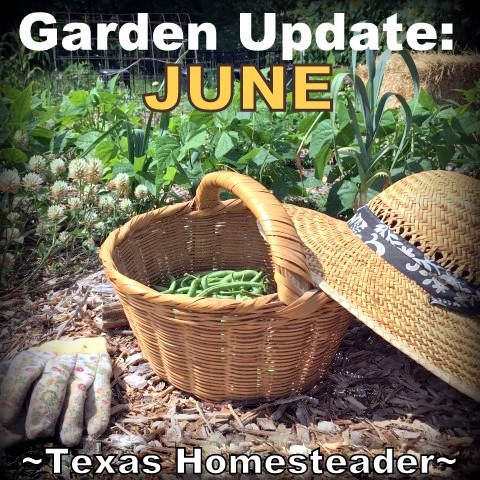 Y'all remember I planted 3 rows of different heirloom green beans this year, waiting a few weeks between each row's planting. I figured that way I'll have a longer harvest of fresh green beans. So far it's working great. I've been harvesting green beans for weeks and cooking, freezing or sharing them. They're delicious! I've left the beans growing on the plant at the end of each row to produce my heirloom seeds for planting next year.
Mis-Packaged Heirloom Green Bean Seeds?
But I notice that my final row of heirloom green beans are starting to vine. VINE??!! I planted Page's Tendergreen Improved Heirloom bush beans. I thought they were supposed to bush, not vine. This is my 1st time planting these – maybe they mis-packaged these seeds?
In any event, unless they rock my world, this is one heirloom seed I'll not be saving this year! Now since I need to find a way to stake these beans I put on my thinking cap. I stepped in 3 hot-wire posts, but I need string. I don't want to buy something so I took all those long rip strings from our feed sacks & tied them together. It worked great and I was able to put to use a wasted material from our cattle feed bags. Once again, Use Whatcha Got!
As I mentioned, my tomatoes are still tiny. Although I'm anxious for that first delicious garden-ripe tomato, looks like I need to wait a little longer. I am finally able to begin tying up the volunteer tomato since it's growing pretty well. I guess that's encouraging. Once we start getting more sunshine I'm sure the tomatoes will grow like crazy.
And my volunteer cucumber has been producing very well also. RancherMan's not really fond of raw cucumbers and there's only so many a girl can eat by herself. So I decided not to plant them this year. But a vine volunteered right in the perfect place by the chicken fence. I'm training it up to give the chickens shade from the west sun. I've harvested a few to share with friends & family since I won't attempt to make refrigerator pickles until they're producing several a day. That day is coming quickly though.
Garlic & Onion Beds
Other than harvesting green beans & cucumbers, I've been harvesting garlic, onions & cilantro to make our own fresh pico de gallo in minutes. I went ahead & harvested several of my garlic and the heads are currently lying on a table on a shaded porch to cure. Even more garlic will be harvested soon.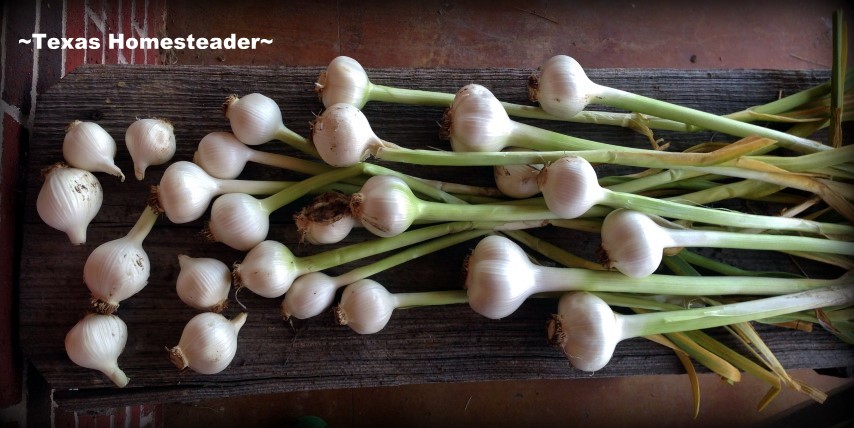 When I was harvesting the garlic I came across little bulbules growing loosely on the garlic heads beneath the ground. I knocked them off back into the soil to make more garlic for me. Heck it's free produce, why not?? I'll let them grow & then I'll relocate them this fall so I can plant them a little a more orderly fashion for next year's harvest.
And I'll probably be harvesting my onions pretty soon as well. The volunteer vines in my onion beds are growing like crazy and I want to catch harvest time before the vines make it more difficult. After I harvest the onions I'll cure them on the back porch too and then store them in my pantry.
Among my other onions are these Walking Onions gifted by a friend, I love these. They reproduce from what would be the bloom section in other onions. The bloom section forms several bulbules which weighs down the bloom stem. The bulbules touch the soil and start growing into more onions. I love the thought of having continuous onions without replanting!
Speaking of volunteer vines – DANG they're going crazy in my peanut bed too. And now they are actually starting to produce. There was initially question as to what they would end up being, spaghetti squash, pumpkin, cucumber or cantaloupe. I'm happy to find they're cantaloupe! YEA! Free produce!
Kandy Korn
This is the first time I've ever grown Kandy Korn. A sweet friend gifted the seeds to me when her father died unexpectedly. He was an avid gardener and she knew I could put those seeds to good use. The Kandy Korn seeds were red/pink which was different than the yellow seeds I'm used to. How cool, it looks like the silks are red too! I've never seen corn like this. I'm anxious to harvest & see how it tastes.
Let's see… Oh, the grapevine is doing AWESOME! I've never had this many grapes before. I typically make & can grape juice with these grapes but I have enough to try my hand at making jelly as well this year. Concords are extremely flavorful.
And I'm beyond excited to see I have a few little apples on my miniature tree. It's only produced once for us since we planted it and that production was a couple of years ago. Drought has been a challenge and it looks like we're in for yet another year of drought. I'll be sure to mulch this tree & keep it watered best I can. Hopefully it will go on to produce a few apples that I can harvest this year.
Edible Landscape Plants
The herbs in my front 'edible landscape' bed are doing pretty well. The sage overwintered and it's huge. It's blooming and the bees love it too. I purchased & planted basil and lemon thyme since the drought took them last year. I also planted some stevia which I've never grown before. I'm totally enamored with the thought that I can grow my own sweetener! We'll see how that goes.
And the carrots I planted in this edible landscape bed didn't do much but for some reason one of them went crazy. So I allowed it to bloom and I'll capture these seeds to plant next spring. I figure even if I don't get a good carrot harvest, I just love the lacy tops and how they look in my edible landscape. Being able to harvest & eat something so pretty is just icing on the cake!
Weekly Blessing Basket
One last note to you gardeners out there. RancherMan & I meet with a church study group on Wednesdays. Many in the class are older or don't garden anymore. So I've started something I'm calling a "Blessing Basket". I've vowed to put everything I harvest on Wednesdays into a Blessing Basket and take it with me to class to share the love. Last week there were only a few green beans. But this week there are also a few cucumbers, a large head of garlic, some herbs such as rosemary, sage, basil and oregano and even the three fresh eggs my girls laid today. Soon there will also be tomatoes & peppers. Cantaloupe & okra. Even pumpkin & watermelon!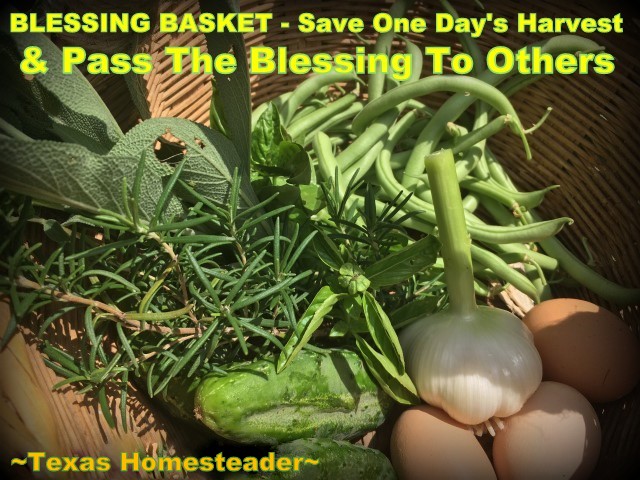 I challenge all of you gardeners to do the same. Whether you meet with a book club or garden club, or maybe just for a neighbor down the street. Bundle your harvest one day each week and pass the blessing on! And let's get others to do the same. Share a photo of your weekly Blessing Basket on Instagram with the hashtag #BlessingBasket.
So there's a quick tour of our NE Texas garden. What's growing in your garden these days?
~TxH~
Save
Save
Save