by Texas Homesteader ~
A family illness kept me from starting my vegetable seeds inside earlier this year. So I had to actually plant seeds in the garden instead of seedlings. C'mon into my NE Texas garden, y'all. I'll give you the tour!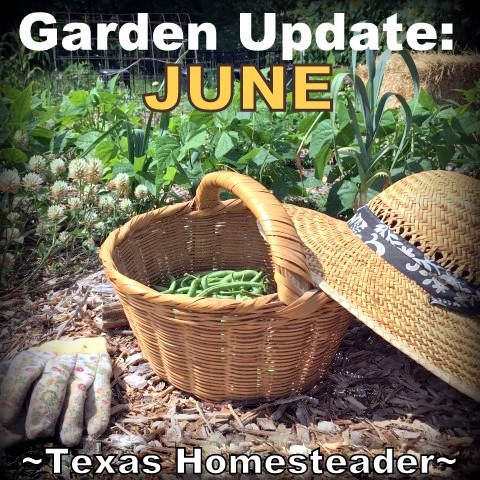 Perennial Garden Produce Every Year
I incorporate the Lazy Gardener's method of gardening. I love food I can grow by planting once & having those plants produce each year. I've already enjoyed lots of garden goodness from plants that I didn't even have to plant this year!
Fresh Asparagus

Everbearing Strawberries

Blueberry Bushes

Wild Blackberries (

Ponca Thornless Blackberry

new planting)

Concord Grapes
and more!
You can see a list of all the things I Plant Once Eat For Years! Lazy gardeners, UNITE!
Building New Raised Beds For The Garden
My vegetable garden is undergoing a major transformation. I've been incorporating more raised beds in my garden layout. I even built an Amazing Raised Bed in the corner of the garden.
I was able to mostly fill those new beds Hugelkulture Style. And it was wildly successful for being able to fill those beds with natural botanical matter for almost no money out of pocket.
Problems With Purchased Garden Soil
But the actual planting soil was purchased in bulk from a soil company this year. It's been a challenge getting anything to grow in that soil – I'm not sure why.
So I'll struggle through with the plants in those raised beds this year. Next year I'll amend the soil myself with compost, leaf mulch etc.
Garden Tomatoes
I typically start heirloom tomatoes inside in my 'Indoor Greenhouse'. But a family illness kept me from doing so this year. Instead I had to place seed in the garden itself. I replanted those seeds (twice) but they never sprouted. (see soil issue above)
But I found a couple of volunteer tomato seedlings growing in my compost. I relocated them so I now have a few tomato bushes growing in the garden, although I have no idea what variety they will end up being.
The plants are still small but they're at least beginning to grow a few tomatoes for us.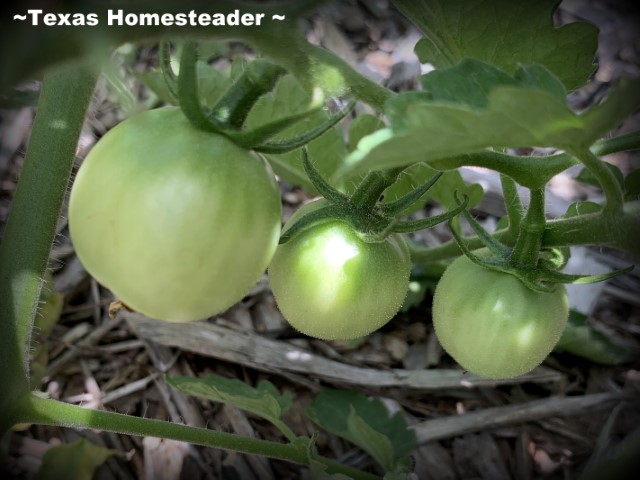 I am finally able to begin tying up the volunteer tomato vines since they're growing pretty well now. So I guess that's encouraging.
Various Garden Peppers
Since my seeds didn't sprout I was forced to buy pepper seedlings this year to plant in our garden. I use peppers a lot in my cooking.
The peppers I purchased and planted are:
Jalapeno peppers

Red Bell Peppers

Ancho Peppers
The tiny seedlings struggled when I first planted them, maybe still a soil issue as noted above? But they're now starting to grow and even produce tiny peppers. I'll be harvesting soon I'm sure.
High-Producing Concord Grapevines
I only wish everything in my garden would grow as well as my grapevine does. The grapevine is doing AWESOME! I've never had this many grapes before.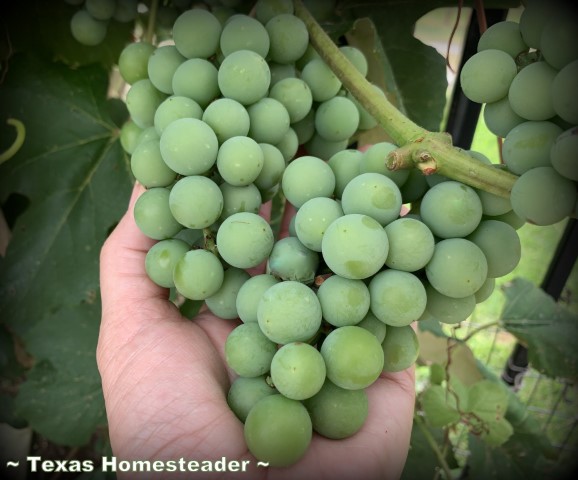 I'll probably make jelly with them this year – I gave it a try last year and RancherMan LOVED it.
Concord grapes are extremely flavorful and wonderful for making jelly. I'm hoping to be able to begin harvesting bucket-loads of grapes in a few weeks.
Garlic & Onion Beds
I typically plant my garlic in October & harvest the following June. All the garlic heads are currently curing on our shaded porch for about 6 weeks.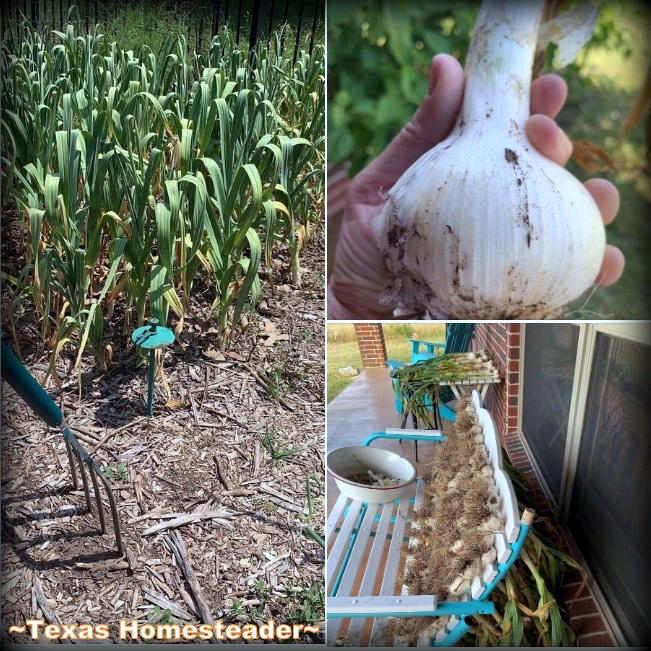 When I harvested the garlic I came across the little bulbules growing loosely on the garlic heads. I knocked each of them off back into the soil to make more garlic for me. Heck it's free produce, why not??
I'll let them grow this summer & then I'll replant them this fall in a little more orderly fashion along with my October garlic planting for next year's harvest.
Egyptian Walking Onions
These Walking Onions were gifted by a friend, I love these. They reproduce from what would be the bloom section in other onions.
The bloom section forms several bulbils which weighs down the bloom stem.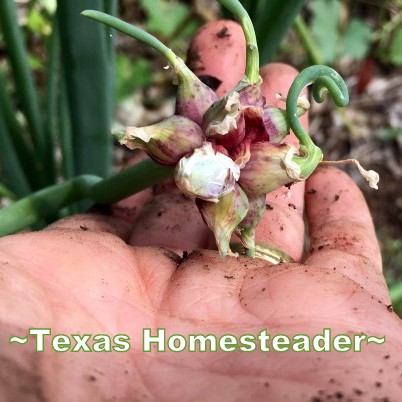 The bulbils touch the soil and start growing into more onions. I love the thought of having continuous onions without ever again having to plant onions. I haven't bought onion starts in years!
Herbs Planted In Edible Landscape Beds
The herbs in my 'edible landscape' beds are doing well. The sage overwintered and it's huge. It blooms beautifully and the bees love it too.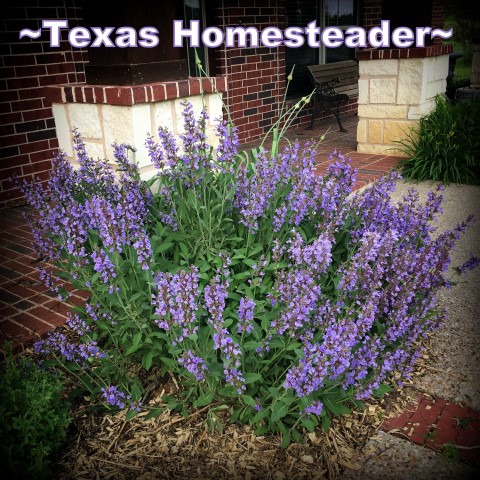 In my edible landscape beds I plant all kinds of fragrant, flowering herbs:
Thyme

Sage

Stevia

Basil

Oregano
They're not only beautiful growing in the bed but the honeybees love all those blooming herbs too!
Growing Your Own Sweetener – Stevia
I'm totally enamored with growing my own sweetener! Last year I allowed my Stevia to bloom and go to seed to provide for our honeybees. (I'll do the same this year)
The Stevia is prolific! I've already harvested, dried and powdered much of it. I'll have as much Stevia as I want and plenty to share too.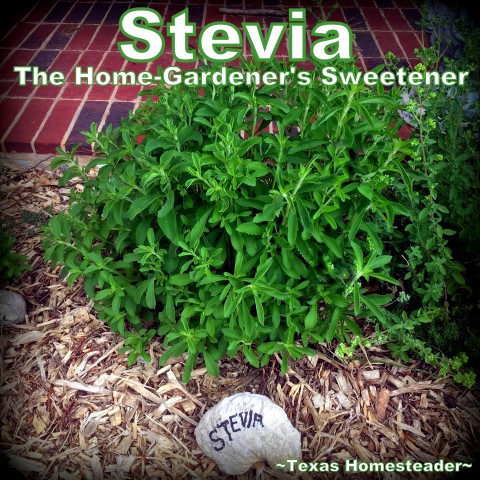 Check out this post to learn to Grow and Use Your Own Stevia. I like to use the dried powder to augment sweetness such as when I make Sugar-Free Sweet Potato Brownies.
Cantaloupe Used As Living Mulch
I use vining plants as a Living Mulch of sorts. So I planted cantaloupe at the ends of my tomato rows.
Those vines are just starting to spread and cover the soil around my tomatoes, conserving moisture and helping to avoid soil splashing on the tomato leaves when watering.
PLUS, they're starting to put on a few tiny cantaloupes. That's a double benefit to one garden plant!

I love cantaloupe in all its sweet, juicy glory. And when it outproduces our ability to consume it fresh, I like to make Cantaloupe Bread with it.
Cantaloupe bread is kinda like zucchini bread, in a cantaloupe kinda way.
RancherMan loves it. And I typically make a few loaves and freeze them for later. A sweet treat is as close as my freezer, even if unexpected company arrives.
Watermelon Growing From Volunteer Plant
My planting of watermelon seeds wasn't successful (see soil issue above). But I found a couple of volunteer watermelon vines growing in my compost. So I placed them in the garden to grow. However it's a late start for those vines for sure.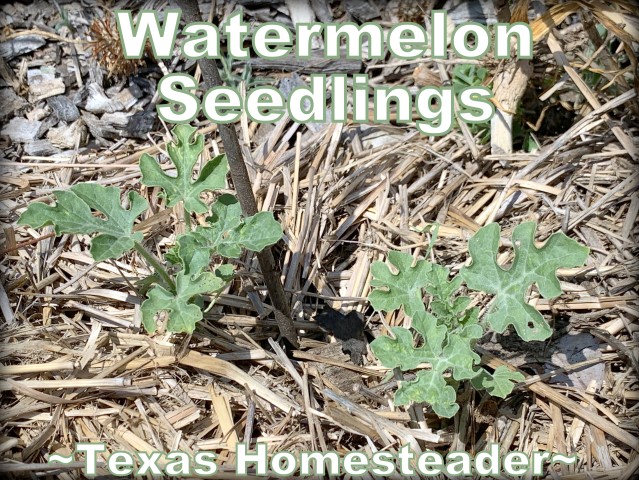 I'll allow them to grow in the garden anyway as I also use watermelon vines as living mulch.
But they're beginning to put on tiny watermelons. Hopefully I'll get a small harvest in addition to the living mulch benefit.
Planting Okra In The Garden
Okra is usually a pretty bullet-proof thing to plant in Texas, growing vigorously and producing prolifically.
But, again, with the garden soil I purchased it's been a struggle this year. So I've once again planted some okra seeds and I see a few seedlings beginning to emerge.
I want to make pickled okra so I've also planted dill. The dill's growing great, hopefully the okra will catch up!
Thornless Blackberry Bush
This year I purchased and planted a Ponca Thornless Blackberry bush against the perimeter fence of my garden.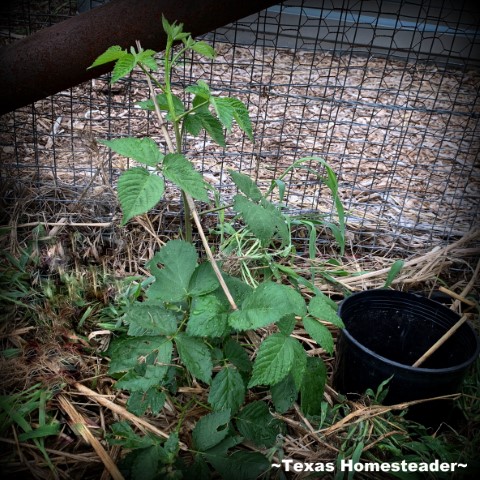 So far it's growing great and looks healthy. I can't wait until next year when I can much more easily harvest and enjoy those juicy blackberries instead of hunting down the native and heavily-thorned variety out in our pastures.
Home Garden Optimism
So the garden has been a struggle this year due to family illness and purchased soil issues. Although it promises to be even more struggle during the next couple of hot & humid months, I'm encouraged by some of the garden successes.
In the meantime I'm thankful for the small harvests my garden offers me this year. And the enjoyment I receive from just being a gardener.
So there's a quick tour of our NE Texas garden. What's growing in your garden these days?
~TxH~
My Favorite Garden Hacks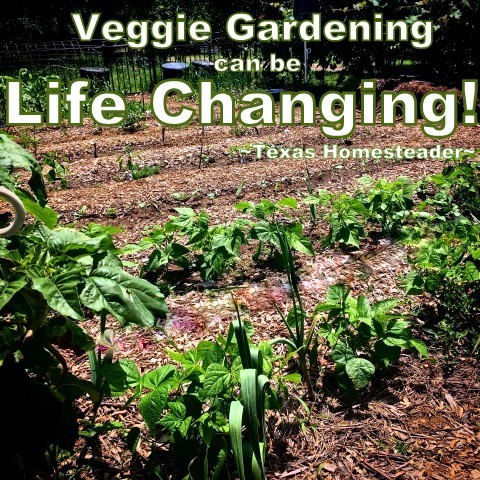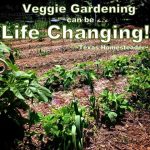 C'mon by & sit a spell! Come hang out at our Facebook Page. It's like sitting in a front porch rocker with a glass of cold iced tea – lots of good folks sharing! You can also follow along on Pinterest, Twitter or Instagram.
If you'd like to receive an email each time a new blog post goes live it's EASY to
Subscribe to our blog!
Save
Save
Save