by Texas Homesteader ~
I really want a few shade trees in our yard. And serious bonus points are added if I can get those shade trees for FREE, #amiright??!!
After spending way too much money trying to get shade trees that would actually live in our yard, a lightbulb went off. Hummmmmm… What if…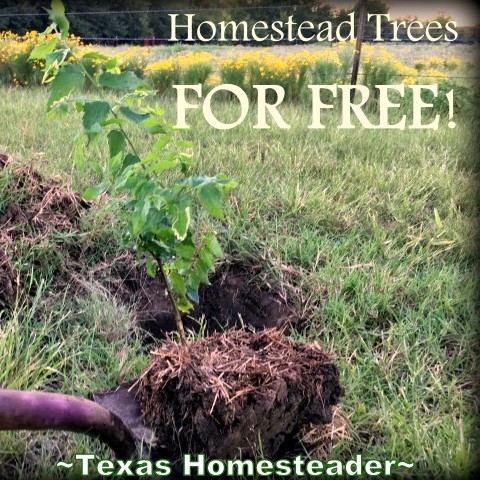 Difficult Growing Conditions
Y'all know I've planted many trees since moving to our Homestead. They typically struggle the first year & then succumb after the first 12-18 months.
I kid you not, I've lost 18 trees in our BACKYARD ALONE!
That's lots of money wasted. But dang y'all, I really miss the beautiful canopy of trees I've always assured that we enjoyed at each and every home where we've ever lived.
I know it doesn't make financial sense to keep plunking down money year after year to buy trees & get them planted when they obviously don't want to live here.
Desperate to find something that would work, I've explained our situation to all the nursery specialists and followed their directions every time I planted a new tree. But still, no dice. I was determined not to give up.
Looking For Hardy Shade Trees
Although our property is plenty fertile, the area right around our house? Well I've named it 'The Botanical Hole of Death'.
I struggle to get anything but grass to grow in our yard. Probably because much of the shallow topsoil was moved to build the foundation for our home. So there's precious little left in the surrounding area to sustain anything but shallow roots in our yard.
Maybe I can find really hardy trees that can grow well even here. I wonder how I find trees that really, REALLY want to live in our yard?
But y'all remember my battle cry? Use Whatcha Got!
Hardy Tree Located… For FREE!
Then one day I found a small tree seedling growing right next to the foundation of our home and I knew I had to remove it. But I wondered…
This tree obviously really WANTS to live, even in our difficult growing conditions. Why not move it to a location in our yard where I'd actually LIKE for it to grow???
Plus, I reasoned, if I start the tree out this small it may have a greater chance of digging in its roots in our apparently difficult-to-grow soil conditions of our yard where I'd love to have trees.
So I carefully dug up that tree up and moved it to a place in the yard where I hoped it would grow. I opted to plant it toward the western side of our yard to offer shade during the heat of summer. That would be perfect… IF I can get it to grow.
I think it's an Lacebark Elm tree, but whatever it is I'd love to have it grow here!
Relocating A Volunteer Seedling
I mulched around it heavily with spoiled hay that they cows had trampled. That mulch kept the soil around my tender tree cooler and conserved the moisture all summer long.
A bunny happily made the top of that seedling his lunch a couple of times. So to protect my little seedling I placed a piece of chicken wire around the tiny seedling so it can't be snacked on again. Other than the bunny buffet, I've been very pleased at how well it's done! It's now about 8-feet tall and beautifully shaped. Hopefully soon it'll actually be large enough to offer shade.
I'm so pleased in the results of that tiny seedling transplant that I've since relocated a couple of other volunteer tree seedlings to other places in the yard. I mean why not??!! It hasn't cost us anything!
Those trees are obviously indigenous to our location since they came up as volunteer plants. And I'm finally hopeful to one day have several trees shading the backyard of our home.
~TxH~
My Favorite Garden Hacks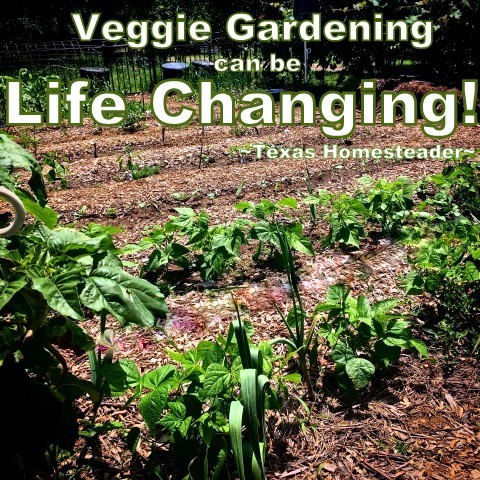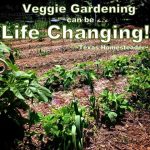 C'mon by & sit a spell! Come hang out at our Facebook Page. It's like sitting in a front porch rocker with a glass of cold iced tea – lots of good folks sharing! You can also follow along on Pinterest, Twitter or Instagram.
If you'd like to receive an email each time a new blog post goes live it's EASY to
Subscribe to our blog!
Save
Save
Save