by Texas Homesteader ~
*contains affiliate link
I wrote recently about a basket. A handmade basket. A beautiful basket. MY basket.
You see, I'd wanted an open-top basket for a long time and I was really trying to find one at a thrift store. Not only would it be less expensive but I wanted it to be used instead of new. I always prefer to buy used whenever possible. It's just an environmental thing for me.
But for months I was patient and searched for one. Alas, a suitable basket was nowhere to be found. Then one fateful day as RancherMan & I were strolling through an outdoor fair I saw her.
Oh she was a beauty! A handmade woven basket with leather handles. Deep sage greens and vibrant pink accents.
"How much?" I timidly asked. "Forty Dollars" came the reply.
Wow. Forty dollars? That's more than I was planning on spending. But oh how I loved her! And it was certainly worth that much, having been sturdily made.
Plus I love to support artists whenever possible. So I bought that beautiful basket with the bright pink accents, hoping I'd use it as much as I thought I would. And I'm pleased to say I have!
*this post may contain an affiliate link. If you click on the link & make a purchase I may receive a small commission, but the price you pay remains unchanged. It's an easy way to support this blog, so click often!
A couple of weeks ago I told you about the most common benefit of having this basket. Shopping! Our shopping trips typically involve only a few purchases and I always have my reusable fabric bags with me.
But this basket is so wide-open at the top that I feel comfortable allowing it to carry my purchases to the resister without worrying the shop owners fear dishonesty. The top's wide open!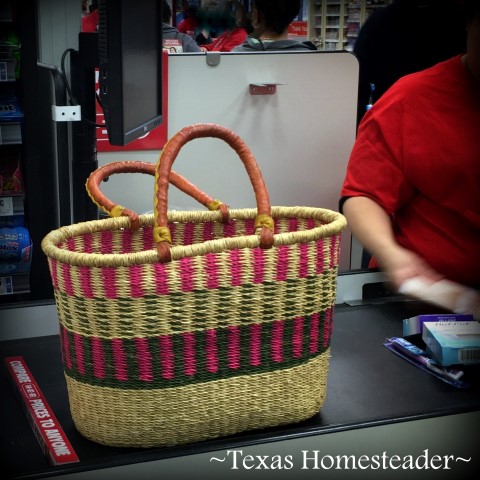 And unlike fumbling with my fabric bags, the clerks are happy to scan my items & place my purchases back into the basket. It stands wide open & ready for them. I've gotten so many compliments on it.
Basket Used For A Day Trip
But there's another easy way my basket recently helped make my days convenient. You see, recently we were headed out of town to visit my dad. It's just a day trip so no suitcases were necessary.
But there were some things I wanted to bring with us. We wanted our *Super-Insulated Tumbler mug for the trip. (DANG those things keep our drinks cold for a long time.)
Bringing our mug filled with ice water assured there would be no need to stop on the way for something to drink when traveling. That's good for our wallet & good for the environment.
And we'd want our tablets with us as well. Since dad lives in a very remote location we often help him quickly research any questions he has about repairs to his equipment or where to purchase a needed item.
So into the basket our tablets went. Oh and I didn't want to forget the clippers he'd loaned to us so I added them too.
Of course I didn't want to arrive empty handed so I was able to quickly whip up some Chocolate Cake-Mix Cookies for a chocolatey treat. After they were baked I let them cool and popped the cookies into a repurposed empty coffee canister. Then into the basket they went as well.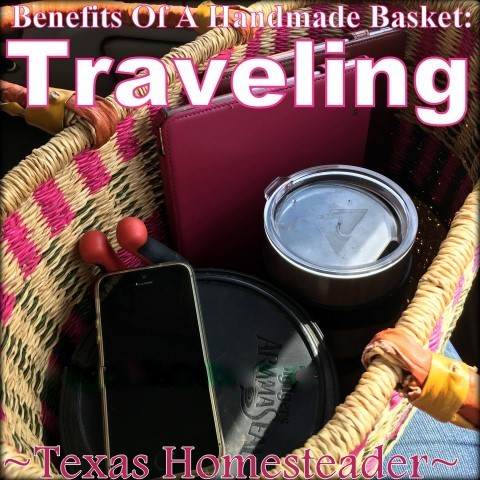 Everything for our day trip was tucked neatly into this beautiful basket. Easy in, easy out. Oh how I love it!
(If you're looking for baskets too, I found some *Hand-Woven Shopping Baskets on Amazon!)
~TxH~
Links Included In This Post
Other Posts About Reducing Household Waste
…and Many More


C'mon by & sit a spell! Come hang out at our Facebook Page. It's like sitting in a front porch rocker with a glass of cold iced tea – lots of good folks sharing! You can also follow along on Pinterest, Twitter or Instagram.
If you'd like to receive an email each time a new blog post goes live it's EASY to
Subscribe to our blog!
*Walmart Affiliate – *Amazon Affiliate
Save
Save