by Texas Homesteader~
RancherMan & I have a Valentine's Day tradition: we get together in the kitchen & make a special dinner for each other.
It's a way for us to focus fully on each other & give a gift straight from the heart. For this special meal, money is no object. And the sky is the limit for our meal choices when we're planning it.
Usually we decide together what the meal will be & we get in the kitchen together & make the planned culinary delight side-by-side.
But when we were planning what would be our Valentine's meal this year I told RancherMan that he could choose the entrée – anything in the world he wanted.
All I cared for was the dessert. I wanted chocolate, and I wanted that chocolate to be TRUFFLES.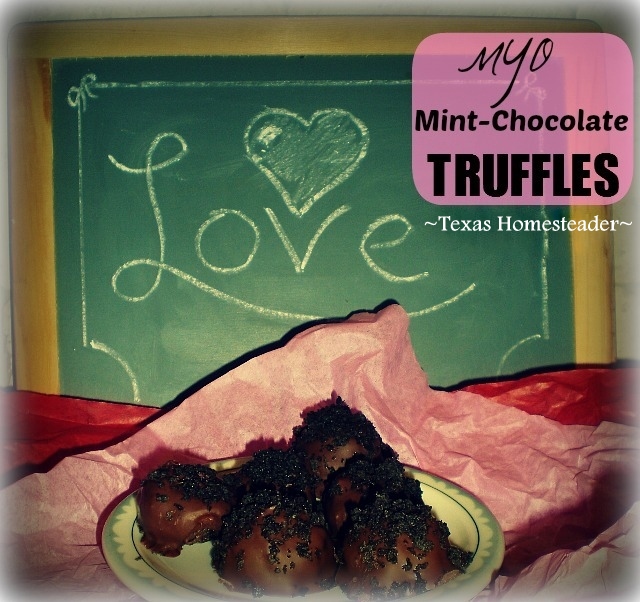 Jump to Recipe
RancherMan wanted to make these truffles by himself as a special gift to me. (awwww….) Now I often request TRIPLE CHOCOLATE truffles but mint chocolate is a favorite flavor combination for me too.
I love a mint & chocolate combination so I settled on Mint Oreos. Initially I was going to have RancherMan only make 1/2 the recipe because, well… hey there's only 2 of us in our household these days.
I really, REALLY don't trust myself with portion controlling truffles!
Shrinking Packages Of Oreos
But when he halved the cookie portions for his recipe he discovered the packaging had apparently shrunk since the original recipe was posted over at allrecipes. (a very common problem in the grocery stores these days. grrrrr….)
Today's package of Mint Oreos was only 15.25 ounces and contained 30 cookies. So there weren't as many cookies in the package as the original recipe called for with 45 cookies in a 16-oz package. (wow that math just doesn't look right to me, but that's what google says too…)
Since RancherMan had already crushed what he thought would be half the package, he decided to go ahead & make a full batch so any effect of the smaller cookie package would be minimized.
OK, guess I'll just have to suffer through a full batch of mint-chocolate truffles… MAN the things I suffer through!
Making The Truffle Center
He took a standard 8-oz package of cream cheese and put it in the KitchenAid mixer bowl to cream it.
Then he pulverized 6 of the cookies and set them aside, and pulverized the remaining 24 cookies and mixed them into the cream cheese mixture and mixed until it was all smooth.
When the cookies & the cream cheese were thoroughly blended he set the KitchenAid bowl containing the mixture in the fridge for about an hour to harden the mixture somewhat.
The truffle dough was pretty soft & sticky and he figured chilling it would make the soft mixture a little easier to dip.
Although the mixture was still pretty soft after the stint in the fridge it did help firm it up somewhat.
He brought the bowl out and used a cookie scoop to measure out approximately one tablespoon of mixture for each truffle.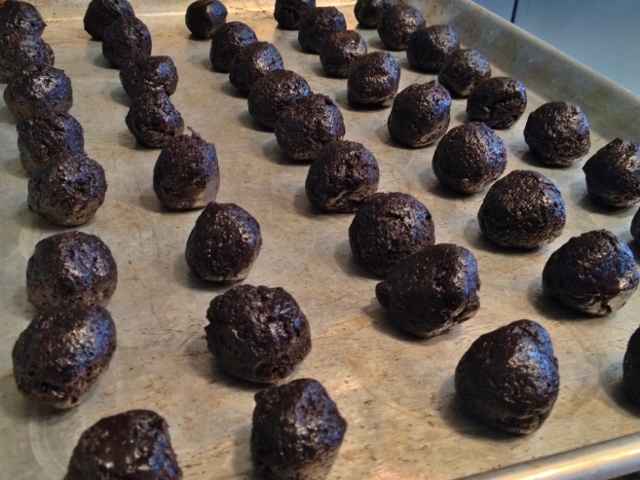 Then he placed the shaped truffles in the freezer for about an hour. The stint in the freezer actually firmed up the truffles quite nicely.
And after they were very cold it was much easier to handle them.
Coating Truffles In Chocolate
He melted the chocolate according to the directions on the dipping chocolate package.
Then he used a toothpick to dip each truffle into the melted chocolate to fully coat it. The dipped truffle was placed on waxed paper & sprinkled with the reserved crushed cookies.
And lastly the truffles were then placed back in the fridge for about 15 minutes to harden the chocolate.
And there ya go – homemade truffles straight from RancherMan's heart to mine.
Here's a couple of side notes from our experience:
The truffle centers were very soft until they were refrigerated for several hours. (perhaps because of the difference of number of cookies from the original recipe.) After overnight refrigeration the soft centers were perfect & I loved them that way. But if you want firmer truffles you might pull some of the cream cheese before putting it in the mixer. That will make a larger ratio of cookies to cream cheese.
2. Also maybe because we were using a cookie scoop the truffles may have been smaller than usual. This caused us to run out of chocolate coating before the truffles were all coated. Since we still had leftover cookie crumbs RancherMan rolled the remaining dozen truffles in leftover cookie crumbs.
They were delicious both ways. But if you want all your truffles dipped in chocolate you might want to make the truffles a little larger. (or use a second container of dipping chocolate.)
Aaaanyway the recipe as we used it to compensate for the smaller cookie packaging is below. ENJOY!
Homemade Mint Chocolate Oreo Truffles - makes about 3 dozen
These homemade mint chocolate truffles are made with Oreo sandwich cookies, cream cheese and dipping chocolate. A decadent treat that comes together easily. #TexasHomesteader
Ingredients
8

oz

Cream cheese

15.25

oz

Package Mint Chocolate Oreos

7

oz

Dipping-chocolate wafers
Instructions
Soften cream cheese & blend with a stand mixer until sooth. Crush 6 Mint Chocolate Oreos and set aside. Crush remaining 24 Mint Chocolate Oreos and add to the cream cheese in the mixer bowl and blend until thoroughly combined, scraping sides of the bowl often. Cover the bowl & place in the fridge for one hour.

After an hour bring chilled mixture out & use cookie scoop to make truffles into approximately 1 Tablespoon balls. Place shaped truffles in the freezer for about an hour to firm them up.

After that time melt the dipping chocolate & bring chilled truffles out of freezer. Using a toothpick dip each chilled truffle into the melted chocolate & allow to drain slightly before placing chocolate-covered truffle on wax paper. Sprinkle reserved crushed cookies on top of truffle before the chocolate hardens. Store in refrigerator for about 15 minutes to harden the chocolate coating. Store finished truffles in the refrigerator. Can be brought to room temperature prior to consumption or enjoy them chilled.
~TxH~
Other Easy Desserts
Dessert Toppings


C'mon by & sit a spell! Come hang out at our Facebook Page . It's like sitting in a front porch rocker with a glass of cold iced tea. There are lots of good folks sharing! And you can also follow along on Pinterest,Twitter or Instagram
If you'd like to receive an email when a new blog post goes live,
subscribe to our Blog!