by Texas Homesteader
*contains affiliate link
I recently became extremely disenchanted with my crappy low-end dishwasher. I mean, why must we wash our dishes THREE times? Once BEFORE putting the in the dishwasher, once during the dishwasher's many cycles and then once again when you pull the still-dirty dishes from the dishwasher! It would be easier to hand-wash the dishes but it was the principle of the thing. We have a dishwasher, we fill it with name-brand detergent and it just doesn't clean the dishes.
Then right before buckling and replacing the dishwasher we were told to try dishwasher tabs instead of powder. I had always shunned them because they are so exorbitantly expensive. But upon trying them I was convinced. Our dishes came out clean, but oh at what expense?
Not only were they pricey but these dish-washing tab products had individually wrapped tabs that are tucked into a plastic molded tray, then placed inside a foil-covered cardboard box and then the whole thing plastic wrapped again. There has to be a better way both financially & environmentally! Hummm… Wonder if I can make my own dishwasher tabs? Um, YES!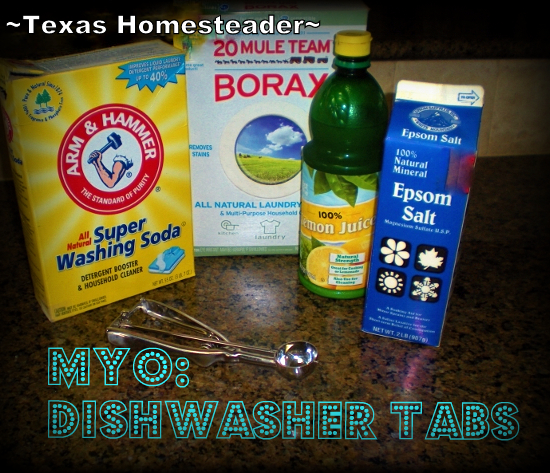 In searching around I found a recipe on CuckooForCouponDeals site. I figured I had nothing to lose, I have all of the necessary ingredients. So I gave it a try.
Simple Ingredients
First I mixed Borax, washing soda and Epsom salt in a bowl. Then I started adding the lemon juice. I began with about 8 tablespoons & added a tablespoon at a time after that to get a consistency like a smooth thick icing. For me it took about 10 tablespoons of lemon juice.
When the consistency was right I used a cookie scoop to measure out approximately tablespoon-sized scoops onto a repurposed plastic bag. I used the bottom of a drinking glass to flatten the prepared scoops just a bit so they would fit in the dishwasher detergent compartment on my dishwasher.
IMPORTANT NOTE: These disks looked and smelled like something edible! So please inform your family these are NOT lemon cookies. And be sure to keep them out of the reach of children.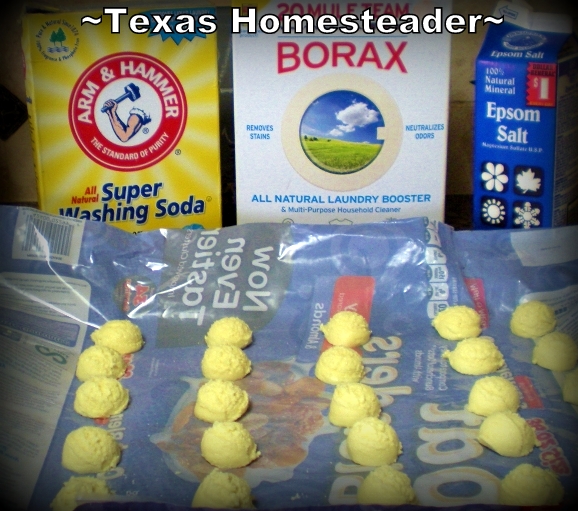 When these tabs dried they were very hard, but they dissolved just fine during the dishwasher cycle.

They worked just as well for me as some of the more expensive name brands that I'd tried. So I'm pleased with the results, the lack of landfill trash – and the PRICE!
The * Finish Dishwasher Tabs
still worked better at removing the white film on my glasses so I'm not through experimenting with this recipe. But in the meantime these homemade dishwasher tabs are quite a money saver. And I always have the ingredients to make them!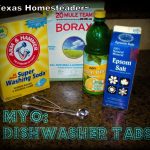 MYO Lemon Dishwasher Detergent Tabs
I make my own dishwasher tabs with common household ingredients. #TexasHomesteader
Ingredients
Ingredients:
1

Cup

Borax

1

Cup

Washing Soda

1/2

Cup

Epsom salt

10

Tablespoon

Lemon Juice
Instructions
Directions:
Mix the dry ingredients in a bowl. Add 8-10 Tablespoons of lemon juice and mix thoroughly. (You want the consistency to be like a smooth thick icing.)

When you achieve the desired consistency place tablespoon-sized drops on waxed paper and allow to dry thoroughly.
Recipe Notes
I used a cookie scoop to make the tabs. I flattened the prepared scoops just a bit so they would fit in the dishwasher detergent compartment on my dishwasher.
~TxH~
Want To See Our Natural Cleaning Posts?
C'mon by & sit a spell! Come hang out at our Facebook Page. It's like sitting in a front porch rocker with a glass of cold iced tea – lots of good folks sharing! You can also follow along on Pinterest, Twitter or Instagram.
If you'd like to receive an email each time a new blog post goes live it's EASY to
Subscribe to our blog!
* A word about our Affiliate Link – We are currently enrolled as an Amazon Affiliate. Occasionally I will insert an affiliate link into one of my posts if I think it may be of interest to you. I receive nothing from the manufacturer, but I love Finish tabs & thought you might too. If you click on any of my affiliate links and buy something (almost anything, not just what was linked) I get a small referral percentage from Amazon. But here's the really important part – the price you pay for your items is UNCHANGED.
When you buy something through the affiliate link it's a great way to support this blog without anything coming out of your pocket so please click often!