by Texas Homesteader
*affiliate link
Several years ago we moved to the homestead and opted not to hire a trash service to haul our trash to the landfill. It was easy for us since we'd been working for years at reducing our trash output.
Those efforts combined with recycling, re-purposing and composting means we had precious little trash destined for the landfill anyway. There are many ways we accomplished this trash reduction. But today I'll be looking at one of the easy ways I reduce trash in the kitchen.
RancherMan & I enjoy microwave popcorn. But although those little 3-pack boxes we used to buy at the store were cheap, they were packed with non-recyclable trash to be thrown away.
After three quick servings we would have not only the box but individual plastic wrappings and all those crinkly popcorn bags left over.
But I like the convenience of popcorn in the microwave. Is there any way to enjoy it without all that trash?
As a matter of fact there IS!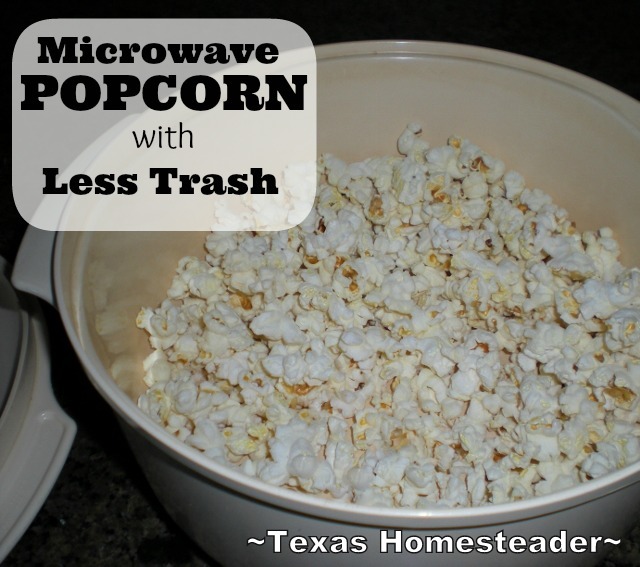 Microwave Popcorn – No Trash!
I bought a large microwaveable bowl at a yard sale years ago & I've used it lots. It works really well for making microwave popcorn, although I'm searching for a microwavable glass bowl option in the future.
I've been buying my popcorn kernels at Winco Foods. They've got a few bulk bins so our trash-free popcorn costs a measly $0.77/lb! That's a lot of popcorn snacking for very little money.
The last time I purchased it, I simply used my *Fabric Produce Bag to hold it. But at almost 7 lbs it was aaaaaalmost asking a little too much of that little bag! LOL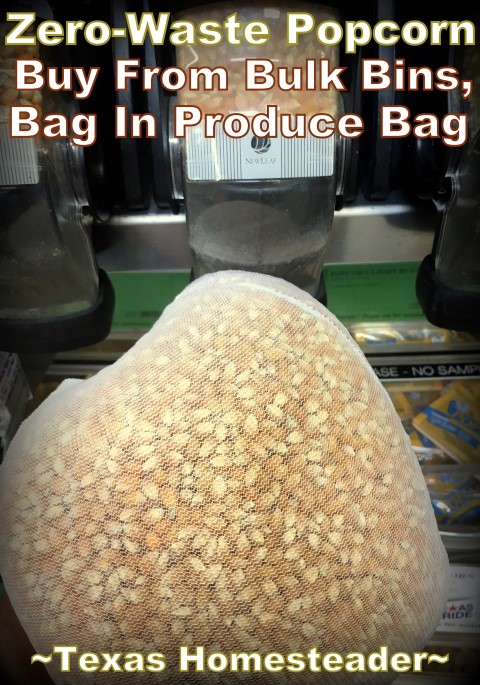 When I took it to the cash registered I presented my phone screen with a photo of the bulk bin information for the cashier. I didn't need to write it down on anything that needed to be thrown away later. Yea!
Storing Popcorn Kernels In Repurposed Jars
I store my popcorn kernels in repurposed glass jars. I even made a cute custom label using only my laser printer and a piece of ordinary shipping tape.
(I think this is so cool, y'all!)
A Little Goes A Long Way!
To make my popcorn I pour a tiny 1/4 cup of popcorn kernels into the bowl. Sometimes I add about a teaspoon of olive oil. My microwave has a popcorn sensor setting. So after putting the lid on my bowl I stick it in the microwave, push that button & wait.
I'll let it pop until the popping slows down to about 1 per second. I've found that my popcorn usually needs about 30 seconds longer than the pre-programmed setting allows to pop most of the kernels. So after the timer goes off I add about 30 seconds & listen.
When the kernels are popping about 1 per second I stop the microwave & bring out my bowl of hot delicious popcorn.
If I'm enjoying it by myself I'll snack on it just like this for a low-calorie treat.
But if I'm sharing with RancherMan I'll use my *Misto sprayer of olive oil & add a sprinkling of salt to season it more to his palate.
In the past I've also seasoned with garlic salt, Cajun seasoning or some other spice blend for a little more punch.
Microwave Popcorn Can Be CHEAP!
The beauty is that my full bag of popcorn kernels cost less than $1 per pound. Using a tiny 1/4 cup of kernels per serving I can make many more servings of popcorn than those commercial boxes of popcorn with their non-recyclable weird popping bags.
And unlike those commercial boxes of microwave popcorn there's no trash to throw away!
We can all learn from each other – how do YOU reduce the waste your family produces?
~TxH~
Links In This Post:
Other Low-Waste Stories
C'mon by & sit a spell! Come hang out at our Facebook Page. It's like sitting in a front porch rocker with a glass of cold iced tea – lots of good folks sharing! You can also follow along on Pinterest, Twitter or Instagram.
If you'd like to receive an email each time a new blog post goes live it's EASY to
Subscribe to our blog!
*Amazon affiliate link
Save
Save
Save