by Texas Homesteader
Do you ever wonder if it's worth the effort to repair something instead of just chunking it away and buying a new one? Recently I was quickly running an iron over the fabric to press the wrinkles out of a blouse and I noticed that the iron wasn't getting as hot as it should. I further noticed the cord was a little worn.
Now an iron isn't very expensive but I hate the thought of throwing away one thing so I can buy the very same thing to replace it. So I asked RancherMan to repair my iron for me. Oh yeah,  RancherMan is the king of repairs around our house! These plugs cost only a couple of dollars and he had the iron repaired and working like new in less than 5 minutes. I now have a reliable iron again and nothing went into the landfill!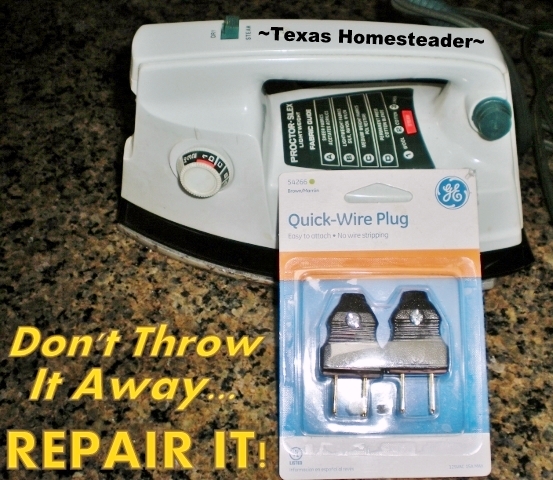 Easier (and More Expensive) To Just Replace
Of course the easiest thing to do is just throw something away if it gets a little worn or doesn't seem to be working just right. But it's not good for the budget and it's certainly NOT good for the environment! Oftentimes it's such a simple fix that takes mere minutes of your time.
Of course if a repair is over your level of expertise it's always best to consult a professional repairman. But often typical household repair needs are quick, simple & very inexpensive.
Doing The Math
Check this out – a few days ago the nylon retainer nut on my Braun coffee grinder started cracking. I contacted the manufacturer for advice. When they finally got back with me the representative recommended throwing away my grinder and buying a new one. In her words
"we don't have that part to send you & taking it to a small-appliance repair shop to have that part replaced will cost you about $40, you might as well spend $70 and buy a new one".
Anyone else see the math flaw here??! As a matter of fact since you can easily search for almost anything online, RancherMan quickly researched, found the part we needed and arranged to have it shipped to our home for less than $6!
When this part was received he simply replaced the broken retainer nut with the new one & I'm back in business. Nothing hits the landfill and I've saved that $70 it would have cost to buy a new one!
I'm trying to live by the Refuse, Reduce, Reuse, Repurpose, Recycle mindset and these quick inexpensive repairs certainly fit into that lifestyle!
~TxH~
Other Low-Waste Stories
C'mon by & sit a spell!  Come hang out at our Facebook Page. It's like sitting in a front porch rocker with a glass of cold iced tea – lots of good folks sharing!  You can also follow along on Pinterest, Twitter or Instagram.
If you'd like to receive an email each time a new blog post goes live it's EASY to
Subscribe to our blog!
Thank you my friends for your interactions throughout the year, it means more than you know.  (hugs)