by Texas Homesteader ~
I've always had an environmental bend. Being gentle on Mother Earth has just been a part of me for as long as I can remember. But the beautiful thing is, oftentimes those same eco-friendly moves can save some cold, hard cash too.
And so many people right now are doing all they can to be mindful with their money in these uncertain times. So I thought it would be fun to share 5 frugal things we did this week to save money (and the environment!)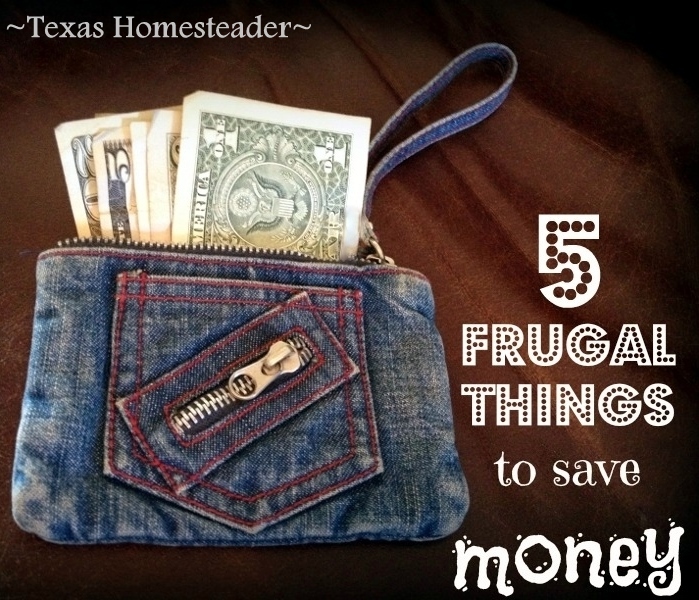 1) Making Staples At Home
With this shelter-in-place order, there's  LOTS of money being saved in our home. One of the biggest ways is my ability to keep RancherMan supplied in homemade bread. I have a 25-lb bag of all-purpose flour in the freezer that I've been using to whip up his Honey/Oat Bread.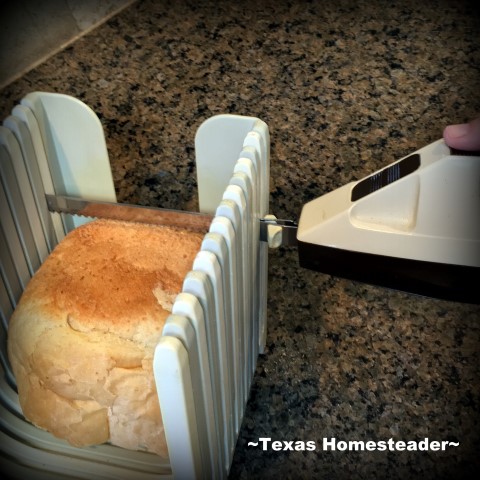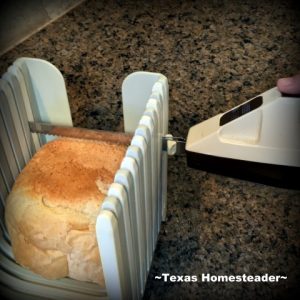 I also use it to make homemade Mix-n-Pour Tortillas, homemade crackers, desserts and more. Making these things from scratch is easy and significantly cheaper than buying them pre-made in the store (if you can even find them in the stores these days)
2) Planned Leftovers
In the same vein, cooking from scratch has saved bunches of money too. But wanna know a secret? I don't enjoy cooking, y'all. (shhhhh…)
So I'm using Planned Leftovers to streamline my time cooking (and CLEANING) in the kitchen. For instance I cooked a large amount of ground meat with onions with no other seasoning other than salt & pepper. I stored it all in the refrigerator for use throughout the week.
One day I pulled out some of the cooked meat, seasoned it with Italian seasonings and stuffed it into hollowed-out zucchini & baked zucchini boats.
Another day I pulled out more of that cooked ground meat, seasoned it with Taco Seasoning and whipped some Corn Tortillas and we had tacos for supper.
With the leftover Mexican-seasoned meat I decided to roll it into tortillas, add some chili & cheese on top we enjoyed enchiladas for another night's meal.
The rest of the meat was used as the meat portion of our Egg Muffins. That's where I scramble eggs, cheese and some sort of meat (sausage, bacon, smoked ham or this ground meat) and bake it into an all-in-one breakfast muffin.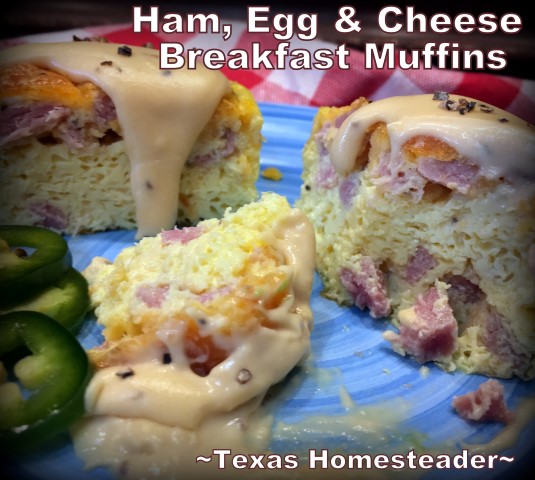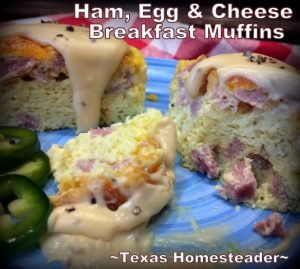 You get the drift. All different meals, but the meat portion has already been cooked. That means less time in the kitchen cooking and cleaning. Yea!
3) Hummingbirds
This is the time of year the hummingbirds make their appearance in our area of NE Texas. When we noticed them coming around we put our hummingbird feeder out.
But we don't have to use that commercially-purchased hummingbird food entombed in a plastic pouch, oh no!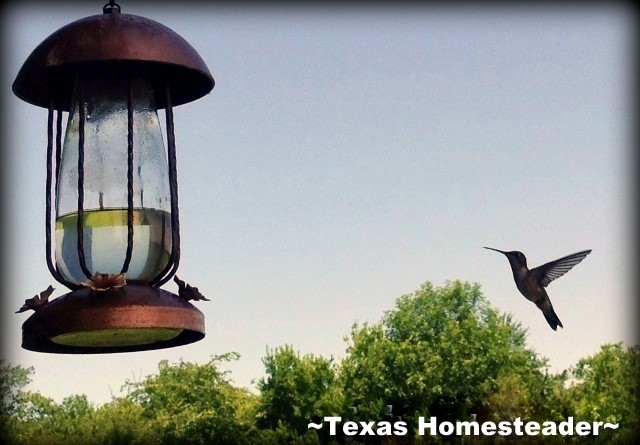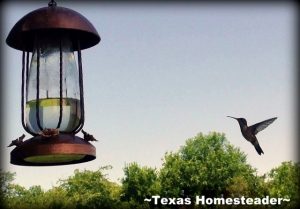 For years we've made our own hummingbird food. And it's super cheap – only sugar and water and takes mere minutes to make up!
4) Pollinator Garden
I have a landscaped bed in front of our house. When we moved here years ago I planted evergreen ground-covering juniper here, hoping it would be a maintenance-free evergreen bed. But it was time for a change, and I wanted to turn it into a pollinator garden for our bees.
So cleared this bed down to the soil. Then I rounded up as many cardboard boxes as I could and laid them on the soil to squelch weeds and make maintenance a little easier. But cardboard is ugly y'all! So RancherMan & I obtained Free Wood Mulch and spread it over the cardboard.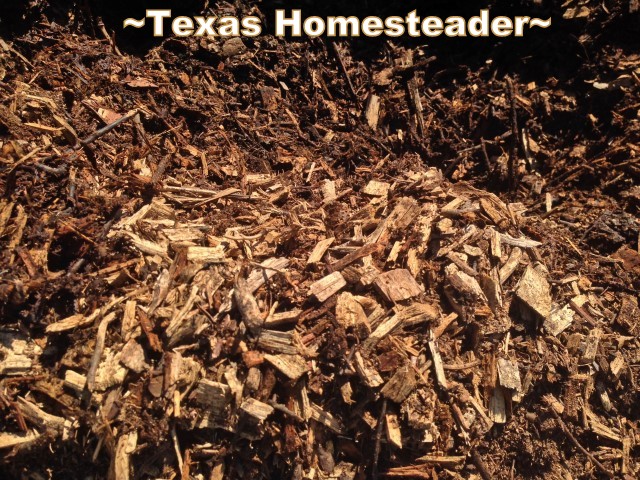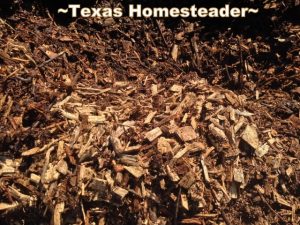 Aaaaahhhh – looks much better. Now to get to planting!
5) Scoring New Plants
With the shelter-at-home order in place, I'm limited when it comes to buying plants. I decided this first year would be all about relocating what I already have into this bed.
So I started off by relocating a volunteer beauty berry bush here. The bees love the blooms, it's clusters of purple berries along each stem is pleasing to the eye and then in the winter when food is scarce the birds love to eat the berries. It's a win all the way around!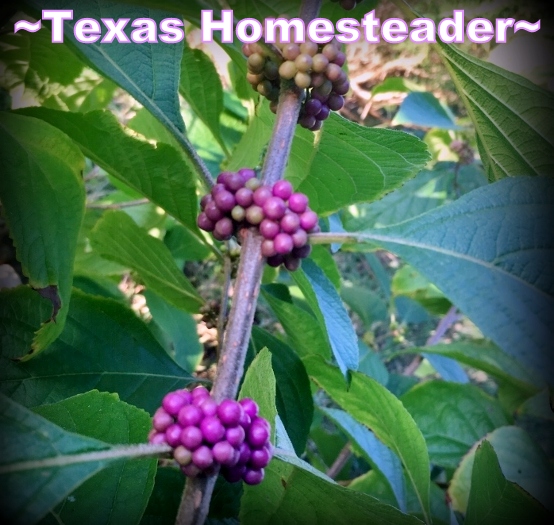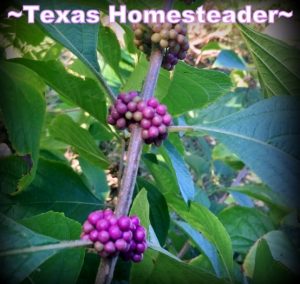 Let's see, what else do I have? My SIL shared a small portion of Vinca from her garden beds. I've never grown it before but it's a delightful ground cover and the bees love the blooms so I've added it to this bed.
I also found several volunteer starts of basil, so I'll dig up several and plant them here in a pretty grouping too. Of course I'll harvest a small portion of the basil for our own use, but the bees absolutely love basil blooms!
And More
That's a small sampling of frugal moves we made this week. But we also captured a bee swarm and added the swarm to our own apiary.
And as I mentioned earlier, I used up many of the excess eggs our free-range chickens are giving us by cooking Egg/Ham/Cheese muffins. And in true Cook-Once, Eat-Twice manner, I made LOTS and stuck some in the freezer for heat-n-eat convenience later too.
And I made Homemade Hummus & we enjoyed it with carrot sticks until we ran out of carrots. Not wanting to go to the store and also not wanting to waste food, I whipped up a batch of Homemade Crackers to finish off the hummus. Quick, easy and no waste!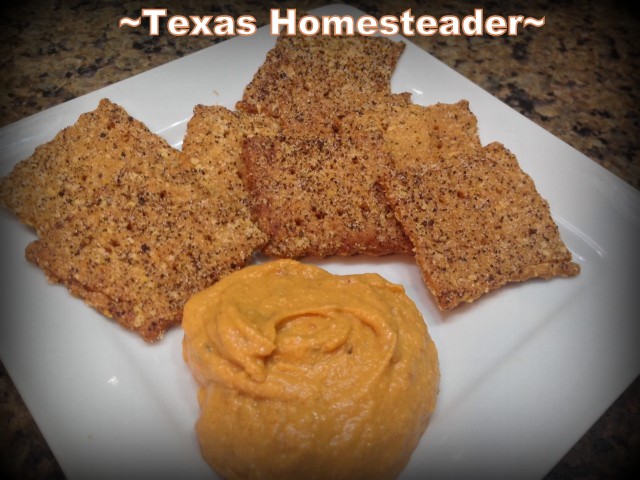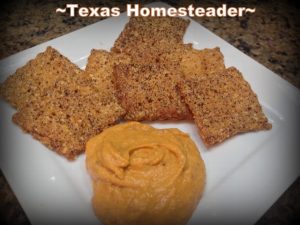 And one night when a rogue cold front came through, RancherMan strolled into the pasture to a tree we'd previously felled and chopped into logs awaiting splitting & stacking.
He used a hand-splitter and split enough wood for us to build a nice, warming fire in our cast-iron fireplace. We love heating our home without resorting to purchased fuel when at all possible. And who doesn't love a cozy fire?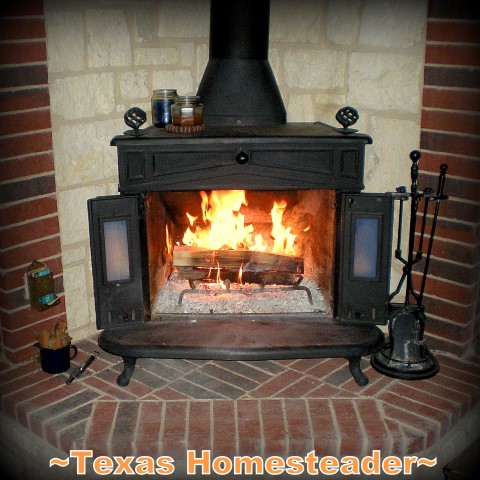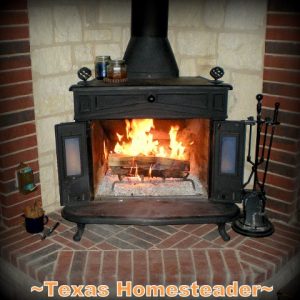 How about you? Are you finding frugal ways to spend your days at home during this lock-down?
~TxH~
Other Frugal Tips
…and many MORE!


C'mon by & sit a spell!  Come hang out at our Facebook Page. It's like sitting in a front porch rocker with a glass of cold iced tea. Lots of good folks sharing!  You can also follow along on Pinterest, Twitter or Instagram.
If you'd like to receive an email each time a new blog post goes live it's EASY to
subscribe to our blog
Save