by Tammy Taylor
*contains an affiliate link
WHEW, the temps & humidity have really spiked here in NE Texas. My veggie garden is still trucking along just fine but for some reason it's been hampered in providing me with very many edible veggies. Oh yeah sure I've picked a few jalapenos and a shriveled banana pepper for our pizza one night, but it's June & I should be up to my eyebrows in fresh produce. Still I'm pretty excited about some of the happenings in the garden, c'mon through the garden gate and check it out!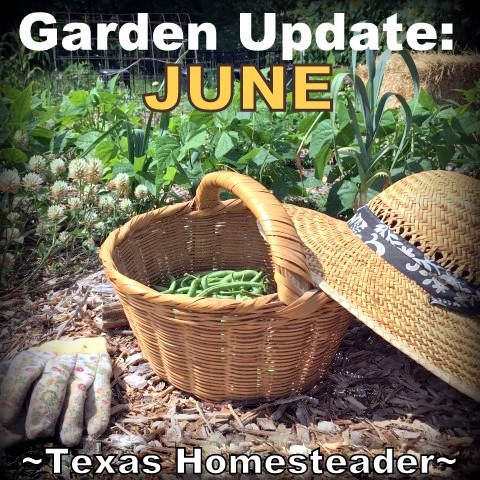 Well, we knew it was coming but one day last week it happened – every grasshopper in the state of Texas apparently descended upon our ranch. I'm not kiddin' here – walking across the pasture will disturb a massive cloud of them in front of you – it's surreal.
I asked around to make sure no horror movies depicting the destruction of grasshoppers were being filmed in our area, but alas – no. I know nature will tilt the balance back with the birds coming to eat the excess grasshoppers but you know how the old-timers will tell you "Well at least a bad winter involving several occurrences of consecutive days below freezing will kill off many of the pests for the summer"?
Well I'm calling old wives tale on that one – I've never seen such grasshopper pressure, even with the record-breaking cold & icy winter we endured! Those grasshoppers descended upon my garden with a vengeance, damaging each & every plant in it. For some reason they focused on my dulce peppers & and ate them all the way to the stems. Thankfully the plants are trying to recover and adding back some new leaves.
I'm not sure why the grasshoppers have for the most part bypassed my bell pepper plants but I'm grateful for it. I've not been successful with bell pepper transplants for several years in a row and for some reason the plants have really taken off this year which I'm thrilled about, although in June I'm just now getting some marble-sized peppers on the plants. Hopefully soon I'll be harvesting a basketful of those peppers that I crave.
Onions
My onions are certainly ready to harvest now. Up until now I've held off harvesting any onions that I wasn't using right away but I think the time has come to go ahead & pull these babies, chop 'em up and either dehydrate or freeze them for later use. That should free up some garden space for planting other veggies. Hummm… Wonder what would be a good thing to plant this late in the growing season?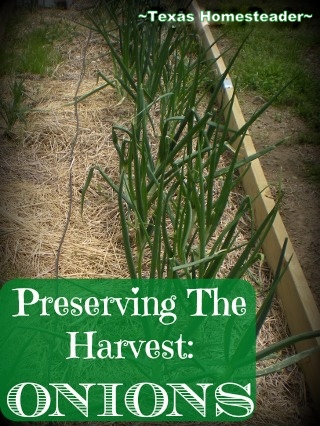 I have harvested quite a few garlic bulbs recently. When I pulled them out of the garden to cure I set them aside & will allow them to dry on the back porch for several days before hanging them up in my pantry for dry storage. (I wrote last year about how I preserve garlic.) I'll typically save the largest bulbs to replant this fall for next year's crop.
Compost Volunteer Plant
My compost volunteer plant this year is still a mystery. Judging by the size & shape of the leaves I'm pretty sure it's going to be cantaloupe again but whatever it is there's certainly a large crop of it growing from my compost use. As a matter of fact, about everywhere I dropped a handful of compost in the ground before planting a seedling, these vines popped up.
And they're EVEN IN MY COMPOST ITSELF! Although those vines are going crazy I've decided not to pull them up just yet from my compost area. Sometimes it's just fun seeing these hardy plants making a run for it, don't ya think?
Pumpkins, Squashes & Luffas
Let's see, what else? My pumpkins are vining away and blooming prolifically but no pumpkins started yet. And my spaghetti squash is doing about the same, vining away but as of yet no veggies produced. My luffa plants are finally producing a couple of luffas which I'm pretty excited about
Herbs
And the oregano – oh my, I've never been quite so successful as this huge mound of oregano that's grown from the tiny plant that I planted last year. It even survived our brutal winter. I've been harvesting and drying loads of it for future use and now it's blooming, which I hope means it's happy right where it is.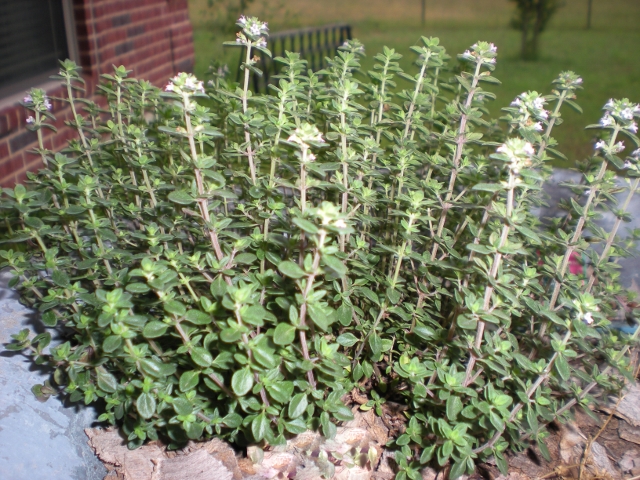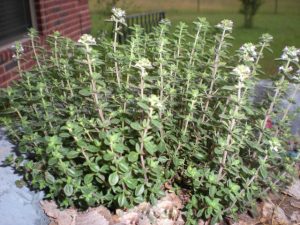 Heirloom Tomatoes
My heirloom tomatoes (San Marzano paste tomatoes) are of course going crazy. I'll never plant another type of tomato than my ole trusty San Marzanos. I use the tomatoes in so many ways such as blender salsa, tomato sauce and even pasta sauce .

I'll be sure to preserve some for future use by using my * Excalibur Dehydrator
to dehydrate the excess, and by canning or freezing some of course for future use. San Marzanos are such a prolific producer that the few plants I have will produce all we can eat and all I can preserve – I can't say enough about them. This year's garden plants were grown from seeds I saved from last year's crop and since they're heirlooms they always come back true.
Using Leaves For Mulch
And this year I've changed up my mulching procedure. Recently our church did a complete clean-out of their landscaping beds and there were bags and bags of leaves from their huge Live Oak trees. I begged offered to take the bags home with me so the church wouldn't be left wondering how to dispose of these mammoth bags of leaves.
I left some of the leaves in the bags for a few weeks in that hot Texas sun and the leaves are breaking down beautifully right there in those black bags. The rest of the leaves I went ahead & poured thickly on my raised beds. They work perfectly to keep the soil cooler and to preserve the moisture.
Grass and weeds are easier to pull by the roots through this thick layer of leaves, and as the leaves decompose they'll further enrich my garden soil. I'll be sure to beg help the church out every spring by taking these huge bags of leaves off their hands.
Another ground cover I'm allowing in the garden has been identified by our extension agent as purslane, a very hardy and edible, nutritious plant. I happen to love the way it looks too so I'm letting it cover the ground between plants.
And of course there's the star of the show – my cucuzza plant, a squash-like plant that grows amazingly fast & produces excessively a veggie similar to a curved zucchini. I planted one on either side of the garden entryway gate and they've grown up the metal and even over the top, which of course I expected.
If the predictions are correct I'll also be able to grow it along the fence that is on either side of the entry. AND I've read that the leaves are edible too, chopped & boiled & eaten like spinach. Oh yeah, now that's a great way to enjoy more greens in our diet since this baby grows FAST!
I've been beyond anxious to see those cucuzza veggies produce but until now it's always been those tiny startlings at the end of a blossom that fall off in a few days and never really make a viable vegetable. But it looks like the tide is changing and I should have some cucuzza growing soon – I can't wait!
Oh there's so much more to tell but I'm running out of room! The Reader's Digest version: I've been tying up my blackberry vines so they'll grow along the fence and not touch the ground to root to become a nuisance. And my Concord grapevine is putting on more grapes than it ever has. I'm hopeful I'll be able to harvest enough to make my own grape jelly, as the flavor of these grapes is very powerful. The jalapeno plant that RancherMan & I dug up last fall before the first frost has taken off and produced a few jalapenos, although the plant is now loaded and I'll have jalapenos coming out of my ears in no time. The leeks are about done and I'm not really sure how to harvest/store/preserve them since I've never grown them before. Does anyone have any suggestions? And the edible landscape at my front 'flower bed' is doing great. I've also heaped on those leaves for a great mulch in that area and there are many different herbs growing very well there – more oregano (what can I say, I love the look of it) and basil, sage and thyme. Oh how I love it!
OK, I'll hush up now. WHEW! Can you tell I get excited about my garden? So now it's your turn – how's your garden growing these days?
~TxH~
C'mon by & sit a spell! Come hang out at our Facebook Page. It's like sitting in a front porch rocker with a glass of cold iced tea – lots of good folks sharing! You can also follow along on Pinterest, Twitter or Instagram.
If you'd like to receive an email each time a new blog post goes live it's EASY to Subscribe to our blog!
*Amazon affiliate
* A word about our Affiliate Link – We are currently enrolled as an Amazon Affiliate. Occasionally I will insert an affiliate link into one of my posts if I think it may be of interest to you. I receive nothing from the manufacturer, but I love this Excalibur dehydrator & thought you might too. If you click on any of my affiliate links and buy something (almost anything, not just what was linked) I get a small referral percentage from Amazon. But here's the really important part – the price you pay for your items is UNCHANGED.
When you buy something through the affiliate link it's a great way to support this blog without anything coming out of your pocket so please click often!
Save
Save