by Texas Homesteader ~
Well, where to start?? This year my garden has struggled. Hard. It started by a bull jumping my garden fence and tromping the tenderly transplanted seedlings to the ground. Not to be deterred, I replanted by seed. A late start, yes. But I just have to have my garden!
But spring skipped us. I mean ALL of it. We got no storms as is typical in our NE Texas spring season, but we got no rain either. Then the heat & humidity of our summers hit – again with no rain. It's a sad thing, but I'm making adjustments to try to squeak by.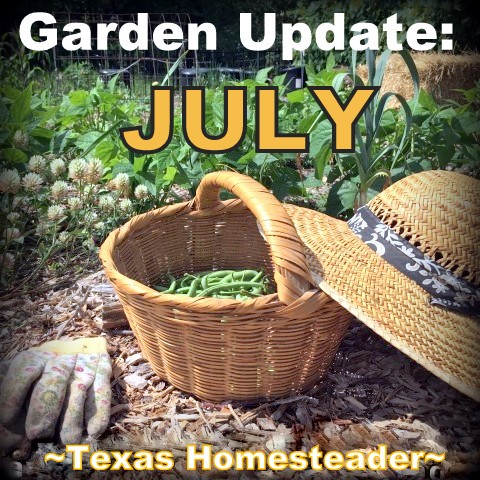 With a drought, oftentimes we struggle with grasshopper damage. Master Naturalists have explained to me that when the spring rains come, it often washes away many of those pesky grasshopper eggs. But without the spring rains, they ALL hatch instead! And the hordes have certainly descended upon us.
I was able to harvest some of our green beans last month to enjoy, but the grasshoppers have now eaten the plants to the stems…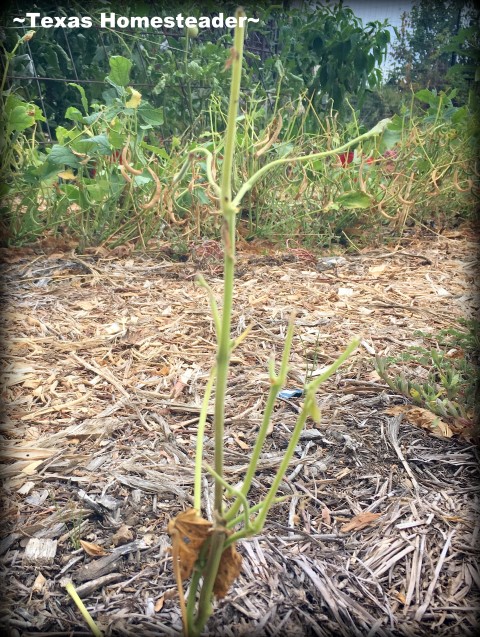 So I cut the green bean plants to the ground and laid them over the planting rows. The roots of my green beans are still serving the soil by way of nitrogen, and the plants laid over onto the soil helps cover it. Nature abhors a vacuum and bare soil will be covered by her one way or the other – oftentimes that means weeds.
Focus On Garden Survivors
Since we're not getting rain, I'm trying to focus on the few things remaining in the garden. I still have water in the underground cistern to keep some of the plants irrigated. But when the cistern runs dry it's my cue to give up on the garden. As anyone who's ever gone through a drought knows, you can't pour enough water on a plant during those times. The parched ground wicks it away as soon as it's received!
So right now I'm focused on the zucchini, yellow squash and pumpkin, along with the tomatoes, bell, Anaheim and poblano peppers. After I water the garden I'm using this Homestead Hack at the base of my plants to keep a drip of water at a time going to them So far although they're struggling, they're still alive. Time will tell – we're praying for rain!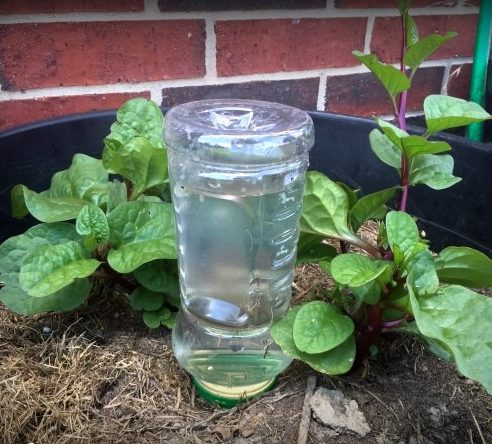 There is a surviving volunteer cantaloupe vine that's actually provided me with a single sweet, juicy cantaloupe to enjoy. That may be the only one I get from it, but at least the vine is also helping to cover the soil as long as I can keep it alive.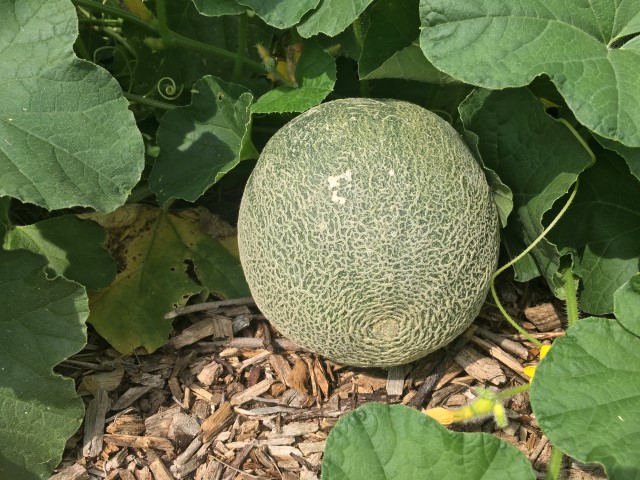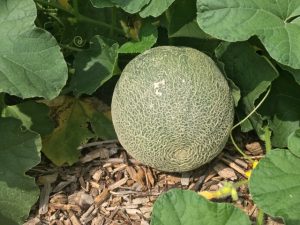 I've harvested a couple of very small tomatoes but when it's this hot & dry it's hard to get the plant to set fruit. Same thing with the peppers. My herbs planted in my Edible Landscape are doing reasonably well and I'm able to harvest them occasionally.
But as much as I hate being a Debbie Downer, unless we get rain soon my garden will be done for the year. I may attempt to plant a fall garden but with my severe ragweed allergies that's always hit & miss too since there's no way I can keep it watered. If Mother Nature keeps it watered for me during ragweed season I can have a successful fall garden. But she's not been doing a very good job of that this year so…
Hopefully your garden's doing better. What's growing in your area and what are you harvesting? Maybe I can live vicariously through your garden instead!
~TxH~
C'mon by & sit a spell! Come hang out at our Facebook Page. It's like sitting in a front porch rocker with a glass of cold iced tea – lots of good folks sharing! You can also follow along on Pinterest, Twitter or Instagram.
If you'd like to receive an email each time a new blog post goes live it's EASY to Subscribe to our blog!