by Texas Homesteader ~
Planting and harvesting from our vegetable garden each year is important to me. You too? Come see how our garden is faring in these hot, dry summer months.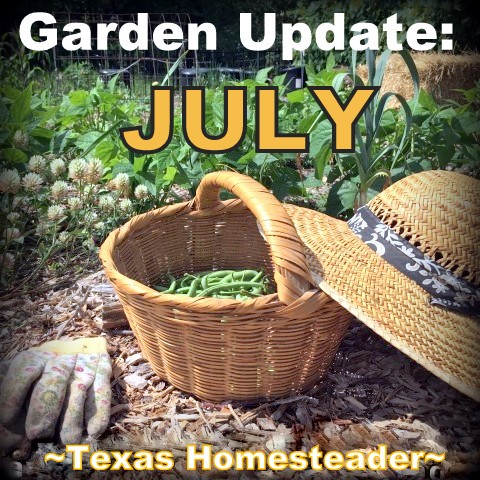 Garden Planting Problems
Well, where to start?? This year my garden has struggled.
Hard.
A family illness distracted me from planting my Indoor Greenhouse as I usually do in the late winter months. So I had to plant seeds directly in the garden this year.
Is planting directly in the garden after the last frost a late start? Yes indeed. But late start or not – I just have to have my garden!
Then after the garden was planted, spring skipped us. I mean ALL of it. We got none of the storms typical in our NE Texas spring season. Of course we could do without the storms for sure, but we got no rain either.
Then the heat & humidity of our summers hit – again with no rain.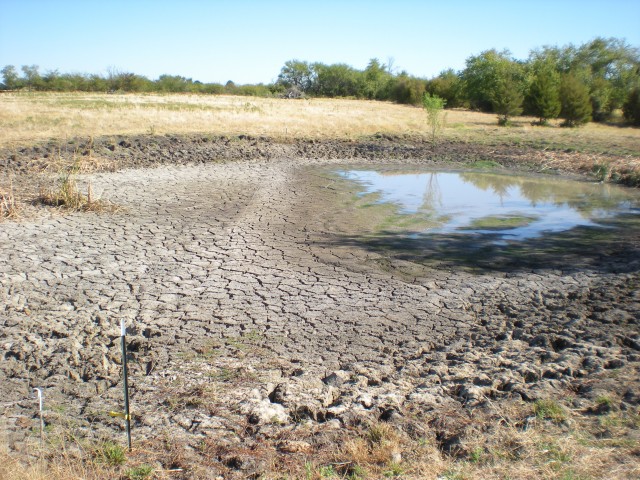 Temps this week have been setting records, and are over 100 degrees every day. Even up to 109! And there's no rain in sight in the extended forecast.
Keeping The Garden Watered During Drought
We've slipped into another severe drought. With this kind of heat & no rain I'm trying to make adjustments to try to squeak my garden by.
Heavily mulch around plants to conserve moisture & moderate soil temperatures.

Incorporate Living Mulch where possible.

Deep-soak watering during morning hours

Water conservation steps to save water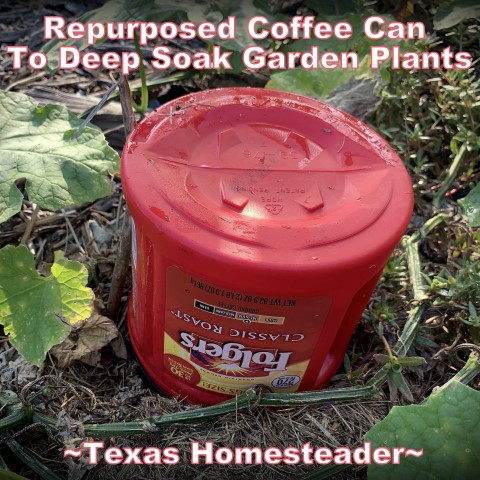 There are various ways I Keep The Garden Watered During Drought. I'm pulling all the tricks out of my hat to try to keep the garden alive.
But it's not just hot & dry days taking aim at my garden this year…
Why Grasshoppers Are More Numerous During Drought
Oftentimes we struggle with significantly increased grasshopper damage when we're going through a drought.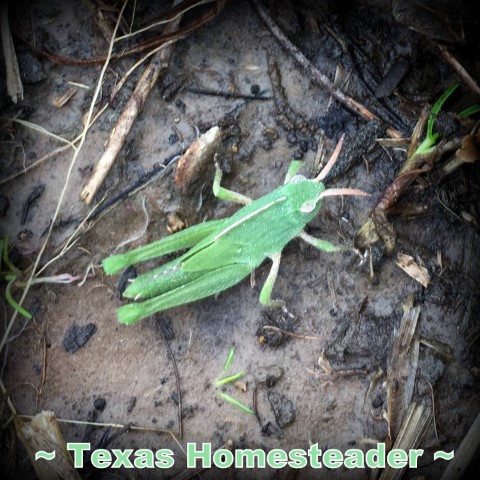 Master Naturalists have explained to me that spring rains often wash away many of those pesky grasshopper eggs.
But without the spring rains, ALL those grasshopper eggs hatch instead! And the hordes have certainly descended upon us.
I'm aided somewhat by allowing our chickens to free range during the afternoons. They go after the grasshoppers like crazy.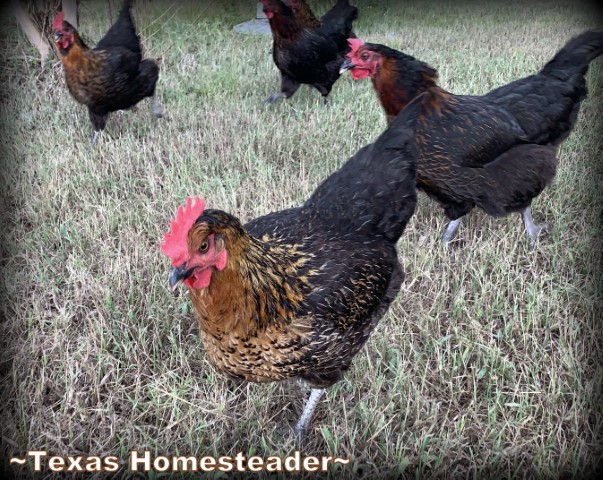 Not only does that help my garden, but it lowers my chicken's feed bill since they're 'hunting' some of their food for themselves. Plus it's a healthier diet for the hens and gives them plenty of protein to produce healthier eggs.
Focus
Water
On Garden Survivors
Since we're not getting rain, I'm trying to focus watering only on a few things in the garden.
I still have a small amount of captured rainwater in the Underground Cistern to keep some of the plants irrigated. But when the cistern runs dry it's my cue to give up on the garden.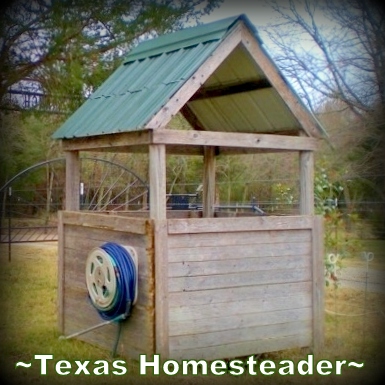 As anyone who's ever gone through a drought knows, you can't pour enough water on a plant during those times. The parched ground wicks it away as soon as it's received!
To make the cistern water last longer I'm watering every other day and only focused on the tomatoes, peppers, cantaloupe, herbs and my Concord grapevine.
Keeping Potted Plants Watered During Drought
After I water the garden it's time to water my potted plants too. I'm using this Homestead Hack at the base of my potted plants to keep a slow drip of water going to them.
It's the same premise as the coffee canister method in my garden. Water slowly drips and waters right at the plant's roots. Less water wasted, more water properly delivered.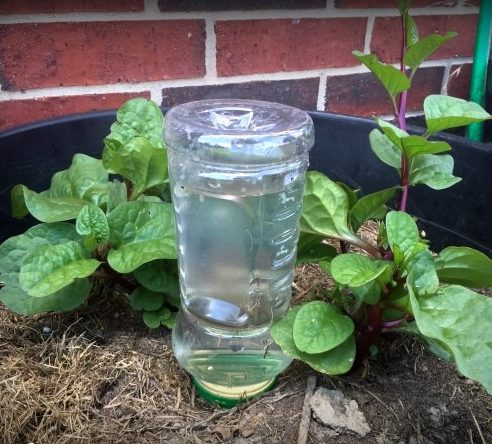 So far for the potted plants – although they're struggling, at least they're still alive. Time will tell. We're praying for rain!
What I'm Harvesting In My Garden During Drought
Even with the doom & glooms, there are some gardening bright spots. I have a surviving cantaloupe vine that's actually provided me with a couple of sweet, juicy cantaloupes to enjoy.
Those may be the only ones I get from it, but the vine is also helping to cover the soil as long as I can keep it alive. I'm using that plant as Living Mulch.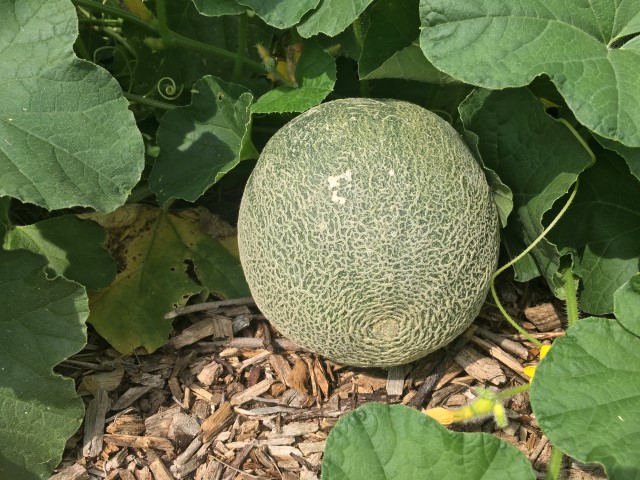 I've harvested a few small tomatoes too. But when it's this hot & dry it's hard to get the plants to set fruit. Same thing with the peppers.
My herbs planted in my Edible Landscape are doing reasonably well and I'm able to harvest them occasionally. And my stevia is still growing well too.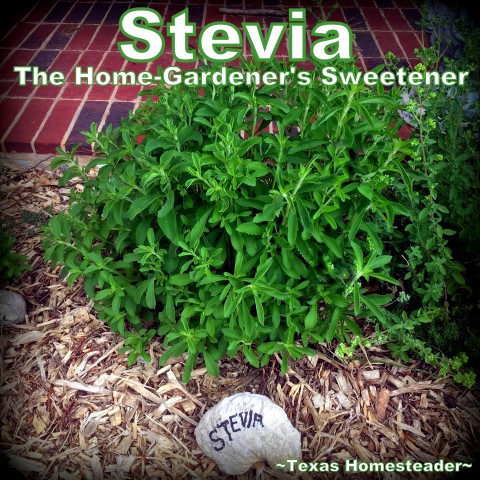 So I'm still Harvesting & Drying Stevia to use for the rest of the year. I love growing my own sugar-free sweetener!
How Long Will My Garden Survive In Drought?
As much as I hate being a Debbie Downer, unless we get rain soon my garden will be done for the year.
I may attempt to plant a fall garden, but with my severe ragweed allergies that's always hit & miss too since there's no way I can keep it watered.
If Mother Nature keeps it watered for me during ragweed season I can have a successful fall garden. But so far she's not been doing a very good job of that this year so…
How's Your Garden Doing This Summer?
Hopefully your garden's doing better. What's growing in your area and what are you harvesting? Maybe I can live vicariously through your garden instead!
~TxH~
My Favorite Garden Hacks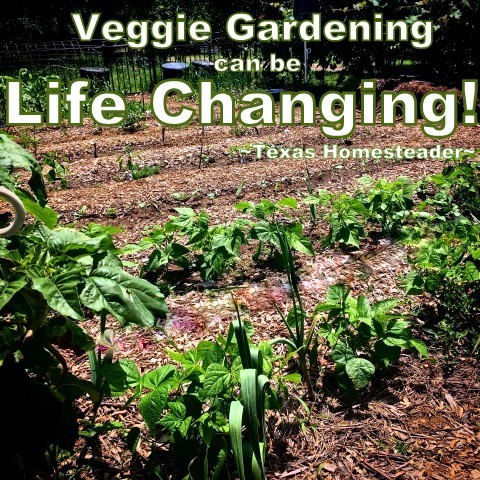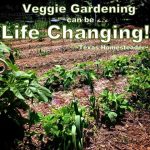 C'mon by & sit a spell! Come hang out at our Facebook Page. It's like sitting in a front porch rocker with a glass of cold iced tea – lots of good folks sharing! You can also follow along on Pinterest, Twitter or Instagram.
If you'd like to receive an email each time a new blog post goes live it's EASY to
Subscribe to our blog!