by Texas Homesteader ~
Beef stew is a comfort food for sure. And I use a simple homemade dry-seasoning mix when I make beef stew, or even to add flavor to hearty soups.
It's comprised of just a few standard pantry ingredients and gives your stew the thick savory flavor you love. Plus it gives you control over salt content too.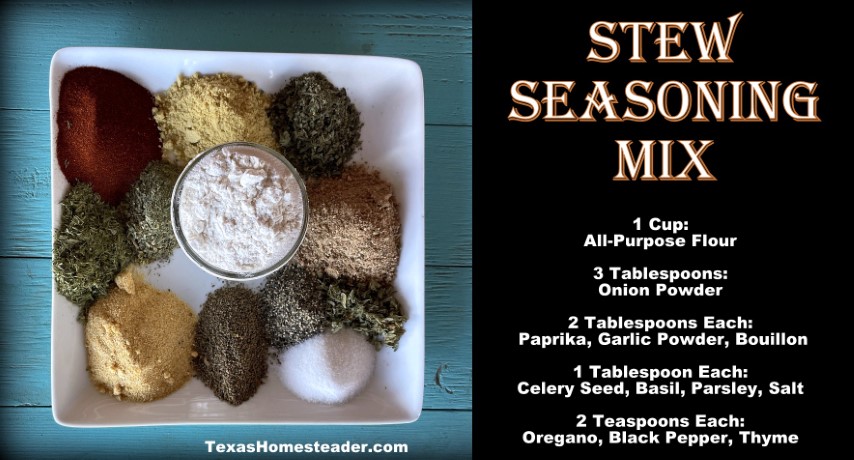 Seasonings That Go Well With Beef Stew
Some of my favorite seasonings for beef stew are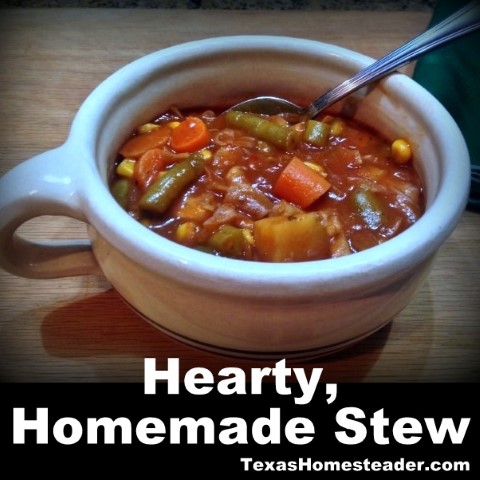 Thyme
Garlic powder
Paprika
Celery Seed
…among others.
But truly, you can add whatever flavor profile you love to your homemade stew. But instead of pulling out those favored flavors, here's an even easier way: Make your own beef stew dry seasoning mix. It's easy!
Beef Stew Seasoning Mix Ingredients
This homemade beef seasoning dry mix is a combination of all-purpose flour and my favorite savory herbs and seasonings for stew: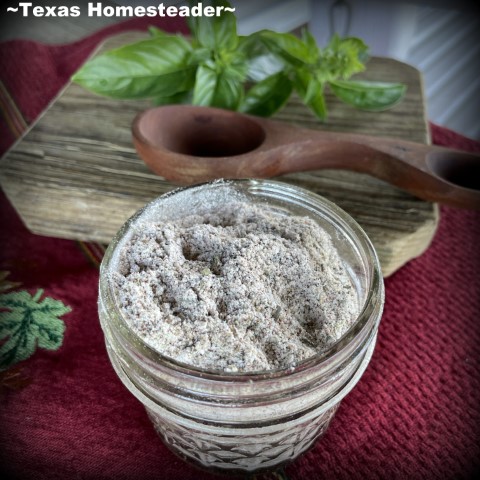 All-Purpose Flour (to thicken the stew)

Onion Powder

Paprika

Garlic Powder

Powdered Bouillon

Celery Seed

Basil

Parsley

Salt / Pepper

Oregano

Thyme
Just mix it all together in a repurposed jar, add a label and you're done! To me it's the perfect mix for hearty beef stew. And it's enough to season lots of stew meat.
No more wasting time measuring out herbs and seasonings, just add a couple of tablespoons of this pre-mixed dry seasoning per pound of dry meat and you're cooking your stew FAST!
How Much Stew Seasoning Mix To Add To Stew Meat?
This dry stew mix is your own convenience mix & it's easy to use. Just coat the stew meat with the dry stew seasoning mix before cooking.
I use 2-3 tablespoons per pound of meat. So my homemade jar of pre-mixed stew seasoning makes enough for approximately 14 pounds of meat.
But to be honest, I often just stir the seasoning mix into the stew as it's simmering. The flour in the mix thickens it beautifully.
How To Make Homemade Stew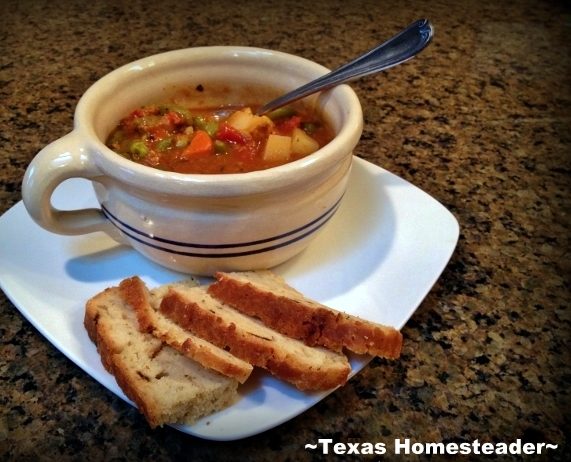 When I'm in the mood for homemade stew I bring out my favorite stew pot and prepare the food.
I typically use about a pound of stew meat. I'll trim the excess fat and cut the meat into approximately ½ – ¾ inch cubes. Then I coat the cubed meat with 2-3 tablespoons of dry seasoning mix.
In my stew pot I add a little oil and sear the meat until brown on all sides.
Then I add Homemade Broth, my favorite chunky stew vegetables and cook the whole thing until the vegetables are tender.
It's an easy, hearty and comforting meal.
What Vegetables Go Well In Stew?
When I'm making homemade stew in my Homestead kitchen I'll add any manner of fresh veggies. But the favorite vegetables I like to add are:
Potatoes
Onions
Carrots
Celery
Tomatoes or Tomato Sauce
Green Beans
Corn

Sweet Peas
How To Thicken Stew
The starches in the potatoes will naturally thicken the stew. The flour in the stew seasoning mix will thicken it some as well. But if you want your stew even thicker there are ways to add extra thickness to your stew:
Mash up some of the softened cooked potatoes into the stew.
Add about 1/4 cup of instant mashed potatoes & stir into stew.
Make a cornstarch slurry using 2 tablespoons cornstarch & 2 tablespoons of water or broth. Stir into the stew & simmer for a couple of minutes as it thickens.
What Adds Even More Flavor To Beef Stew?
You love stew but wonder what you can add to give your stew the most flavor.
A splash of red wine adds a nice depth of flavor.
A bay leaf simmered in your stew and removed before serving.
Just a touch of soy sauce or Worcestershire sauce bumps up the flavor.
A splash of coffee enhances the taste of the beef.
What Goes With Beef Stew?
When making stew I usually like to add bread or crackers.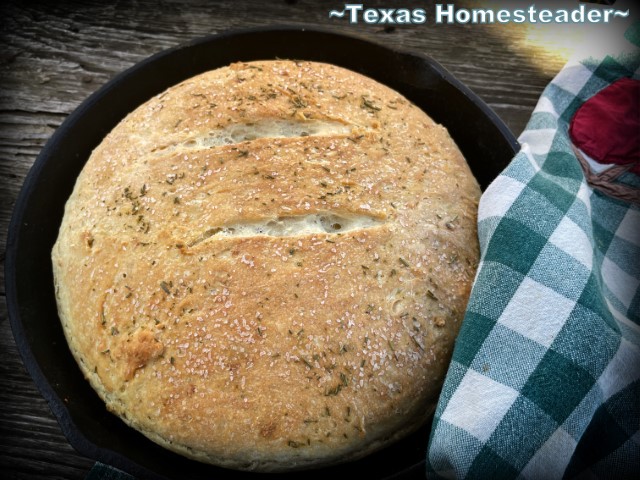 Sometimes I'll add a side such as Flavored Rice or a healthy salad made my my 1-minute Creamy Salad Dressing.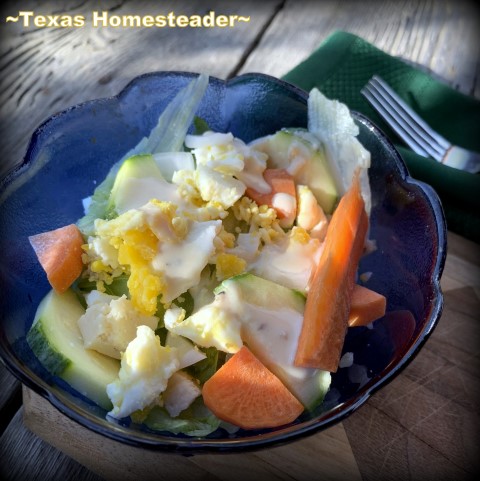 Sometimes a hearty bowl of stew is all we need. So dress it up or not – a hot bowl of stew is always sure to please.
Other Favorite Soup Recipes
A more complete list is at the bottom of this post. Be sure to check it out!
In the meantime, here's the Stew Seasoning Mix recipe I use:
Did you make this Beef Stew Dry Seasoning Mix? Please rate the recipe in your comment below!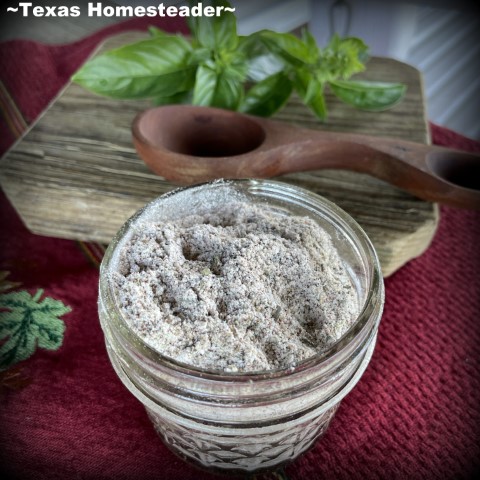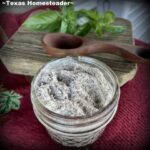 Beef Stew Dry Seasoning Mix
Prep Time 5 minutes Servings 20 servings
Ingredients
Ingredients
1

Cup

All-purpose flour

3

Tablespoons

Onion powder

2

Tablespoons

Paprika

2

Tablespoons

Garlic Powder

2

Tablespoon

Powdered Bouillon

1

Tablespoon

Celery Seed

1

Tablespoon

Dried Basil

1

Tablespoon

Dried Parsley

1

Tablespoon

Salt

2

teaspoons

Black Pepper

2

teaspoons

Dried Oregano

2

teaspoons

Dried Thyme
Instructions
Instructions
Mix all ingredients together until completely blended. Store in lidded container.

To use: Toss stew meat in dry seasoning mix before cooking. (Use 2 to 3 tablespoons of dry stew seasoning mix per pound of stew meat.)
~TxH~
This post categorized in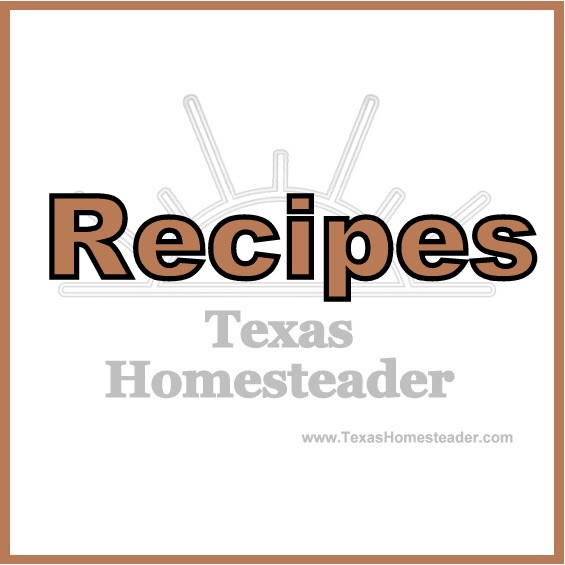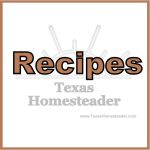 Our Favorite Soups
Soup Tips
Beef Soups
Chicken Soups
Vegetable Soups


C'mon by & sit a spell! Come hang out at our Facebook Page. It's like sitting in a front porch rocker with a glass of cold iced tea. There are lots of good folks sharing!
And you can also follow along on Pinterest, Twitter, Instagram
To receive an email when a new blog post goes live it's EASY to
Subscribe to our blog!