by Texas Homesteader ~
I'm sharing ways to choose the best tree for your area, the proper ways to plant and how to care for the newly-planted tree afterward too.
This guide also includes how to personalize a remembrance or memorial tree planting.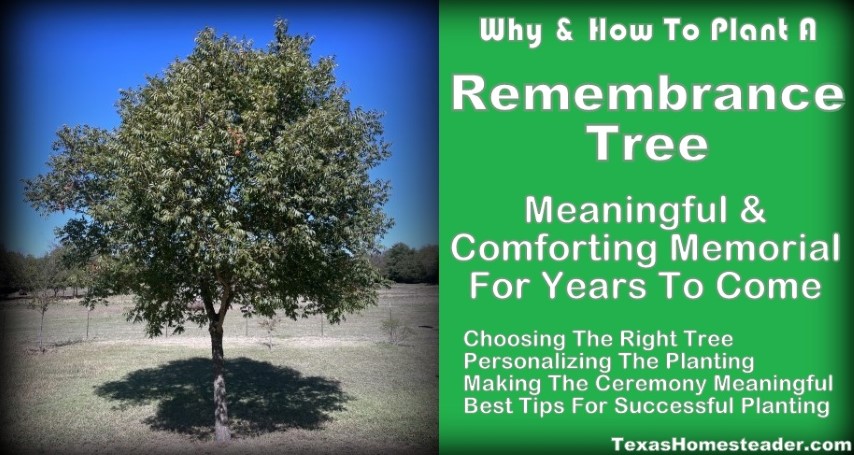 (Note: Some links in this post will take you to other related articles for further information. But links preceded with * are affiliate links. If you click and buy something I could receive a tiny commission.)
How Do You Choose The Right Tree?
Deciding what kind of tree to plant is a very personal choice. It can be a tree you love or one that grows easiest in your location.
Your local extension agent or the Arbor Day Foundation are great assets for determining the best tree suitable for your area. (references at the end of this post)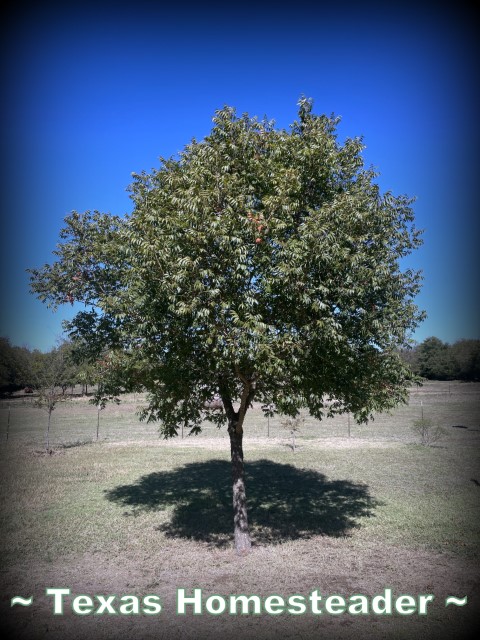 If you're planting a remembrance tree your choice can be based on the personality of the loved one you've lost. For instance:
A Magnolia tree for that Southern Belle or fine Southern Gentleman friend.
Fruit tree such as apple, pear, etc. for one who loved to garden.
Flowering tree such as Dogwood, Redbud, Crape Myrtle etc. for someone who loved flowers
Oak tree for a stately presence to represent a loved one you've lost.
Trees with bright fall foliage such as Red Oak, Pistache or Maple for a loved one who loved the autumn season.
When Is The Best Time To Plant A Tree?
The best time to plant a tree is when the young tree can devote more time to growing roots underground than trying to grow larger above ground.
Here in the warmer climate of Texas, planting a tree in the heat, humidity and traditionally dry months of July and August could make it difficult for a new tree to survive.
According to Texas A&M University, the best time to plant a tree in Texas is during the fall and early winter months. (references at the end of this post)
What Is The Proper Way To Plant A Tree?
When you find the perfect place to plant your tree, it's important to plant it correctly for the healthiest outcome for your new tree.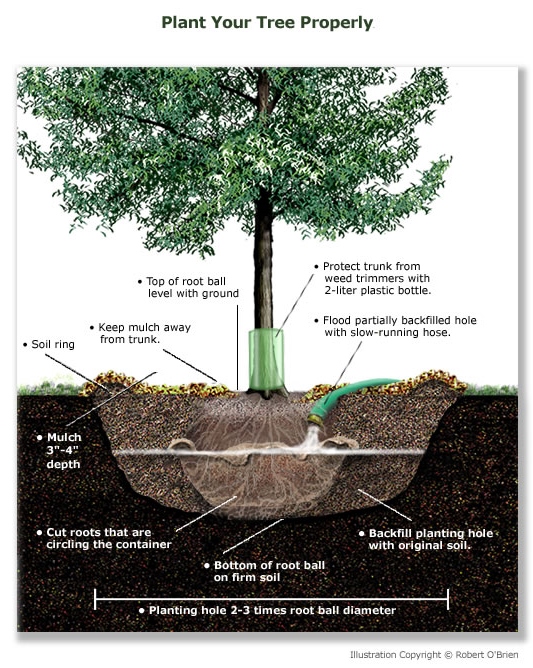 BE SURE TO CALL BEFORE YOU DIG! Call 811 at least 48 to 72 hours before you plant your tree. They will mark underground utility lines for free.
Dig Correct Sized Hole. It's important to dig the hole no deeper than the root ball but 2-3 times wider than the root ball diameter. This allows the root ball to sit on firm ground with loosened soil around the perimeter to allow easier root expansion.
Helpful Tip: Place a tarp on the ground to shovel your dirt onto while digging the hole. It will be easier to replace the dirt when the tree is planted.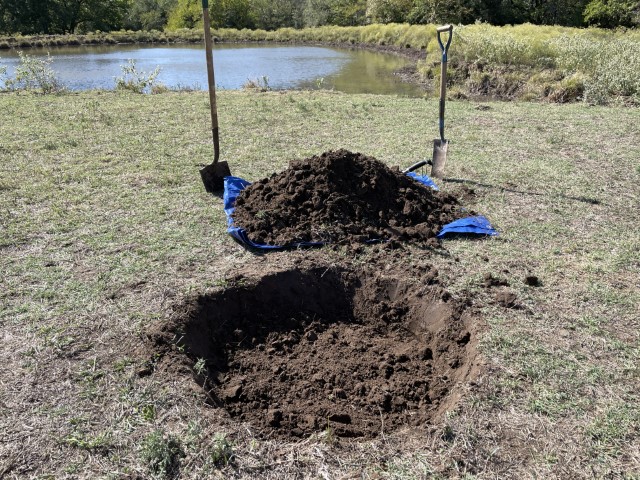 Top of root ball level with the ground. If you cover the top of the root ball with soil the tree will struggle to survive. Make sure it's level to or just above ground level.
Do not amend soil. Backfill only with soil excavated from the hole you dig. Otherwise you could keep the roots from reaching out further & thriving.
Water to allow soil to fill in air pockets. Do not overly compress the soil manually.
Apply mulch 3"- 4" thick. But do not allow mulch to touch the trunk.
After The Tree Is Planted
After the tree is planted, there are still a few things to assure your tree gets a healthy start.
Protect Tree From Grass Trimmers
Lawn maintenance tools can really damage your new tree. A *Tree Trunk Protector will help protect the tree.
Staking A New Tree
We used 3 t-posts to form a triangle & then wrapped the triangle in field fence to protect our tree from cattle rubbing.
Then we tied a natural jute line loosely from each of the t-posts to the tree to keep it from being blown too hard by the wind. (But not so tight that it wouldn't move at all.)
NOTE: A little wind sway room helps your tree build stronger roots. But too much wind sway can break tender roots.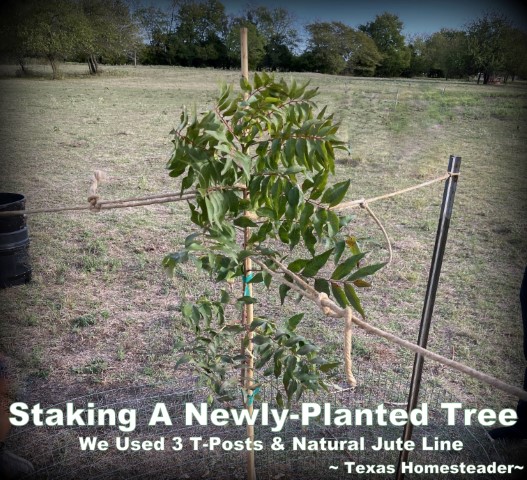 Tree Well For Water Retention
We leveled the soil around the tree and made a ridge around the outside circumference to make a small tree well.
This helps retain water that falls around the tree or is delivered to it by us until the water has time to soak in.
Adding Mulch When Planting A Tree
We also added a thick 3″ – 4″ layer of natural wood-chip mulch, being sure to keep it a couple of inches away from the trunk of the tree.
This will help insulate the newly-planted tree's roots from the cold winter air as well as preserve moisture and reduce weed/grass competition during spring and summer months.
Longer Lasting Comfort After Loss
A tradition in my family when a loved one passes away is to plant a tree in their memory.
I much prefer this living memorial to other types of remembrances. Some people do balloon releases not understanding the damage that does to the environment and wildlife.
But planting a tree actually benefits both, while being a source of comfort for years to come.
There are many benefits to having this longer-term symbol of remembrance:
* A funeral is meaningful & healing. But lasts only a few hours.
* Releasing balloons lasts only a few minutes. (yet has 100% chance of becoming litter & the dangerous environmental impact can last for years)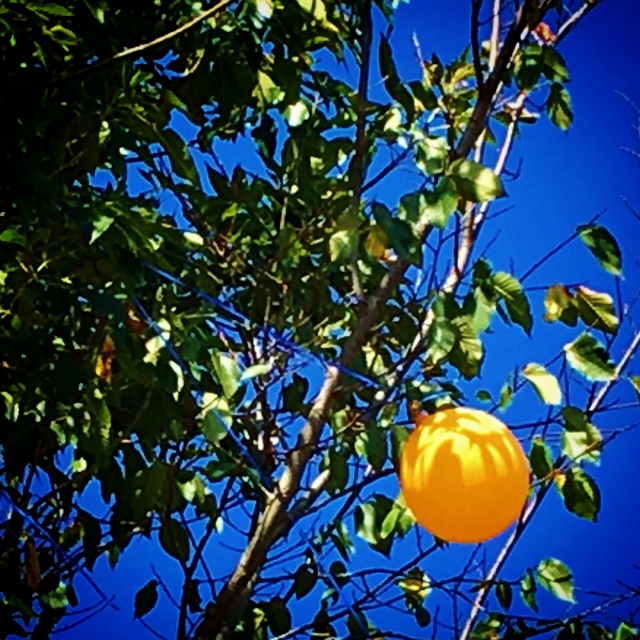 * Planting a memorial tree can be a long-lasting living remembrance to honor a loved one for decades.
You can smile and think warmly of your loved one each time you see the tree bloom. Or watch it grow and enjoy watching the birds that make nests and raise their young among its branches.
Our Grieving Process
My mother passed away in July. We used the time immediately after her passing to grieve in the traditional ways.
Funeral plans were made, emotional support given to my dad & family, various family members helped to go through & donate mom's clothes to organizations & causes she cared about, etc.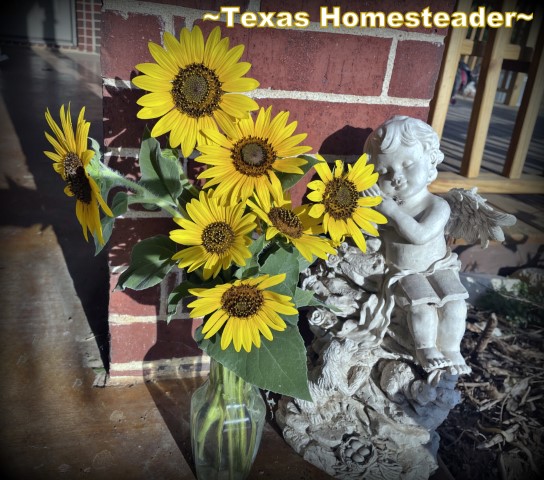 But when the record heat & drought of summer passed we made plans for a longer-lasting remembrance. We wanted to plant a tree in her memory.
How To Personalize A Memorial Tree Planting
If this tree planting is also a remembrance tree, there are any number of ways to personalize your memorial tree planting.
* Solar Light Stakes – Flowers, butterflies, etc.
* Memorial Garden Stones – A sentimental touch.
*Memorial Wind Chimes – Pretty sounds with each gentle breeze.
*Small Memorial Statues – Angels, butterflies, etc.
One of my mom's passions was being a Master Naturalist. The Texas Master Naturalist icon is a dragonfly. So items with dragonflies were my preference to honor my mother.
We got a *Dragonfly Suncatcher to hang from a branch in her remembrance tree.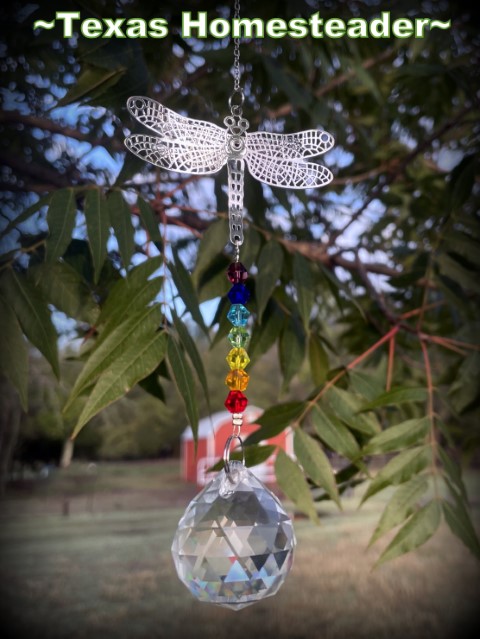 We also made a pretty Dragonfly of rocks to honor her memory.
But whatever has meaning for you or your family, make this planting a personal extension of that.
Meaningful Ceremony Ideas When Planting A Memorial Tree
There are many ways you can make your memorial tree planting a meaningful ceremonial event for all.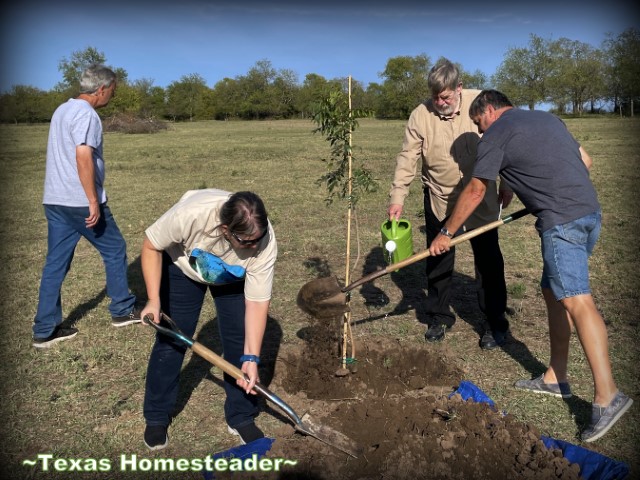 Helping To Plant Tree. Some mourners may be comforted by having a hand in planting this special memorial tree together.
Mourners With Watering Can. Have a large tub of water nearby and allow each mourner pour a small watering can of water on the new planting.
Natural Mulch. Have a large tub of natural wood mulch close, each mourner can add a handful of mulch to the base of the tree.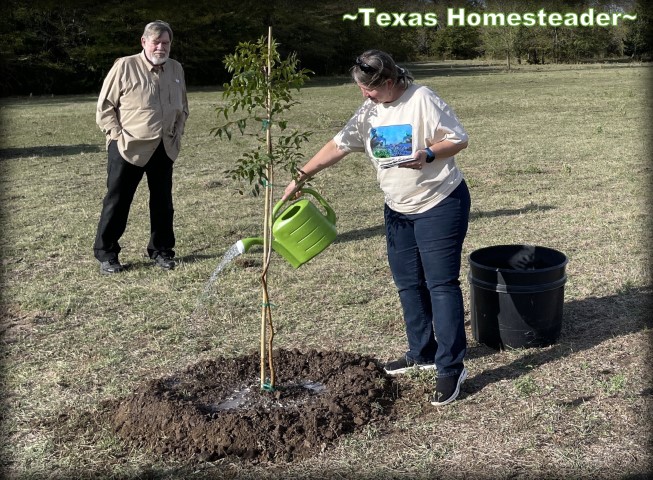 Words of Comfort. Each mourner can have the opportunity to stand and speak of your loved one or read a meaningful poem as they add a container of water or handful of mulch to your memorial tree planting.
Now that our remembrance tree is planted, we can have the benefit of the emotional comfort it offers for years to come.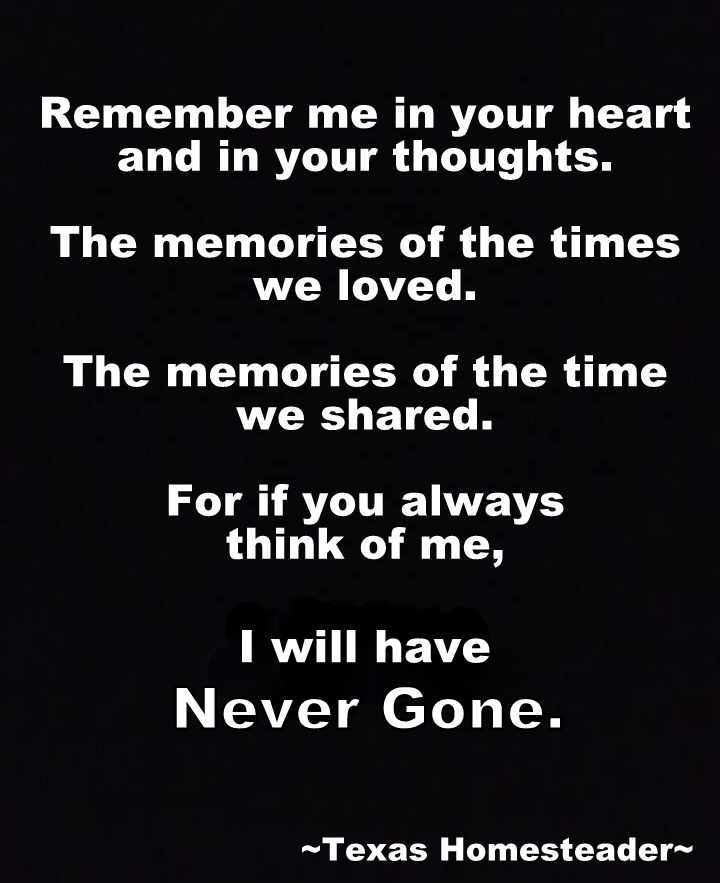 Have you ever planted something in memory of a loved one who had passed away? What special touches of comfort meant the most to you?
~TxH~
Other Inspiring Posts
…and MANY MORE!
Other Humanity Posts

C'mon by & sit a spell! Come hang out at our Facebook Page . It's like sitting in a front porch rocker with a glass of cold iced tea. There are lots of good folks sharing! And you can also follow along on Pinterest, Twitter or Instagram
If you'd like to receive an email when a new blog post goes live,
subscribe to our Blog!
References