~Texas Homesteader~
I have a never-ending supply of ponytail holders and I need look no further than my rag bag using elastic from old socks.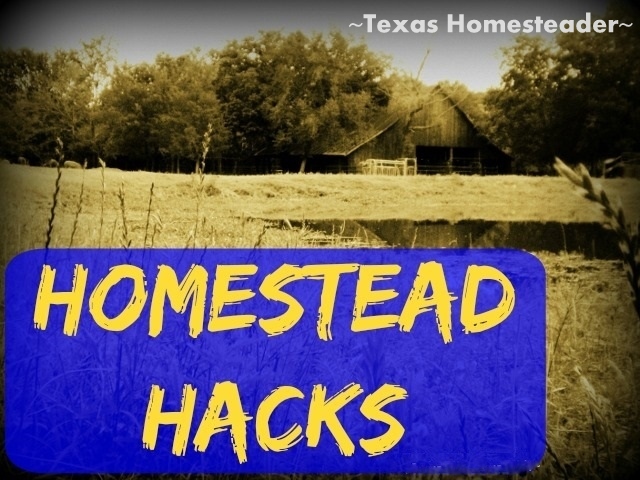 Holey Sock Repurposed To New Uses
It's just a fact that socks wear out. It doesn't matter how well you take care of them, eventually they end up with holes in them.
And when they do, socks go on to their second purpose here on the Homestead.
I have various ways I repurpose holy socks to new purposes. Who knew an old sock could be used in so many new ways?
One old sock can be repurposed for:
Shop Rag

Kitchen Cleaning Rag

Scrubbing Textured Rag

Cast-Iron Oiling Rag

Elastic For Holding Food Packages Closed

Hair Tie Elastic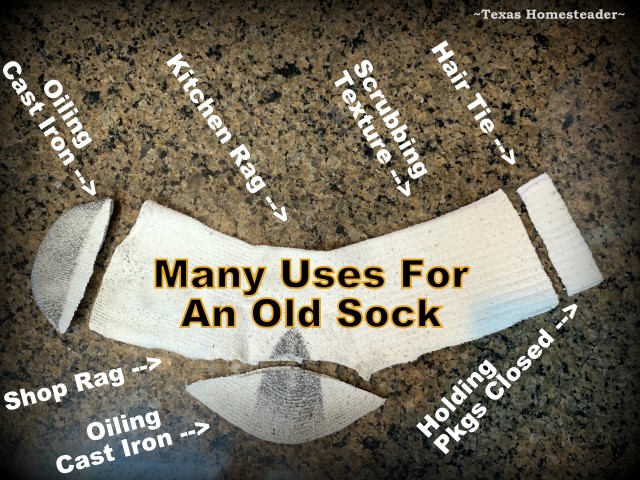 Cutting A Sock For A Rag
To cut a sock for a rag I typically cut off the toe section & elastic band top from the holey sock. Then I cut the sock along the back ankle/heel/foot to open it up flat.
I then cut the resulting material into a square-ish shape by squaring off that thin or holey heel.
I've now repurposed that previously-useless sock into a small scrub cloth. These absorbent cotton cloths work great for scrubbing, cleaning and dusting.
And when they're too far gone to be used in the house I give 'em to RancherMan. He'll use them in the shop for greasy chores and such.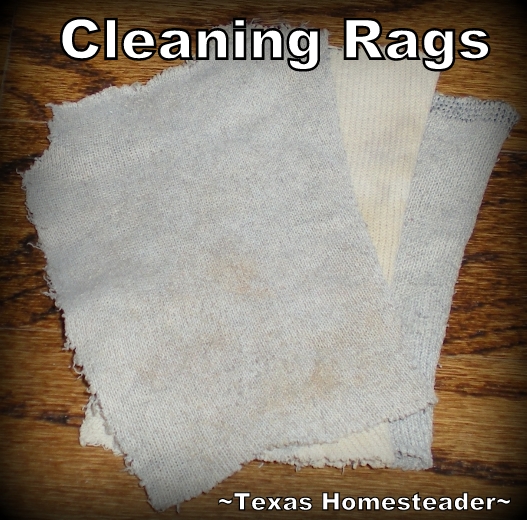 After that I don't mind that they're thrown away. They've been repurposed many times and they've done some serious duty – from sock to cleaning to shop rag!
Old Sock Elastic Top Used For Ponytail Holder!
But one of my fastest repurposes for that old sock is that handy top elastic band I've cut away. It always gets used. For me!
That elastic band is perfect to use for a ponytail holder. It's stretchy, elastic and there's a never-ending supply of them for FREE!
Now since my hair is baby fine, I have to wrap that bad boy around my tiny ponytail three times. You ladies with thicker hair could rock it so much better than I!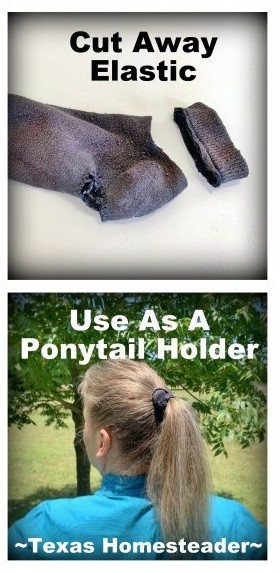 Free Hair Ties Tucked Away Everywhere!
Since there's no shortage of these free hair bands, keep one in the car and another in your overnight travel bag. You can keep one in your purse, gym bag and at your desk at work too.
You'll never be caught without a way to keep your hair out of your face when you're out & about. Gotta love it, right?
Hair Elastics In Fun Colors
My socks are always black and RancherMan's socks are always white. But if your socks are more colorful, all the better.
A bright orange, sunny yellow or vibrantly green ponytail holder would look nice and be fun too. And you can use child-sized socks for thinner elastics. Use 'em all!
So if you're constantly looking for a ponytail band, don't spend your hard-earned money for them. You need to look no further than your own rag bag for a holey sock!
~TxH~
Other 'Use Whatcha Got' Ideas


C'mon by & sit a spell! Come hang out at our Facebook Page . It's like sitting in a front porch rocker with a glass of cold iced tea. There are lots of good folks sharing! And you can also follow along on Pinterest, Twitter or Instagram
If you'd like to receive an email when a new blog post goes live,
subscribe to our Blog!